Is UEFI required for Windows 11? Why does Windows 11 need UEFI Secure Boot? Does your PC use UEFI? How to enable Secure Boot in Windows 11? Now, read this post that focuses on Windows UEFI and you can know much information about this system requirement offered by MiniTool.
Before installing Windows 11, you should know if your PC meets the basic system requirements of this new operating system. Among them, TPM 2.0 and UEFI Secure Boot are a must for you to upgrade to Windows 11.
In our previous post - How to Check if Your PC Has TPM for Windows 11& How to Enable It, we have talked about TPM 2.0. Today, we will focus on Windows 11 UEFI.
What's Windows 11 UEFI Secure Boot?
UEFI, short for Unified Extensible Firmware Interface, is a publicly available specification that can connect the PC's firmware to its operating system. It is a replacement for the legacy BIOS firmware. UEFI supports repair and remote diagnostics of computers. To learn more information about UEFI, go to MiniTool library.
Related article: UEFI vs BIOS – What's the Differences and Which One Is Better.
UEFI supports Secure Boot. It is a security feature built-in most devices with UEFI firmware. This can ensure a secure environment to run Windows and prevent malware from attacking the system during the boot process.
Why Windows 11 Requires UEFI?
UEFI Secure Boot is a mandatory safety feature and your PC must support it to install and run Windows 11. Why does Windows need UEFI?
This is mainly because of the security of UEFI. To get enhanced security, Microsoft has decided to use the advantages of UEFI in Windows 11. This indicates Windows 11 must run with UEFI. Besides, to run Windows 11 well, you must enable Secure Boot.
Which Boot Mode Your PC Is Using?
Which boot mode your PC is using, UEFI or legacy BIOS? You can go to the search box, type system information, and click the result. Then, you will get the System Information interface. Scroll down to BIOS Mode. If it is UEFI, your PC meets the system requirement of UEFI.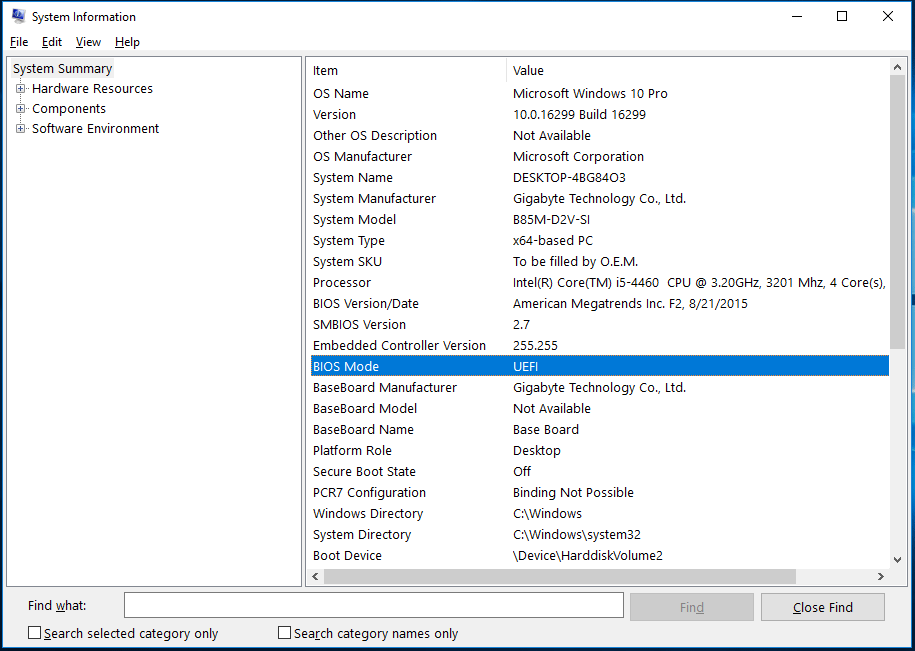 If it is Legacy BIOS, this means your PC is not compatible with Windows 11. If you switch your PC to UEFI in BIOS, the operating system won't boot since the hard drive is set to legacy boot mode instead of UEFI.
How to Enable Windows 11 UEFI Secure Boot?
For modern OEM PCs, UEFI firmware and TPM 2.0 are supported. And most PCs own the system with UEFI mode. But if Secure Boot is not enabled, you don't know if the PC is compatible with Windows 11. Fortunately, you can follow the steps below to enable UEFI Secure Boot.
Step 1: Click Shift and Restart to boot your Windows 10 computer to Windows Recovery Environment (WinRE).
Step 2: Go to Troubleshoot > Advanced options > UEFI Firmware Settings.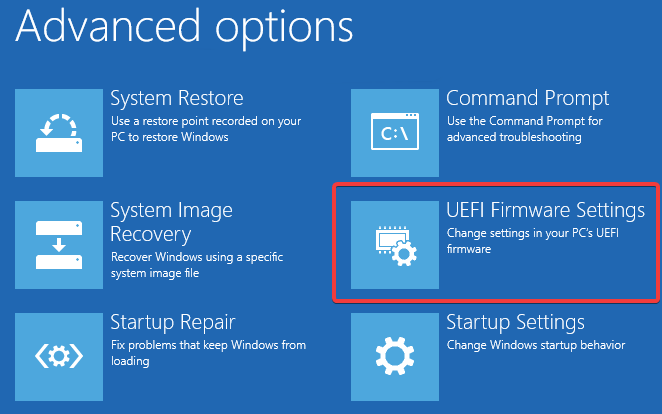 Step 3: Click Restart for a system reboot and your PC will go to a boot or security settings page.
Step 4: Go to the UEFI screen and find the Security or Boot option, then enable Secure Boot.
Tip: Based on different manufacturers and computer models, the UEFI settings are usually different.
Final Words
If you want to install Windows 11 without UEFI, what should you do? Refer to this post - How to Install Windows 11 on Unsupported PC/Hardware? (4 Ways) and you can run this new operating on an unsupported PC.
But to make sure your PC can get security and improved feature updates, the PC should meet all the system requirements including UEFI. You had better not install the system on unsupported hardware since Microsoft is blocking older PCs from Windows 11 preview.