According to users, new Windows 10/Windows 11 update may break your VPN connection and the specific updates are Windows 10 KB5009543 and Windows 11 KB5009566. To get more information about this bug, go to read this post and MiniTool will show you details.
Windows 10 KB5009543 and Windows 11 KB5009566 Updates
To keep your Windows system always secure and fix some bugs & glitches, Microsoft keeps updating the operating system. You must have heard 'Patch Tuesday' - Microsoft schedules the release of security updates on the second Tuesday of each month at 10:00 AM PST. In January, the Patch Tuesday is on January 11.
On that day, Microsoft released the KB5009543 update for Windows 10 (you can only get this update in Windows 10 21H2, Windows 10 21H1, and Windows 10 20H2) and KB5009566 for Windows 11.
However, not every update can work well. According to users, these two updates bring a serious issue - break L2TP VPN connections. Go to know details from the following part.
Windows 10/Windows 11 Update May Break Your VPN Connection
To be specific, after installing Windows 10 KB5009543 or Windows 11 KB5009566 update on a PC, the L2TP VPN connection failed when trying to connect using the Windows VPN client. On the computer screen, an error says "Can't connect to VPN. The L2TP connection attempt failed because the security layer encountered a processing error during initial negotiations with the remote computer".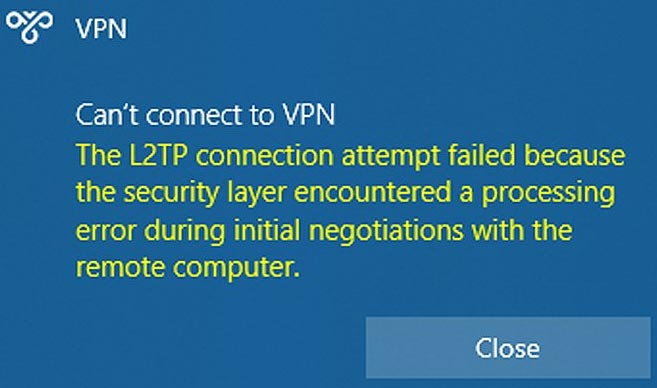 When checking the Event Log in Windows 11/10, an error log entry can be viewed, saying the VPN has failed and the error code returned on failure is 789.
This L2TP connection failed error affects users who use the Windows built-in VPN client. Besides, it can break the Ubiquity Client-to-Site VPN connections for users who use the Windows VPN client as well. According to posts on Reddit, the connections to Cisco Meraki, SonicWall, and WatchGuard Firewalls are also broken.
Well then, if you are also bothered by the update bug, how can you get rid of this situation? Move to the next part.
Fix - KB5009543 and KB5009566 Updates Break VPN Connections
The only way to fix the update bug is to uninstall it. But you should know, Microsoft offers some security patches in the kb update, and deleting KB5009543 and KB5009566 updates can remove all fixes for vulnerabilities patched on January 11, for example, vulnerabilities in the Windows Internet Key Exchange (IKE) protocol and Windows Remote Access Connection Manager.
Before uninstalling these updates, you should weigh the risks of unpatched vulnerabilities versus the broken VPN connections. If you decide to uninstall Windows 10 KB5009543 and Windows 11 KB5009566 updates, follow the steps:
Step 1: Launch Command Prompt (CMD) with admin rights via the search bar.
Step 2: In the CMD window, type the command based on your system - Windows 10: wusa /uninstall /kb:5009543 or Windows 11: wusa /uninstall /kb:5009566 and press Enter.
Updated: Microsoft has released a fix for the VPN issue and you can install the out-of-band update - KB5010795 (OS Build 22000.438) for Windows 10 and Windows 11.
Final Words
Windows updates issues always happen. As a user said on Reddit "Every month the same old story: a new patch to screw something up. It's getting absurd at this point". Before you install the new update, you had better choose to create a backup for your PC with the backup software – MiniTool ShadowMaker. Once something goes wrong, you can restore the PC to a previous state without spending much time fixing it.