Does Valorant support Windows 11? According to Riot Games, Valorant on Windows 11 cannot run without TPM 2.0. Read this post and you can know some details about this news. Besides, some solutions to Valortant not launching/opening are introduced.
Windows 11 Valorant Not Working
As for Windows 11, you may have heard much information about TPM 2.0 that is an important system requirement of this new operating system. Besides, it also plays an important role in Valortant. Riot Games have got ready for Windows 11 and the team have reported that you will have to have TPM 2.0 to play Valorant on the OS.
Some of you may ask: does Valorant support Windows 11 on a PC that tries to bypass the TPM boot? The answer is – Valorant cannot run on unsupported Windows 11 PCs if they don't have Secure Boot and TPM 2.0. If you run this game on such a PC, an error may appear saying "This build of Vanguard requires TPM version 2.0 and secure boot to be enabled in order to play".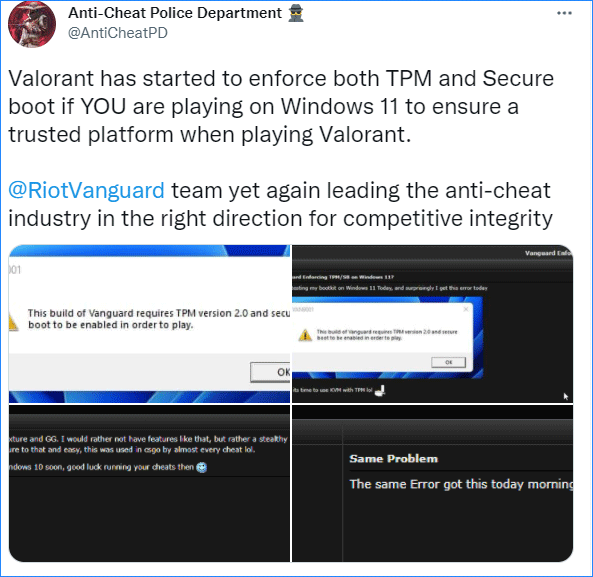 Riot Games updates its Vanguard anti-cheat system, which enforces Secure Boot and TPM 2.0 in Windows 11. This aims to prevent players from cheating the hardware or device ID if they are banned by this game. After all, TPM (Trusted Platform Module) is about security. That is, you cannot spoof a new device ID when the specific hardware or device ID receives a ban.
For Windows 10, if the PC doesn't have a TPM, you can still run Valorant. The requirement doesn't apply to Windows 10 PCs.
Valorant Not Opening Windows 10/11
If your Windows 11 PC supports TPM 2.0 but Valorant still cannot work, for example, Valorant not launching/opening, what should you do? The issue can also happen on Windows 10. The main reasons for this could be a Valorant launcher bug, Vanguard anti-cheat system glitch, software glitches like incorrect installation of the program, outdated graphics drivers, etc.
No matter which cause is, you can fix the Valorant TPM 2.0 error in Windows 11/10. Go to find solutions from this part.
Run Valorant in Compatible Mode.
If Windows update conflicts with Valorant or some Valorant game client compatibility issue appears, leading to Riot client not opening Valorant, you can try to run Valorant in compatibility mode to fix this issue.
Step 1: Right-click Valorant and choose Properties.
Step 2: Under the Compatibility tab, tick the box of Run this program in compatibility mode for. If you are running Windows 10, choose Windows 8.
Step 3: Save the change.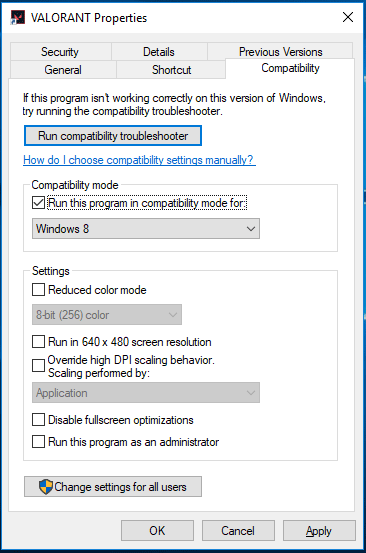 Run Valorant as Administrator
You can try to run this game with admin privileges and see if Valorant can launch or open. Just right-click the Valorant icon and choose Run as administrator. If this works, you can set this game to always run with admin rights. Right-click it and choose Properties. Under the Compatibility tab, check the box of Run this program as an administrator.
Close All Riot Related Processes
Valorant not launching no error can if a Riot process isn't running properly. To fix this issue, you can close all the Riot processes and see if your issue is fixed.
Step 1; Launch Task Manager in Windows 11/10 by typing task manager into the search box and clicking the result.
Step 2: Under the Processes tab and find Riot processes (they usually have a Valorant or Riot logo). Click one and choose End task.
Update Graphics Card Driver
If your graphics card driver is outdated, the issue of Windows 10/Windows 11 valorant not working/launching/opening may happen. To get rid of this issue, you need to update this driver.
Step 1: Right-click the Start button and choose Device Manager.
Step 2: Expand Display adapters, right-click the GPU driver and choose Update driver.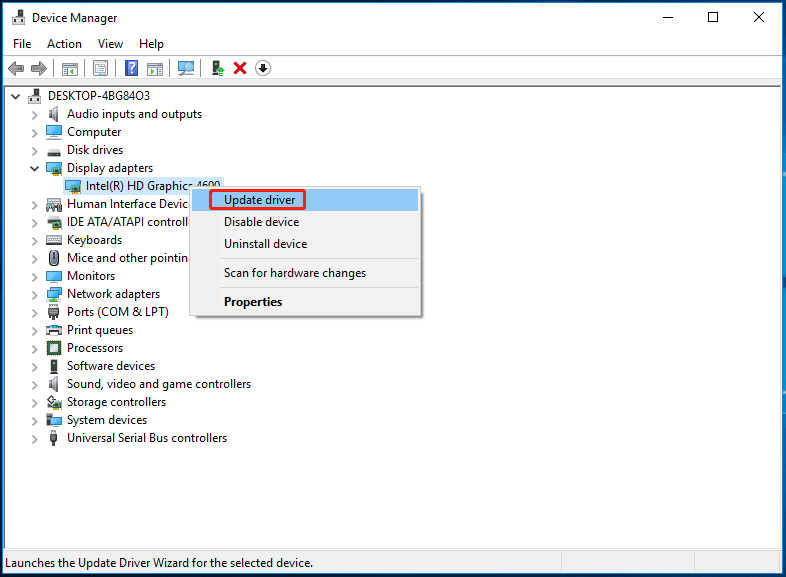 Step 3: Let Windows automatically search for the latest driver for GPU and install it on your PC.
Related article: How to Update Graphics Card Drivers (NVIDIA/AMD/Intel)?
Reinstall Valorant
If all of these ways cannot fix the issue of Valorant not opening at all in Windows 11/10, the final way you can try is to reinstall Valorant.
Just go to Control Panel > Uninstall a program. Right-click Valorant and click Uninstall. After that, go to the official website and download the latest version of this version. Then, reinstall it on your PC.
Final Words
Here is the end of this post. We show you the situation of Windows 11 Valorant not working on a PC without TPM 2.0 and some solutions to fix Riot client not opening Valorant. Just fix your issue by trying the ways mentioned.