Windows Defender gets a new name: Microsoft Defender. You may wonder why Microsoft makes this change. You can read this article to know more about this change. It will introduce you where you can see this family name change and also show you the likely reason why Microsoft makes this change.
Windows Defender Gets a New Name: Microsoft Defender
Windows Defender is an anti-malware component of Microsoft Windows, also named as Windows Defender Antivirus in Windows 10.
Firstly, Windows Defender was released as a free anti-spyware program for Windows XP and later came with Windows Vista and Windows 7. It replaced Microsoft Security Essentials and became part of Windows 8 and subsequent versions as it evolved into a full antivirus program.
Windows Defender can run in a sandbox environment, click to see How to Enable Window Defender in Sandbox.
Now Microsoft has announced the expansion of its Windows Defender ATP (Advanced Threat Protection) service to non-Windows devices. Windows Defender gets a new name: Microsoft Defender. This indicates that Microsoft is going to bring its Windows Defender antivirus software to Mac as part of a cross-platform family of products.
You may wonder where you can see this name change? Here is a brief introduction, and more places show the name change waiting to be discovered.
This name change can be discovered in the Windows Security interface.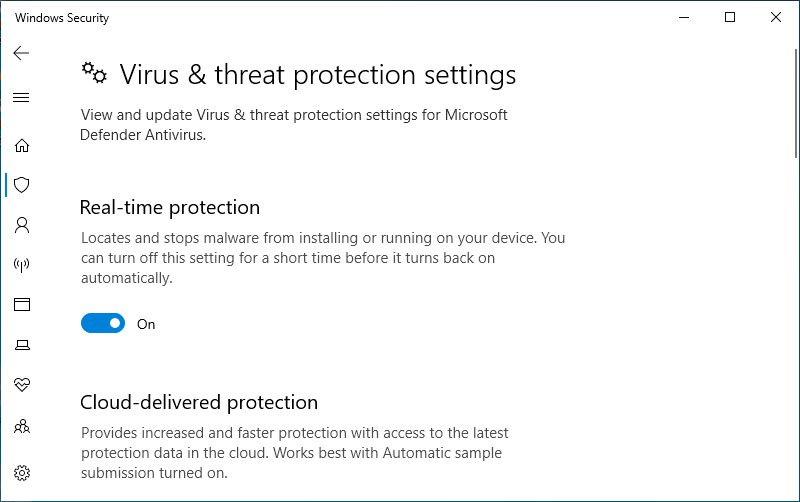 This change can also be seen in the Windows 10 Local Group Policy Editor, where you can see the name has been changed to Microsoft Defender Antivirus and Microsoft Defender Exploit Guard. Microsoft Edge Insider is also using this new family name for Microsoft Defender SmartScreen.
Although Windows Defender gets a new name: Microsoft Defender, there are still some other components that have not changed their names. For instance, Windows 10 still continues to use the family name of Windows Defender for Windows Defender SmartScreen, Windows Defender Application Guard and Windows Defender Firewall with Advanced Security.
Why Is Microsoft Making This Change?
Since you have got the information that Windows Defender gets a new name: Microsoft Defender, you may ask why is Microsoft making this change?
A likely explanation: the Microsoft name for tools and services is available on multiple platforms, but the Windows name for tools or services can only be available on Windows. Microsoft is planning to extend the antivirus program from Windows devices to non-windows devices, that is, it can offer solutions for multiple platforms including Mac, Linux, Android and iOS.
That suggests Microsoft wants to show users that its security products have become cross-platform products. Maybe Windows Defender gets a new name: Microsoft Defender because of that.
Microsoft Defender ATP Mac application will be available for businesses, which provides general protection against malware as well as offers scanning, threat reviews, and actions in different types against the threats. You can set up the program at will because most features are configurable.
Microsoft Defender ATP Mac application is not available in the App Store, so Mac users need to go to Microsoft to get the installation program. This application will be available on devices running macOS Sierra, macOS High Sierra and macOS Mojave.
Microsoft Defender ATP is limited to business, and there was no mention of the consumer version of the Mac.
While Defender is part of Windows, there's no mention of a consumer version for Macs. It is not clear whether Microsoft plans to launch a consumer version of Microsoft Defender on Mac as well.
For some reasons, you may need to disable Windows Defender Antivirus on Windows 10. Click to get the methods.