Windows Defender is the snap-in antivirus tool in Windows operating systems. Users can protect their systems, drives, and data easily by using Windows Defender, which is turned on by default. But is Windows Defender good enough? This post will focus on the comparison between Windows Defender and similar software, like McAfee, Avast, and Bitdefender.
Is Windows Defender Good Enough
What Is Windows Defender
As you know, Windows Defender is the antivirus program provided by Microsoft to protect every Windows operating system against virus, malware, spyware, and potential threat.
The history of Windows Defender:
Windows Defender was first released in Windows XP as a downloadable free antivirus program.
Later, Microsoft started to ship Windows Vista and Windows 7 with Windows Defender.
In Windows 8 and later versions, Windows Defender has been changed to a full antivirus program to replace Microsoft Security Essentials.
Windows Defender has been renamed to Windows Security in the newer releases of Windows 10.
But, is Windows Defender better than McAfee or other similar software? The answer depends much on your actual needs. (MiniTool Solution works hard on data protection, system performance optimization, and media files management on Windows systems.)
Windows Defender vs McAfee
Windows Defender Review 2020
You may love Windows Defender due to the following pros:
It is free and pre-installed in Windows.
It is turned on by default to provide overall protection.
It offers real-time protection & cloud-based protection against viruses, malware, spyware, etc.
It also provides parental controls on your device.
The offline scans and reboots help to eliminate persistent malware.
The firewall and Find My Device tools included are very useful.
However, the Windows Defender is not good enough due to the following reasons:
It is able to protect only a single Windows device.
It offers only on-demand scanning & real-time malicious threat protection.
The parental controls provided by it are only limited to the Microsoft browsers.
It doesn't provide protection against email spam, phishing, or online privacy.
It fails to block many instances of malware, especially the new ones.
There's no regular update to Windows Defender.
In short, Windows Defender is not enough to protect your devices. You can use it for traditional antivirus and other antivirus software for Anti-Malware and Anti-Exploit.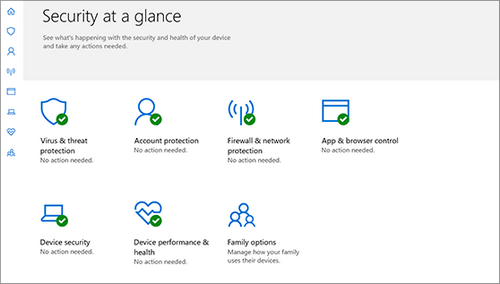 Please note: in order to protect your data against virus/malware attack, you'd better download a MiniTool Power Data Recovery by clicking the button below.
What Is McAfee
McAfee is also one of the world famous antivirus solutions. It provides four antivirus packages for users to choose from:
Total Protection Single Device: the basic functions are malware protection, password protection, a VPN, and a firewall. This can be used by only one user and one device. It costs $29.99 for the first year and $79.99 for each subsequent year.
Total Protection Individual & Couples: in addition to the basic functions, identity theft protection, encrypted storage, and McAfee Shredder are also added. This can be used by five users and devices. It costs $34.99/$99.99.
Total Protection Family: an advanced feature has been added to this package - parental controls. It can be used on 10 different devices and costs $39.99/$119.99.
McAfee LiveSafe: a series of application-specific protections are included in this package. It costs $39.99/$119.99 and there's no limit in the number of devices using it.
Pros of McAfee:
The VPN feature is included in all packages.
All packages give support to Windows, macOS, iOS, and Android.
The McAfee Shredder helps you to erase files without leaving any traces.
There's Virus Protection Pledge money-back malware removal guarantee.
Cons of McAfee:
Only the auto-renewal contains VPN and identity theft protection.
McAfee may slow down your computer especially when it runs on Windows 10.
Is McAfee A Good Antivirus Program For You Or Not?
Windows Defender vs Avast
Avast is an internet security application supporting different platforms: Windows, macOS, Android and iOS; it provides both freeware and paid versions for users to choose. In addition to the antivirus software, it also provides: firewall, browser security, computer security, anti-phishing, antispyware, and anti-spam.
Even the freeware seems enough to protect your device. However, there's news said that Avast is allegedly selling users' data. So I don't recommend it; it's safer to use the built-in Windows Defender.
Windows Defender vs Bitdefender
Bitdefender is a Romanian company famous for cybersecurity and anti-virus software. The free version of Bitdefender is powerful for home users with basic real-time protection while the premium version offers advanced features not included in Windows Defender.
3 main reasons to choose Bitdefender over Windows Defender:
Bitdefender can detect 100% of the malware files on your devices, all thanks to the advanced malware scanning engine; but Windows Defender/Windows Security can't.
The free version of Bitdefender is lightweight and easier to use when compared to Windows Defender.
The premium ransomware protection feature and Safe Files included in the paid version is wonderful; but Windows Defender doesn't include similar features.
In addition to the antivirus programs mentioned above, you can also choose Malwarebytes, Kaspersky, TotalAV, Avira, Sophos Home, Trend Micro, etc.
[SOLVED] How To Recover Files Deleted By Virus Attack | Guide.