Once you bought a genuine Windows, a product key should come with it. You can use this key to activate your Windows easily. However, sometimes, users don't know their system status and fail in activating Windows. They definitely need a good Windows key checker to help them check the Windows product key and then decide what to do next.
What Is Windows Key Checker
Windows key checker refers to the tools used to check your product key of Windows systems. It's a good way to judge whether your Windows is genuine or not. According to Microsoft, after you bought a copy of Windows, the corresponding product key will be kept on a label or card inside the box. But what is a Windows product key indeed?
Tip:
To deal with different situations or solve problems on Windows 10/8/7, you need professional tools to help. Please visit the
home page
to get disk manager, data recovery utility, system backup tool, video editor/recording software, etc.
Windows Product Key or Digital License
A product key is actually a 25-character code that can be used to activate Windows directly. It helps you determine whether your copy of Windows is genuine or not and whether your system has been used on more PCs that Microsoft Software License Terms allow or not.
Windows 10 activation: in general, your Windows 10 system will be activated automatically with the digital license (called a digital entitlement in Windows 10); you don't need to type the product key manually.
Windows 8.1 & Windows 7: you need to find the product keys contained in the confirmation email you received after purchasing the Windows system or in the box Windows came in. Then, you should enter the correct product key as required.
How To Fix When Change Product Key Does Not Work?
How to Find Your Windows Product Key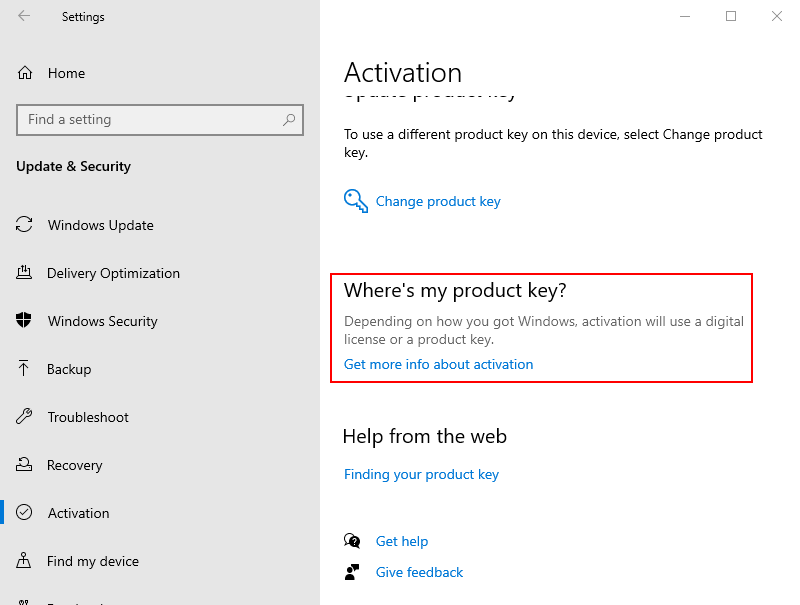 Where do you find your Windows product key? That depends on how you get your Windows system.
New PC running Windows: the product key has been already preinstalled on the PC or included on the COA (Certificate of Authenticity) connected to the PC.
A copy of Windows 10 from authorized retailer: on a label or card inside the box.
A digital copy of Windows 10 from authorized retailer: in the confirmation email or in a digital locker that can be accessed via the retailer's website.
A digital copy from a Microsoft website: in the confirmation email.
Upgrade to Windows 10 from Windows 7 or Windows 8.1: a digital license instead of a product key.
Windows 10 Store App: a digital license you received.
Show Your Windows 10 Product Key Using Command Prompt
Press Windows + S to open Windows search bar.
Type cmd into the search box.
Right click on Command Prompt.
Choose Run as administrator.
Type wmic path softwarelicensingservice get OA3xOriginalProductKey and press Enter.
The product key will then appear.
How to Check If Your Windows Key Is Genuine
Which Windows product key checker should you choose? Here, I'll list the most popular 3 choices of Windows 10 product key checker.
One: Windows Settings
The most direct way to check whether the Windows product key you have used is legit or not is opening Settings app directly.
Click on the Start button in the lower left corner.
Navigate to the Settings icon (look like a gear) and click.
Choose Update & Security.
Select Activation from the left pane.
Check the activation status.
If it says your Windows is activated, the product key is legit. If any error occurs, you should doubt that the key is not legit or legal.
Two: Command Prompt
Run Command Prompt tool as administrator by steps mentioned earlier or other ways.
Type slmgr /dli and press Enter.
The corresponding license information will appear with the activation status.
If the status says Licensed, your product key is legit. You should suspect that your key is not valid if you say something else.
How To Recover Files Using CMD: Ultimate User Guide.
Three: Third-party Windows Key Checker
There are lots of third-party Windows key checkers designed for checking the product key of Windows 10 or other systems. You may choose a reliable one to use: Microsoft PID Checker (for Windows 10 and Server 2016), Ultimate PID Checker (for systems before Windows 10), and so on.