Summary
Last year, Microsoft launched its' Windows Virtual Desktop service, which was a private preview. But now Windows Virtual Desktop is 'feature complete' and Microsoft will release it about in September 2019. You can click MiniTool to get more information.
Windows Virtual Desktop Is 'Feature Complete' Now
Microsoft is almost ready to launch its Windows Virtual Desktop service. On August 12th, the service group manager - Scott Manchester posted a Twitter:
"We are feature complete with WVD and will be moving to the final phase for GA."
Microsoft officials did not give a specific date when the fully functional Windows Virtual Desktop is generally available, but some people say Microsoft will launch it before the end of September 2019. Actually, a Microsoft's spokesperson said Microsoft did not comment on the Windows Virtual Desktop' GA date.
In March 2019, Microsoft released a public preview of Windows Virtual Desktop. Windows 7, 10, Office 365 Pro Plus applications and other third-party software are run in Azure virtual machines to achieve its' virtualized services.
Microsoft has announced the public preview of Windows Virtual Desktop and Defender ATP for Mac.
In September 2018, Microsoft first announced the plan for Windows Virtual Desktop service. Microsoft virtualizes operating systems and applications. In addition, Windows Virtual Desktop not only provides multi-session Windows 10, but also supports Windows Server RDS desktop and apps.
The Windows Virtual Desktop is released recently by Microsoft to enhance the experience of their cloud customers.
According to Microsoft, WVD users will be able to virtualize Windows 7 desktops. Free Extended Security Update is supported through January 20223.
It means if you license and purchase Windows Virtual Desktop, you will continue to get security updates for Windows 7 without additional cost. After January 14, 2020, Microsoft officially will end supports and security updates of Windows 10.
Microsoft has not fully disclosed the price of Windows Virtual Desktop until now. Officials say that you need to set up an Azure subscription if you want to use this service, and then you can choose the type of virtual machines and storage you want.
Features of Full-Featured Windows Virtual Desktop
Migrate Windows Server remote desktops and apps to Azure
With simplified management and deployment experience on Azure, Windows Virtual Desktop migrates your Remote Desktop Services (RDS) environment.
Deliver the only multi-session Windows 10 virtual desktop experience
It can offer the only multi-session Windows 10 desktop virtualized in the cloud to you. The desktop is always up-to-date, highly scalable and available on any device.
Deploy and scale in minutes
With unified management in the Azure portal, it can quickly virtualize and deploy the modern and legacy desktop applications to the cloud in minutes.
Enable optimizations for Office 365 Pro Plus
It provides you with the most effective virtualized experience by offering the best Office 365 Pro Plus experience with multi-session virtual desktop scenarios.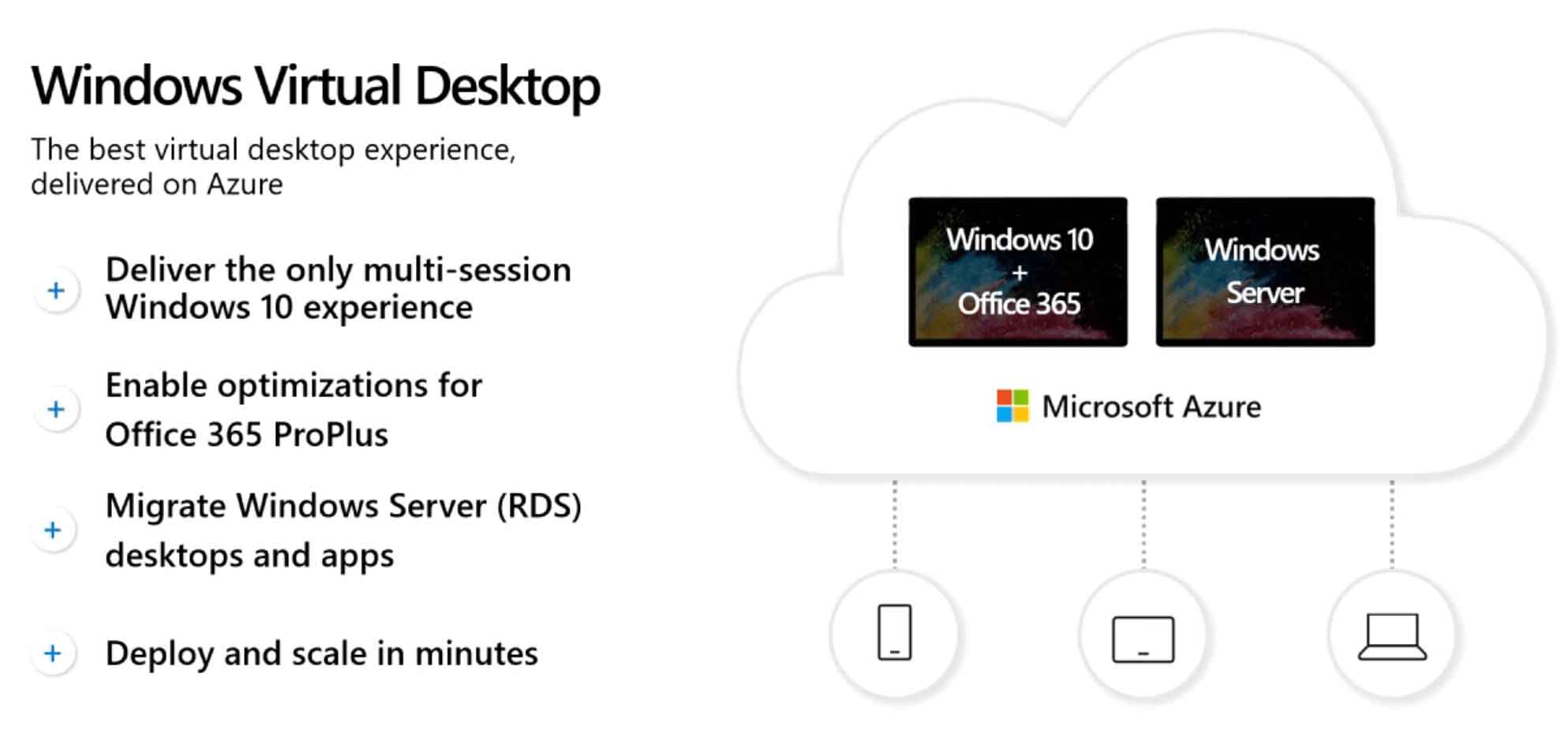 Final Words
Windows Virtual Desktop is 'feature complete' now, you don't need to worry about the security of it because more than $1 billion are invested on cybersecurity research and development by Microsoft annually.
And more than 3,500 security experts are employed by Microsoft, who is completely dedicated to protecting your data security and privacy. Additionally, Azure has more compliance certifications than any other cloud provider. So, it's safe for you to use it in your daily life.