WWE 2K22 is one of the best wrestling video games which has an excellent new combat system and extraordinary graphics. Sometimes, players may find that their game experience is ruined by issues like screen tearing and flickering. If you are also struggling with it, then this post on MiniTool Website might be helpful to you.
WWE 2K22 PC Screen Tearing
Graphics issues like screen tearing and flickering are very common in video games and WWE 2K22 is no exception. This type of issue influences heavily the game entrance and cutscenes. If you are bothered by the same issue, keep reading to know how to fix it.
How to Fix WWE 2K22 Screen Tearing PC?
Fix 1: Enable V-Sync
To avoid graphics glitches like WWE 2K22 screen tearing or flickering on Windows 10/11, it is advisable to turn on V-Sync. Here's how to do it:
For Nvidia card users:
Step 1. Launch Nvidia Control Panel and go to 3D settings > Manage 3D Settings.
Step 2. Choose Program Settings and click on Add and then select WWE 2K22 from the installed programs.
Step 3. Scroll down to enable Vertical Sync and hit Apply to save the changes.
Step 4. Reboot your computer and relaunch the game to check for any improvement.
For AMD Radeon users:
Step 1. Open the AMD Radeon settings app and hit Global Settings.
Step 2. Find Wait for Vertical Refresh and hit the down arrow to choose Always on in the drop-down menu.
Step 3. Restart your computer to take the changes effective.
Fix 2: Update Graphics Driver
Outdated or corrupted drivers are also the culprit of screen tearing WWE 2K22. If you forget to update your graphics drivers to the latest version, please follow these steps:
Step 1. Press Win + X altogether to open the quick menu.
Step 2. Select Device Manager and expand Display adapters to show your graphics card.
Step 3. Right-click on the dedicated GPU card and choose Update driver > Search automatically for drivers.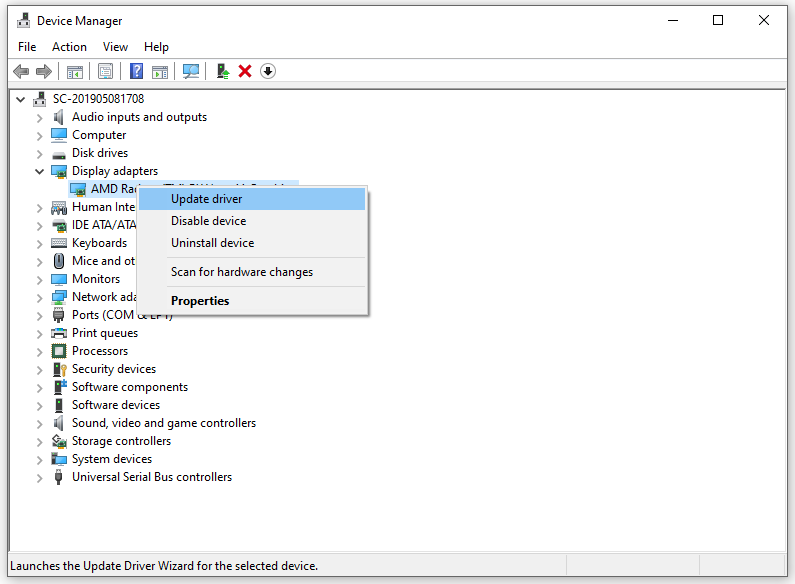 Fix 3: Verify Integrity of Game Files
If WWE 2K22 screen tearing and flickering issue appears when you launch the game via Steam, there might be some problems with the local cache data. You can verify the integrity of game files on the Steam client.
Step 1. Launch the Steam client and go to Library.
Step 2. In the game library, find WWE 2K22 and right-click on it to choose Properties.
Step 3. Go to the Local Files tab and tap on Verify Integrity of Game Files.
Fix 4: Check Internet Connection
If you want to play the game smoothly without errors like WWE 2KEE screen tearing, make sure that your internet connection is fast and stable. Click here to have an internet speed test now.
# Small tips to improve your internet connection:
Switch the internet connection from wireless to an Ethernet connection.
Power cycle your modem and router.
Disable VPN.
Use the Google DNS
Fix 5: Update the Game
At times, running the outdated game version will also cause the WWE 2K22 screen tearing issue because there are some bugs in it. Follow the steps below to update the latest version of the game:
Step 1. Launch the Steam client and find WWE 2K22 in Library.
Step 2. Right-click on the game to choose Properties > Updates > Always keep the game updated. After that, Steam will update the game automatically for you if any update is available.