Zoom Meetings is a proprietary videotelephony software program. Therefore, out-of-sync communication can be a serious issue affecting your remote meeting. To resolve the Zoom lag issue, there are multiple methods are available for you. For details, you can refer to this article on MiniTool Website.
Why Does Zoom Lag Happen?
During the remote working meeting, the laggy Zoom issue can cause some troubles and low working efficiency. As usual, most of you might doubt if the Internet connection issue is the culprit but actually, some settings in your Zoom program will make a bad video performance.
To fix Zoom lag, the next part will be helpful.
How to Resolve the Zoom Lag Issue?
Before you start the following methods, you can check your Internet connection first, to improve your Internet connection, you can refer to this article: 11 Tips to Troubleshoot Internet Connection Problems Win 10.
Besides, you'd better check if your Zoom is the latest version that can help you get rid of some bugs and glitches.
Fix 1: Disable Video Backgrounds or Filters
You are allowed to add some backgrounds and filters to decorate your image in others' eyes. It is convenient to hide something you don't want to show but this feature can make the images out of sync, leading to Zoom video lag.
Step 1: Open your Zoom and then click on the gear icon in the top right corner to open Settings.
Step 2: Choose Background & Filters from the left panel.
Step 3: Choose None for your Virtual Backgrounds and Video Filters.
Fix 2: Manage Your Display Resolution
If you are using virtual meetings in your virtual meetings, Zoom lag can happen.
Step 1: Open Settings in your Zoom via the same introduced steps.
Step 2: Switch to Video in the left panel.
Step 3: Uncheck the option of HD under Camera.
Your video quality will lower down; if the result is hard to cope with, you can jump to other methods.
Fix 3: Disable Audio/Video When You Are Not Talking
You can maximize your Internet by only using a microphone when needed. In this way, you can also avoid any embarrassing situations when some unexpected sound interrupts the meeting.
You can muffle yourself by clicking on the microphone icon in the lower right corner or the Stop Video icon to stop your video. You are allowed to use shortcuts to mute your Zoom voice and video – Alt + A and Alt + V.
Fix 4: End Unnecessary Processes on Bowser
If you are using a browser for your Zoom meeting, the meeting performance will be related to the browser. You can close some unnecessary processes in your browser to see if the issue is resolved.
The following methods take Chrome as an example.
Step 1: Open your Chrome and click on the three-dot icon in the top-right corner.
Step 2: Choose More tools from the drop-down menu and choose Task manager.
Step 3: Here, you can see all the resources-consuming tasks and you can choose useless processes and click End process.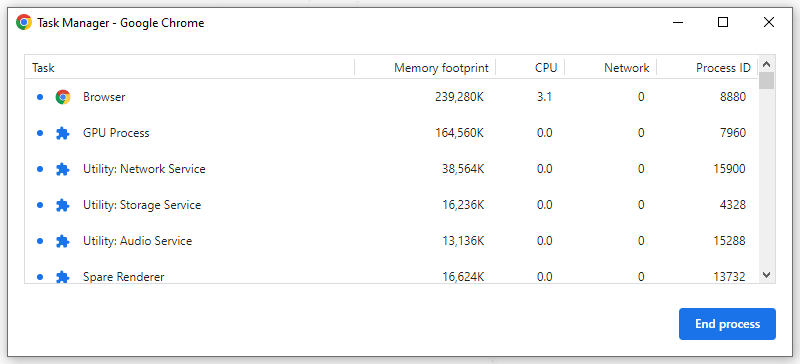 Fix 5: Close Other Background Apps
Other background apps might use the CPU resources and leave you with an unsatisfactory experience on the Zoom app; therefore, you can disable other apps to see if the Zoom lag issue can be fixed.
Step 1: Right-click on the Windows menu bar at the bottom and choose Task Manager.
Step 2: Browse those running processes, if you find any unnecessary or unusual processes, you can click on them and choose End task.
Bottom Line:
This post has shown some methods to fix Zoom lag. Hope your issue can be fixed and may you have a good day.