Crucial Storage Executive is SSD software offered Crucial. But what tools does this software offer and what can you do with it? In this post, MiniTool introduces Crucial Storage Executive to you and recommends a tool to you as a supplement of this software.
About Crucial and Micron
Crucial is a brand owned by Micron Technology, Inc., one of the world's leading manufacturers of memory and flash memory, headquartered in Boise, Idaho, USA. This brand focuses on selling computer memory, flash drives and solid-state hard drives manufactured with Micron chips and technology.
Then, what are the positions of Micron and Crucial in the SSD industry? Some of you may know that not all SSD manufacturers have the ability to produce qualified NAND flash chips. Currently, top six NAND flash chip manufacturers include: Intel, Micron, Samsung, SanDisk, SK Hynix, and Toshiba.
Micron produces NAND flash chips and then sells them to other SSD brands that don't have the ability to produce NAND flash chips (such as Kinston, Seagate, etc.), or processes them further into Crucial SSDs for sale.
In recent years, Crucial's SSD market share has been increasing steadily. In the second quarter of 2019, Micron Crucial SSD takes up around 7% market share.
How to Do Crucial Memory Upgrade Smoothly?
What Is Crucial Storage Executive?
Crucial Storage Executive is a piece of free and official software offered by Micron Crucial for Crucial SSD customers. With this Crucial SSD software, you can:
Enable the Momentum Cache feature to make many SSD operations up to 10x faster.
Download the latest firmware.
See how much storage you've used.
Monitor your SSD's operating temperature and overall health.
Reset your SSD's encryption password.
Verify your SSD's model number for warranty claims.
Crucial Storage Executive has so many useful features and you may be eager to give it a try. But before you do that, you should know its requirements:
Compatible OS: Windows 7 or later (both 32 and 64-bit versions supported); Microsoft Windows Server 2008 SP2 x64, 2008 R2, 2012, 2012 R2, 2016, 2019; Red Hat Enterprise Linux version 6.0 or later; SUSE Linux Enterprise Desktop 12, 11; Ubuntu Desktop 16.04, 18.04; CentOS 7.x, 6.x, and 5.x.
Compatible SSDs: Crucial M500, M550, MX-series, BX-series SSDs, and P1 drive. For older Crucial models, or non-Crucial storage devices, only limited functionality may be provided.
What Tools Does Crucial Storage Executive Offer?
In this part, I will show you what tools Crucial Storage Executive offers. After reading this part, you can know how to use Crucial Storage Executive.
First, please download Crucial Storage Executive from Crucial official website. Then, run the file and follow the wizard to install Crucial Storage Executive.
Then, open Crucial Storage Executive and you will get a picture as follows:
As you can see, this software will offer SSD management options, including:
System Information
Drive Details
SMART
Firmware Updates
Sanitize Drive
Format Drive
PSID Revert
Momentum Cache
Flex Capacity
Over-Provisioning
Device Self-Test
Namespace Management
Then, I will explain what they can do one by one.
1. System Information
Once the software is launched, Crucial Storage Executive will detect all supported Micron SSDs installed in the system as well as standard hard drives and third-party SSDs.
In System Information, you can get the following information:
System details: hostname, IP address, and installed operating system.
Physical memory: installed memory size and currently used memory amount.
Virtual memory: total amount of virtual memory in PC and the currently used virtual memory amount.
Detected drives: drive status, drive number and name, serial number, drive capacity, current drive temperature (not available for standard hard drives or third-party SSDs), firmware availability (same as the temperature), and SMART button (click it to view the drive's SMART attributes).
Please note that a drive may be in the following status:
Good Health: No error.
Busy: Drive is currently busy with an operation.
Sanitize In Progress: Sanitize drive operation is in progress.
Near TBW/Has Met TBW: Drive is near to the end of SSD lifespan.
Nearing Write Protect: Drive is near to the end of drive lifespan and will soon enter write protect (read-only) mode.
SMART Threshold Exceeded: One or more SMART threshold values have been exceeded on the drive and drive failure may occur.
In Write Protect: Drive is read-only mode and users can't write data to the drive anymore.
In Fault State: Drive failure occurs and the data on the drive may no longer be available.
What Is the Virtual Memory? How to Set It? (Complete Guide)
2. Drive Details
Click Drive Details tab and choose a drive. Then, you will get this drive's details.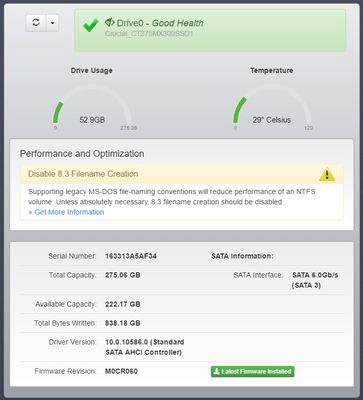 Note: The drive capacity reported by Storage Executive may vary from the capacity reported by the operating system, because Storage Executive reports 1KB as 1000 bytes while most operating systems report 1KB as 1024 bytes.
In this tab, some other information may be also displayed, for example, Performance and Optimization information. It only appears if the drive is not meeting a performance or optimization condition.
3. SMART
This screen summarizes the drive's self-reporting values around performance, and these values are collectively used to determine the drive's overall health.
SMART Failure Predicted on Hard Disk? Quickly Fix It Now!
4. Firmware Updates
If you see New Firmware Available label in System Information, you can update the firmware in Firmware Updates tab. You just need to click Update Firmware Now. Or, you can download the latest firmware from Crucial and then update it manually.
Note: Ensure that you have no open programs, or have saved your data in any open programs, before running this function.
5. Sanitize Drive
This operation removes all data, including partitions, from the targeted drive. This will leave the drive in a state requiring reinitialization for further use. Therefore, please back up important data to alternate storage media before performing the operation.
Note: This operation is not available for encrypted drives (those with TCG-enabled/password-protected) and only runs on systems in AHCI mode. In addition, you should unmount the drive before proceeding.
What Is Data Sanitization: Wipe vs Erase vs Format vs Delete
6. Format Drive
The Format operation is used to low level format the NVM media. This may destroy all data and metadata associated with the specified namespace(s). This is used when the host wants to change the LBA data size and/or metadata size. Please note that this format operation is not available for encrypted drives.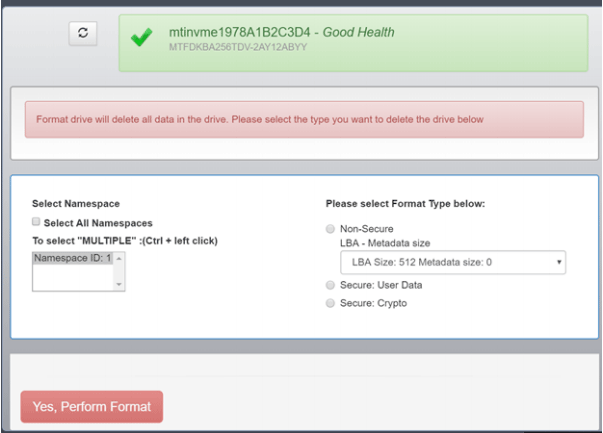 7. PSID Revert
For encrypted drives (those with TCG enabled/password-protected), the PSID revert operation can remove all data from them. But before proceeding, please make sure you have unmounted the drive.
8. Momentum Cache
Momentum Cache is a feature that allows you to use unused system memory, though no more than 4GB, to cache write commands to the Crucial SSD to improve its write performance.
However, this feature runs on supported drives containing a boot volume in Windows systems only. In addition, when the battery level on a laptop has gone down to 25%, Momentum Cache will automatically disable itself, because an abrupt loss of power may carry some risk of data loss and file corruption when this feature is enabled.
9. Flex Capacity and Over-Provisioning
Flex Capacity is similar to Over Provisioning, but it's not supported on Crucial-branded SSDs, only on Micron-specific lines.
In general, almost all SSD has Over-provisioning space and this space can't be operated by user usually. Over-provisioning is designed to provide idle or alternative blocks for GC, bad block management, and wear leveling. Therefore, OP can reduce write amplification, improve performance and SSD endurance.
In Crucial Storage Executive, Flex Capacity and Over Provisioning features allow you to allocate additional space on the SSD for the controller to use, hence improving performance and endurance.
Note:
Over-provisioning can be enabled on supported drives with
NTFS
file systems
only and it cannot be set on SAS drives or drive with the following conditions: USB-attached, write-protect enabled, offline status, dynamic status, or security locked.
10. Device Self-Test
Device Self-Test is a feature that runs a brief pass/fail test on the SSD. But not all Crucial SSD models support this feature. In addition, if you want full details of the SSD, you should view the SMART data, which will provide more insight into your SSD performance.
Finally, this feature will reduce SSD performance temporarily while running this test, but the drive will remain operational.
11. Namespace Management
This feature allows you to create or delete namespaces on a supported NVMe drive. What is namespace? Namespace is a logical division of user space (in the level of NVMe protocol). It directly divides the logical block address (LBA) of the flash memory. The LBA of each namespace ranges from 0 to N-1 (N is the size of the namespace).
To put it clearly, namespace is a method of managing blocks inside NVMe SSD. NVMe SSD supports dividing the flash memory space into several independent logical spaces and each namespace has its own NAND. Each namespace can be formatted and encrypted independently.
After creating a namespace, the namespace appears as a standard-block device on which file systems and applications can be deployed without any modification.
Supplement to Crucial Storage Executive
Crucial Storage Executive is a powerful tool. If you are a Crucial SSD user, especially NVMe SSD user, it's recommended to install this software. However, any software has its limitation and Crucial Storage Executive is no exception.
Crucial Storage Executive only supports several Crucial SSD models and it lacks some disk management methods. Therefore, I recommend you to choose a tool as a supplement to Crucial Storage Executive.
MiniTool Partition Wizard is a powerful disk and partition management tool. You can not only use it to manage partitions and disks, but also use it to check SSD health, erase SSD, and recover data. Therefore, I recommend you to use it as a supplement to Crucial Storage Executive and you can give it a try.
MiniTool Partition Wizard DemoClick to Download100%Clean & Safe
Here is a post showing you what you can do with Crucial Storage Executive.Click to Tweet
Bottom Line
Has this post helped you understand Crucial Storage Executive better? Do you have other opinions about Crucial Storage Executive? Please leave a comment in the following zone. Besides, if you have difficulty in erasing SSD or recovering data, please contact us via [email protected]. We will reply to you as soon as possible.
Crucial Storage Executive FAQ
How do I uninstall crucial storage executive?
Open Control Panel.
Find and click on Programs and Featuresto continue.
Right click Crucial Storage Executive and click the Uninstall
What is crucial momentum cache?
Momentum Cache is a feature that allows you to use unused system memory to cache write commands to the Crucial SSD to improve its write performance.
Should I enable crucial momentum cache?
It's recommended to enable Crucial Momentum Cache. But when you enable this feature, please make sure the power will not be shut off abruptly, otherwise there is risk of data loss and file corruption.