eMMC vs HDD: what's the difference and which one should you pick? To make a wise choice, it is vital to have an overall understanding of the two hard drives and the differences between them. Today, MiniTool will focus on these questions and explore the answers.
Have you wondered that why your computer becomes slow even with powerful CPU and RAM? Do you encounter data loss issue recently because of laptop dropdown? Here, you need to learn an important computer hardware – storage.
The storage plays a vital role in your computer, which has impact on the performance and running speed of your device. Here are multiple options for laptop storage including HDD, SSD, Hybrid, and eMMC, etc. The storage device is mainly divided into flash storage (SSD and eMMC) and non-flash storage (HDD).
Today, we introduce you a flash storage eMMC and the non-flash storage HDD. HDD vs eMMC: which one is more suitable for your laptop? In order to make a correct decision, you should have a basic understanding of the two drives.
An Overview of eMMC Hard Drive
eMMC is short for Embedded MultiMediaCard. It won't be not damaged by regular bumps and dropdowns because of integrated circuits. eMMC hard drives are faster than HDDs in most time, but the specific situation depends on the models used by eMMC drives.
Different from HDD and SSD, eMMC hard drive incorporates a flash memory controller based on the flash memory. And the flash memory controller and flash memory are integrated together on the same silicon die that is connected to the motherboard.
On an eMMC hard drive, the integrated flash memory controller releases the CPU to address other tasks, which reduces the pressure on CPU. Hence, your computer will run faster. This explains the reasons for the faster data transfer speed of eMMC drive compared with HDD at the same capacity.
This is also why the low-end budget laptops and 2-in-1 PCs prefer eMMC to pair with budget CPUs. Besides, eMMC hard drive is affordable for most people. The maximum data that eMMC hard drive can hold is 256GB.
An Overview of HDD
HDD stands for hard disk drive. It is a kind of traditional storage device for personal computers. It is developed based on rotating magnetic platters and reading heads. Compared with other drives, HDDs are characterized by longer system boot-up times, slower application and file loading, as well as slower files copy and paste command execution.
Generally speaking, the standard rotational speed of platters is 5400 rounds per minute (rpm). HDDs in high-end notebook spin at 7200rpm, which improves the writing, reading, and data accessing speed.
Nevertheless, 7200rpm HDD is rare on the market. Besides, it won't have obvious performance improvement. The size of HDD's cache memory (usually is 8MB or 16MB) also affects the performance of a laptop.
Though HDDs have so many drawbacks, they have some strengths too. The hard disk drive is the cheapest one compared with other drives such as SSD, hybrid drive, and eMMC. Additionally, HDDs can hold a large amount of data.
Now that you have learned the basics of the two drives, it's time to compare them and then choose a suitable one for your laptop.
Main Differences between eMMC and HDD
Technology
Performance
Application
Capacity 
eMMC VS HDD
eMMC vs HDD: which one is more suitable for laptop storage? To select a correct one, you should consider from several aspects including technology, performance, application, and capacity.
Technology
HDD is a device that utilizes magnetic storage to store and retrieve digital information. For more information about the working theory of HDD, you can read this post: How Does a Hard Drive Work? Here Are Answers for You. As a mechanical drive, HDD contains multiple moving parts. So, it can be broken with ease.
eMMC hard drive belongs to flash storage, which stores data via flash memory. With integrated circuit, it will not be broken or damaged easily.
Performance
In general, the performance of eMMC hard drives is between the HDDs and SSDs. HDDs are regarded as the slowest storage device in modern computers. The maximum data transfer speed of an HDD is 150MB/s, while the maximum speed of eMMC is 400MB/s. This post shows you the speed of some frequently used devices.
Tip: The data 150MB/s is the theoretical maximum speed of hard drive, so its actual speed may be slower than that.
If you want to know the exact speed of your drive, you can perform a speed test via a drive benchmark program. MiniTool Partition Wizard is a multi-functional partition managing program, which allows you to format/extend/resize/move/split partition, copy disk/partition, check file system, etc.
The Disk Benchmark feature of this program enables you to test the speed of your drive including SSD, HDD, SD card, USB flash drive, U disk, TF card, etc. Download and install MiniTool Partition Wizard by clicking the following buttons, and then begin the eMMC vs HDD speed test.
MiniTool Partition Wizard FreeClick to Download100%Clean & Safe
Here is the tutorial for testing drive.
Step 1: Connect your drive (eMMC or HDD) to the computer.
Step 2: Launch MiniTool Partition Wizard to get its main interface. Then, click Disk Benchmark on the top of the interface.
Step 3: In the next window, choose the drive letter of your drive and set other parameters according to your demand. After that, click the Start button to begin testing.
Step 4: After a while, you will get the results including sequential reading & writing speed and random reading & writing speed.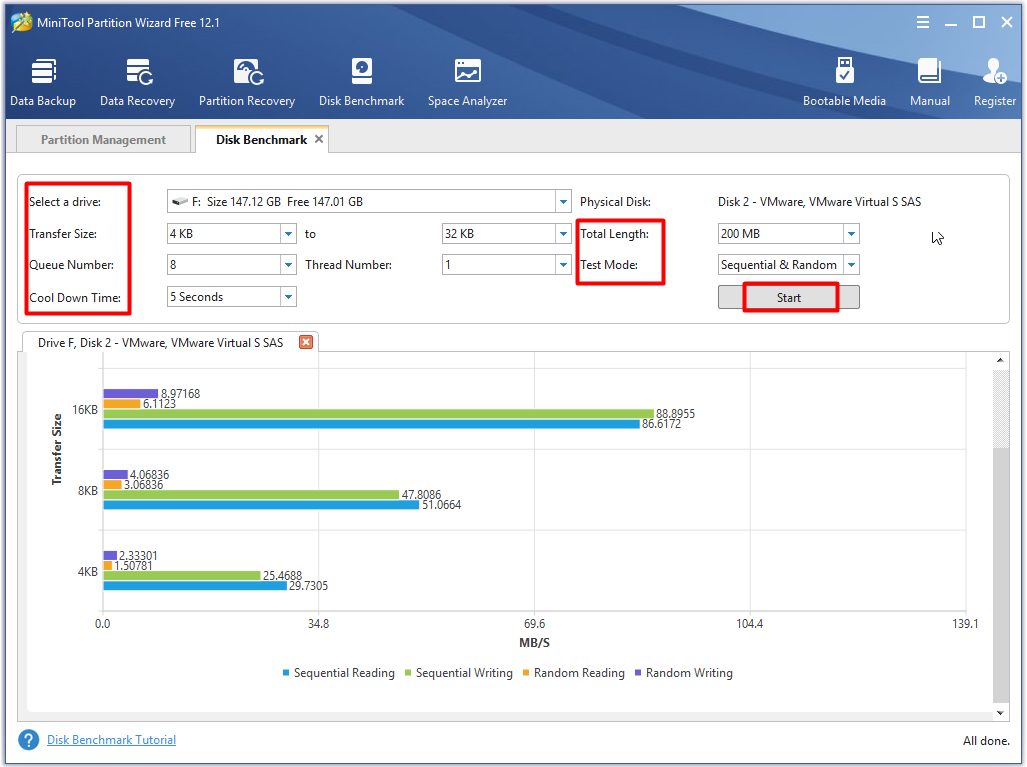 Application
eMMC hard drive usually is used in smartphones and other consumer electronics devices, but it can also be used in personal computers (PCs) too. eMMC drive often can be found on the motherboard of some budget-class notebooks, tablets, as well as 2-in-1 computers.
As for HDDs, they are used in notebooks especially in inexpensive ones and computers. You can see from the above information that eMMC drive has a wider application than HDD.
Capacity
Capacity is also an important element on eMMC vs HDD. The available capacity for eMMC hard drive includes 16GB, 32GB, 64GB, 128GB (rare), and 256GB, while HDD includes 320GB, 500GB, 1TB, 2TB, and so on.
HDD vs eMMC: which one to select? The answer varies according to your demand. If you would like to store large files or run games, HDD is a better choice. The eMMC drive is more suitable for small files.
Recommended: Thumb Drive VS Flash Drive: Compare Them and Make a Choice
This post introduces what does eMMC and HDD meaning respectively. Besides, it explores the main differences between the two drives. You will have a further understanding of them after reading the post. Click to Tweet
When to Use HDD and How to Migrate OS to It
After reading the above content, you may have a rough understanding of the differences between the eMMC hard drive and hard disk drive. With a low price and a large capacity, HDD is often used. HDD is a great choice for gamers and users who own massive large files.
If you are going to replace eMMC hard drive with HDD without data loss, you need to migrate your OS to the new hard drive. Well, the Migrate OS to SSD/HD feature of MiniTool Partition Wizard can help you do that within a few clicks.
Tip: As MiniTool Partition Wizard Free Edition doesn't support the Migrate OS to SSD/HD feature, you should get its Pro or more advanced editions.
How to do that? Here is the step-by-step guide for you.
Step 1: Connect the new HDD to your computer, and then launch MiniTool Partition Wizard to enter the main interface. Then, click on Migrate OS to SSD/HD Wizard feature in the left action panel.
Step 2: You will be prompted two options in the next window. If you want to migrate all the data on the previous drive to the new drive, you should choose Option A. If you only want to migrate the operating system, select Option B instead. Here, we take Option A for example. After choosing the migration method, click Next.
Step 3: In this window, you are required to select a destination disk for the migration content. Here, choose the new HDD that connects to your computer. Once you click the Next button, you will receive a warning window. It reminds you that all the data on the selected drive will be destroyed during the migration process. Click Yes to go on.
Step 4: Here, you should choose copy options based on your need. If you don't have specific demand, follow the default selection. You are allowed to change the size and location of the selected partition by moving the handle. Then, click Next.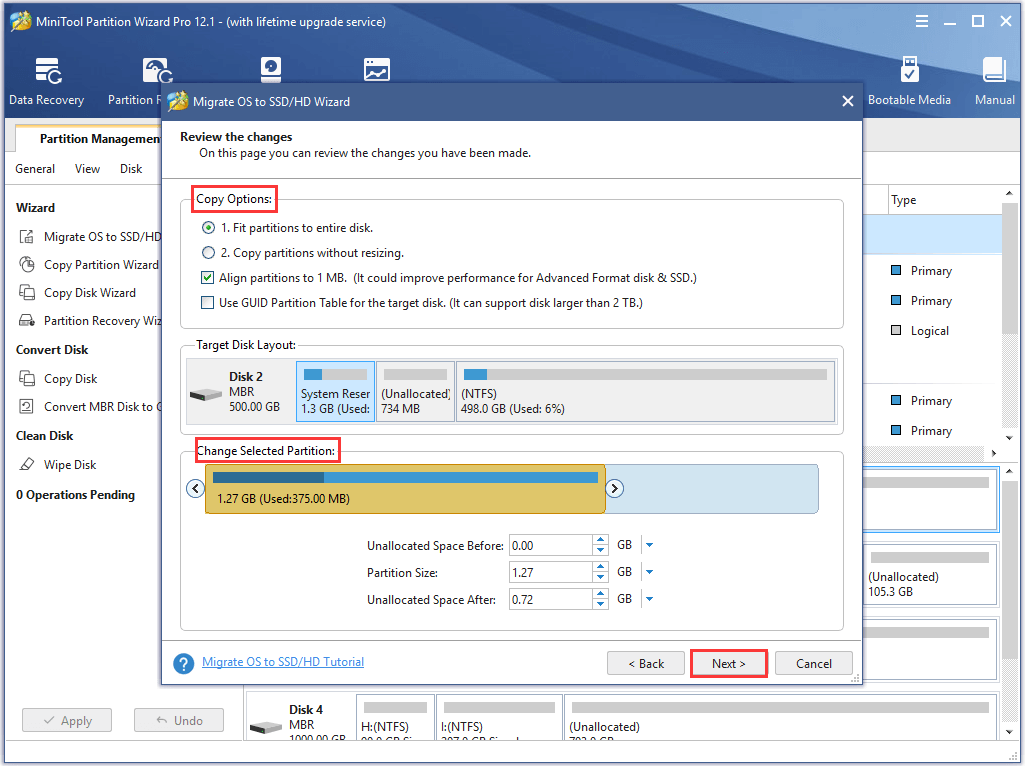 Step 5: Now, click the Finish button to save the changes that you have made and then click Apply to execute the operation.
eMMC vs HDD: which one to use? Are you still seeking for answers? This post provides you with the detailed information. Moreover, you can replace eMMC hard drive with HDD without data loss by following the offered guide. Click to Tweet
Wrap Up
To sum up, this post introduces you two drives (eMMC and HDD), their main differences, and method to migrate OS from eMMC to HDD without data loss. If you are confused about eMMC vs HDD, read the article with attention.
You can leave your words on this topic in the comment area. If you encounter any problems with MiniTool software or have any suggestion about the software, don't hesitate to contact us via [email protected].
eMMC VS HDD FAQ
Is 64GB eMMC enough?
No, it is not enough for storing large files. The 16GB, 32GB and 64GB are the common sizes of eMMC storage, but you can find 128GB and 256GB as well. The eMMC hard drive works best with small file sizes because the lanes on this hard drive don't jam up easily.
Is eMMC better than SSD?
There is no absolute answer to this question. Both eMMC and SSD have advantages and disadvantages. If you want to pick a permanent storage device with high performance, SSD is better. The eMMC storage is more affordable and suitable for coping with small files. eMMC vs SSD: which is better? You can obtain more details from
this post
.
Is eMMC storage good?
Yes, it is. eMMC is a sort of flash storage that can be found in cheap tablets and laptops. Though it is slower and cheaper than SSD, it is affordable. Besides, the eMMC hard drive is good at dealing with small files.
How long does eMMC last?
The eMMC hard drive also has a
limited lifespan
like other drives. In normal case, the lifespan of a 16GB eMMC hard drive is 10 years, while a 32GB is 5 years. So, you can
make a backup
in case hard drive corruption.