U disk vs USB: which one should you pick? To make a wise choice, you should learn them respectively and the difference between U disk and USB flash drive. MiniTool will show you all the content that you'd like to know and some other information.
Now, more and more portable data storage devices come into market and become available so that various kinds of demands can be satisfied. If you want to select some devices, TF card, USB flash drive, and memory stick are great choices.
For mobile data storage devices, U disk and USB flash attract lots of people's attention. Though they are small, they are capable of holding a great deal of data. However, plenty of users are confused by the two items as both of them have similar shapes.
How to tell the difference between U disk and USB flash drive and make a choice? You need to know what U disk and USB flash drive are firstly. To get the detailed information, please keep reading the post.
What Is U disk
The U disk (also called USB hard disc drive) is a hard drive in USB form, which has magnetic hard drive platters spinning inside the enclosure. Each U disk has a bridge chip that can be used to manage the way that the drive is installed to the operating system.
This chip converts the drive form from IDE protocols to USB. The cost of U disk production is cheap, but the sale price is the same as a standard flash memory USB drive. It is portable and small, but it is still slightly bigger than a USB flash drive. However, this doesn't have much impact when making the choice.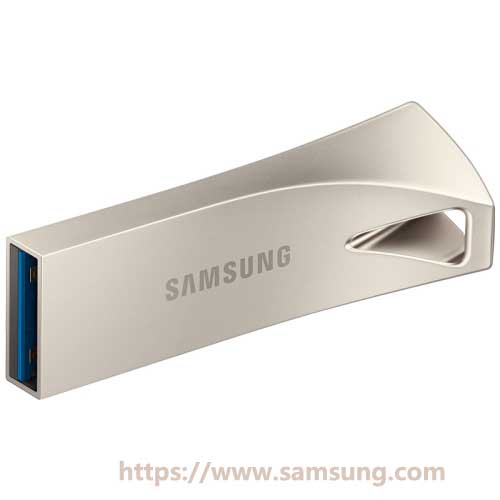 What Is USB Flash Drive
USB flash drive is a data storage device that includes flash memory with integrated USB interface. Therefore, it enjoys many advantages such as fast speed, anti-magnetic, anti-shock, moisture-proof.
Since the USB flash drive is removable and rewritable, you can store your data continuously on it. If the drive is full, you are able to delete the previous data and then store the new data.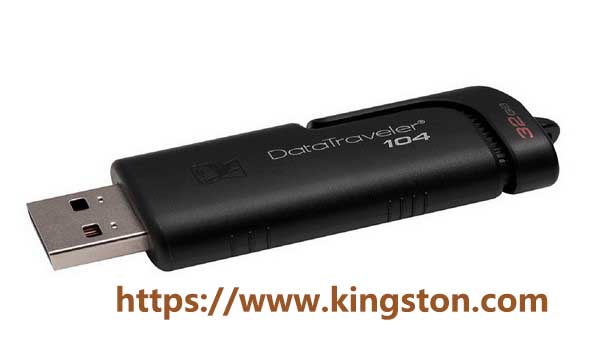 On physical aspect, it is much smaller than an optical disc. Hence, it is easy to carry around. One thing you need to pay attention to is that you should take care of it. Otherwise, you will lose it easily.
If you want to select an ideal USB flash drive to use, please refer to this guide to buy one: The Guide to Choose the Best USB Flash Drive
That's basic information of U disk and USB flash drive. To look into the difference between U disk and USB flash drive, move on to the next part.
U disk vs USB: Work Principle
Both the U disk and USB flash drive are data storage devices, but they work differently due to their own structure. The U disk uses rotating disks (platters) that are coated with magnetic material to store data.
Differently, USB flash drive stores data by using flash memory. Thanks to this factor, USB drive has better reliability against pressure and temperature.
If your USB flash drive can be installed on the computer as a UDISK, it indicates that it's a bad USB drive with firmware that cannot match the memory type and controller combination. If the firmware in the controller is incorrect, the USB stick will become unstable.
Besides, the operating system will inform you of this issue by calling it UDISK.
You may also be interested in this: How Does a Hard Drive Work? Here Are Answers for You
U disk vs USB: Speed
As a data storage device, speed is vital. U disk vs USB: which one is faster? As the USB flash drive
If you would like to know the exact speed of your U disk or USB flash drive, you can use a speed tester. MiniTool Partition Wizard is a professional tool that enables you to test your device's speed with ease.
In addition to that, it also allows you to manage your disks or partitions. For instance, it helps you detect and fix file system error, analyze disk usage, copy disk, etc. In practice, it is useful for cleaning up computer, protecting the hard drive data from bit rot and doing other PC protecting jobs.
MiniTool Partition Wizard FreeClick to Download100%Clean & Safe
Download and install MiniTool Partition Wizard Free Edition on your computer, and then begin conducting steps below.
Step 1: Connect the U disk or USB flash drive to your computer. Here, we take USB flash drive as an example.
Step 2: After launching MiniTool Partition Wizard to get its main interface, click on Disk Benchmark on the top of the interface.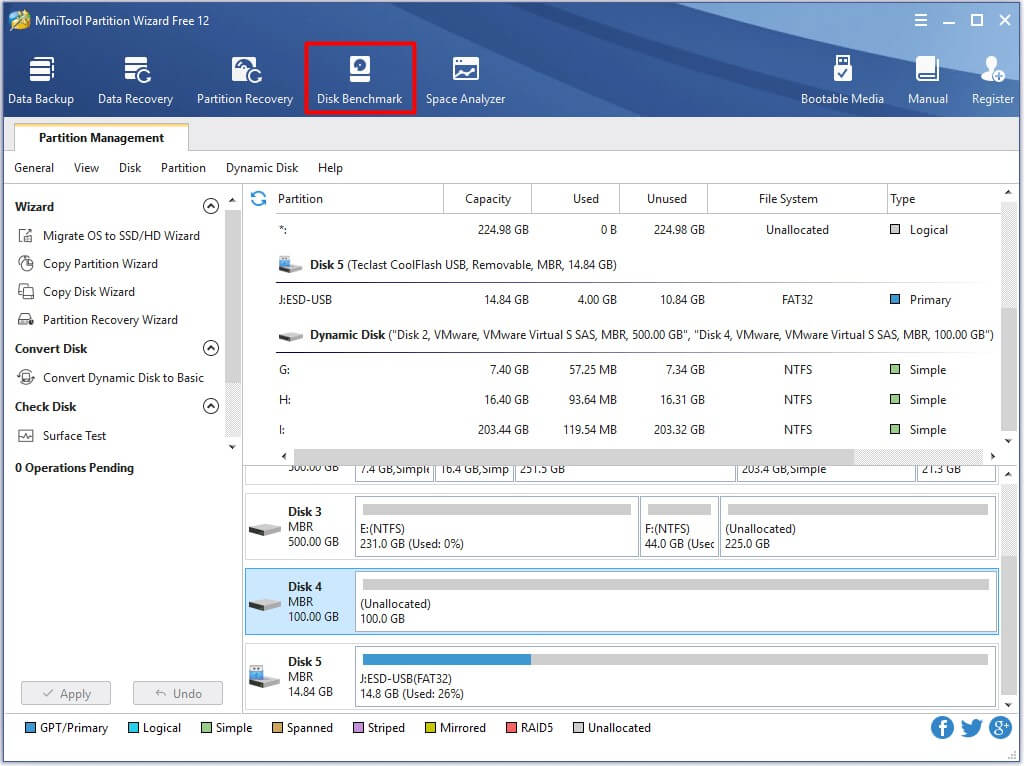 Step 3: In the next window, select the drive letter of your device. You can set other parameters based on your demands. After that, click the Start button to begin the testing process.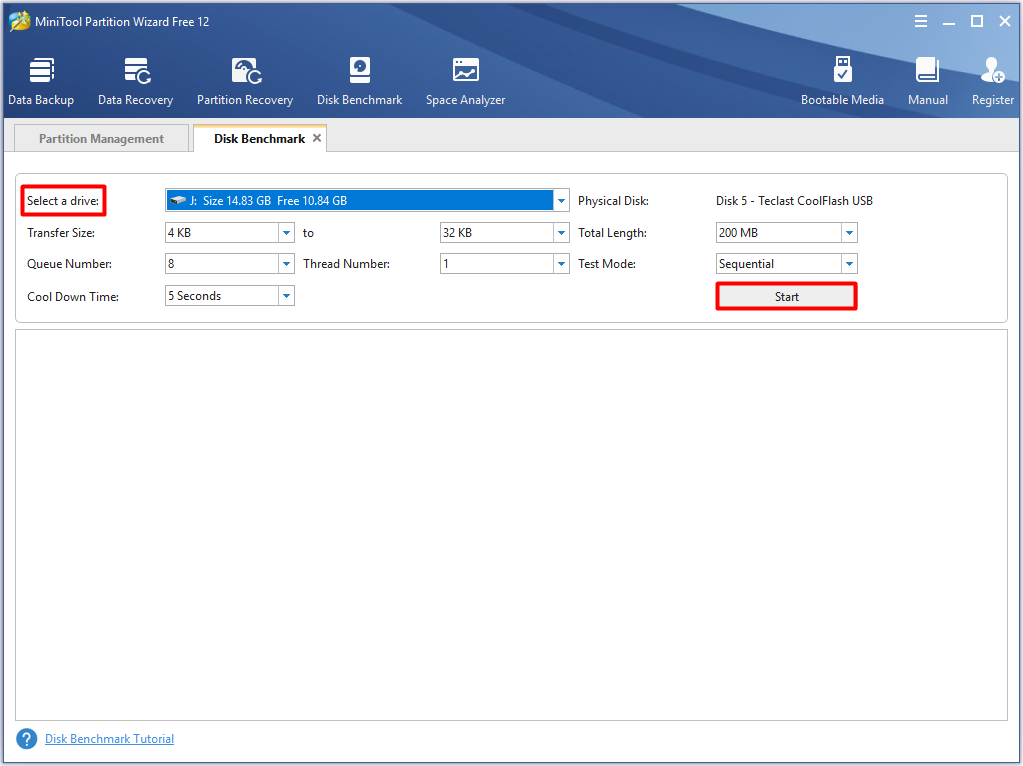 Step 4: When the testing process ends, you will get the results in the form of a tablet.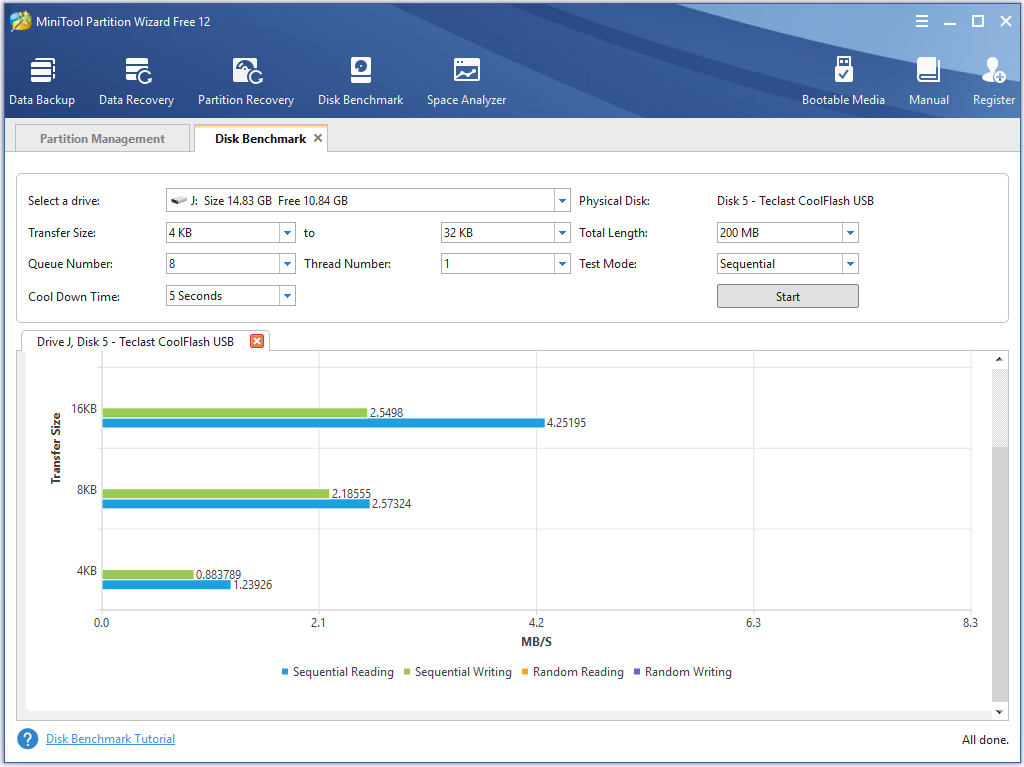 To test the speed of your U disk, connect it to computer and then repeat the above steps again. Then, you will obtain the respective speed of u-disk and USB drive. U disk vs USB flash drive, which one is better? Read here, you may have the answer.
As you can see, USB flash drive boasts more advantages (fast speed, anti-magnetic, anti-shock, moisture-proof, pressure) than U disk. Their prices are nearly identical. So, it can be concluded that USB flash drive is better.
Top recommendation: The Guide to Test and Improve USB 3.0 Speed [With Pictures]
What is U disk? What's the difference between U disk and USB flash drive? I found answers from this post. Besides, I tested the speed of my U disk and USB flash drive and obtained the exact number. Click to Tweet
How to Use U disk
Before answering the question – how to use UDISK, you should know where is can be applied to. The U disk can be used on any computer that has a USB port. Besides, the U disk is also compatible with Android smartphone/tablet produced after 2012 that has a standard Micro USB port.
If the issue comes to your USB 3.0 port, please refer to this guide to fix it: Top 3 Fixes for Solving USB 3.0 Ports Not Working Issue
If you connect the U disk to smartphone, you can transfer data, listen to music, as well as switch video files. After plugging the u-disk into the device, you will see the read sign. At the same time, the disk will show "Updating…" on the LED panel.
Once the reading process ends, new programs on the U disk will display. Then, you can use the disk as you like. Sometimes, you encounter the U disk doesn't work issue like many other users. For this issue, there are several possible reasons. You can check them one by one to fix the issue.
You use the UDISK in other places not in the accessory.
You utilize u-disk in an inappropriate way. You should use the software to produce the program, and then export it to U disk. Finally, insert the U disk to sign. Pay attention to that the UDISK should be inserted when the sign is displaying programs.
The U disk will take you 10 seconds to copy items on the device. Then, you will see the bright U disk light and sign showing "U disk updating". You should unplug the u-disk after the program shows.
Recover the Missing Data of U disk
You may lose your data due to some reasons. For example, you erase the data on the U disk accidently. What should you do recover the missing data? There's nothing you can do to recover the data unless you utilize a piece of data recovery software.
Here, MiniTool Partition Wizard is strongly recommended to you. It allows you to recover deleted files from U disk, lost data from hard drive and other kinds of missing data. You can download one MiniTool Partition Wizard Edition based on your demand. Please refer to edition comparison to get the detailed information.
MiniTool Partition Wizard DemoClick to Download100%Clean & Safe
Step 1: Insert the U disk to your computer. Launch MiniTool Partition Wizard Pro Ultimate Edition to enter its main interface, and then click on the Data Recovery feature at the upper left corner.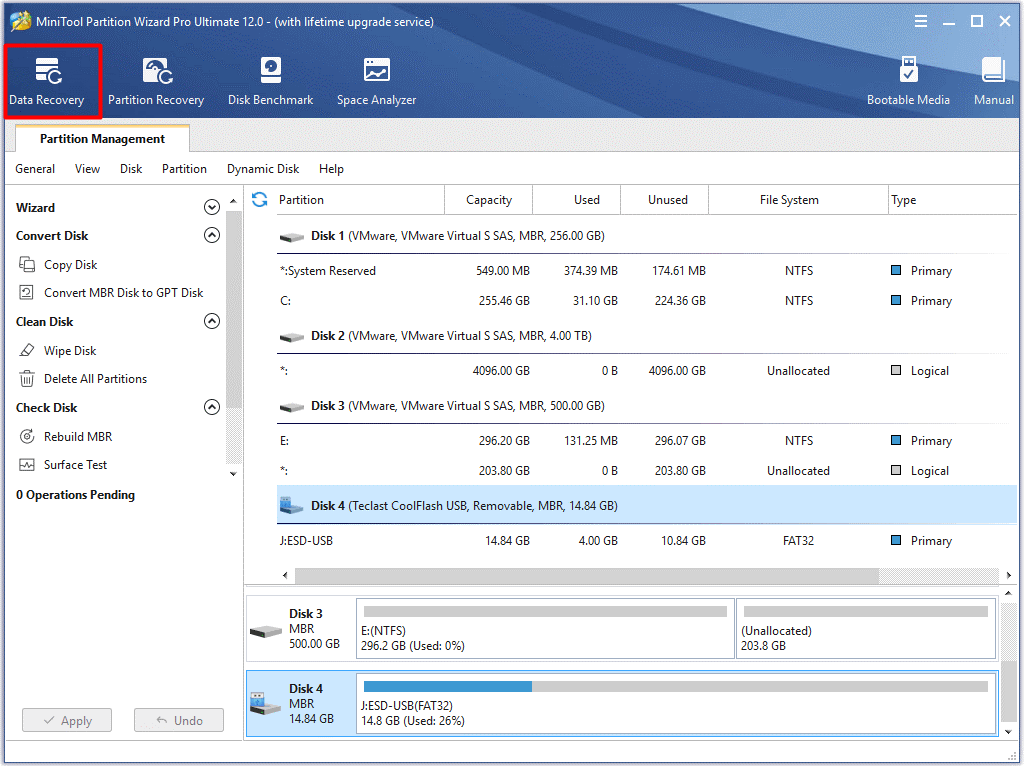 Step 2: In the next window, choose the target drive and click Scan at the bottom right corner of the window.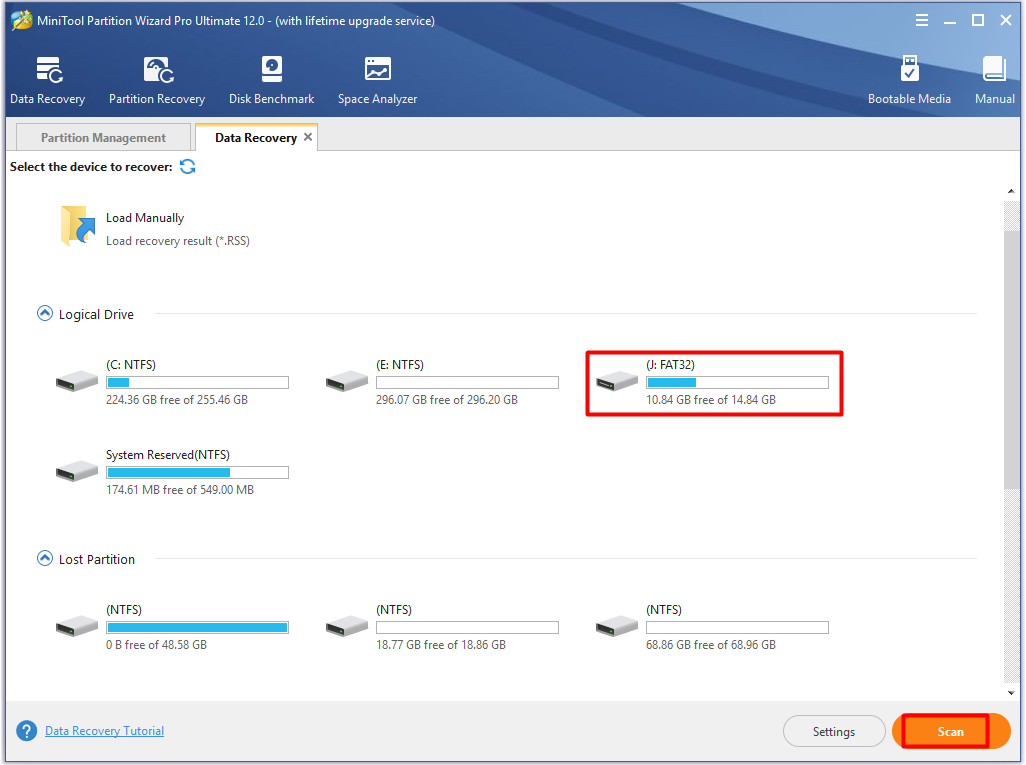 Step 3: Then, the program will scan the drive automatically. You can see the scan process in the pop-up window.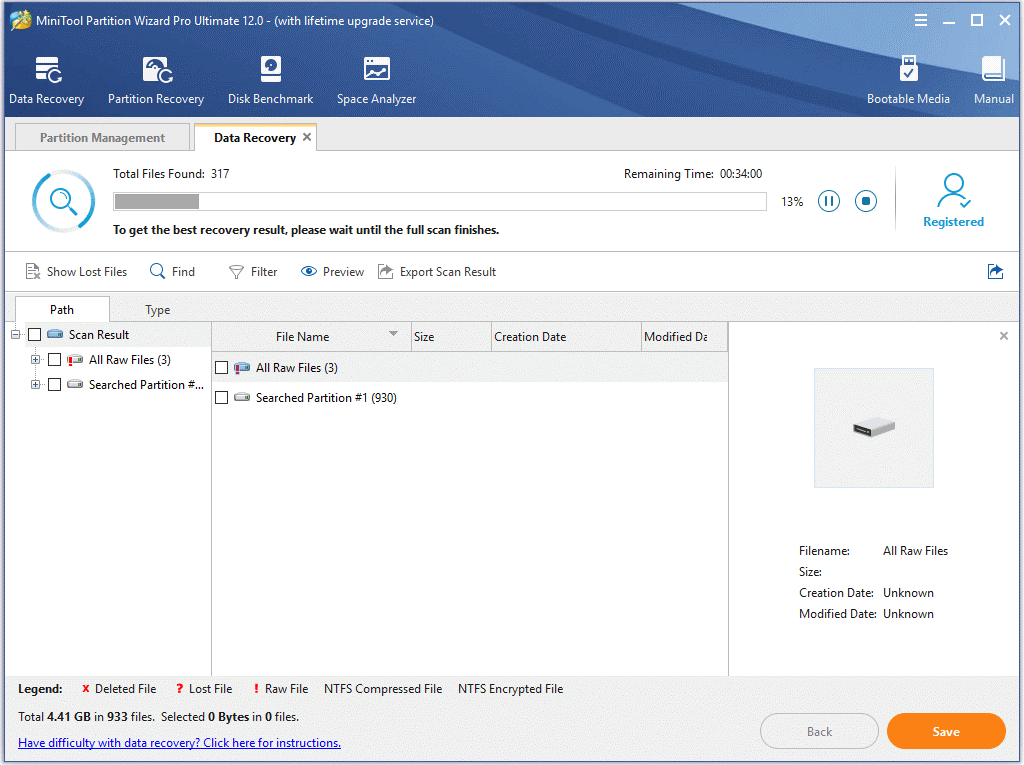 Step 4: Choose the files that you want to recover from the found files and click the Save button.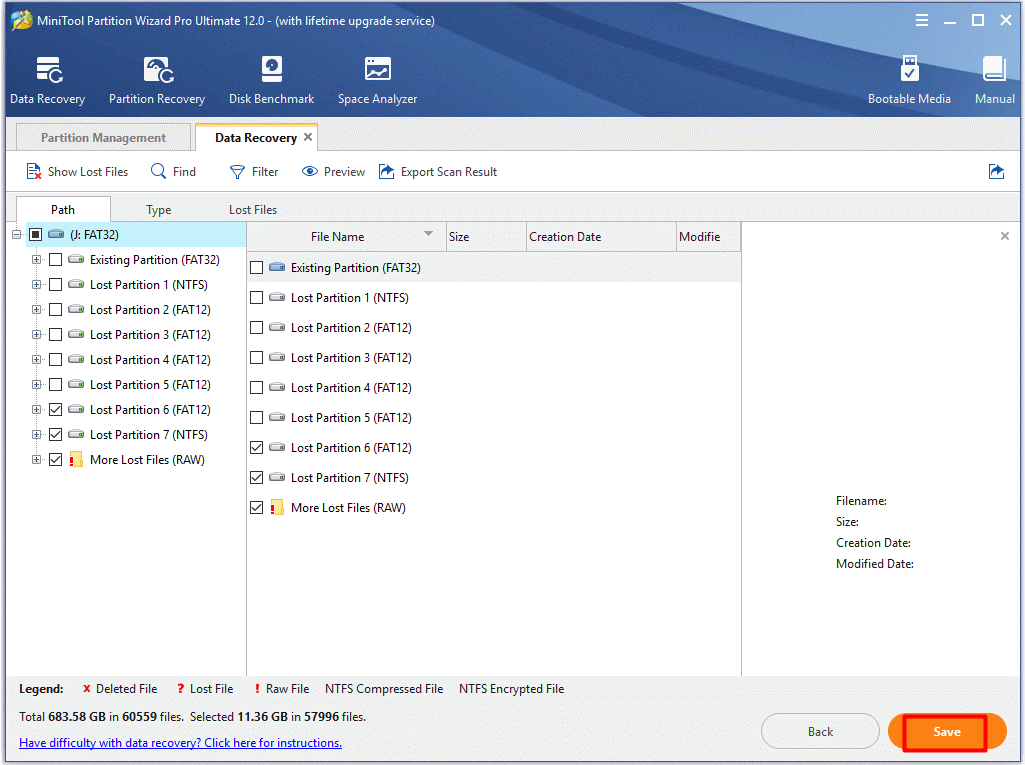 Step 5: In the next window, select a directory to save the files. Alternatively, you can also enter a path manually. After choosing the destination, click OK to save the change.
Tip:
You'd better choose another location (different from the original file storage place) to save your recovered files. Otherwise, the lost or deleted data will be
overwritten
.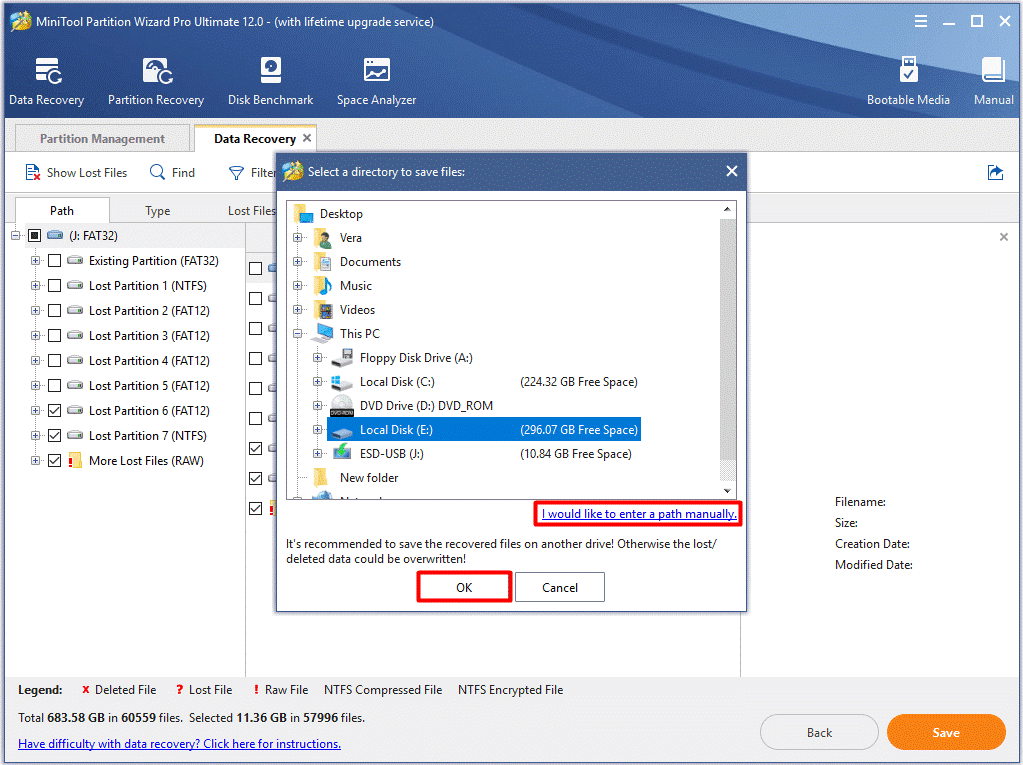 Step 6: The program will save the recovered data automatically. You just need to wait patiently until the process finishes. If you are prompted with any questions, just follow them.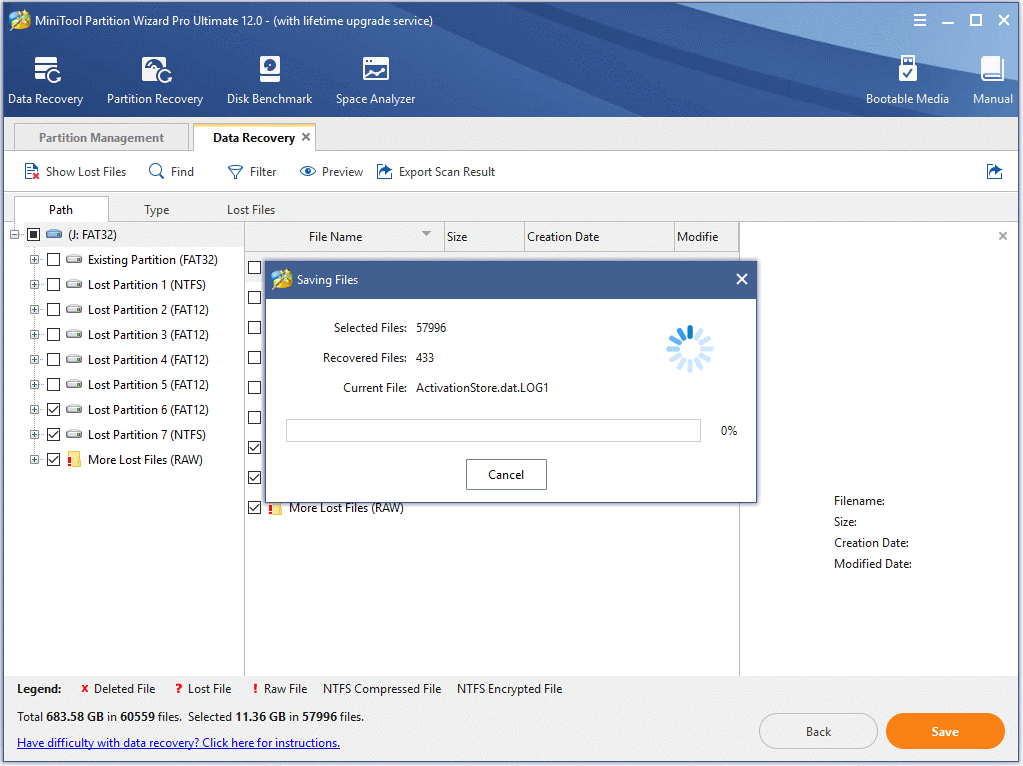 I learned how to use a U disk and fixed some commons issues when using the disk. More importantly, I recovered the missing data on UDISK via MiniTool Partition Wizard successfully. If you are bothered by U disk use issues or data missing issues, refer to this post to fix them. Click to Tweet
Conclusion
What is U disk? U disk or USB flash drive? You may have a clear answer now. After reading the post, you will not hesitate to make a choice between the UDISK and USB flash drive. In addition, you have the guide to use your U disk.
With this post, you don't have to worry about U disk data loss. Because you can recover it easily with MiniTool Partition Wizard. If you have any question when using MiniTool software, write an email via [email protected]. If you have something to share with us, please leave the words