With the development of technology, laptops are designed with more and more sizes for different users. If you prefer laptops of small size, you can consider these mini laptops introduced by MiniTool Software.
Compared with desktops, laptops are better in portability, connectivity, and power saving, and they are easier to use. Therefore, a huge number of users prefer laptops, such as students, and people who travel frequently. The size of laptops ranges from 13.3 inches to 17.3 inches.
If you are expecting smaller laptops, mini laptops are good choices. They have screens that are 12 inches or smaller. Some of them even have detachable keyboards. In the following contents, some popular mini laptops are listed. If you are looking for a laptop with a small screen, you can take them into consideration.
The Best Mini Laptops on the Market
When you choose a laptop, which brand do you prefer: Lenovo, HP, Dell, Asus, or another brand? Here are some recommended brands for mini laptops. Now, let's keep reading to have a look.
6 Best Small Laptops
ASUS L203MA-DS04 Mini Laptop
HP Stream 11 Laptop – ak0010nr
Goldengulf 10.1" Mini Laptop
One-Netbook OneMix 2S Yoga 7" Mini Laptop
GPD Pocket 2 7" Touch Screen Mini Laptop
Microsoft Surface Go 10" Mini Laptop
Option 1: ASUS L203MA-DS04 Mini Laptop
CPU: Intel Celeron N4000 Processor (4M Cache, up to 2.6 GHz)
Graphics: Intel UHD Graphics 600
RAM: 4GB LPDDR4 SDRAM
Screen: 11.6-inch HD (1366 x 768) Display with HD webcam
Storage: 64GB eMMC Flash Storage
Item Weight: 2.10 lbs
Operating System: Windows 10 in S mode (upgradeable to Windows 10 Home)
Price: $271.30 on Amazon
ASUS L203MA-DS04 is one of the best mini laptops. Designed for mobility, it is a compact and lightweight laptop that is smaller than an A4 sheet of paper. It is so small that you can take it anywhere conveniently.
In addition, it comes with a 180° hinge that enables this laptop to be laid flat on the table. It also provides dual speakers and ASUS SonicMaster technology for a surround-sound experience for users. And with various ports including a USB-C, HDMI, MicroSD, and two USB 3.1 ports, it is flexible and users can connect various external devices to the laptop.
Option 2: HP Stream 11 Laptop – ak0010nr
CPU: Intel Celeron N4000
Graphics: Intel UHD Graphics 600
RAM: 4GB DDR3 SDRAM
Screen: 11.6-inch HD AntiGlare WLED-backlit display (1366 x 768)
Storage: 32 GB eMMC storage
Item Weight: 2.37 lbs
Operating System: Windows 10 Home
Price: Start at $225.00 on Amazon
Compared with ASUS L203MA-DS04, the HP mini laptop has a screen of the same size but it is heavier. It includes office 365 for one year where you can get full access to services like Microsoft Excel, Word, PowerPoint, OneNote, etc. Besides, it provides different colors and you can choose Diamond White or Royal Blue as you want.
However, it comes with less storage space, which you might worry about. But it is perfect for homeschooling, according to users. If you are planning to buy a small laptop for your children to study, this HP mini laptop should be on your list to consider.
Option 3: Goldengulf 10.1" Mini Laptop
CPU: Intel Quad Core Z8350
Graphics: IPS
RAM: 2GB DDR4 SDRAM
Screen: 10.1-inch display (1280 x 800)
Storage: 32GB eMMC storage
Item Weight: 2.43 lbs
Operating System: Windows 10
Price: $218.86 on Amazon
The Goldengulf 10.1-inch mini laptop is not designed with high performance, but it is great for children, especially as a gift on Christmas or Birthday. The tiny size and rich colors (including black, blue, pink, and white) would attract your children.
Besides, it's one of the cheapest laptops you can find on the market. And the 6000Mah battery enables users to watch videos for more than 4 hours continuously. And it can deal with basic tasks for up to 9 hours.
Option 4: One-Netbook OneMix 2S Yoga 7" Mini Laptop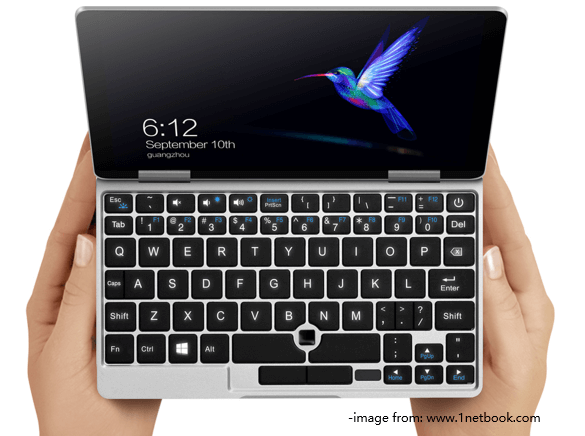 CPU: Intel Core M3-8100Y Dual-Core
Graphics: Intel HD Graphics 615
RAM: 8GB
Screen: 7-inch Retina Touchscreen Display
Storage: 256G PCIe SSD
Item Weight: Body of 515g and 12g of pen
Operating System: Windows 10 Home
Price: $740.00 on Amazon
One-Netbook is a company focusing on developing mini laptops, pocket laptops, and UMPC and palmtops. Its OneMix 2S Yoga mini laptop should be one of the smallest laptops you can find on the market.
The 7-inch size makes the mini laptop as tiny as a mobile phone and the 360° flip-and-fold feature makes it become a tablet, which enables users to open their efficient office journey anytime and anywhere. As you can see, it is wonderful for business. By the way, it is a touch screen laptop designed with a stylus pen.
Different from the first three mini laptops that are equipped with eMMC storage, this one is designed with a PCIe SSD that has a relatively large capacity, which means users can store much more files, videos, and even games in this mini laptop. At the same time, SSD is very fast, stable, and silent while working. So, you don't need to waste time waiting for the system to start.
Recommended article: eMMC VS SSD Storage: Which Is More Suitable for Your Laptop?
Option 5: GPD Pocket 2 7" Touch Screen Mini Laptop
CPU: Intel Celeron Processor 3965Y
Graphics: lntel HD Graphics 615
RAM: 8GB LPDDR3
Screen: 7-inch sharp full-lamination H-IPS touch screen (1920 x 1200)
Storage: 256GB SSD
Item Weight: 510g
Operating System: Windows 10
Price: $619.95 on Amazon
GPD Pocket 2 7-inch touch screen mini laptop comes from the brand 6 Goodlife623. It's also a good choice for business professionals. With the metal casing, you can put it into your pocket without worries about being broken. It provides silver and amber black, and you can choose one from them.
Option 6: Microsoft Surface Go 10" Mini Laptop
CPU: Intel Pentium Gold 4415Y Processor
Graphics: Intel HD Graphics 615
RAM: 4GB or 8GB
Screen: 10" PixelSense Display (1800 × 1200)
Storage: 64GB eMMC storage or 128GB SSD
Item Weight: starts at 1.15 lbs
Operating System: Windows 10 Home
Price: start at $428.00 on Amazon
Microsoft Surface Go mini laptop adapts to home, travel, and daily tasks. It is small and ultraportable, which enables you to take it everywhere. Similar to some other small laptops, this one also supports 10-point multi-touch and you can use it as a tablet.
With up to 9 hours of unplugged power, you can easily deal with your work all day. By the way, it comes with stunning signature colors including black, burgundy, cobalt blue, and silver.
Here are some popular mini laptops for business, children, and daily work. You can choose one according to your needs.Click to Tweet
How to Manage Your Mini Laptop
When you get a new mini laptop, the first thing you might need to do is to resize the partition on its hard drive. Usually, the hard drive on a new laptop has only one partition where the operating system is installed. If you store all your apps, files, videos, and games on one partition, it will be harder and harder to manage your files as time goes by.
Therefore, it's a good choice to shrink the system partition and create more partitions for your mini laptop. If you are not familiar with computer knowledge, it might be difficult for you to do the operation. But don't worry. You can use a reliable third-party partition manager to resize your hard drive within a few clicks. Here I recommend MiniTool Partition Wizard.
Tip: If the storage is not large enough on your mini laptop (such as a mini laptop with 32GB eMMC storage), resizing the hard drive might not be a good option for you.
Now, let's see what you need to do.
Step 1: Install MiniTool Partition Wizard on your mini laptop and launch it.
Step 2: When you get the main interface, right-click the system partition (usually C drive) and select Move/Resize.
Step 3: In the pop-up window, drag the slider to shrink your system partition and click OK to continue. You should leave enough free space for your C drive. Otherwise, you will encounter the problem that the C drive is full very soon.
Step 4: Now you have unallocated space on the hard drive to create more partitions. Right-click the unallocated space and select Create.
Step 5: Specify the size and location for the new partition and click OK to confirm the operation. When you go back to the main interface, click Apply to execute pending operations.
Tip: You might be required to restart your laptop to finish the process.
How to Expand the Storage of Your Mini Laptop
As you can see, most mini laptops come with limited storage space. They are usually designed with up to 64GB eMMC storage or 256GB SSDs. With time going by, you might need more and more space. What can you do if you don't satisfy with the capacity?
If your mini laptop doesn't have a slot for HDD or SSD, you can expand the storage with a Micro SD card (TF-card) which is supported by most mini laptops. If your mini laptop uses an SSD as the internal storage, you can upgrade it to a larger one when you find it's running out of space. But you need to pay attention to its size and interface while you buying a larger one.
To replace your SSD with a new SSD, you need to copy all the data to the new one. Let's see how to do it.
Step 1: Launch MiniTool Partition Wizard and register to the pro ultimate edition.
Step 2: Click Migrate OS to SSD/HD Wizard from the left action panel.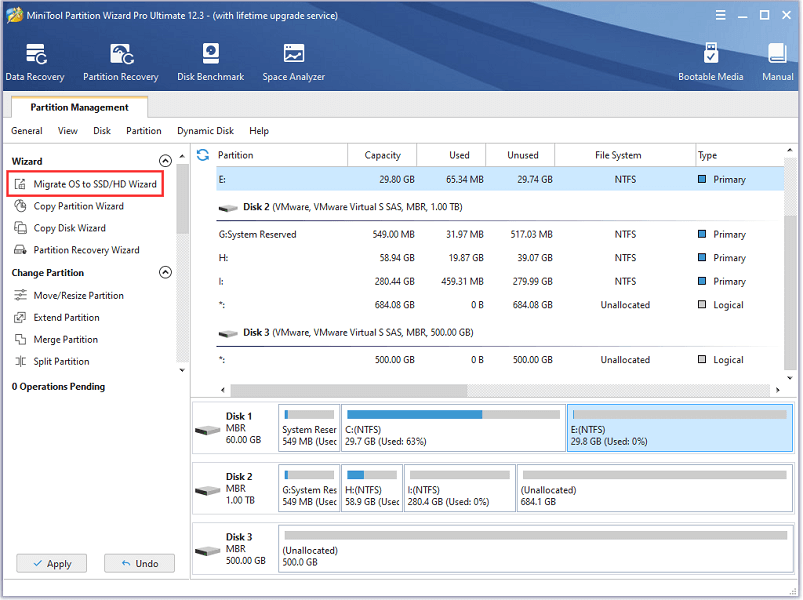 Step 3: In the pop-up window, select Option A to copy all the data and click Next. Then follow the onscreen instructions to continue. Remember to click Apply to execute the operations.
After the process, you can remove your old SSD and install the new one.
How to manage your mini laptop better? Here is the answer.Click to Tweet
Bottom Line
If you are looking for a laptop of a smaller size, mini laptops are great for you. You can take it anywhere without taking too much space. This post introduces some popular mini laptops and you can take them into consideration.
You can share your favorite one with us in the following comment zone. If you encounter any problems while using MiniTool software, you can contact us via [email protected] for solutions.
Mini Laptop FAQ
What is the difference between a mini laptop and a regular laptop?
Compared with regular laptops, mini laptops might not be powerful enough but they are smaller in physical size. They are usually equipped with less
RAM and storage
space. If you require high performance, mini laptops are not your best choice. But if you need an ultraportable laptop, they are wonderful.
Are laptops better than tablets?
The answers are different for different users.
Laptops and tablets
have their disadvantages and advantages. Laptops usually have a larger capacity and more powerful functions, while tablets are better in portability and cheaper. Nowadays, some laptops are designed with touchscreen and 180°/360° hinge, and you can use them as tablets.
How do I choose a laptop?
When you choose a laptop, you need to consider the following factors:
Brand
Outlook, bulkiness, and weight
Storage capacity and speed
RAM, CPU, and GPU
Operating system
Battery life
Warranty
Price