Photos are important for you since they are precious memory, so backing up photos is a necessary thing to keep them safe. How to do this work? In this post on the MiniTool website, you can find what the best way to backup photos is. Just follow the mentioned methods based on your situations.
Photo Backup Is Necessary
Perhaps you may have heard the honor stories about losing photos. The pictures may be your family photos, a project for a client, or a portfolio. Losing them can be devastating. It may be time-consuming and expensive to recover lost photos. This is why you need to backup photos.
Besides, if you are a photographer, it is an extremely risky move to not backup pictures. Usually, you may store the pictures on your computer's hard drive, but the disk damage may happen accidentally, leading to photo loss.
Thus, it can be seen that it is necessary to backup photos or store photos to a safe location. What is the best way to backup photos on computer? Read the following methods and find a proper one based on your actual situations.
The Best Way to Backup Photos on Laptop or Desktop
Backup Pictures to an External Hard Drive
One of the simplest and most convenient ways to backup photos is using an external hard drive.
As mentioned above, if you store photos on the computer's hard disk, you also had better create a backup for them since disk failure happens unexpectedly due to some reasons. An external hard disk is a good choice. Then, you have two backups – one is on the internal hard drive and another is on the external hard drive.
So, how to backup photos to an external hard drive? In the following paragraphs, we will show you two options.
Manually Transfer Photos to Your External Disk
You can manually backup photos to an external hard drive by following these steps below:
Step 1: Connect the disk to your computer.
Step 2: Go to File Explorer to find photos that you want to transfer to the external disk. And open your external hard drive in a new window.
Step 3: Copy and paste pictures to the external disk.
Automatically Backup Photos to an External Hard Drive
If you always need to backup photos, you can choose to use a professional tool for automatic photo backup. MiniTool ShadowMaker, a free PC backup software, is designed to backup your files, folders, disks, partitions, and Windows operating systems. Importantly, it supports automatic backup, differential, and incremental backup.
As for automatic photo backup, this freeware can also help you. Now, don't hesitate to download MiniTool ShadowMaker Trial Edition by clicking the following button and then follow the steps below to start an automatic photo backup.
MiniTool ShadowMaker TrialClick to Download100%Clean & Safe
Step 1: Launch MiniTool ShadowMaker and click Back up Now to enter the main interface of this software.
Step 2: Navigate to the Backup page, click Source and Folders and Files, then choose pictures that you want to backup. We recommend storing photos to a folder and check the folder to backup.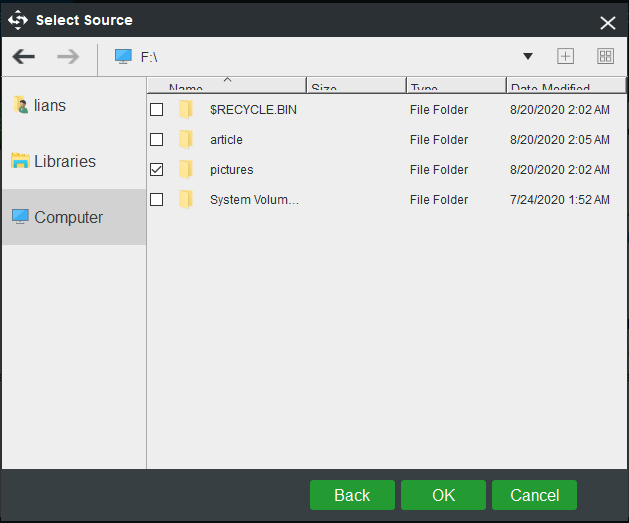 Step 3: Click Destination and then choose your external hard drive as the storage path.
Step 4: To automatically backup photos, you need to set the automatic backup time. Just click Schedule, enable this feature and choose a time point.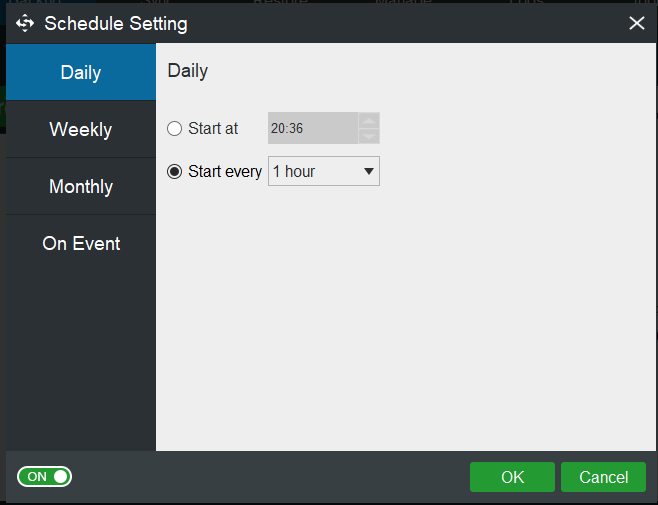 Step 5: Click Back up Now to execute the full backup. At the time point, it will start to automatically backup pictures to your external hard drive.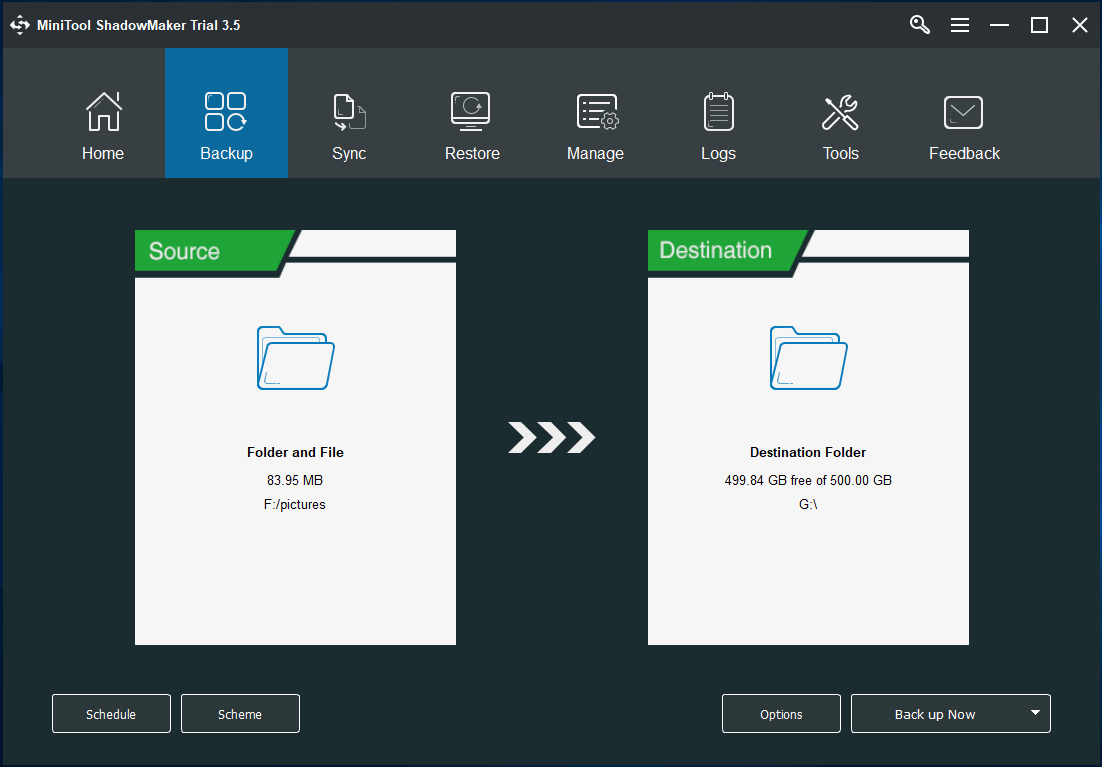 "I need to backup many photos every day. In my opinion, the best way to backup photos is by using MiniTool ShadowMaker to automatically backup my pictures to an external hard drive. Share it with you."Click to Tweet
Use a Cloud Storage Device
In the past few years, there have been some big changes in backup solutions. Many persons and businesses move their data online since they think it is safer to keep data in the cloud. You can also try this way.
If you backup photos to a cloud device, you can access them from any place at any time. This means your pictures will be protected from theft and environmental damage.
Many companies offer cloud-based storage and you can upload your files or photos to their servers, and then download them when you need them.
Google Drive and Dropbox are two common cloud storage devices. Just get one and you can use it to backup, enjoy file synchronization and file sharing features. Besides, you can access your photos on any devices including a computer or an Android/iOS device.
If you are using Windows 10, you may have noticed that your PC has installed the app. You can use OneDrive for photo backup. It is also the best way to backup photos. Now, let's see a detailed guide on how to use OneDrive.
If you use OneDrive on your PC for the first time, follow the simple steps to open OneDrive:
Step 1: Search for OneDrive in the search box and click the result to open the setup.
Step 2: Enter your email and create an account.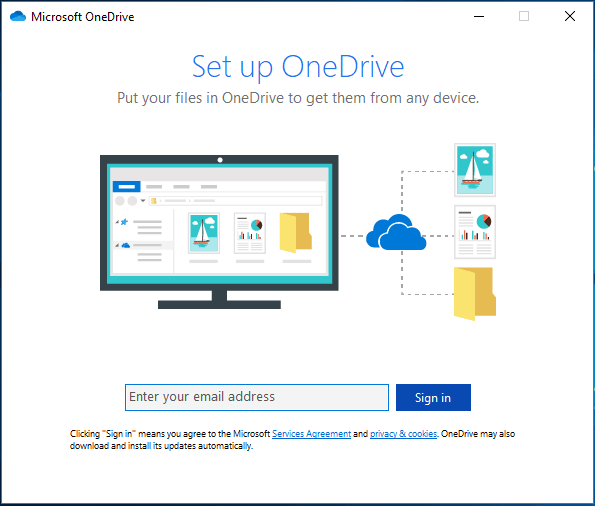 If you have set OneDrive on the PC, go to do these things:
Click the cloud icon from the taskbar and navigate to Help > Settings > Backup > Manage backup.
Make sure the folders including pictures that you want to back up are selected and then click Start backup.
Once the steps are completed, OneDrive will begin backing up your pictures in the cloud while keeping a copy on your device and syncing them across your device. For the free edition of OneDrive, only 5GB of data can be stored.
Alternatively, you can go to File Explorer, right-click OneDrive and click Choose OneDrive folder to sync. Then, check the folder that you want to sync to this PC. This is suitable if you want to backup photos from other devices to your computer.
Backup Photos to Optical Discs
Although optical discs are relatively outdated, many persons still use them to backup and share files. You can also have a try.
Just transfer your pictures to a CD. This is considered as a good way to keep many files organized. It is a portable backup way but no one can make sure the usage in the foreseeable future since digital media and software is changing so fast.
So, in our opinion, it is not the best way to backup photos but a way for photo backup. Whether to choose it depends on you.
Use Network Attached Storage (NAS)
NAS, known as Network Attached Storage, can be another way to store photos. It allows you to access files and pictures via the Internet connection from anywhere in the world. It is like having a private cloud. This enables you to remain totally in control and remove the faceless third-party.
A NAS device is mainly used by some small businesses. It offers a much better long-term storage. In the beginning, it may cost more but provides long-term accessibility. Compared to cloud storage, you won't pay a monthly subscription cost to store your photos.
Make a Hard Copy
As for important photos, the best way to backup photos is to have them printed and have a hard copy with you. If the worst case happens – you lose the digital pictures, you can get them back quickly by scanning the pictures and turning them into digital images, and then save them to your computer.
Conclusion
What is the best way to backup photos? In this post, we show you some useful ways to store photos for backup. Actually, it is hard to say which one the best way is since this depends on your choices. Just choose a proper way to keep your pictures safe based on your actual needs.
"How to backup photos on laptop or desktop? Some ways are introduced here and you can choose the best way to store photos based on your needs. Also, share them with you!"Click to Tweet
Further Reading: Best Way to Backup Photos on Android or iPhone
When searching for "best way to backup photos" in Google Chrome, you may find the related searching – best way to backup photos on Android or best way to backup photos from iPhone. Today in this part, we will simply introduce them.
For Android photo backup, the best way is to use a cloud service, and Google Drive, Dropbox, etc. are your good options. Just download the Android version on your device and use the app to upload your pictures to the cloud for backup.
As for iPhone photo backup, you can use iCloud, Dropbox, Google Drive, etc. or download photos to your computer.
Final Words
How to backup photos on laptop or desktop? After reading this post, you know many useful ways to backup your pictures to keep them safe. It is hard to identify what the best way to backup photos is. Just choose a proper one for photo backup based on your actual situations.
On the other hand, if you have any suggestions on photo backup, let us know. You can leave your idea in the Comment part below or send an email to [email protected].
Best Way to Backup Photos FAQ
What is the best photo storage?
An external hard drive, cloud storage device,
optical disc
, and NAS devices are the best photo storage locations. Just choose one for photo storage.
What is the best way to store old photos?
When storing old photos, a well-ventilated area with proper temperature is a good place. And you also consider the moisture and lighting.
What should I do with all my old photos?
You can scan pictures, upload images to the cloud, create a collage, make a scrapbook, create your family tree, transform negatives into art, use a service to digitize photos, etc.
How can I save my photos forever?
You can save your photos to an external hard drive, the cloud, a CD/DVD, or print the images and place them to an album.