Both Bitdefender and Malwarebytes can protect your Windows computer, but which one is more suitable for you? This post is mainly talking about Bitdefender vs Malwarebytes, so you can read this post to know which one is better. Except for antivirus software, you can also use MiniTool Software to protect your computer and keep data safe.
Since virus infection is very annoying and may cause data loss, many users try to install antivirus tools on their computers to protect their data. And this post focuses on Bitdefender vs Malwarebytes, so read this post to know which one is suitable for you.
Before you know the difference between Malwarebytes and Bitdefender, we will introduce some information about Bitdefender and Malwarebytes first.
Introduction to Bitdefender
Bitdefender is a global leader in cybersecurity, protecting 500 million systems in more than 150 countries. It supports Windows OS and macOS. Since 2001, Bitdefender Innovation has been providing award-winning security products and threat intelligence for people, homes, businesses, and their devices, networks, and cloud services
Not only does Bitdefender have the largest deployment base, but every machine protected by Bitdefender is a sensor, which means that the strength of the entire network increases with each new endpoint – the larger the base, the faster the response to zero-day malware.
Bitdefender's Global Protection Network can respond to milliseconds to billions of queries every day, using reflective models and advanced machine learning algorithms to extract malware patterns to ensure real-time defense against threats.
The centralized security infrastructure can permanently scan the Internet to discover new threats and provide intelligence to locally installed agents. In addition, each agent sends alerts about possible malware, allowing its centralized service to correlate information received from different agents to identify new threats.
Related post: BitDefender Confirms Security Flaw in Free Windows Antivirus 2020
Introduction to Malwarebytes
Malwarebytes is also an antivirus tool that supports Windows OS, macOS, Android, and iOS. It was first released in January 2006, which was specialized in fighting against a type of infection called "rogues".
Malwarebytes has several products, and as of 2011, these products are available in 36 different languages. There are two different versions of Malwarebytes: one is free to download for home computers, and the other is a professional version, which allows you to try it for free, thus providing "real-time protection against malware, automatic scanning, and automatic updates".
Related post: Malwarebytes VS Avast: Comparison Focuses on 5 Aspects
Bitdefender VS Malwarebytes: Which One Is the Winner?
After getting some information about Bitdefender and Malwarebytes, then which one is better? This part has listed several differences between Bitdefender vs Malwarebytes.
Security-Related Features
At first, let's get some information about the security-related features of the two antivirus tools. Here, I will introduce the products for Windows only.
Bitdefender
Bitdefender Antivirus Free – It provides limited malware protection and does not include any security-related advanced features and additional utilities. But it contains protection against phishing attacks and fraudulent websites.
Bitdefender Antivirus Plus – In addition to the first-class malware protection features, it also includes a password manager, a hardened browser, and a file shredding utility. The "Plus" package also includes an additional layer of ransomware protection.
Bitdefender Internet Security – It includes everything blocked in the "Plus" suite, as well as a two-way firewall, email spam filter, and the file encryption utility. The restricted parental control file manager is also part of the "Internet Security" suite.
Bitdefender Total Security – It is the company's top (and most popular) antivirus suite. In addition to everything in the "Internet Security" suite, you will also get some performance optimization features, such as OneClick Optimizer, Disk Cleanup, and Startup Optimizer, as well as useful anti-theft modules (which can help you find lost/stolen equipment). The "Total Security" package also includes a fully functional parental control filter and limited VPN.
Bitdefender Family Pack – It can protect an unlimited number of Windows, Mac, Android, and iOS devices, and has all the features/tools in the "Total Security" suite.
Malwarebytes
Malwarebytes Free – It is a free anti-malware product. It is just a "disinfecting tool" that can only delete malware that has infected the system.
Malwarebytes Premium- In addition to providing real-time protection against various malware threats, it also provides online security (protection against malicious websites), a powerful anti-exploitation module, and protects your sensitive files from ransomware.
As you can see, Bitdefender vs Malwarebytes: Bitdefender is more powerful than Malwarebytes.
Related post: Is Windows Defender Better Than McAfee, Avast, Or Bitdefender
Malware Protection
This part shows Bitdefender vs Malwarebytes from the factor of malware protection. AV-Test and AV-Comparatives are two well-known security laboratories that regularly (thoroughly) check the performance of various top antivirus products. So let's see the recent lab evaluations conducted by them to know which one is the winner.
AV-Test
In May and June 2020, AV-Test tested Bitdefender on Windows 10. Bitdefender has tested 21,851 widespread malware samples and 339 zero-day malware samples. In two months, it blocked 100% of the widespread and zero-day malware samples, so it scored a perfect 6 out of 6 in the "Protection" category. (If you are interested in detailed results, please refer to this link.)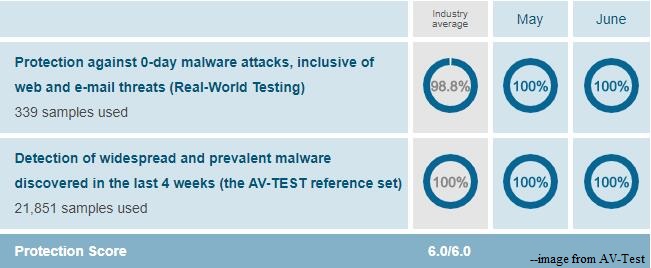 However, Malwarebytes only scored 5 out of 6 in the "Protection" category. (If you are interested in detailed results, please refer to this link.)
AV-Comparatives
AV-Comparatives experts conducted Malware Protection Test and Real-World Protection Test to evaluate the protection levels of different antivirus products. The former test examines the comprehensiveness of the on-demand and on-access scanning engines of security products, while the latter test exposes the product to real-world malware conditions (user experience).
Due to its near-perfect malware detection rate and low false alarm rate, Bitdefender won the highest ADVANCED+ award in both tests.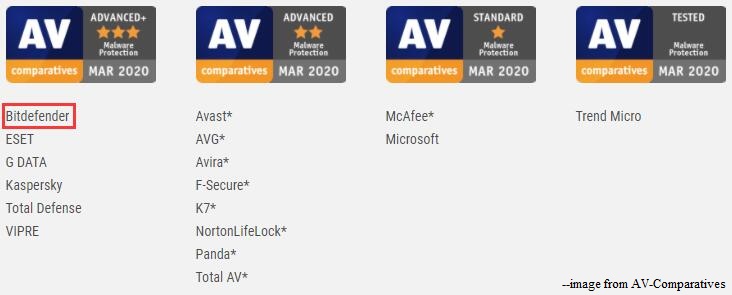 Malwarebytes did not participate in any independent Lab tests. The main reason is that it specializes in the protection of zero-day malware. Therefore, tests that use outdated malware samples to assess protection levels may make Malwarebytes look bad. An important point to note is that Malwarebytes encourages users to use traditional antivirus products at the same time to avoid widespread and zero-day malware.
Therefore, in this aspect, Bitdefender vs Malwarebytes: Bitdefender is the winner.
System Performance
When speaking of Bitdefender vs Malwarebytes, system performance needs to be compared, and this part gives you some information about that.
To be able to defend against malware threats in real-time, security products must run continuously in the background like other computer programs. If the product takes up a lot of system resources, you may have to deal with system performance issues (or slow down your computer).
Now, let's see how the two products perform in the latest independent performance test. In the June 2020 evaluation of AV-Test, Bitdefender scored 5.5 (out of 6) in the "Performance" category, while in the same evaluation, Malwarebytes scored 4.5 (out of 6).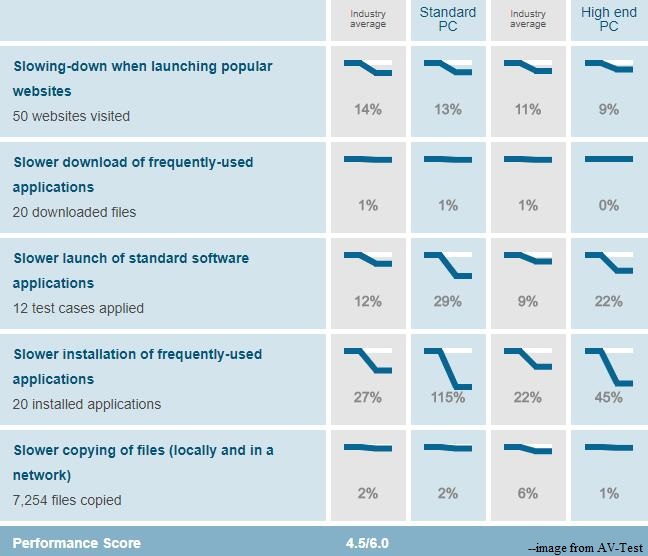 Thus, Malwarebytes vs Bitdefender: Bitdefender is better than Malwarebytes.
User Interface
The next thing that needs to talk about Bitdefender vs Malwarebytes is User Interface.
Bitdefender
The interface of Bitdefender is simple. There is a vertical menu on the left, which contains the following items: Protection, Privacy, Utilities, Activity, Notifications, Account, Settings, and Support.
When you open the interface, you will enter the Protection window. You will see the protection status on the left and a link to run a Quick Scan or Vulnerability Scan. You will also find status diagram blocks for Bitdefender's App Protection, File Protection, and Web Protection features. The window also provides a toggle switch for Bitdefender's useful AUTOPILOT feature (you can make the best safety decisions on your own without disturbing you).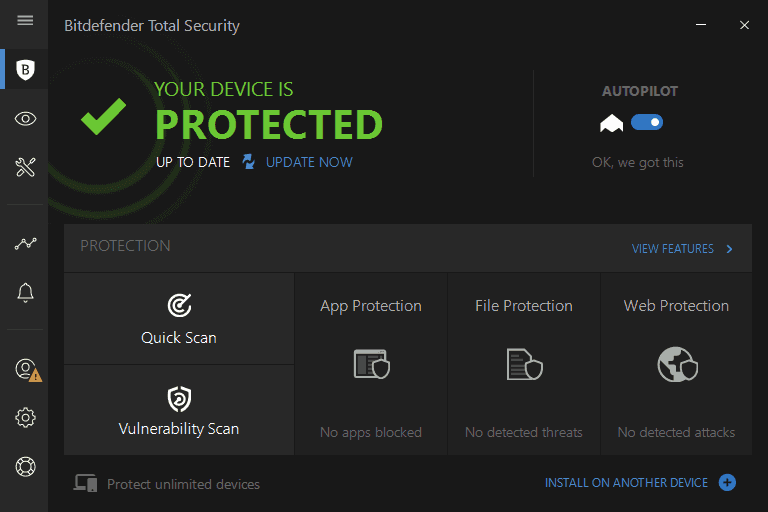 Malwarebytes
In the main interface of Malwarebytes 4.1, there are 3 main parts, including Detection History, Scanner, and Real-Time Protection. Clicking on a part will display a pop-up menu where you can change settings, view the quarantine area, or perform a scan. The picture below shows the main interface of the Malwarebytes.
In terms of the user interface, it is hard to tell which one is the winner because both of them have a simple interface.
Related post: Is Malwarebytes Safe for Windows? Here Is What You Need to Know
Price
The price of Bitdefender and Malwarebytes is different. This part will explain the allotted price of each software version provided by the two companies. Therefore, it is easier for you to determine which budget falls within your budget. (This part only introduces products applicable to Windows.)
Bitdefender
Bitdefender Antivirus Free Edition: Free
Bitdefender Antivirus Plus: $29.99/year
Bitdefender Internet Security: $40/year
Bitdefender Total Security: $44.99/year
Bitdefender Family Pack: $59.99/year
Malwarebytes
Malwarebytes Free: Free
Malwarebytes Premium: $39.99/year
To learn more about price information, you should go to the official website.
Popularity
Which one is more popular? Bitdefender or Malwarebytes? Bitdefender claims to protect "more than 500 million users worldwide", while Malwarebytes says there are more than 290,000 technical downloads per day.
However, according to OPSWAT's independent monthly report on the market share of leading antivirus companies released in May 2020, Malwarebytes has 8.72% of the market share while Bitdefender has a 4.27% of the market share.
Speaking of the popularity of social media, Bitdefender has 1.29 million Facebook fans and 103.2K Twitter fans, while Malwarebytes has 195.9K and 62.6K respectively.
Therefore, you should know that Malwarebytes is more popular in terms of usage, but Bitdefender is even better in terms of the number of fans.
Whether to choose Malwarebytes or Bitdefender? It is based on your needs because both Bitdefender and Malwarebytes have their advantages and disadvantages.
Is Antivirus Tool Enough?
Antivirus tools can protect your computer and data, but is it enough? Obviously, it isn't. This is because the antivirus tool may fail to work, such as Malwarebytes not opening. So is there any good way to better protect your computer and data? Creating a system image when your PC runs normal is a good way.
Then how to do it? It is recommended to use MiniTool ShadowMaker, which is a piece of professional backup software. It allows you to back up files, folders, partitions, disks, and the OS. Besides, it enables you to sync folders and clone disks.
Now download MiniTool ShadowMaker and follow the instructions below to create a system image.
MiniTool ShadowMaker TrialClick to Download100%Clean & Safe
Download and launch MiniTool ShadowMaker. Click Keep Trial.
Go to the Backup MiniTool ShadowMaker backup the operating system by default, so you just need to choose a target disk to save the system image. Click Destination to choose a target disk and click OK.
After confirming the backup source and destination, click Back up Now to perform the system backup immediately.
Final Words
This post focuses on Bitdefender vs Malwarebytes. After reading this post, you can know their differences from 6 aspects: security-related features, malware protection, system performance, user interface, price, and popularity. Besides, to better protect your data, you should use MiniTool ShadowMaker to create a system image.
If you have any confusion about Bitdefender vs Malwarebytes, leave a comment below or send an email to [email protected].
Bitdefender VS Malwarebytes FAQ
Is Malwarebytes better than Norton?
Both Norton and Malwarebytes are known for high-quality antivirus solutions. The major difference is that Malwarebytes guarantees a 90% infection detection rate, while Norton claims a 100% protection rate. However, if you are a novice, Malwarebytes' simple interface may be perfect for you.
Does Bitdefender detect Trojans?
Bitdefender provides real-time protection and Web filtering with a detection rate of 99.9%. The company also provides specific tools against the aggressive threats of Trojans.
Which is better Norton or Bitdefender?
Independent research shows that Bitdefender is superior to Norton in terms of malware protection and its impact on system performance. Moreover, compared with Norton, Bitdefender provides more security enhancements and additional utilities in its suite.
Which is better McAfee or Bitdefender?
Bitdefender is the overall winner because it provides more security enhancements and utilities than McAfee in its security products. In addition, independent testing shows that Bitdefender is better than McAfee in terms of malware detection and system performance.