Have installed Windows 10 but your PC gets bricked after an update and fails to boot? Take it easy! Here is the right place you come to and we will walk you through some possible methods to help you get rid of computer bricking issue after Windows 10 update.
What Does Bricked Mean?
Usually, it describes an electronic device like a mobile device or PC can no longer function due to severe physical damage, a serious misconfiguration, corrupted firmware or a hardware problem, thus, is as technologically useful as a brick.
Depending on the device's ability to function, bricking can be classified into 2 types: soft brick and hard brick. A soft bricked device may show signs of life, but cannot boot successfully or display an error screen. But a hard bricked device shows little signs of life and it is generally considered difficult to recover from a hard brick.
Here, we take soft brick as an example.
Computer Turns Bricked after an Update
Sometimes, when you perform custom operations, install inappropriate programs or platforms, etc., you may find your computer has problems. Due to incompatibility issues, malware alerts or malfunctions, you may find you have bricked your computer.
PC bricked issue often occurs, especially you have installed a Windows 10 update. When searching for "bricked computer" in Google, there are many forums on this topic:
"Windows 10 update bricked my PC: Been trying to install a Windows update. Most recent attempt, upon restart the screen froze at 33% complete and I was forced to hard reboot. Now it just sits and beeps every 15 seconds. The monitor doesn't even come up…"answers.microsoft.com
Well then, how can you fix the bricked computer in Windows 10/8/7 if the brick is caused by the operating system itself (soft brick)? Find the solutions from the following part now!
Back up Important Files When PC Is Bricked
If you have a bricked computer, perhaps you are very worried about the important files on the computer disk. In order to keep PC data safe, we strongly recommend you to back up critical files first of all.
How can you create a backup for your personal files before bricked computer fix?
As mentioned above, when a PC is soft bricked, it is unbootable and you couldn't go to the computer desktop to back up data. In this case, Windows built-in Back and Restore is useless. Here, you have a need to use a piece of professional PC backup software.
MiniTool ShadowMaker, designed for PC systems including Windows 10/8/7, will be your good assistant since it can back up your files, system, disk or partition easily when PC fails to run properly.
It offers you the Media Builder feature that can help you to create a WinPE-based bootable CD/DVD disc, USB flash drive or USB hard disk and boot your PC from the device. Then, you can back up files with the Bootable Edition of this software.
Backing up files in WinPE is a paid feature, so you need to purchase MiniTool ShadowMaker Pro Edition or an advanced one. Or you can get its Trial Edition to free use for 30 days.
MiniTool ShadowMaker TrialClick to Download100%Clean & Safe
Related articles
Step 1: After booting the bricked computer from the created disc or drive, you can click MiniTool Program to run MiniTool ShadowMaker Bootable Edition.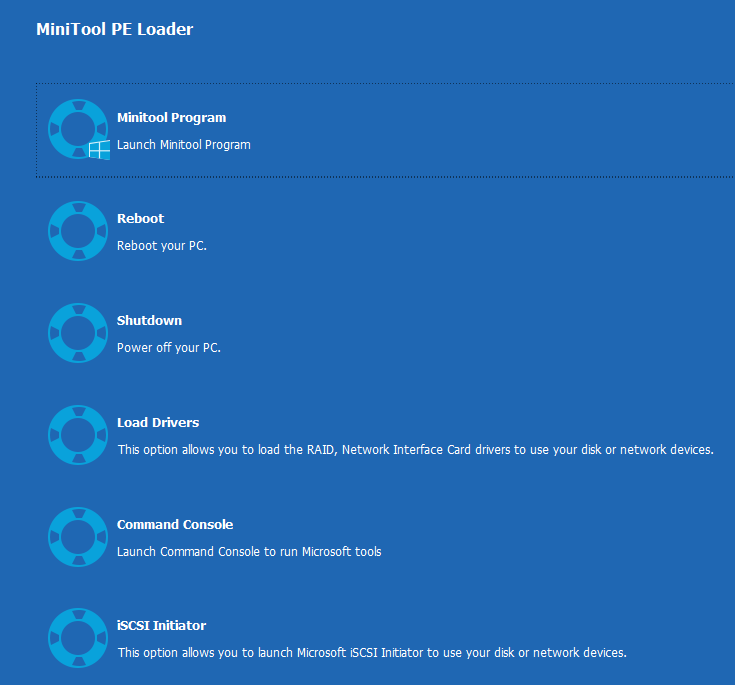 Step 2: This software will run to the interface of Restore. Just click the Backup button in the toolbar, then you can view that this backup tool will help to back up your Windows system since all the related system partitions for Windows to run have been selected.
In order to back up files before fixing bricked laptop or desktop, please click the Source part, enter the following interface, and then click Folders and Files section.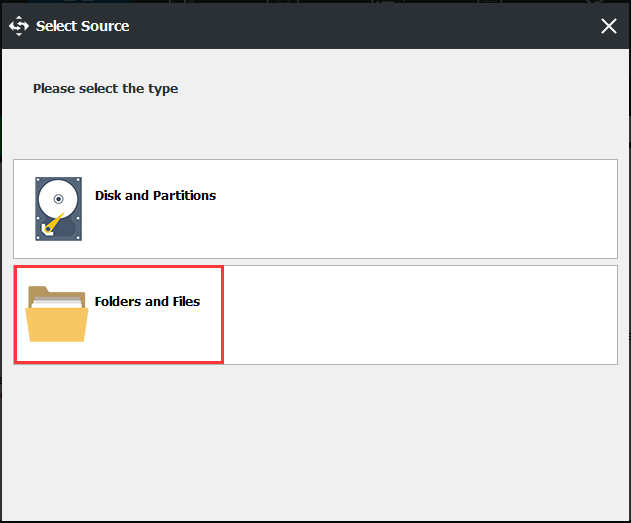 Next, go to the Computer path, find files that you need to back up and click the OK button to go back to the Backup page.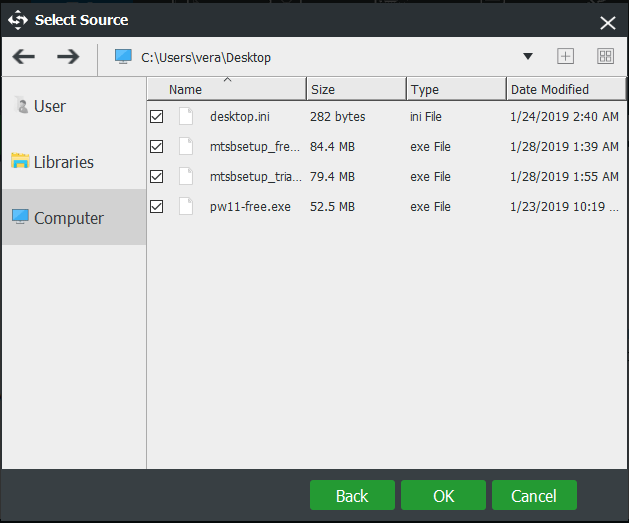 Step 3: Then, you need to choose a destination path so as to save the backed up image file. Here, an external hard drive or USB flash drive is recommended.
Tip: The drive letters are different from what they are in Windows desktop.
Step 3: In the Backup interface, click the Backup up Now button to immediately start a file backup to avoid data loss in case of bricked computer issue.
In addition to creating an image for your important files, you can also choose to sync files or clone your disk to another disk for data protection. Here, this post – How to Back up Files on Windows 10 shows you two ways to back up files.
"Windows 10 upgrade bricked my PC. Then, I used MiniTool ShadowMaker to easily back up my important files. Share it with you!"Click to tweet
Tip:
Additionally, when computer bricking issue happens, you can use Windows
data recovery software
, MiniTool Power Data Recovery, to recover data from a bricked computer with ease.
After completing files backup, now it is time for you to take measures to get rid of bricked PC.
How to Fix Desktop or Laptop Brick Issue?
Note: You can only fix a soft damaged PC since the hardware problems can be repaired only if you take your computer to service for technical assistance but this can be fairly expensive if the computer is not on warranty.
Anyway, first of all, you can try to fix your bricked computer by following the step-by-step guide that is given below.
Way 1: Update Your Video Driver in Safe Mode
Sometimes, the Windows update bricked computer issue may happen due to the incompatibility of a certain driver like the video card. Thus, you can try to upgrade the video driver in Safe Mode.
Step 1: Unplug or disconnect all the external devices ( besides your mouse and your keyboard) that are connected to your Windows 10 PC.
Step 2: Enter the Safe Mode.
Just reboot your bricked PC, and when the Windows 10 logo appears, press the power button and restart the PC. Just repeat several times until you see Windows is performing Automatic Repair. Or you can prepare a Windows disc and boot the PC to click the Repair your computer button to enter WinRE.
Next, navigate to Choose an option > Troubleshoot > Advanced options > Startup Settings > Restart. Next, enter Safe Mode by pressing F4 or F5 key under the Startup Settings page.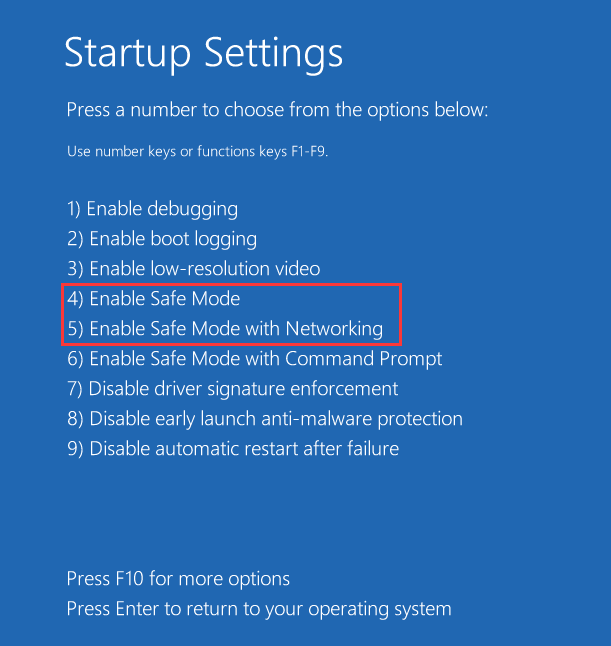 Step 2: In Windows Safe Mode, right-click on the Start button to choose Device Manager.
Step 3: In the following interface, unfold Display adapters and right-click on the video card driver to select Update Driver Software so as to download and install the latest driver.
Sometimes, this way can solve Windows 10 update bricked computer issue. If you fail to fix desktop or laptop brick issue, try another way.
Way 2: Uninstall Recently Installed Programs
According to users' feedback, the bricked computer can be caused by a Windows 10 update. Additionally, it can happen after you have installed a new program on your machine since it may not be compatible with your Windows version.
Thus, the best way to fix bricked PC is to uninstall the recently installed programs if you encounter any issue shortly after you download and install them on your PC.
How can you perform an uninstallation of a program? To do this, you still need to go to Windows Safe Mode by following the steps mentioned in way 1 and then start to uninstall the software.
Step 1: In Windows 10, right-click on the Start button and choose Control Panel.
Step 2: Go to Programs and Features.
Step 3: Then, you can see the recently installed programs. Just choose them one by one and click Uninstall to remove them to fix your bricked computer.
Tip: If you are bothered by Windows upgrade bricked PC issue, here you can also click View installed updates, select the latest update and uninstall it to see whether the PC can boot properly.
Way 3: Run Startup Repair
If you want to recover a bricked computer, you can also try a startup repair in WinRE. To do this, just restart your PC several times when Windows logo appears until Windows automatic repair is triggered. If this fails, please prepare a repair disc to boot the PC and enter WinRE.
Next, go to Choose an option > Troubleshoot > Advanced options > Startup Repair. Then, confirm the account and password to run the repair.
However, to a great extent, this way is not working on fixing your soft bricked computer with the message "Startup Repair couldn't repair your PC". Then, try the next way.
Way 4: Use a Restore Point
If you have recently changed your Registry or operated any change on your computer and this operation has soft-bricked your device, you have a need to use a restore point to revert the changes to restore your computer to a previous point.
Since the bricked computer is unbootable, you still need to go to Windows Recovery Environment for the system restore. Just click System Restore feature in the Advanced options page, then select a restore point to start system restore.
In addition to the above ways, you can also reset your PC in Windows 10 WinRE to recover a bricked computer.
If all these ways are not working to help you out when your brick computer is caused by Windows itself, perhaps the last thing you can do is to make a clean install of Windows. This post – How to Install Windows 10 shows you much information.
Note: Windows clean install will lead to data loss. Thus, please remember to back up your important files with MiniTool ShadowMaker, as mentioned in part 2.
Further Reading: Hard Bricked PC
However, some of you may report Windows reinstallation is still not working to recover a bricked computer. In this case, you should take hard bricked PC into consideration, for example, bricked motherboard or certain hardware damaged. Please send the PC to your manufacturer or repair shop to ask for help.
Suggestion: Back up Your Windows OS Regularly
If you have resolved your bricked laptop or desktop, in order to avoid the issue Windows 10 update bricked computer, you had beter back up your Windows operating system as well as important files on a regular basis.
Here, you can still use the professional and reliable backup software for Windows 10/8/7, MiniTool ShadowMaker, as mentioned above. It enables you to set a certain time point for automatic backups. Additionally, it also offers you a feature to only back up added or changed data, meanwhile, disk space management is enabled.
Right now, get MiniTool ShadowMaker Trial Edition from the following button and install it on your Window PC to have a try.
MiniTool ShadowMaker TrialClick to Download100%Clean & Safe
Step 1: Run this backup software.
Step 2: Go to the Backup page where system partitions are chosen by default. To restore PC system to a normal state in event of the bricked computer next time, here you are suggested backing up OS. If you need to back up the entire system disk, just go to the Source section to make a setting.
Then, specify a destination path for the system image file, for example, a USB flash drive, external hard drive, network or NAS.
Tip: To automatically back up your PC, please click Schedule feature to make a setting. To create incremental backups or differential backups for only added data, use the Scheme feature.
Step 3: Finally, hit the Back up Now button to perform a system image backup immediately.
Bottom line
Is your computer soft bricked after performing a Windows 10 upgrade or any mistaken operation? Take it easy now! Just use MiniTool ShadowMaker to back up important files and then fix the bricked computer by trying the above solutions. In order to keep PC safe, remember to back up it regularly.
MiniTool ShadowMaker TrialClick to Download100%Clean & Safe
If you have any other solutions to repair computer bricking issue, or experience any question when using MiniTool software, please let us know: leave a comment or contact [email protected].