When getting a new laptop or desktop, it is exciting to unwrap it, peel off the protective plastic, and power it up for the first time. But before using the new Windows 10 computer, you need to do some things to set it up to be protected and working properly. Now, MiniTool Solution will show you a detailed guide on the computer setup.
Windows 10 PC/Computer Setup
Due to some reasons, you buy a new desktop or laptop to deal with everything including work, games, etc. When you first power it up, you can perform a few simple activities to help it be safer, faster, and better use in the future.
What to do with a new computer? Do you want to make sure you get the setup right? Don't worry and we will be here to help you. This process isn't as difficult as you may think.
Some of you may search for "computer setup price" or "computer setup service near me" on Google. The computer setup cost is a bit high if you ask others for help. Actually, you can set up a new computer with Windows 10 by yourself.
Setting up a new computer may take some time but you can customize your device based on your preference. In the following part, you can see a guide on how to get your computer set up for free.
How to Set up a New Computer/PC with Windows 10
Set up Your Network
Firstly, you need to connect to the Internet. Just navigate to Start > Settings > Network & Internet and you can choose how you want to connect, for example, VPN, Wi-Fi, Ethernet, etc.
If you are using a PC with a touch screen, you can use a long tap on the networking icon in the system tray in the lower right of the screen.
Run Windows Update
Another step of the computer setup or PC setup is to run Windows Update on the new machine. Microsoft continually releases Windows updates to fix some security issues and let the machine run better although your computer is new. Thus, make sure your Windows is the latest version before doing anything else.
This process may take a few minutes or an hour depending on how many updates the machine needs to install. And one or more restarts may be required.
Step 1: Go to Start > Settings > Update & Security.
Step 2: In the Windows Update window, click Check for updates. Windows will detect and download available updates.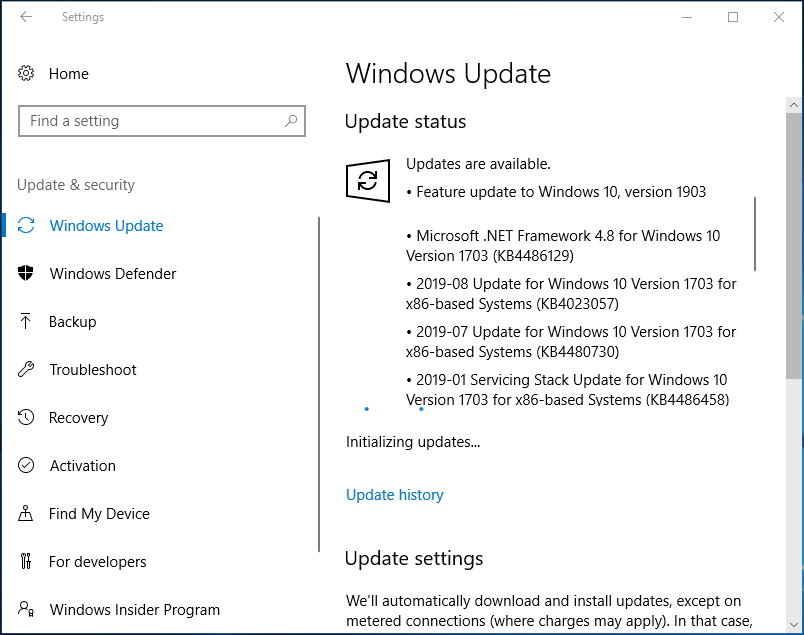 Step 3: Restart your computer and perform the update process.
Protect Your Computer/PC
After running the latest version of Windows 10, the third step of the PC setup or computer setup is to set up the new PC's security. And there are two ways you can try to protect your computer from malware – using Windows built-in tool named Windows Defender or downloading antivirus software.
By default, Windows Defender is enabled unless the computer has a third-party antivirus program. In our opinion, it is a perfect and viable antivirus software and can keep your PC safe.
It can find malicious programs and potential threats, as well as recognize and prevent malicious websites. Four scan types are offered, for example, full scan, quick scan, custom scan, and Windows Defender offline scan.
Just go to Start > Settings > Update & Security > Windows Defender > Open Windows Defender Security Center and then choose a section to perform a scan.
Tip:
For most people, Windows Defender is a solid and great antivirus solution. But if you are looking for a full-featured antivirus program, it is not enough and you can download a third-party one. Perhaps this post –
One of the Best Antivirus Software 2019
can give you some suggestions.
Install Your Favorite Web Browser
In Windows 10, the PC comes with Microsoft Edge as the default browser. If you don't like it, you can download and install another browser for the new computer. Google Chrome or Mozilla Firefox has gained much popularity from persons. So, you can also install one of them from the official website.
After installing your favorite browser, you can choose to set it as the default web browser. Just go to Start > Settings > Apps > Default apps. Scroll down to Web browser and click Microsoft Edge to see a list. Just choose Google Chrome or Firefox to set it as the default browser.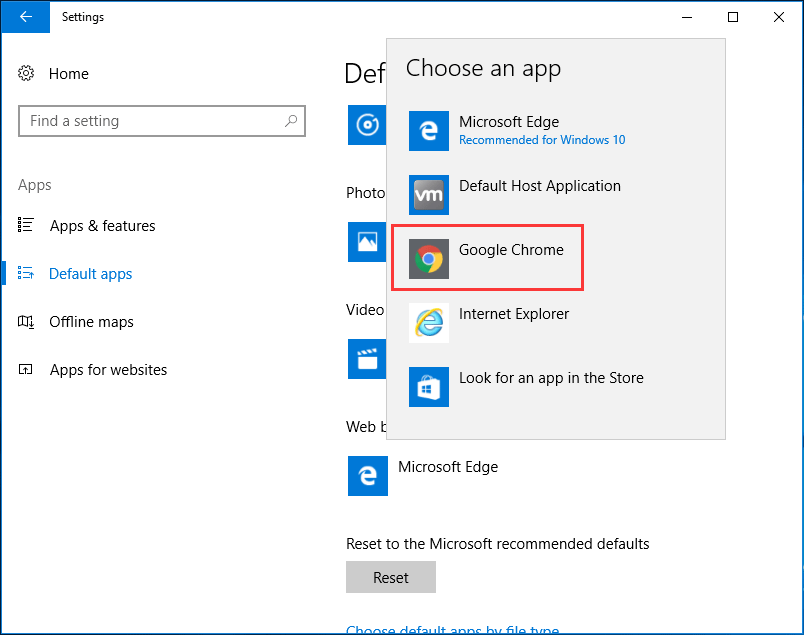 Clean up Bloatware from Your Computer/PC
You should know, some software that you don't want always comes preinstalled on most computers and it is known as junkware or crapware.
Getting rid of bloatware is a necessary step for the PC/computer setup. This is because leaving these apps installed won't do you much good but may slow your computer down.
The simple way to do this work is downloading an uninstaller like PC Decrapifier to scan the PC for bloatware and wipe it away at a draught or using the built-in tool in Windows.
Just open Control Panel, click Uninstall a program from the Programs section and get the following window. Then, right-click the software you don't want and choose Uninstall.
Install New Software on Your Computer
One of Windows 10 initial setup walkthroughs is to install some essential software on your computer after uninstalling the bloatware. Microsoft Office, PDF editor, chat tool, compressed software, etc. may be what you need. Just download them from the Internet and install them.
Personalize Your Device
How to set up a new computer with Windows 10 besides the above ideas? One step is to personalize the machine. You can go to Start > Settings > Personalization to choose the desktop background, colors, fonts, themes, etc.
Update Your Drivers (Optional)
This computer setup operation is not available for all of you. Usually, Windows Update should have installed new drivers for your computer. But Windows Update isn't always at the forefront of driver updates.
If you are a gamer, you should often update the graphics card driver to make sure optimal performance in the newest games. Besides, updating the device driver can avoid some issues caused by a Windows update.
To do this work, you can right-click the Start button to choose Device Manager. Then, right-click each driver that you want to update and choose Update driver. Then, let Windows search for updated software and install it. This requires updating the driver one by one, which is a bit troublesome.
Here you can try another way – using a professional driver update tool like Driver Easy. This tool can scan your computer and list all the outdated drivers. Just choose to update them one by one with the free edition. Also, you can upgrade to the pro edition and update all drivers at a time.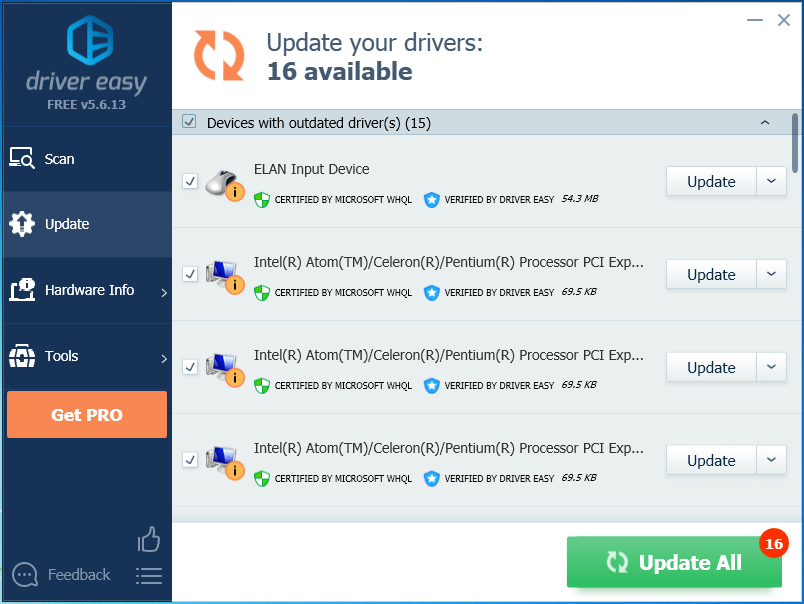 Back up Your New Computer/PC
After finishing the above PC setup steps, now your computer is safe, up-to-date, clean (no garbage), and now it can meet your specific needs. But things haven't been done. Backing up your new computer is a last but very important part of the computer setup.
Your computer is in a good state and it is time to create a clone or image of the primary hard drive from which Windows boots and save it to another hard drive. By this, you can restore your PC to a healthy state without reinstalling Windows when something wrong.
You may ask what the difference between clone and image is. Simply speaking, a clone creates the same copy of the disk including files, system settings, programs, etc. And it will consume the entire hard drive but it is plug-and-play.
While system image means creating an image file for the Windows system. For more information, refer to this post – Clone VS Image: What's the Difference? Get the Answer Now!
How can you back up your new computer to finish the last computer setup? A professional Windows backup software can be used to help you and it is MiniTool ShadowMaker.
It is free and can be used to create a system image for Windows 10/8/7, back up files & folders, disks and partitions. Besides, disk cloning and file sync are also supported. And now, get its Trial Edition by clicking the following button to start the PC backup.
MiniTool ShadowMaker TrialClick to Download100%Clean & Safe
Create a System Image
Step 1: Open this backup software.
Step 2: To back up your system, navigate to the Backup window. Here, you will find MiniTool ShadowMaker chooses the system partitions as the backup source by default.
Step 3: Choose a destination path for the system image. Here, a USB flash drive or external hard drive is recommended.
Step 4: Finally, execute the backup task by hitting the Back up Now button.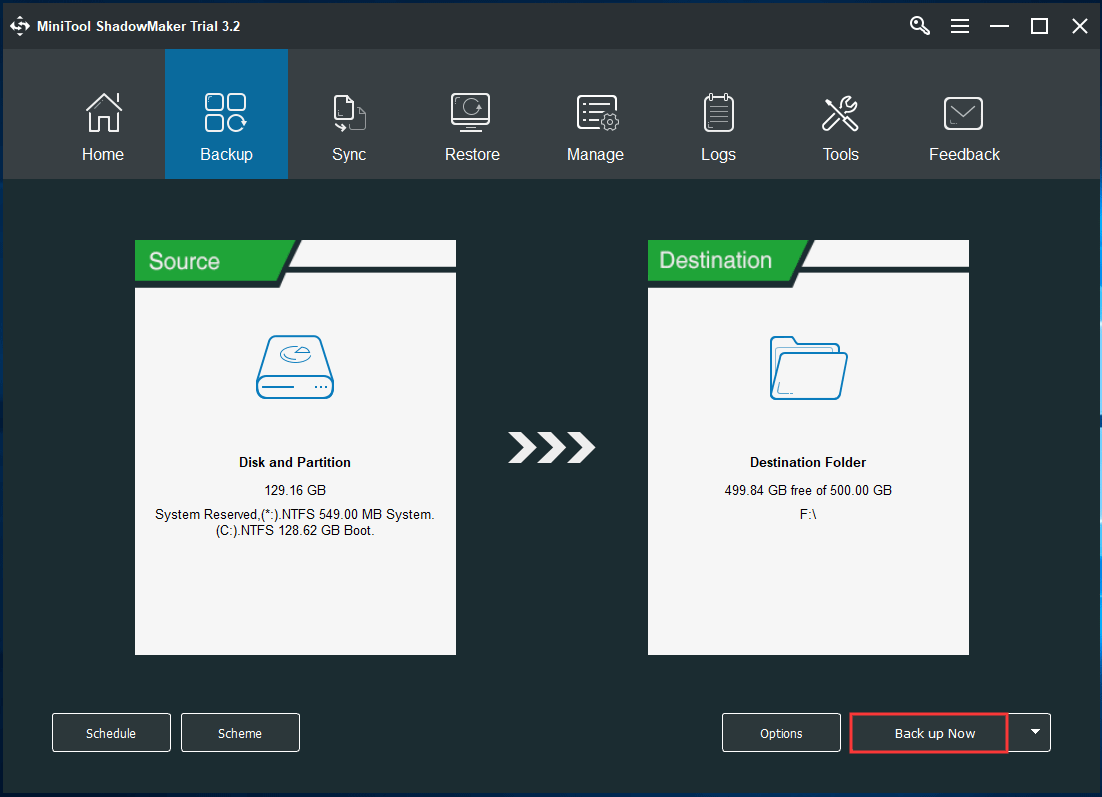 Besides, here is another thing you should do and that is to create a bootable CD/DVD disc or USB flash drive. When the system crashes, you can boot the PC from the drive and perform a system recovery operation. Just go to Tools and click Media Builder to start this work by following the on-screen guide.
Clone Your Primary Hard Drive
Some of you may want to clone the primary disk to another disk. Here, MiniTool ShadowMaker can also help you with its Clone Disk. Just click this feature from the Tools window and choose source & target disks to start the work.
To get more information, refer to this post – How to Clone a Hard Drive to SSD in Windows 10/8/7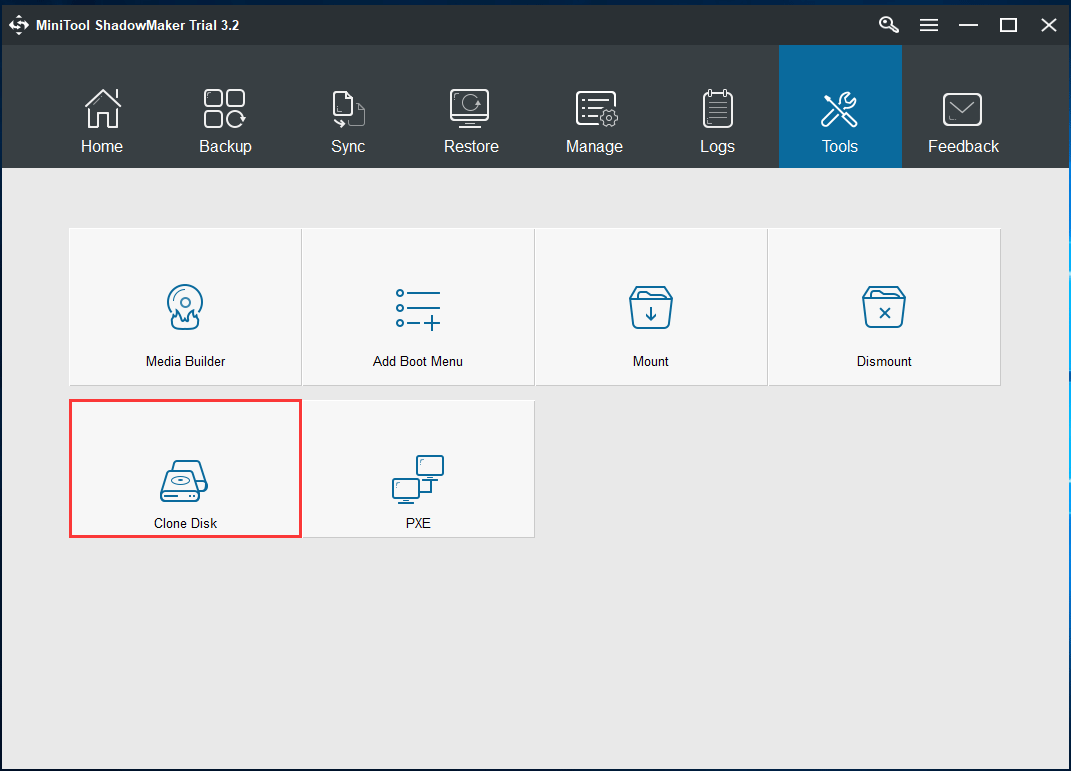 "How to set up a new computer with Windows 10? Here is the computer setup checklist and you can share these steps with your friends to gain a safe and user-friendly PC."Click to Tweet
Bottom Line
Have you purchased a new computer with Windows 10? What to do with a new computer? Making a computer setup is necessary and this post shows you how to set up a computer. Just follow each step to finish the setup.
If you have any computer setup ideas or suggestions, don't forget to tell us. Just leave your idea in the following comment part or send an email to [email protected]. Thanks in advance.
Computer Setup FAQ
How do you set up a computer?
Set up your network
Run Windows Update
Protect your computer
Install a web browser
Clean up bloatware
Install new software on the PC
Personalize your machine
Update device drivers
Back up your computer
How much is a PC setup?
If the PC setup includes these services – perform system updates, remove unwanted programs, test software, hardware functionality, optimize computer startup, set up user profiles, and help set up user accounts, the cost may be starting at $89. The specific cost depends on the services and different companies require a different price.
What is the best PC setup?
To know what the best PC setup is, you can search the Internet and find the answer from some articles about Top PC setups.
How do I start my laptop for the first time?
Unpack the laptop
Connect the AC adapter to the laptop
Connect the mouse to your laptop
Set up Windows 10