Not Enough Space to Access Folder Dropbox
Dropbox is a popular cloud storage service that can be used to save files online and sync files to your devices like PCs and mobile devices. Dropbox allows you to free use 2GB of storage. If you want to save data to the cloud, Dropbox can meet your needs.
One of the common reasons to use Dropbox is this service makes it easier to share files. You can use a link to control permission levels and share files/folders with specific persons or set files to be public so others can access them if they use an appropriate link.
But when using Dropbox to access a shared folder, a failure may happen. On the screen, you may see the error "Not enough space". A message will tell you how much space in your Dropbox is required and you know how much space is left.
Does Shared Folder Take up My Storage Space?
If you ask this question, the answer is yes. According to Dropbox, the shared folders can take up the storage space of each one's account unless the persons are in the same Dropbox Business team. Dropbox calculates the storage quota by adding up the total amount of data in a Dropbox account. All the shared folders and all the files collected from file requests are included.
If the shared folder that a person creates is larger than the remaining storage space in your account, you will fail to join the folder and access it. For instance, if you use a basic account that has 2GB of storage space and you have used 1GB, you cannot accept a shared folder that is larger than 1GB.
Well then, if you are hit by the issue of Dropbox not enough space to access folder, what should you do to get out of trouble? Follow the given tips here to remove the error from your PC.
Related post: Box vs Dropbox: Which Is Better?
Tips to Fix Dropbox Shared Folder Not Enough Space
To fix the error of not enough space, you can choose to free up some space in Dropbox and expand the storage space via some tips. Let's look through them.
Delete Unnecessary Files
After using Dropbox for a long time, some unnecessary files may be stored. If you keep using Dropbox to collaborate on projects, chances are that some shared folders are subscribed by you but you won't need them anymore. In this case, you can choose to delete these unused items to save storage space.
Step 1: Visit the official website of Dropbox and sign in to it.
Step 2: On the main page, click All files, right-click on each item and choose Delete. Or, tick all the items and click the Delete button.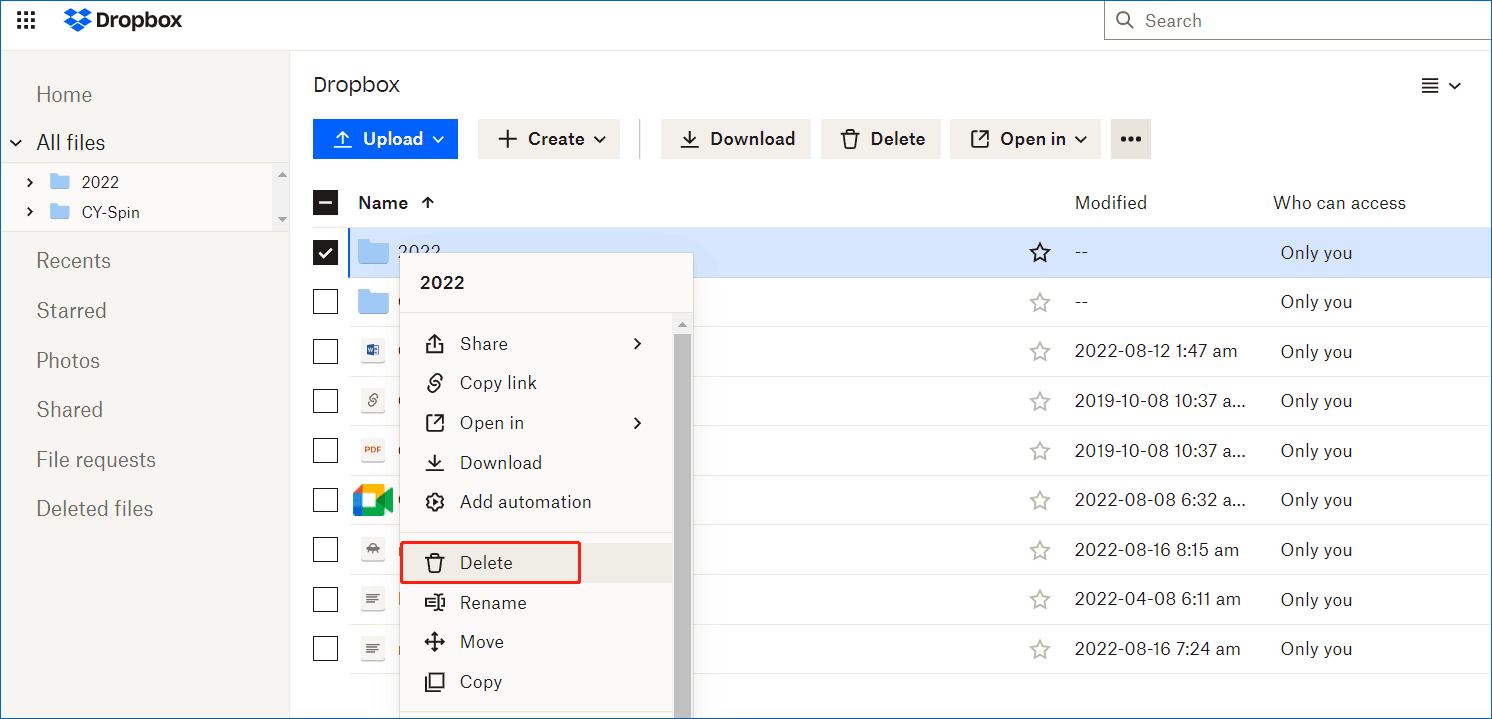 Empty Dropbox Trash
You should know that deleted files in Dropbox don't disappear at once but are saved in its trash for 30 days. This is useful for you to recover important files that are deleted accidentally. However, files in the trash can also use the storage space of Dropbox. If you are bothered by Dropbox not enough space to access folder, you can empty the recycle bin.
On the main page of Dropbox, click Deleted files, check all the items you have deleted, and click Permanently delete.
If you don't want to delete your files or folders, you can choose to expand the storage space to fix Dropbox not enough space to access folder. See some basic tips you can follow.
Get Started with Dropbox
After creating a Dropbox account, you can complete the Dropbox getting started checklist to earn a 250MB bonus, for example, take the Dropbox tour, install Dropbox on your computer, install Dropbox on other PCs you use, install Dropbox on your mobile device, invite some friends to join Dropbox, etc. The additional space will be added to your account and never expires.
Just go to this page - https://www.dropbox.com/gs, and follow the steps below to get the most out of your Dropbox.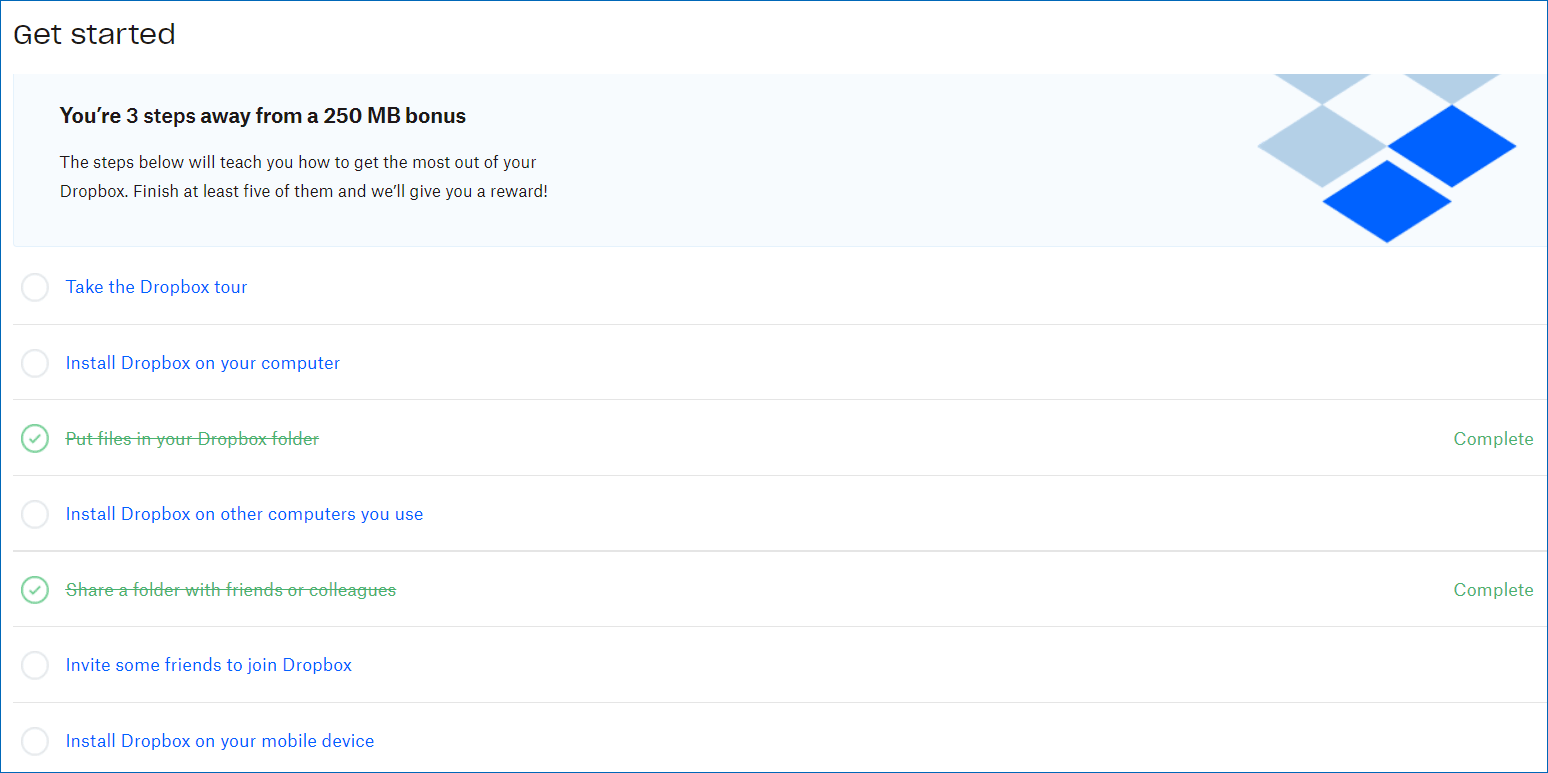 Upgrade to Dropbox Plus
If you are using the free version of Dropbox, only 2GB of storage space is offered. To remove the not enough space error, you can choose to upgrade to Dropbox Plus to get more space. This plan supports 2TB (2000GB) of space, which can sufficiently meet your need. This paid allows you to free use for 30 days. Subsequently, you need to pay $9.99 per month (billed yearly).
To upgrade to the Plus Plan, click your head portrait and click Upgrade. Or, directly tap on the Upgrade button beside your profile photo. Then, subscribe to Dropbox Plus.
Refer Friends to Dropbox (Up to 16GB)
Another way to increase storage space is to refer your friends or family to Dropbox and you can get up to 16 GB for referrals.
To be specific, if someone installs the Dropbox desktop app via the link you have sent, you will earn 500MB and the person also will get 500MB. You can invite 32 people to get up to 16GB of space without paying any fees. The 16GB of space never expires in your Dropbox account and you can always use it.
This way is a free and effective way to expand Dropbox space to fix Dropbox not enough space to access folder. See how to do it:
Step 1: Sign in to your Dropbox account.
Step 2: Click the profile photo and choose Settings.
Step 3: Navigate to the Refer a friend tab, enter the email you invite, and click Send.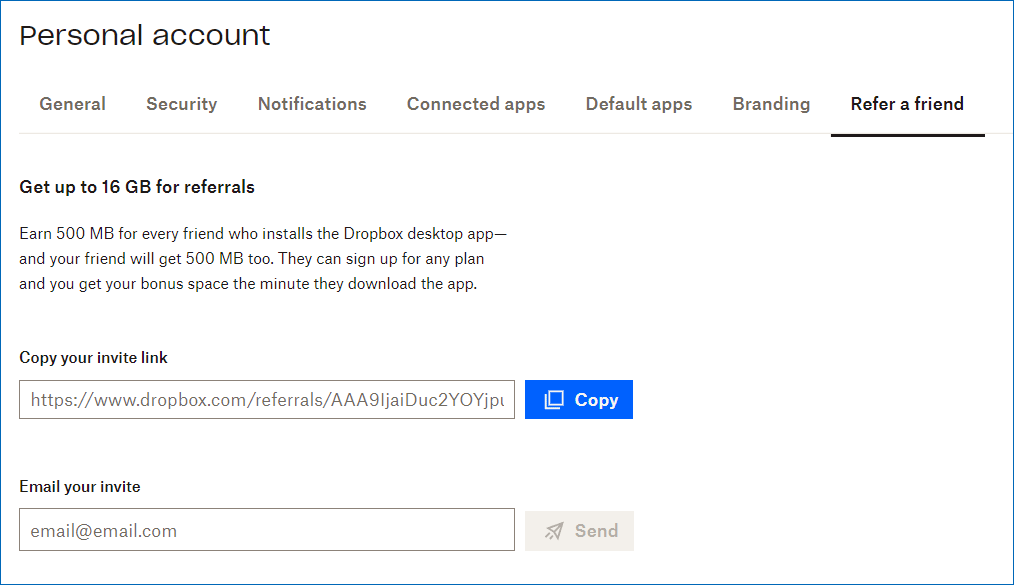 Tell Dropbox Why You Love the Cloud Service
Besides, you can get an additional 125MB of storage space by telling the team why you love Dropbox. Just visit https://www.dropbox.com/getspace, click Tell us why you love Dropbox, input your idea to the text box and click Send to Dropbox.
After trying these measures here, you can get more space. When accessing a shared folder, you won't run into the issue of Dropbox shared folder not enough space. Here, you can share these ways with your friends on Twitter. If someone also meets the error, they are helpful.
After learning some information about the error that happened in shared folders, now let's go to see some details about Dropbox access shared folder.
How to Share a Dropbox File or Folder
See the following steps to share a file or folder in Dropbox (take the online Dropbox as an example):
Step 1: Sign in to dropbox.com.
Step 2: Put the mouse on the file or folder you want to share and choose Share > Share with Dropbox.
Step 3: Add an email or name and add a note. You can decide whether anyone with this link can edit or view this folder. Then, click Share folder.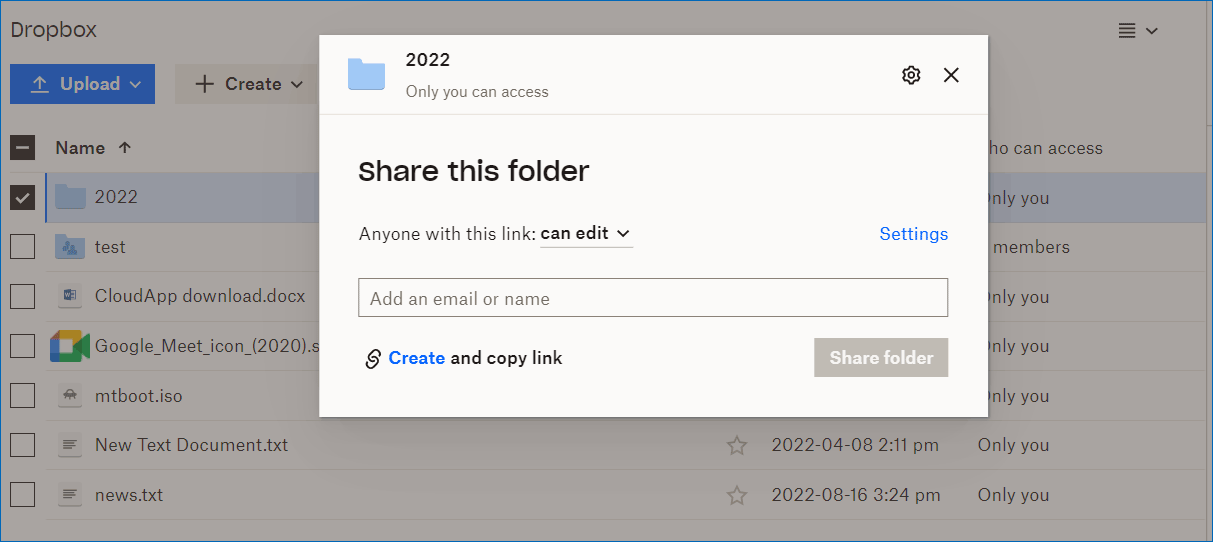 The account you added will receive an email with a link to the file or folder. Besides, the person should have a Dropbox account and sign in to this cloud service to edit or view the file or folder. If the recipient doesn't sign in to Dropbox, you can share the folder or file with a view-only link instead.
Just hover up on the target item and click Copy Link. Then, you can send this link to someone via email, Facebook, Twitter, instant message, and other social networks so that he can access it. This is an easy way for Dropbox access shared folder without adding to an account.
How to Leave Shared Golder Dropbox
If you wonder about this question, it is easy to handle. Just sign in to Dropbox, click Shared, locate the file or folder you want to remove, click the three-dot menu and choose Remove from Dropbox.
Dropbox Download for Windows
Some of you may want to use the desktop app of Dropbox in Windows for file sync and backup. You need to download this app – visit https://www.dropbox.com/downloading and Dropbox download should automatically start within seconds. After getting the DropboxInstaller file, double-click on it to start the installation. Then, you can use the desktop client to sync or back up data to Dropbox.
Suggestion: Make a Local Backup for Windows PC
Dropbox is a professional cloud storage service that can help you to sync files, photos, documents, etc. to the cloud and back up data to the cloud. In terms of data security, it is quite safe. But sometimes some issues like Dropbox error not enough space to access folder are annoying and you need to spend time getting more storage space, even pay some money.
Thus, we recommend using a professional and free PC backup software to create a local backup. MiniTool ShadowMaker is a good choice. It can back up your files, folders, system, disks, and partitions to an external hard drive instead of Dropbox. Importantly, the backed-up files will be compressed, which cannot save much disk space. Besides, incremental & differential backup and automatic backup are supported.
See how to create a local backup instead a cloud backup:
Step 1: Download MiniTool ShadowMaker by clicking the following button and then install it by double-clicking on the installation file.
Step 2: Launch this backup software and click Keep Trial to go on.
Step 3: Go to the Backup page, you find system partitions are selected. To create a local backup for important files, click Source > Folders and Files, check the items you need to back up, and click OK. Then, go to Destination and choose an external hard drive or USB drive as the storage path.
Step 4: Click Back up Now to start the data backup task right now.
Bottom Line
Here is the end of this post. If you are plagued by Dropbox not enough space to access folder, try these above methods to get more storage space in Dropbox. Besides, some related information is told to you here, and hope they are helpful to you.
If you have any other ideas on Dropbox shared folder not enough space or our software, leave a comment below to tell us. We will reply to you as soon as possible.