What is Windows backup error code 0x8078002a? How to get rid of the Windows backup error code 0x8078002a? According to what the forum reported, we can conclude some methods for you to get rid of the 0x8078002a. If you are struggling with that, please read this post on MiniTool and find the solution.
Why Does the Error Code 0x8078002a Happen?
Windows provides users with the backup features – Backup and Restore (Windows 7) and File History – to create a system image or back up important files to protect your computer. These two excellent built-in backup tools can prevent your computer from data loss and quickly recover your system when a system crash happens.
But some users reported in the Microsoft Forum that the Windows backup error code 0x8078002a appears when they tried backing up the desktop to a 3TB Seagate external hard drive disk but received an error message showing that One of the backup files could not be created. Details: The request could not be performed because of an I/O device error.
If you want to pinpoint the specific culprit triggering the Windows backup error 0x8078002a, that would be hard because any unexpected reason can make your backup fail with the error 0x8078002a.
Fortunately, we conclude some common reasons why you're experiencing the Windows backup error code 0x8078002a. Please check for that and find out which one you may be going through.
Incorrect or failed Windows installation – if the Windows installation is corrupted, then the backup will be hard to perform.
Damaged system files – your corrupted system files might block your system backup task and that may be triggered by viruses or malware.
Improper system shutdown – many people will ignore this issue and when they are stuck in a system crash, a forced system shutdown can trigger the 0x8078002a.
Improper external hard drive – Some people may use an external hard drive to save their backup data and the data storage of hard disk drives is up to 4,096-byte sectors, which is what we called 4K or 4KB sectors, but the built-in Windows backup tool does not support the 4K logical disk sector size drives.
There are also some exceptions we may lose but if you can't make sure what kind of situation you are stuck in, you may try the following methods one by one. Most people can get rid of 0x8078002a via the first two methods. Let's see how it works.
How to Fix the Error Code 0x8078002a?
Before you start the next methods, you can check and try some easy tips first. If you try to back up your data to an external HDD and the error code 0x8078002a appears, you can try to disconnect and then reconnect the drive. Besides, sometimes, restarting your computer may be helpful to get rid of 0x8078002a.
Then there are seven methods available for you. That may take you some time but is easy to learn.
Fix 1: Power Cycle Your PC
To power cycle your computer, you can do as follows.
If you are using a desktop computer, you need to turn off your computer and cut any electric input; then press and hold the power button for a while before you put everything back together.
If you are using a laptop, you should shut it down and then remove the battery; press and hold the power button to wait a while before plugging everything back.
Then you can repeat the steps to create your backup to see if the 0x8078002a is still there.
Fix 2: Check Volume Shadow Copy and Windows Backup
Your backup can be created successfully only when some designated services are enabled. You need to check if these basic requirements have been met. Please follow the next steps to check their status.
Check Volume Shadow Copy
Step 1: Open the Run dialog box by pressing the Win + R keys and input services.msc to enter the Services window.
Step 2: Scroll down to locate Volume Shadow Copy and double-click on it.
Step 3: Just make sure Service status is running and the Startup type is set as Automatic; if not, please click Start under Service status and expand the Startup type: list to choose Automatic.
Step 4: After you finish your changes, please click on Apply and OK.
Check Windows Backup
The way to check Windows Backup is as same as Volume Shadow Copy. Still, in the Services window, locate Windows Backup and repeat the same steps to make sure its Service status is running. If not, click Start to run it.
Then check if the Windows backup error code 0x8078002a has been fixed; if not, please continue the troubleshooting.
Fix 3: Format Your External Hard Drive
Another method is to format your external hard drive. Some people have proven this method works and you can give it a shot.
Step 1: Please plug in your external hard drive and open your File Explorer by pressing the Win + E keys.
Step 2:  When the window opens, locate and right-click on the external hard drive to choose Format… from the drop-down list.
Step 3: Then please choose the type of file system and name your external drive in the box under Volume label.
Step 4: Maker sure the Quick Format box has been checked and click Start to wait for the format process to finish.
Related article: Quickly Format an External Hard Drive for Mac and Windows PC
Then you can check if the backup failure issue can be resolved. Usually, the error can be fixed via those two methods. If that persists, the below measures are worth trying!
Fix 4: Use DISM or SFC Scans
DISM and SFC (System File Checker) are both useful Windows built-in tools. SFC can analyze your system files while DISM can scan and patch corrupted files. If the SFC command fails to fix a corrupted file, the DISM command can help them recover and make SFC run well.
In this way, it is highly advised to run SFC first and then DISM no matter what SFC reports.
Related article: Repair Windows 10 Image with DISM and Other Useful Tips for DISM
Please open Search by pressing Win + S and input Command Prompt to run it as an administrator.
To run the SFC scan, please input the following command and press Enter.
sfc /scnnow
Wait for a while until the verification is up to 100% and the result will show you. Then you can run DISM commands by inputting the following commands and pressing Enter after each of them.
DISM /Online /Cleanup-Image /CheckHealth
DISM /Online /Cleanup-Image /ScanHealth
DISM /Online /Cleanup-Image /RestoreHealth
Then you can restart your computer and check if the error code 0x8078002a has been gone.
Fix 5: Run CHKDSK (Check Disk)
A glitchy or corrupted hard drive can create the Windows backup error code 0x8078002a. CHKDSK can help you analyze hard drive errors and run repairs automatically. Here are specific steps to run this tool.
Step 1: Open File Explorer and go to This PC.
Step 2: Locate and right-click on the drive you want to check and select Properties from the list.
Step 3: Switch to the Tools tab and in the Error checking section, click on Check.
Then please follow the on-screen instructions to finish the disk check.
Or you can run the tool via Command Prompt and here is the way.
After opening Command Prompt, input CHKDSK and the letter of the drive you want to check; for example, if you want to check drive C, you can input CHKDSK C: to enter.
Fix 6: Reinstall Windows
If all the above methods can't resolve your problem and there is the last resort to get rid of the Windows backup error code 0x8078002a – reinstall Windows. To do that, we suggested backing up your important data first.
Note:
Note: Given your troubled Windows backup feature, you can use another excellent backup tool – MiniTool ShadowMaker – to have a backup plan. More detailed information is presented in the next part.
To reinstall Windows, you can do as follows.
Step 1: Go to Start > Settings > Update & Security > Recovery.
Step 2: Click Get started under the Reset this PC section.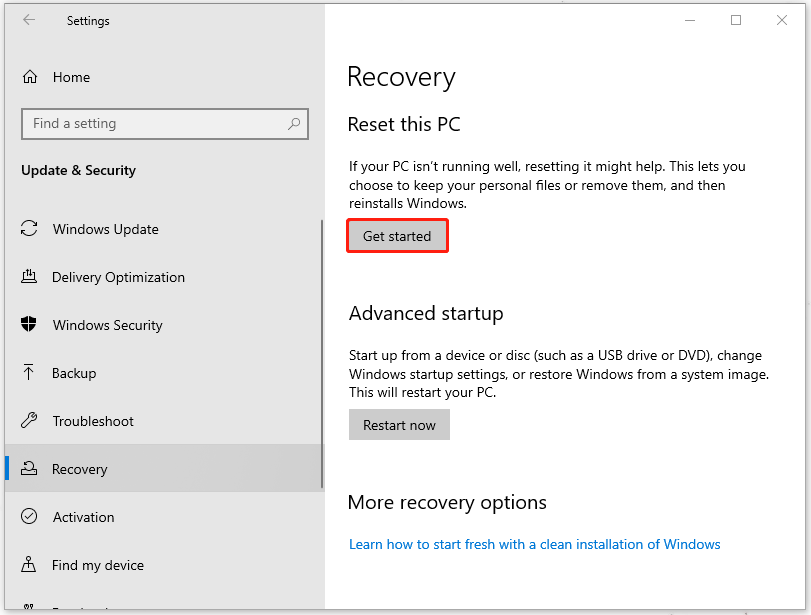 Step 3: In the next window, to reinstall Windows 10 without losing data, you should choose Keep my files.
Step 4: After the process has been prepared, a window will pop up saying that your apps will be removed. Click Next to go on and Reset to confirm the decision.
Then when your PC restarts, your Windows will be reinstalled.
Better Backup Choice: MiniTool ShadowMaker
You can find another alternative to performing your backup plan if your backup error can't be fixed.
Now I'm going to present an ideal backup instrument—MiniTool ShadowMaker.
MiniTool ShadowMaker provides a one-click system backup solution. It enables you to back up your system drive completely, including the system partition, system reserved partition, and EFI system partition. All data including applications, drivers, computer settings, system files, and boot files will be imaged.
Aside from perfectly making an OS, files and folders, disks, and partitions backup, this program also enables you to create a bootable Windows 10 recovery disk (CD/DVD or USB drive) to help you restore Windows 10 under WinPE.
You can also use MiniTool ShadowMaker to clone disk or sync files. Providing a wonderful backup service is our goal and we never end the exploration on this path. Let's start the backup journey!
Click on the following button to download and install the program and you will get a free trial version for 30 days.
MiniTool ShadowMaker TrialClick to Download100%Clean & Safe
Step 1: Open the program and click Keep Trial to get in.
Step 2: Go to the Backup tab where you will see your system has been set as the backup source by default, but you can change it by clicking the SOURCE section; partitions, disks, files, or folders backup is also available to you.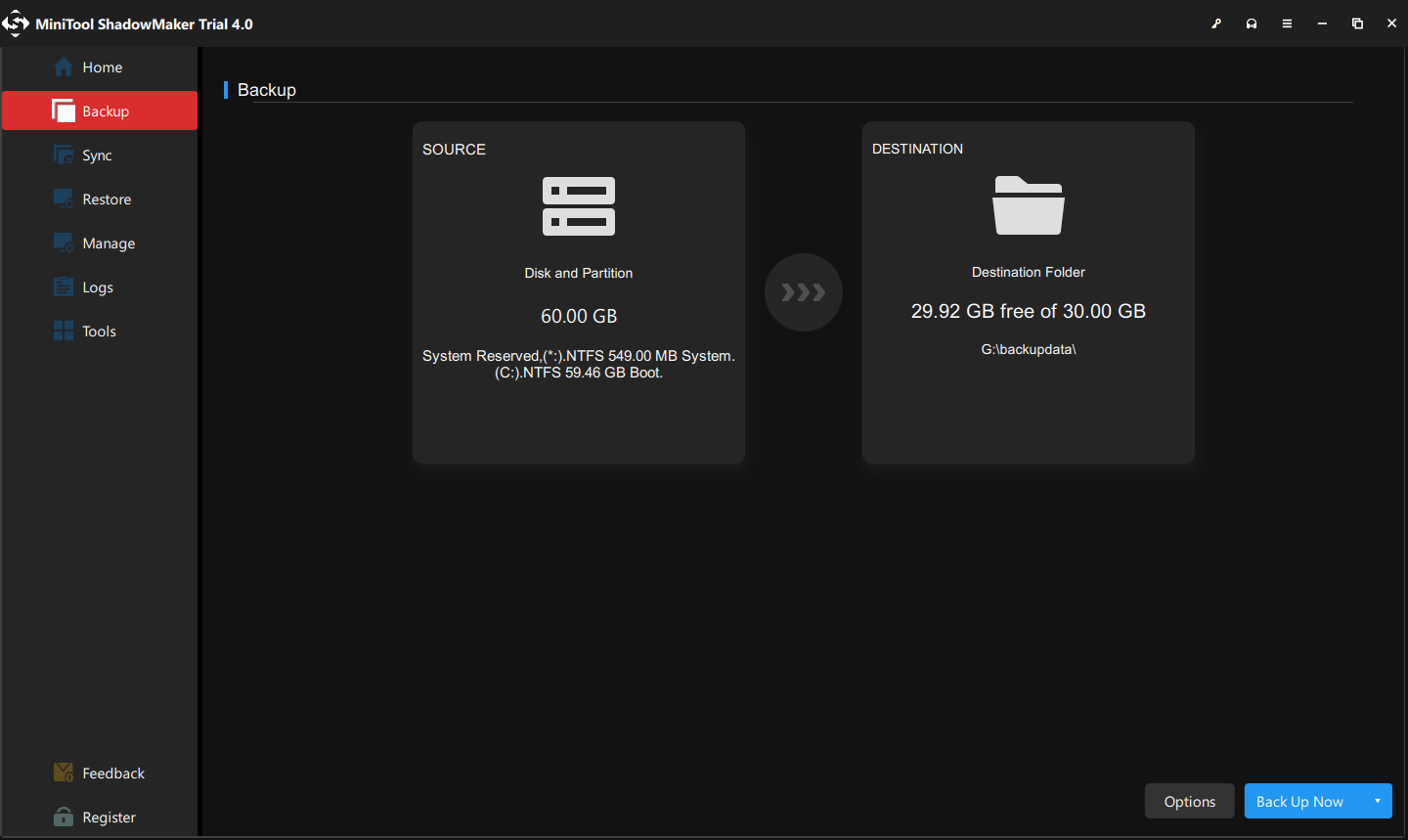 Step 3: Click on the DESTINATION section where you can see four options containing User, Libraries, Computer, and Shared. You can choose where you want to back up to and click OK to save the changes.
Step 4: Click the Back Up Now option to start the process immediately or the Back Up Later option to delay the backup. The delayed backup task is on the Manage page.
If you want to customize your backup plan, you can click Options. In the Backup Options feature, you can enable password protection for your image. Besides, there are three backup schemes provided for you – Full, Incremental, and Differential.
If you want to perform a backup regularly, you can configure your backup schedule daily, weekly, monthly, or on event.
This article has introduced a series of fixes to get rid of the Windows backup error code 0x8078002a. if you think this post is useful, welcome to share it on Twitter.Click to Tweet
Final Words:
This article has listed a series of fixes to help you get rid of the Windows backup error code 0x8078002a. It is easy to fix up but that may happen again. In this way, MiniTool ShadowMaker might be your alternative to perform a backup in case any PC errors occur again.
If you have encountered any issues when using MiniTool ShadowMaker, you can leave a message in the following comment zone and we will reply as soon as possible. If you need any help when using MiniTool software, you may contact us via [email protected].