Do you know what WSClient.dll is and how to fix the error in it? If you are eager to find the answers, this article on MiniTool Website is what you really need. In addition to fixing it with the 10 methods that we have come up with, you can also back up your system with a powerful assistant, MiniTool ShadowMaker to prevent a system crash.
What Is WSClient.dll?
WSClient.dll is a dynamic link library file which stores information and instructions for executable files. Unlike executable files, WSClient.dll cannot be executed directly but must be called by another code that is already executed.
Normally, you had better not consider deleting WSClient.dll because some programs share these files. As soon as WSClient.dll is deleted, one or more programs will stop working.
What Is Error in WSClient.dll?
Although WSClient.dll can save valuable memory allocation and make your computer run more efficiently, it is also pretty vulnerable. If something goes wrong with a shared DLL file, it may generate some error messages including:
dll library error.
Access Violation at address – WSClient.dll.
dll could not be found.
Cannot find C:\Windows\System32\WSClient.dll.
Cannot register WSClient.dll.
Cannot start Windows. A required component is missing: WSClient.dll. Please install Windows again.
Failed to load WSClient.dll.
The application has failed to start because WSClient.dll was not found.
The file WSClient.dll is missing or corrupt.
This application failed to start because WSClient.dll was not found. Re-installing the application may fix this problem.
If you receive one of the error messages mentioned above, try the upcoming method until you solve the error in WSClient.dll.
How to Fix WSClient.dll Error Windows 10?
Fix 1: Run SFC Scan
If there is any missing or corrupted system file, your system won't work properly. SFC, also known as System File Checker, can automatically check and fix the protected Windows system files for you. Therefore, if your WSClient.dll is missing or corrupted, this tool will be your first choice.
Step 1. Type cmd in the search bar to locate Command Prompt and right-click on it to choose Run as administrator.
Step 2. In the CMD window, type sfc /scannow and hit Enter.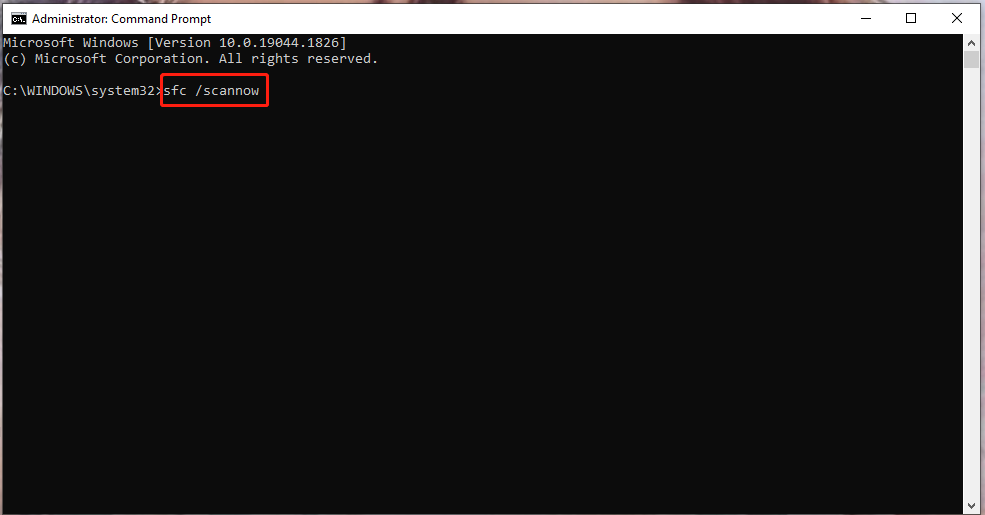 Step 3. This process may take you some time, please wait patiently. As soon as it is completed successfully, reboot your device.
You can also choose to run sfc /scannow in Safe Mode or at startup for better results.
Fix 2: Run DISM Scan
If you fail to run the SFC scan or the sfc /scannow process is stuck, running the DISM scan can work the same and it can also check and restore the corrupted or missing WSClient.dll to help you fix the error in WSClient.dll.
Step 1. Run Command Prompt as an administrator.
Step 2. Copy & paste the following command and hit Enter to scan if corruption exists in your system.
Dism /Online /Cleanup-Image /CheckHealth
Step 3. Run the following commands below and don't forget to hit Enter after each command.
Dism /Online /Cleanup-Image /ScanHealth
Dism /Online /Cleanup-Image /RestoreHealth
During the scanning, you can do nothing but wait patiently.
Fix 3: Update Device Driver
Sometimes, you will receive the error in WSClient.dll when using hardware. The old version of the driver may not be compatible with the updated DDL file, so the hardware is looking for the wrong DLL file and cannot find it. In this condition, it is necessary to update the device driver.
Step 1. Right-click on the Windows icon to select Device Manager in the drop-down menu.
Step 2. Expand the device that you are using when receiving the error message.
Step 3. Right-click on the device driver and choose Update driver & Search automatically for drivers.
Step 4. Follow the instructions on the screen to update and install the device driver automatically.
Fix 4: Run a Malware Scan
Malware can destroy your system in various unexpected ways. If there is any presence of malware in your system, you will also receive the error in WSClient.dll. Therefore, you must scan your PC to see if there is any malware present in your system and eradicate it as soon as possible.
Step 1. Press Win + I at the same time to open Windows Settings.
Step 2. In the settings menu, scroll down to locate Update & Security and click on it.
Step 3. In the Windows Security tab, click on Virus & threat protection under Protection areas.
Step 4. Hit Scan options, Quick scan under Current threats and tap on Scan now.
Fix 5: Check for Updates
Errors and bugs are bound to occur in Windows operating system and they are inevitable. To fix them, Microsoft releases some updates to help you run your OS smoothly. In addition, these updates also enhance the security features to protect your system from cyber-related concerns and compatibility attributes. As a result, updating your Windows is also applicable to the error in WSClient.dll.
Step 1. Click on the gear button to open Settings.
Step 2. Go to Update & Security > Windows Update > Check for updates. If there is any update available, the system will download & install it automatically for you.
Fix 6: Run WSReset Command
Executing the WSReset command is quite straightforward to fix the error in WSClient.dll. Here's how to do it:
Step 1. Press Win + S to open the search bar and type cmd to locate Command Prompt.
Step 2. Right-click on it and highlight Run as administrator.
Step 3. Type wsreset and hit Enter to execute this command.
Step 4. Wait patiently and the error in WSClient.dll will be fixed after the process is done. If the error still persists, you can try the next method.
Fix 7: Re-register the WSClient.dll
Another relatively simple way to fix the error in WSClient.dll is to re-register the problematic DLL file. Follow the guidelines below:
Step 1. Run Command Prompt as administrator.
Step 2. When the command window opens, run the following command:
regsvr32 /u WSClient.dll
Step 3. After the first command runs successfully, run another command:
regsvr32 /i WSClient.dll
Step 4. Now, your WSClient.dll is re-registered and your problem is gone.
Fix 8: Download WSClient.dll Manually
If you are an expert in computer, it is highly recommended to download and replace your appropriate Wsclinet.dll file version manually.
Step 1. Click here to find the appropriate WSClient.dll version and download it. Some DLL files have different versions for corresponding systems, so you need to find the right one. According to your system, choose a 32-bit or 64-bit file version and choose the latest version for the best performance.
Tip: Some programs may require older versions to function.
Step 2. After downloading, extract the archive to your desktop and verify the MD5 and SHA-1 of the file to the database.
Step 3. Place the file within the Windows system directory(C:\Windows\System32\ in Windows 10/8.1/8).
Step 4. Reboot your computer and relaunch the problematic programs to see if the programs work fine.
Fix 9: Change DNS Server
Sometimes, your DNS server may slow down and then create a vulnerable state for DLL files such as WSClient.dll. In this case, you can change your DNS server address.
Step 1. Press Win + R to evoke the Run box.
Step 2. Type ncpa.cpl and hit Enter to open Network Connections.
Step 3. Right-click on the network adapter that you use most frequently and choose Properties.
Step 4. In the Networking tab, choose Internet Protocol Version 4 (TCP/IPv4) and hit Properties.
Step 5. In the General tab, tick Use the following DNS server addresses and set Preferred DNS server to 8.8.8.8 and Alternate DNS server to 8.8.4.4.
Step 6. Tick Validate settings upon exit and hit OK to make the changes effective.
Fix 10: Perform a System Restore
The last resort to fix the error in WSClient.dll is to perform a system restore. This method allows you to revert the current state of the computer to the previous normal state.
Step 1. Press Win + S, type system restore and hit Create a restore point.
Step 2. In the System Protection tab, hit System Restore.
Step 3. The System Restore window will open, hit Next to continue.
Step 4. Tick Show more restore points if available. Select the desired restore point and hit Next. Follow the instructions on the screen to complete the restoration process.
Suggestion: Back up Your OS
As you can see, you will spend much time troubleshooting the error in WSClient.dll because you don't know the exact reason for it. After addressing this error, you had better back up your operating system with a professional backup tool in advance in case the system-related problems occur again. If you take no precautions to protect your system, it will be easily crashed and your important data may lose.
When it comes to backup, I have to mention a free backup software, MiniTool ShadowMaker. It is so powerful that this software supports backing up files, folders, partitions, systems, and disks. As soon as you create a system backup with MiniTool ShadowMaker, you will restore it more quickly compared with other methods. Let me walk you through how it works to back up your system:
Step 1. Download & install MiniTool ShadowMaker Trial.
Step 2. Launch it, hit Keep Trial and go to the Backup interface.
Step 3. In Source, all the system-required partitions are chosen by default. In Destination, a default destination path is also created. If you want to change it, just hit Destination to choose a desired destination path.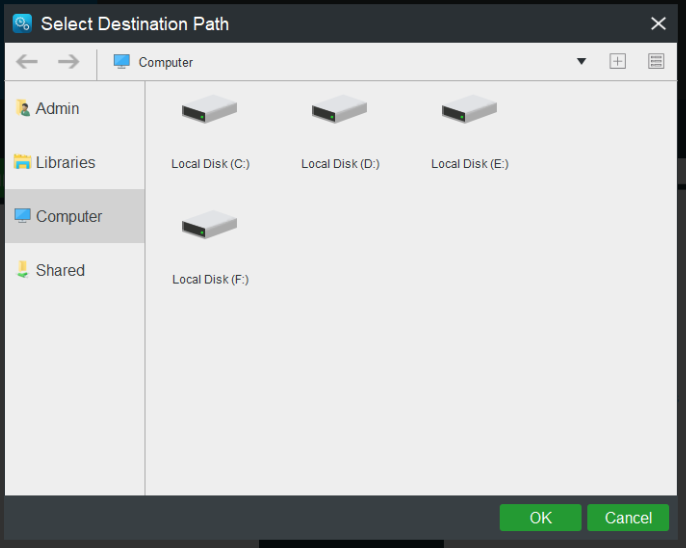 Step 4. Hit Back up Now at the lower right of the corner to start the system backup at once.
More Advanced Features:
Option: set advanced parameters for your backup task such as Image Creation Mode, File Size, Compression and more.
Schedule: develop a habit of backing up on a regular basis.
Scheme: manage the disk space occupied by backup files by choosing the backup types.
I successfully back up my OS in a few clicks with MiniTool ShadowMaker. This is the best and easiest backup method that I have met. I strongly recommend you this tool if you need to back up.Click to Tweet
Wrapping Things up
The post introduces 10 fabulous and efficient methods to help you handle the error in WSClient.dll. At the same time, you can create a system backup image as a precaution of unexpected system crash with a piece of professional and powerful backup software, MiniTool ShadowMaker.
If you still have any confusion about the error in WSClient.dll or you have difficulty using MiniTool ShadowMaker, please feel free to leave a comment below or contact us via [email protected]. Look forward to your news and we will reply to you as soon as possible!