MediaFire is a service for file hosting, file synchronization, and cloud storage. Is MediaFire safe to use? Is it necessary for you to store files to MediaFire? This post from MiniTool shows these answers for you and shows you how to protect your files.
What Is MediaFire
What is MediaFire? MediaFire is a file hosting service that utilizes the cloud, allowing users to store, share and download files. You can upload all the data to MediaFire.com, such as photos, videos, and texts, and you can access them anytime, anywhere via your mobile phone, computer or network.
Features of MediaFire
10GB free space/up to 4GB per file – Large space for storing large files, such as video, PDF, and audio.
Upload multiple files at once – Upload hundreds or even thousands of files at once through any web browser, Android, Windows, iPhone, or iPad.
Easily share after uploading – MediaFire allows you to easily share via email, on your website, on social media, or anywhere with links.
Manage with ease – Upload, copy, move and control access to files from anywhere using a desktop or mobile phone.
Pros and Cons of MediaFire
Pros
The MediaFire website interface is clear and easy to use.
MediaFire makes it easy to share files. One of the benefits of MediaFire is its high upload limit.
Cons
Does not have a desktop application, so you cannot sync files to your computer.
Does not have a built-in music or video player, and it cannot even preview documents, such as Microsoft Office files or PDF files.
Has a bad upload and download speed.
How to Use MediaFire
How to use MediaFire? Here is a detailed introduction.
Step 1: Go to the MediaFire official website and click the SIGN UP button to create a MediaFire account.
Step 2: Choose a plan. There are three plans – Basic, Pro, or Business.
The basic service is free and allows you to store up to 10GB files.
The pro version costs $3.75 a month and will allow you to store up to 1TB files.
The business version costs $40 a month and will allow you to store 100TB files.
Tip: The prices mentioned above only represent the prices when this post was published.
Step 3: Enter your account details and check the I agree to the terms of service box.
Step 4: Click the UPLOAD button and choose the file or folder to upload.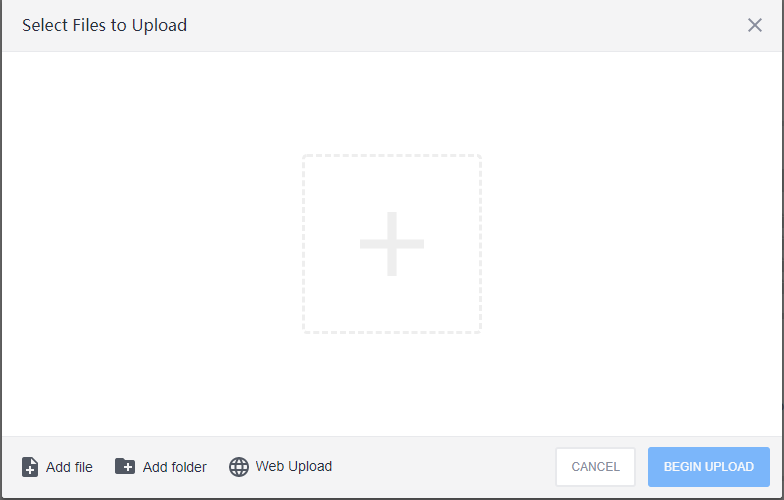 Step 5: Click the BEGIN UPDALOD button to start the process.
Is MediaFire Safe
After knowing some basic information about MediaFire, some people also concern about the safety of MediaFire and wonder whether it is safe to download from it.
So, is MediaFire safe? This section shows the answer for you.
Is MediaFire safe
Most user reviews about MediaFire are positive, but it requires special attention to pop-up ads. Since Media Fire added advertisements and pop-up windows with links, these links redirect users to other websites.
Some users also think that MediaFire is likely to make money in this way since it has a free version and they think MediaFire might sell their data to Google.
Besides, MediaFire does not provide any encryption for your files, even if end-to-end encryption is considered a standard for any file-sharing or cloud storage service. This means that no measures have been taken to prevent attacks from destroying files in transit, and there is no protection for files when they are on the MediaFire server.
Also, there is no two-factor authentication in MediaFire. The only protection that MediaFire takes is to let you set a password for the shared link, and you must pay to access this feature.
Is it safe to download from MediaFire?
Is it safe to download from MediaFire? When downloading programs from MediaFire, some users are also worried about potential viruses that may infect their device. Maybe you are interested in this post – How to Protect Your Computer from Viruses? (12 Methods).
MediaFire has some issues, but it also has some benefits. The positive side is that MediaFire does not claim ownership of the content you upload. It also has a good data retention strategy and deletes all user information 30 days after you cancel your account.
MediaFire Issues
The following is some users' feedbacks about using MediaFire from forums.
There is a problem with MediaFire in at least two parts of the UK. I am wondering currently whether MediaFire is being blocked by BT. I can't even download my own files.– from unsungcomposers.com
Good site but pay attention to what program you are downloading because some of them can be viruses or dangerous programs that want to control you against privacy. Be careful about what you are downloading.– from unsungcomposers.com
If you want to use MediaFire to store your files, is there any way to safeguard or protect your files? Of course, you can do that. So, in the following part, we will show you how to keep your MediaFire files safe.
Is MediaFire safe? Is MediaFire safe to download? I'm troubled by these questions. After reading this post, I have a clear understanding of MediaFire.Click to Tweet
How to Protect Your Computer Files
You can take some measures to secure your computer files. Now, we will show you how to do that.
Unlink Devices
MediaFire allows you to access your stored media libraries from any device connected to the Internet. So, if your account is linked with other devices such as smartphones, it may don't verify the account when logging into the account.
So, unlink the devices, and it will require verifications to protect your files.
Turn on Windows Defender Firewall
It's recommended to turn on Windows Defender Firewall or third-party antivirus software to protect your files. You can try to turn on Windows Defender Firewall with the following steps.
Step 1: Open the Run dialogue box by pressing the Windows +R keys and input firewall.cpl in the Run box. Then, click OK to open Windows Defender Firewall.
Step 2: Click Turn Windows Defender Firewall on or off to open the Customize Settings.
Step 3: Check the Turn on Windows Defender Firewall option in the Private network settings and Public network settings parts and click the OK button.
Scan the Downloaded Files
Since downloading files from MediaFire may cause virus infection, it's recommended that you scan the downloaded files. You can use Windows Defender to scan the downloaded files. Here is how to do that:
Step 1: Go to find the downloaded file or folder you want to scan for malware.
Step 2: Right-click the downloaded file or folder to select Scan with Windows Defender.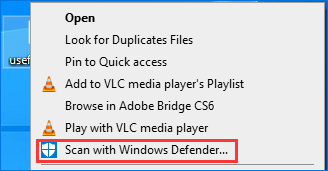 Step 3: Click Quick scan or Full scan, or Customer scan and select the folder. This tool will pop up and begin to scan the selected item. The whole process should end quickly. If there is no malware, you will see the message saying No current threats.
However, if it detects some threats in the selected item, Windows Defender will show you an alert message saying Threats Found. Start the recommended actions and it will show you the file or files that have been infected. Then, you need to remove the found threats. To do this work, you can click the Start actions button to continue.
Step 4: Windows Defender will automatically delete the threats found from your computer. After that, your computer should be safe.
Use MediaFire Alternative
You can also choose to use an alternative to MediaFire, such as Dropbox, Google Drive, etc.
Also see:
Back up Files Regularly
In most cases, keeping a regular data backup is as important a step in seeking to protect against threats. So, to keep your files safe, you can choose to back up them. Once your data get lost because of the virus attack, you can use the backup to restore it.
To do that, you can use the professional backup program – MiniTool ShadowMaker. It is designed to back up your files, folders, disks, partitions, and the operating system to safeguard your files and the computer.
Now, let's see how to use MiniTool ShadowMaker to back up the files.
Step 1: Download MiniTool ShadowMaker from the following button, install and launch it.
MiniTool ShadowMaker TrialClick to Download100%Clean & Safe
Step 2: Click Keep Trial. After entering its main interface, go to the Backup page.
Step 3: Click the Source module to choose the files you want to backup and then click OK to continue. You can choose a lot of files at the same time.
Step 4: Next, click the Destination module to choose a target path to save the backed-up files. You can choose to back up files to a local hard disk, an external hard drive, or a network drive. Then click OK to continue.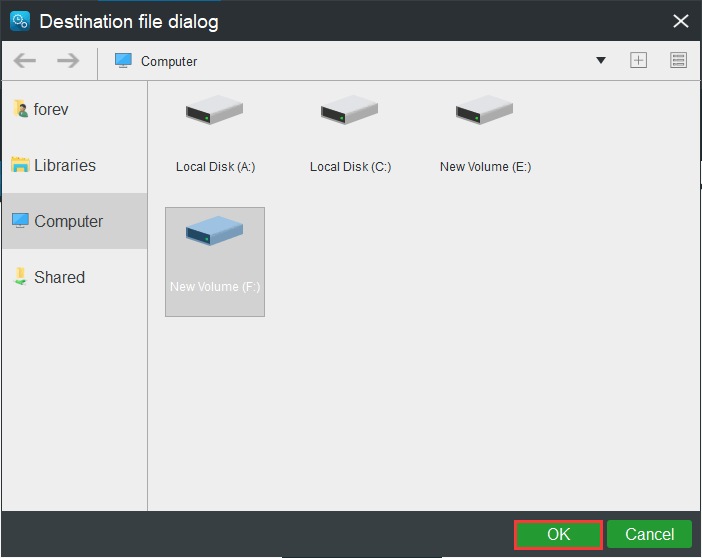 Step 5: After selecting the file backup source and destination, you can click Back up Now to start the process.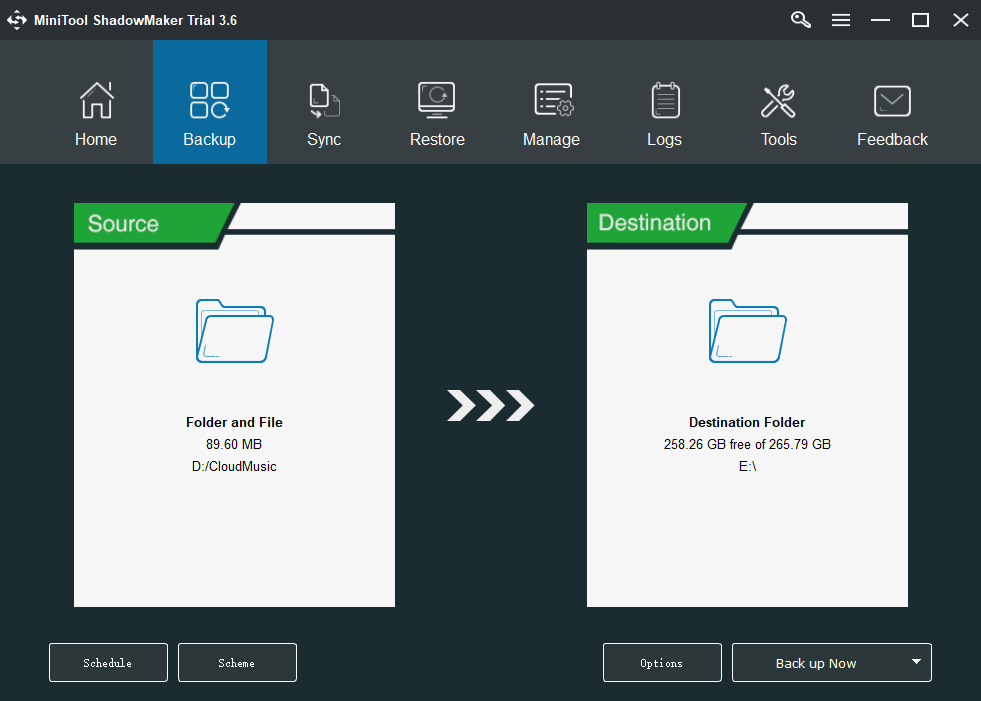 When the process finishes, you have successfully backed up files and have provided protection for the data. From the above information, you can see MiniTool ShadowMaker is a very easy and convenient tool.
Further Reading
Besides, to keep your files safe and avoid the MediaFire issues, you can choose to sync files to a local drive or a network drive rather than the Cloud services. It's also recommended to use the Sync feature of MiniTool ShadowMaker.
Here is how to sync files:
Step 1: After launching MiniTool ShadowMaker, go to the Sync page.
Step 2: Click the Source and Destination module to choose the files that you want to sync and the storage path.
Step 3: Click the Sync Now button to immediately perform the sync process.
Bottom Line
What is MediaFire? Is MediaFire.com safe? After reading this post, you may have gotten the answers. You can gain more information in the main text part. Besides, if you have any problem with MiniTool ShadowMaker, you can leave a message in the comment zone or feel free to contact us via the email [email protected] and we will reply to you as soon as possible.