Is Webroot good enough to battle against viruses and other external enemies? How to protect your important data with no risk at all? If you are interested in Webroot, this article on MiniTool Website will give you an overview of this antivirus and show you the way to ensure your data security.
What Is Webroot?
Webroot Antivirus is developed by Webroot Software Company in the UK. It is one of the world's best anti-spyware.
Webroot SecureAnywhere AntiVirus is a powerful set of anti-virus software that has been created primarily to combat redirected malware and other network threats on PCs and Macs. According to its developer, Webroot is a fast and lightweight application that can be installed quickly.
If you've ever heard of Spy Sweeper, you know the creator of this AntiVirus app that promises Webroot SecureAnywhere AntiVirus to scan in 2 minutes or less.
The software itself is not intrusive and displays malicious links in Safari or other web browsers, as well as discussions about the anti-virus software's powerful features.
In addition, it promises anti-spyware protection, real-time threat protection, and more. The firewall takes the program to the next level because it's hard to find Mac antivirus software with that kind of power.
Can Webroot be trusted? There seems to be no reason not to believe what Webroot saying, as it is one of the leaders in cloud-based, real-time detection of Internet threats for consumers, businesses, and enterprises.
Next, you will see a Webroot antivirus review to demonstrate the question of is Webroot good.
Related article: Webroot vs Avast: Which One Should I Choose?
Is Webroot Good?
Is Webroot good? You can judge it by yourself from the following information.
Webroot Antivirus Review
Password Manager
Webroot uses a well-known third-party password manager called LastPass, by which all your passwords are impenetrable thanks to its military-grade AES 256-bit encryption protocol.
Besides, LastPass also provides two-factor authentication (2FA). This feature guarantees that only you use your password. You can do this by linking it to Google Authenticator or YubiKey, or you can use LastPass's One-time Password (OTP) feature to get your password.
Antivirus Scanner
Webroot uses a cloud-based malware directory and heuristic analysis to detect threats on your machine. The greatest advantage is that it does not use a lot of CPU and disk space when performing scans.
You can take a deep scan or quick scan with Webroot and configure your scheduled virus scan.
Cloud Storage
Cloud storage is only available for the premium plan (Internet Security Complete). You can easily sync your data to the cloud by designating the folder you want to back up to the cloud as the sync folder.
After that, whenever you paste files in that folder, they are automatically uploaded to the cloud and you can access them using your SecureAnywhere account.
Security
Webroot can offer fast and accurate cloud-based scanning with its decent malware-detection capabilities. Webroot boasts the Web Shield feature, by which you can efficiently block malicious sites from stealing your data.
Web Shield blocked all the potentially dangerous websites you tried visiting and also stopped you from downloading malicious files.
Besides, the Identity Protection feature also impresses people, keeping you safe from spyware like screen loggers, key loggers, and other malware that steal your data.
Phishing protection and firewall features can surprise you. This real-time protection can block 97% of all phishing attacks with its advanced machine learning and content classification to detect phishing attacks.
System Optimizer
The system optimizer is used to remove saved browser cookies and deletes junk files taking up space on a device. In this way, your online privacy can be protected and CPU performance is improved.
However, this feature is not good as imagined.
It is a little bit cumbersome for some users. The function can start immediately but the consumed time depends on the size of your stored data on your hard drive.
Besides, this kind of junk remover can be replaced by Windows' in-built Disk Cleanup feature. Compared to other functions, it barely qualifies.
Ease of Use
Whether the desktop app or mobile app, they both have a user-friendly interface and convenient and quick setup. They are easy to use with their intuitive functions, winning users' appraisal among the world.
An Evaluation from 2Spyware Research Center
The 2Spyware team has checked out Webroot SecureAnywhere AntiVirus to decide if it was worth the money.
They installed the anti-virus software on both Macs and PCs and started the research. As promised, the program was installed in seconds. That's because it's just a small file. One of the computers had been compromised, and when Webroot SecureAnywhere AntiVirus finished scanning, it warned about the problem and fixed it.
What surprised them was that the app has social network protection, which protects Twitter and Facebook.
In addition, it claims it can enhance web browsers when shopping online or visiting financial institutions. At this point, they did not notice any slowing down of the system when the program was installed on the computer.
Their machine ran flawlessly even when running Webroot SecureAnywhere Antivirus scans. The user interface of the program is so beautiful that even those who are not computer savvy can easily use the program without facing any problems.
How to Install Webroot SecureAnywhere on PC?
To install Webroot SecureAnywhere, please do as follows.
System Requirements
Windows® 7 32- and 64-bit (all Editions), Windows 7 SP1 32- and 64-bit (all Editions)
Windows 8 32- and 64-bit
Windows 8.1 32- and 64-bit
Windows 10 32- and 64-bit
Windows 11 64-bit
Chrome OS™ operating system
macOS 10.14 (Mojave®)
macOS 10.15 (Catalina®)
macOS 11 (Big Sur®) with Apple M1 ARM or Intel® processors
macOS 12 (Monterey®) with Apple M1 ARM or Intel® processors
Install Webroot SecureAnywhere on Windows
Step 1: Go to the SecureAnywhere installer.
Step 2: The download will start automatically. If not, you can download it manually by clicking DOWNLOAD NOW.
Step 2: Enter your keycode and click Agree and Install. By the way, you can choose Installation options to customize your settings.
Step 3: Enter your email address and click Continue. Then SecureAnywhere starts scanning and configuring the application, once done, the interface will appear.
Step 4: After the scan, if some threats exist, Webroot will remove them or moves the items to the quarantine. You can view this scan result on the main panel or view and manage items in quarantine.
Step 5: Click Start using SecureAnywhere.
Install Webroot SecureAnywhere on Mac
Step 1: Go to the Webroot download page and click DOWNLOAD NOW.
Step 2: Click Downloads in the right corner and then WSAMAC.pkg.
Step 3: Then you can follow the next instructions on the screen to finish the installation.
Step 4: Enter your keycode to activate the software and click Activate Software.
Step 5: If Webroot SecureAnywhere asks you to grant full disk access, you can go to Full Disk Access and click Open System Preferences.
Step 6: Click Security & Privacy and switch to the Privacy tab.
Step 7: Click Full Disk Access and click on the Lock icon.
Step 8: Enter your mac's user name and password on the pop-up window and click Unlock.
Step 9: Click the + button to add a new application in the Security & Privacy window.
Step 10: Go to the Application tab and choose Webroot SecureAnywhere to open it.
Step 11: Click Quit & Reopen in the new window. Return to the Webroot SecureAnywhere window and click Done.
Step 12: After that, Webroot will start scanning your computer for any potential threats. You can view this scan result on the main panel or view and manage items in quarantine.
How to Uninstall Webroot SecureAnywhere on PC?
To uninstall Webroot SecureAnywhere, please refer to the following steps.
Step 1: Click the Search panel and input appwiz.cpl.
Step 2: Open it and locate the Webroot SecureAnywhere option from the list.
Step 3: Right-click on Webroot and choose Uninstall.
Step 4: Then click Yes to confirm your choice.
Step 5: You may be asked to enter characters and then click Continue.
Step 6: A new window will pop up to tell you to choose the reason for uninstalling.
Then you have successfully removed this program.
Is Webroot Secure Enough to Protect Your Computer?
The above part has told you an overall picture of this excellent program. It can protect against the attack of most viruses and some versions can prevent hackers from attacking. Is Webroot secure enough to protect your computer?
Not all viruses can be included in the defensive matrix. New ones always find their way to sliding into your computer. Cyber-attacks can be anywhere and you need to prepare for them in case of any accidents.
In this way, go back up your data! A backup plan is your powerful assistant that can minimize your loss when, unfortunately, a cyber-attack appears. MiniTool ShadowMaker is born for data backup in which more features are available for your convenience.
To do that, you need to download and install the program first and you will get a free trial version for 30 days.
Step 1: Click Keep trial to enter the program and switch to the Backup tab.
Step 2: Click the Source section and in the pop-up window you can choose backup content including system, disk, partition, folder, and file. By default, the system has been set as the backup source already.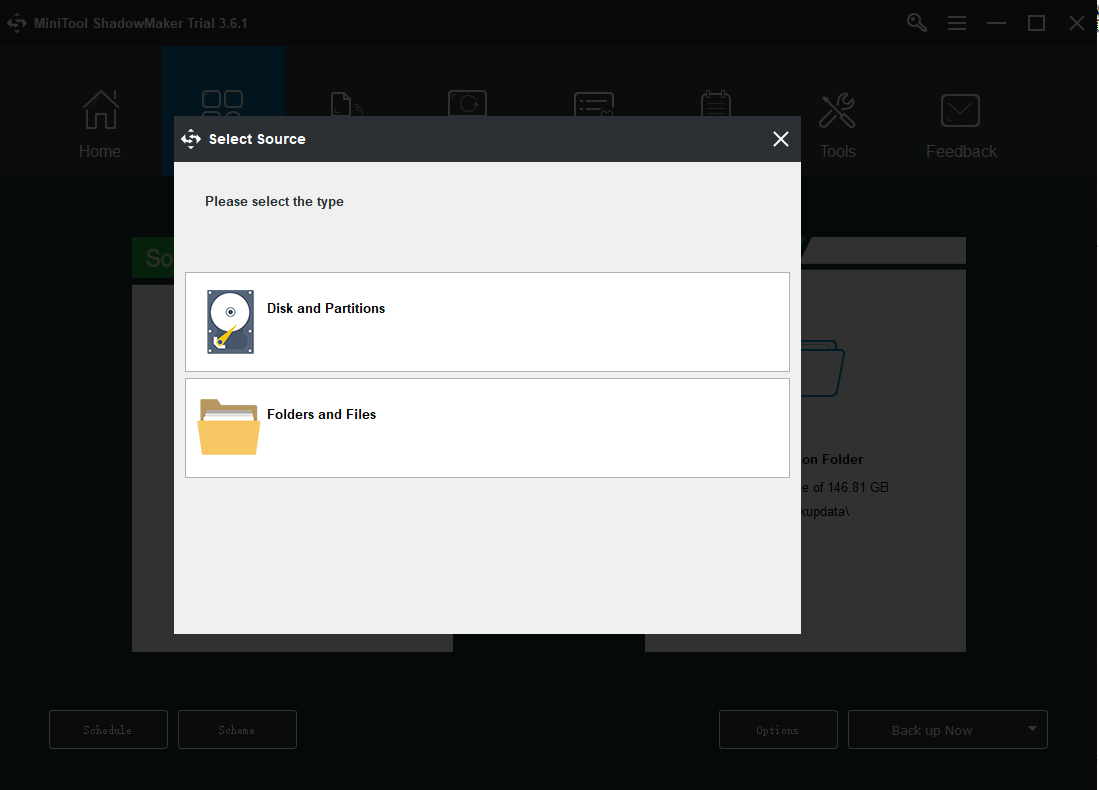 Step 3: Go to the Destination part where you can see four options containing the Administrator account folder, Libraries, Computer, and Shared. Then choose your destination path. And then click OK to save your changes.
Step 4: Click the Back up Now option to start the process immediately or the Back up Later option to delay the backup. The delayed backup task is on the Manage page.
Besides, with MiniTool ShadowMaker, you can sync your files or clone disk. The services you can enjoy are more than backup. One of the useful functions – Universal Restore – can help you resolve the incompatibility issue if you want to restore a system on other computers.
The performance of MiniTool ShadowMaker will be more than expected.
This article gives you an overview of Webroot antivirus and tells you how to install and uninstall the program. If you like it, you can share it on Twitter.Click to Tweet
Bottom Line:
Webroot antivirus can help you resolve a bunch of troubles with its excellent features. And you can get a better experience with the help of MniTool ShadowMaker. Just as mentioned, backup can avoid many unwanted data losses. Let's turn back to the topic – is Webroot good? The answer is YES.
If you have encountered any issues when using MiniTool ShadowMaker, you can leave a message in the following comment zone and we will reply as soon as possible. If you need any help when using MiniTool software, you may contact us via [email protected].
Is Webroot Good FAQ
Does Webroot protect against hackers?
Products like Webroot AntiVirus and Webroot Internet Security Complete thwart dangerous malware before it can enter your PC, stand guard at every possible entrance of your computer, and fend off any spyware or viruses that try to enter, even the most damaging and devious strains.
Has Webroot been hacked?
A ransomware gang has breached the infrastructure of at least three managed service providers (MSPs) and has used the remote management tools at their disposal, namely the Webroot SecureAnywhere console, to deploy ransomware on the MSPs' customers' systems.
Is Webroot out of business?
Webroot is announcing the end of sale and end of life for Webroot Business Mobile Protection, and due to the mobile protection end of life, webroot will no longer offer Webroot Business User Protection, with the mobile service closedown planned for April 15, 2020 (the "end of life date").
Is Webroot spyware?
The company introduced antivirus protection with the launch of Spy Sweeper with AntiVirus in 2006. In October 2007, Webroot AntiVirus with AntiSpyware and Desktop Firewall was released with added firewall protection feature.