In this article, you can learn how to choose a hard drive for you and there will be multiple products introduced to you with full comparison. With a clear picture of the largest hard drives, you are easy to determine which one conforms to your demand. If that triggers your interest, please read this article on MiniTool Website.
As everyone knows, the hard drive is designed to hold data, including your operating system, applications, and any files you have created. The more Internet traces you left, the larger spaces your hard drive will need.
Choosing a Hard Drive
First of all, you need to learn how to choose a hard drive. You should take full consideration of the hard drive in line with the computer condition. There are some factors to consider:
1. Hard disk interface
If you are upgrading an older system that lacks SATA interfaces, please choose PATA drive; otherwise, choose SATA drive.
2. Hard drive performance
You need to take into account the storage capacity, transfer speeds, cache memory, access times, noise level, and power consumption. You can get the drive with a large cache. With a larger cache, you can see better performance.
3. Product warranty
Some drive makers provide three-year warranties on their desktop drives and some five-year warranties.
4. Hard Disk Drive vs Solid State Drive
HDD (Hard Disk Drive):
cheaper but run slower
higher capacity but less durable
SSD (Solid State Drive):
runs faster but shorter life span
less noise and energy consumption
fast heat dissipation
better shock resistance
better read-write speed
If you want to know more detail about their difference, please refer to this post: SSD VS HDD: What's Difference? Which One Should You Use in PC?
5. Hard drive sizes
Desktop HDDs: 3.5-inches with a maximum capacity of 10-20TB
Laptop HDDs: 2.5-inches with a maximum capacity of 5-10TB
Next, this article will show you some largest hard drivers of prior choice. And they are divided into two parts – the largest internal hard drive and the largest external hard drive.
The Largest Hard Drives
If you are a game enthusiast who wants to house hundreds of games on your computer, or more than that, are prone to store a large number of videos or photos as a blogger. The largest hard drive seems to be necessary for you.
Thanks to all factors, the recommendations are as follows.
The Largest Internal Hard Drive
1. Seagate Exos X18
Type: HDD
Maximum Capacity: 18TB
Digital Storage: 18000 GB
Hard Disk Interface: Serial ATA
Connectivity: SATA
Hard Disk Form Factor: 3.5 Inches
Cache Size: 256
Hard Disk Size: 18 TB
Seagate's IronWolf 18TB drive has much more features. For example, it supports dense architectures for the highest rack-space efficiency; smart optimization can help you increase rack space and realize significant equipment cost savings.
And it also optimizes TCO (Total Cost of Ownership) with the lowest cost per terabyte.
It is worthwhile to mention that this driver is built for enterprises. If you want the largest hard disk drive just for personal use and think the Seagate Exos X18 is overqualified, you can try Seagate 12 TB IronWolf Internal Hard Drive.
2. Seagate IronWolf 12TB NAS
Type: HDD
Maximum Capacity: 12 TB
Hard Disk Interface: Serial ATA
Connectivity: SATA
Hard Disk Form Factor: 3.5 Inches
Cache Size: 256
Hard Disk Size: 12 TB
Warranty: five years
Besides, these drives are made for network-attached storage or NAS. Seagate IronWolf 12TB NAS reduces its vibration when functioning to lessen its noise and also increase its file-sharing performance. You can enjoy no lags or down time and lower power consumption by using this tool.
At the same time, users can monitor the driver's health by using the integrated IronWolf Health Management system.
3. Seagate 10 TB Iron Wolf
Type: HDD
Maximum Capacity: 10 TB
Hard Disk Interface: Serial ATA-600
Connectivity: SATA
Hard Disk Form Factor: 3.5 Inches
Cache Size: 256
Hard Disk Size: 10 TB
Just like the last one, this one is also suitable for personal use and can be one of your choices. You can select different capacities as you need.
4. Western Digital RED
Type: HDD
Maximum Capacity: 10 TB
Hard Disk Interface: Serial ATA
Connectivity: SATA
Hard Disk Form Factor: 3.5 Inches
Cache Size: 256
Hard Disk Size: 10 TB
Warranty: 3 years
It is specially designed for NAS systems. This largest hard disk drive is popular among users and has also won appraisals on Amazon Website. It has lower noise and heat as well as advanced customization.
The above are the largest hard disk drives, now you will see some largest solid-state drives to choose from.
By 2022, the largest SSD up to 16 TB for personal use has come into the market. But for most users, an 8TB drive can offer better performance and enough space.
5. Samsung 870 QVO
Type: SSD
Maximum Capacity: 8 TB
Hard Disk Form Factor: 2.5 Inches
Cache Size: 1
Data Transfer Rate: 6 Gb per second
This product can deliver you an overall good performance at an attractive price. Its durability and reliability have been popularly acclaimed as its groundbreaking technology makes it possible to provide stable performance by using its ECC (error-correcting code) algorithm.
870 QVO also makes upgrading easier than ever; better services will be enjoyed with Samsung Magician software in which, your drive is well-managed and its health and status real-time monitored.
6. Samsung 970 EVO Plus Series – 2TB PCIe NVMe
Type: SSD
Maximum Capacity: 2 TB
Hard Disk Size: 2 TB
Cache Size: 2
Data Transfer Rate: 3500 Mb per second
This product can be used for game playing. Although the 2 TB is not the largest you can buy, considering the cost and functions, and other factors, it may be the better one used in your laptop.
The 970 EVO Plus can run faster with the help of the latest V-NAND technology and firmware optimization, which brings greater NAND performance and higher power efficiency.
Its exceptional endurance has received highly favorable reviews. Outstanding heat dissipation helps 970 EVO Plus perform smoothly and continuously.
You can choose these two according to your demand.
If you are fancy about game playing, you can try this one.
7. Toshiba X300 8TB Desktop and Gaming Internal Hard Drive
Maximum Capacity: 8 TB
Hard Disk Form Factor: 3.5 Inches
Cache Size: 128
Read Speed: 256 Megabytes Per Second
This hard drive is designed for the gaming PC and high-end desktop workstations with a high performance of 7200 RPM and large cache size. Its capacity can accommodate large game files to run. But this hard drive only has a two-year warranty shorter than the others we have recommended.
Toshiba X300 hard drive can optimize cache allocation during read/write cycles to provide high drive performance in real-time, which extraordinarily enhances the loading and responsive speed for gamers.
And it has developed an internal shock sensor and ramp loading technology to protect users' data so that you don't need to worry about hacking or something else.
The Largest External Hard Drive
Next, we will give you some options on the largest USB flash drive.
It is a familiar device to help us increase the storage room, used to store backup data or something we need to carry on. Apart from cloud storage, portable USB drives are a reliable partner to save backup data that matters.
1. PNY 256GB Turbo Attache 3 USB 3.0 Flash Drive
It offers you maximum memory storage of 256 GB. Its transfer speed gets faster than ever and it is also compatible with USB 2.0 and USB 3.0 ports.
There is some feedback complaining that the speed seems to be quite inconsistent. It will just keep cycling back and forth between fast and stopped.
The reason can be explained. The USB's plastic enclosure can't dissipate heat easily, hence it slows down to dissipate heat, speeds up when it can, and have to slow down again when heats up.
2. G-Technology – G-DRIVE USB-C 18TB
This one can provide more space enough for you to house whatever you want and even suitable for business. It also has high-speed data transfers and a better function of heat dissipation with its all-aluminum case that makes better durability.
3. Samsung's 512GB microSD card
It is perfect for you to restore high-resolution pictures, games, and music, suitable to be applied to tablets, laptops, action cameras, DSLRs, drones, part of smartphones, and Android devices.
It can read pictures with 4K depth of detail with High Dynamic Range and its extended compatibility allows you to apply it to more instruments. What's more, a 10-year limited warranty can be guaranteed apart from some intensive uses.
4. WD 18TB My Book Desktop External Hard Drive
It's a password-required USB flash drive, which is committed to data protection. It can also offer you duo drive in one, up to 36 TB, as an option and there is massive capacity storage with auto and system backup.
What's more, 256-bit AES hardware encryption and password protection are set for your data. But there are some complaints about its noise; its vibration makes noise unacceptable for home office.
The Largest Hard Drive, the Best Performance?
Maybe you are considering buying a larger hard drive in case of the possible demands. But is that perfect to prepare a hard drive that is just much more than you need?
Of course not. Capacity is not the only criterion to appraise a hard drive. Larger drives often cost more per gigabyte and have slower mechanisms than other drives.
Therefore, when you buy a hard drive, you also need to notice the performance requirements based on its cost per gigabyte. But it is also inaccessible if your storage demands go much more than your drive.
As above, maybe you are prepared for replacing with a larger hard drive. How to transfer all of your data to the new one? Just follow the following steps with MiniTool ShadowMaker.
How to Change Your Hard Drive Without Data Loss?
MiniTool ShadowMaker is an excellent backup tool in which you can enjoy more features set to facilitate your life.
First of all, you can download the program and you will gain a trial version for free.
MiniTool ShadowMaker TrialClick to Download100%Clean & Safe
Step 1: Open the program and click Keep trial in the top-right corner.
Step 2: Switch to the Tools tab and click Clone Disk.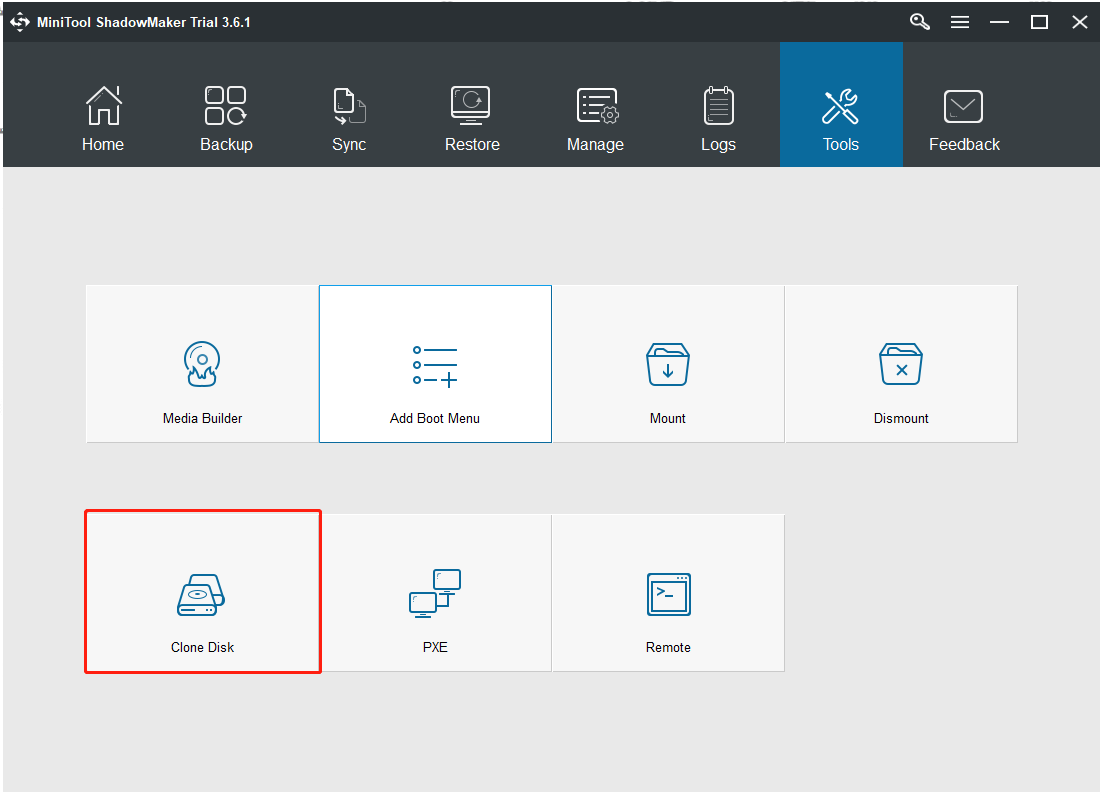 Step 3: Click the Source Disk section to select your source disk and click Finish.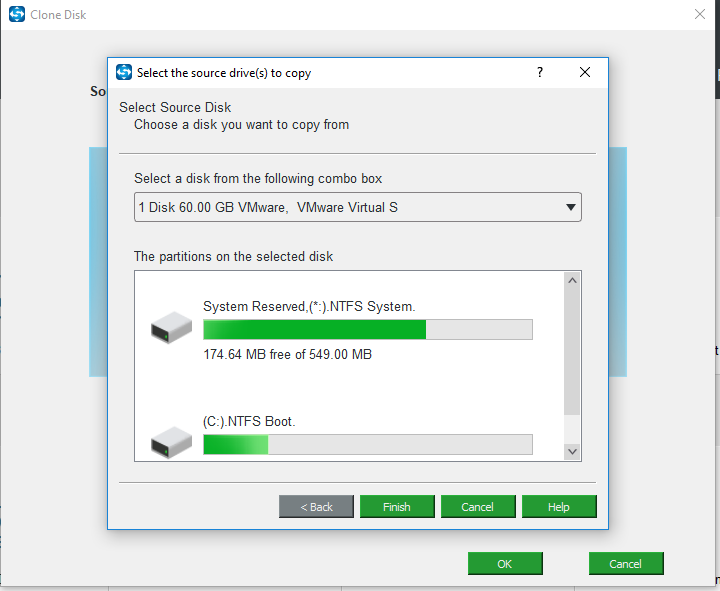 Step 4: Then click the Target Disk section to choose which one you want to clone to and click Finish.
Step 5: Click OK and then there is a warning that appears to ask you to confirm the request. Click OK and wait for the process to finish.
After finishing, you will see a piece of information to tell you the operation is successful and one disk will be marked as offline by Windows. In this way, you can remove the old hard disk.
Bottom Line:
A hard drive just plays an irreplaceable role in your computer. Without a well-functioning hard drive, your important data may be put in danger of loss, and other functions of your computer may be affected. Choosing a suitable hard drive is just what you need to do.
If you have encountered any issues when using MiniTool ShadowMaker, you can leave a message in the following comment zone and we will reply as soon as possible. If you need any help when using MiniTool software, you may contact us via [email protected].