Have you seen a security warning in your web page of Internet Explorer, Edge, Google Chrome or Mozilla Firefox - Windows Defender alert: Zeus virus detected in your computer? Actually, it is a scam and you can choose to remove it. Now, MiniTool Solution offers you how to remove Zeus virus and also shows you how to protect your PC to avoid data loss.
What Is the Zeus Virus Alert
When you use a browser, you may be constantly redirected to a site that displays the "Windows Defender alert Zeus virus" security warning. The notification shows the message: "Windows Defender alert: Zeus virus detected in your computer" and asks you not to shut down your computer since the move will delete your disk files, browser history, password and credit card information.
When getting the message, it is certain that there is no such a virus. Perhaps your PC is infected but not as the notification says. Actually, the Zeus virus alert is nothing more than a scam. Hackers trick you into thinking your PC has been infected with a virus so you may call one of the listed numbers to get the support.
If you call the number, you need to provide hackers with credentials of any sort and hackers get the remote access to your computer by using some confidence tricks that involve Windows built-in tools. Attackers gain your trust to pay for some support services.
Warning: Do not call the number in the pop-up window since Microsoft never sends unsolicited email messages or makes unsolicited phone calls to require financial or personal information and Microsoft never includes a phone number in their error or warning messages.
To sum up, the Windows Defender alert Zeus virus error refers to the trickery by adware that you may have installed on your computer. The kind of browser hijackers is common and the most important thing is not rushing your actions.
Don't restart your computer but do a Zeus virus removal. How can you remove the Windows detected Zeus virus scam? Follow the cleanup procedure below now!
How to Remove Zeus Virus Detected Alert
Operation 1: Uninstall Malicious Programs from Your PC
In your computer, you may have installed many programs. Some of them may be installed by mistake, directed added to your browser as add-ons or hidden within some installers. These apps can be called potentially unwanted programs, PUPs that are annoying.
To get rid of Windows Defender alert Zeus virus, you should pay attention to these peculiar and unrecognized programs, and then uninstall these apps from your computer.
Step 1: Click the Cortana button, input control panel to the search box and click this app.
Step 2: View all the Control Panel items by Category and choose Uninstall a program in the Programs tab.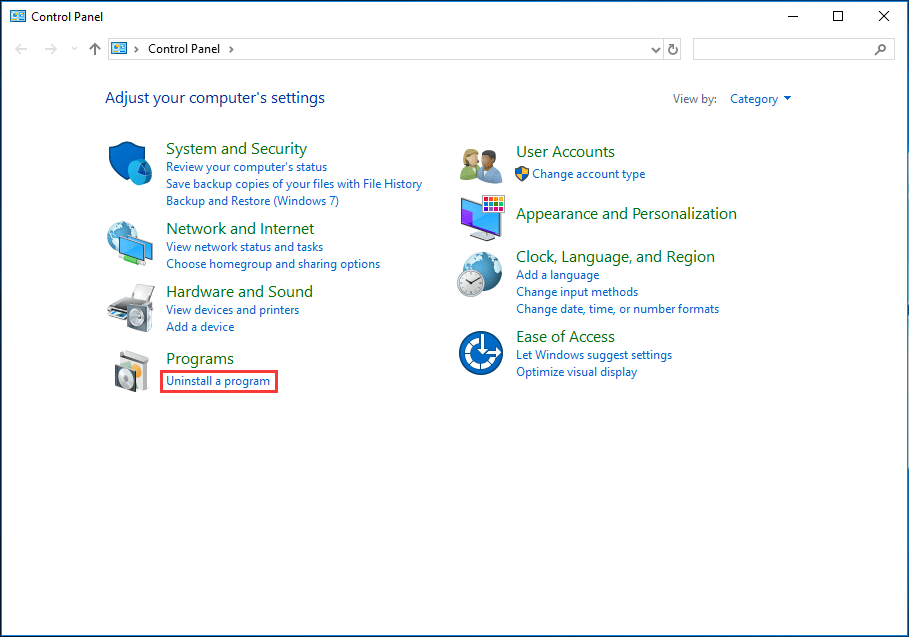 Step 3: Go to find the untrusted or suspicious programs, right-click on one of them and choose Uninstall to remove them one by one from your computer.
Step 4: Reboot the PC.
Tip: On your computer, the malicious program may be named differently. So you can skip to the next operation to remove the Windows Defender alert Zeus virus warning if you are unable to find any malicious apps.
Operation 2: Scan for Malware
The second thing you should do is to check whether there is a possible malware infection. For most antivirus programs, they can identify malware with real-time protection. However, that is not always the case.
To make sure there is no malicious instruction on your computer, you should use your antivirus software to perform a deep scan.
The operation is quite easy and similar on most of the tools including ESET, Malwarebytes, etc. Here, we will show you Windows Defender, a Windows built-in antivirus program, which gets a great score in the German authority AV-TEST. Besides, it is available for all of you from the beginning.
Here is what you should do:
Step 1: Press the Start button, click Settings and Update & Security from the Settings window.
Step 2: Navigate to Windows Defender and click Open Windows Defender Security Center.
Step 3: Choose Virus & threat protection and click the Advanced scan link.
Step 4: In the pop-up window, choose the Windows Defender Offline scan option that can find and remove some malicious software that is particularly difficult to remove, using up-to-date threat definitions.
Step 5: Ensure everything is saved since this will restart your computer. Then, click Scan now after you are ready.
Operation 3: Remove Adware and Threats
For browser hijackers, they always come in different shapes and sizes and the common form is adware toolbars. They hijack your browser and replace your default search engine with some ad-ridden rubbish. If you click them, you will get the Windows detected Zeus virus message or be redirected to suspicious websites.
After uninstalling some apps and scanning malware, if you are still bothered by Windows Defender alert Zeus virus, what should you do?
Well, you should know Windows Defender may still not remove some complex threats and malware although it is reliable. So, a more powerful and secure tool should be used to remove adware, for example, Malwarebytes AdwCleaner. Just download this tool from the Internet, install and launch it to scan and remove adware.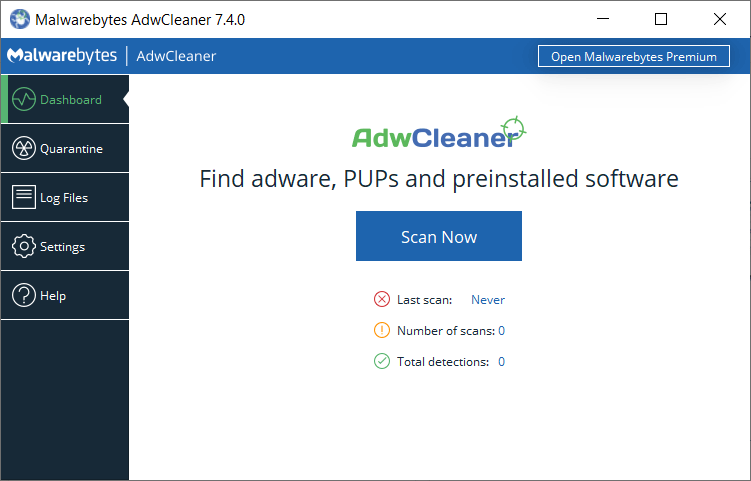 Operation 4: Reset Browser Settings to Default
When your browser is infected by adware, the settings may also be changed and they cannot get restored by themselves. Thus, you should reset the browser to its default settings to fix Windows Defender alert Zeus virus.
Suppose that you don't do the final step, the malicious adware will continue working, which is the thing that you don't want to occur. Thus, you should reset your browser to its default settings. Of course, you can choose to reinstall the browser but resetting is enough.
Tip: Besides, you should remember to delete all locally cached files because they may have been damaged or corrupted.
The following is what you should do:
If you are using Google Chrome
Step 1: Launch your Google Chrome, click the 3-dot menu and choose Settings.
Step 2: Scroll to the bottom of the Settings page and click the Advanced link.
Step 3: Scroll down until you see the Reset and clean up section and then click Restore settings to their original defaults.
Step 4: Click Reset settings at last.
If you are using Mozilla Firefox
Step 1: Run the Firefox browser.
Step 2: Go to the three horizontal lines, choose Help and click Troubleshooting information.
Step 3: In the pop-up page, click Refresh Firefox. This will restore your browser settings to their defaults and remove your add-ons & customizations.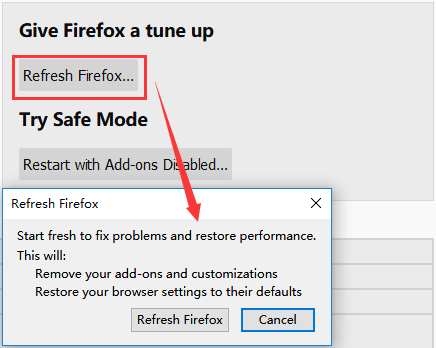 If you are using Edge
Step 1: After opening Edge, click 3-dot menu and choose Settings.
Step 2: Click Choose what to clear from the Clear browsing data section.
After finishing all the steps mentioned above, you can check whether you have removed the message – Windows defender alert Zeus virus detected on your computer. If you still encounter this warning, you can choose to reinstall your browser.
"Here are all the steps to fix the Windows defender alert Zeus virus detected on your computer issue. Try them! Also, you can share the Zeus virus removal on Twitter."Click to Tweet
Some Methods to Keep Your PC Safe
Although Zeus virus alert is a scam and can be easily removed by trying the above operations, you should also know that actual virus attacks and malware attacks always appear unexpectedly, which poses a threat to your PC. For example, your PC may be encrypted, your important files are lost, your sensitive information is stolen, etc.
So, you should take actions to protect your PC well. The methods are various and here we will introduce some methods for you.
Avoid Installing Unwanted Programs on Your Computer
The chief culprit for computer infections is careless behavior and the key to safety is caution. So, when you download or install a program from the Internet, you should pay close attention since some intrusive advertisements appear to be legitimate.
After a click, you will be redirected to suspicious websites or get the Windows Defender alert Zeus virus. So, remove these apps and browser plug-ins when seeing these ads and make a careful analysis of each installation process. Also, download a program from official websites.
Tip: Besides, you should also avoid opening any unknown emails and attachments.
Run Windows Defender or Any Antivirus and Firewall
Windows Defender, a built-in antivirus program, can be used to scan and remove viruses and malware. So, you should ensure this software is enabled and keeping your PC safe.
Of course, you can use any other antivirus software to scan viruses and threats like McAfee, Norton Antivirus, etc. Additionally, you can also enable Windows Firewall to block some unsolicited attempts.
Make a Backup for Your PC
Virus attacks and malware may cause data loss and system crash, so you should make a backup for your computer to avoid losing data and restoring system when accidents happen besides the above actions.
How to back up your computer in Windows 10/8/7? A dedicated and free backup software designed by MiniTool can be a good assistant. MiniTool ShadowMaker is such a program. It is able to back up your Windows system, disks, partitions and important files & folders and perform the corresponding restoration quickly.
Automatic backup, incremental backup and differential backup can be also implemented with this freeware. File sync and disk clone are also supported.
Now, you can get its Trial Edition from the following part to have a trial. Note that this edition only allows you to use within 30 days. To use it forever, you can upgrade to a full edition.
MiniTool ShadowMaker TrialClick to Download100%Clean & Safe
Step 1: Run MiniTool ShadowMaker.
Step 2: Go to the Backup page, you will find this software has selected system partitions by default. To back up the system, you only choose a destination path to continue.
Tip: To back up files, you can go to Source > Folders and Files and check all the items that you want to back up. And then click OK to go back to the main interface.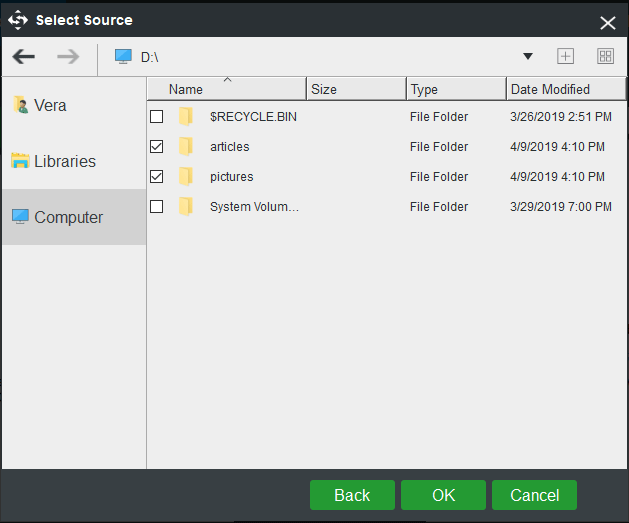 Step 3: Start your PC backup by clicking Back up Now.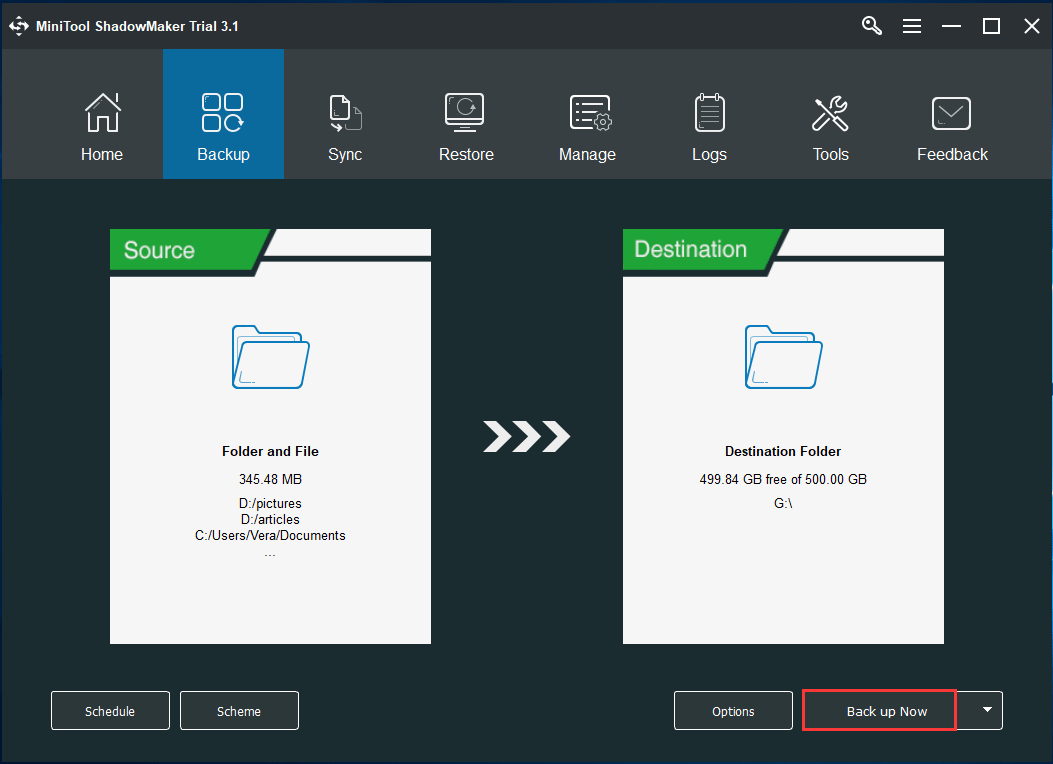 Other Ways for PC Protection
Disable high-risk account
Enable UAC (User Account Control)
Use UWP application
Update your PC system
All these methods are introduced in this post – Is Antivirus Necessary for Windows 10/8/7? Get the Answer Now and you can skip to the part – How to Protect Your Computer from Virus Besides Antivirus mentioned in this article.
Bottom Line
Have you experienced the scam – Windows Defender alert Zeus virus detected on your computer when visiting some pages on Google Chrome, Internet Explorer, Edge or Mozilla Firefox? Try these operations mentioned in this post to remove the security warning.
Besides, keep your PC safe under actual viruses or malicious malware, you can try MiniTool ShadowMaker to back up your PC.
MiniTool ShadowMaker TrialClick to Download100%Clean & Safe
If you have some suggestion of Zeus virus removal or issue regarding MiniTool software, leave your idea below or contact [email protected].
Don't Restart Your Computer Windows Detected Zeus Virus FAQ
How do I remove Zeus virus from Windows 10?
Uninstall malicious programs from your PC
Scan for malware
Remove adware and threats
Reset browser settings to default
What is Zeus virus alert?
When browsing a web page, you get the error message "Windows Defender alert: Zeus virus detected in your computer" or "You have a ZEUS virus". They are fake error messages displayed by a rogue website. Don't trust them. This post –
Here's How to Do Browser Hijacker Removal in Windows 10
may be what you need.
Who created the Zeus virus?
Zeus is a malware tool kit running on Windows and can be used to steal financial data. It was first detected in 2007. According to reports, the virus was sent from computers controlled by a cybercrime organization.
What is UTC Zeus?
Zeus virus or Zeus Trojan malware is a form of malicious software and it attempts to steal confidential information from the compromised Windows computers.