You need to use your dash cam with an SD card to save the recordings. But if your dash cam can't detect the SD card, do you know how to fix the problem? In this post, MiniTool Software will introduce some easy and effective methods. However, you'd better first recover your recordings using MiniTool Power Data Recovery to keep them safe before fixing the problem.
Dash Cam Not Recognizing/Detecting/Reading SD Card
A dash cam is a driving recorder that continuously records the view through a vehicle's front windscreen and sometimes rear or other windows. You need to insert an SD card into the dash cam to save the recordings. When your dash cam successfully recognizes the SD card, it will begin to store the recordings.
However, you may encounter different kinds of issues when using a dash cam. For example, your dash cam doesn't recognize, detect, or read the inserted SD card.
What is the reason for dash cam not recognizing SD card?
How to solve this problem?
How to avoid the data loss issue when solving the problem?
What to do to recover the recordings in the SD card if it is unreadable?
Now, we will show you the information related to dash cam not recognizing SD card, including how to fix the problem and how to rescue your files from the SD card.
Top Reasons for Dash Cam Not Recognizing/Detecting/Reading SD Card
After collecting users' reports, we find that dash cam will not detect the SD card when one of the following things happens:
The SD card is not properly inserted into the dash cam.
The SD card is not compatible with the dash cam.
The SD card is damaged or has bad sectors.
The SD card is not formatted properly.
There are files (not video recordings) on the SD card.
Based on the above reasons, we propose the following solutions.
Fix 1: Insert the SD Card again
If your SD card is not working on dash cam, the first thing you should do is turn off the dash cam, remove the SD card, and then reinsert it into the slot. This time, you need to make sure that the gold contacts of the card are facing toward the dash cam and the card should be pushed until it clicks into place. After that, you can turn on your dash cam and check if the camera can successfully read the card.
If the dash cam not reading SD card persists, you can try the next fix.
Fix 2: Check the Technical Information of Your Dash Cam
Some dash cams have special requirements for SD cards. Some have requirements for capacity, and some have requirements for the speed of reading and writing. You can check the technical information of your dash cam to confirm.
The following is an example: the dash cam of that model supports SD card of 32GB -256GB. If the capacity of your SD card is too small or too large, your dash cam will not recognize it.

In addition, you should format your SD to the FAT32 file system. You can use the Windows built-in Disk Management to do this job. You can also use MiniTool Partition Wizard, a free partition manager, to convert your SD card to FAT32 without data loss.
MiniTool Partition Wizard FreeClick to Download100%Clean & Safe
Fix 3: Format the SD Card to Normal
Move 1: Recover your data if necessary
If you suspect your SD card is damaged or corrupt, you can format it to have a try. However, if there are important recordings on the card, you will need to first rescue your files before formatting it. You can use MiniTool Power Data Recovery, the best free data recovery software, to recover your recordings.
This MiniTool data recovery software can work on all versions of Windows, including the latest Windows 11. It supplies different secure data recovery services. For example, it can recover data from internal hard drives, external hard drives, SD cards, memory cards, etc.
You can try the free edition of this software before you decide to use it long-term. You can use this freeware to recover 1GB of data for free.
MiniTool Power Data Recovery FreeClick to Download100%Clean & Safe
After downloading and installing this software on your PC, you can use these steps to find and recover your recordings from the SD card.
Step 1: Connect the SD card to your PC via a card reader.
Step 2: Launch the software to enter its Home interface. Then check if this software can recognize the card. If yes, you can see it appears under the Logical Drives tab.
Step 3: Hover over to that SD card and click the Scan button to start scanning it. To get the best data recovery effect, you need to wait patiently until the entire scanning process ends.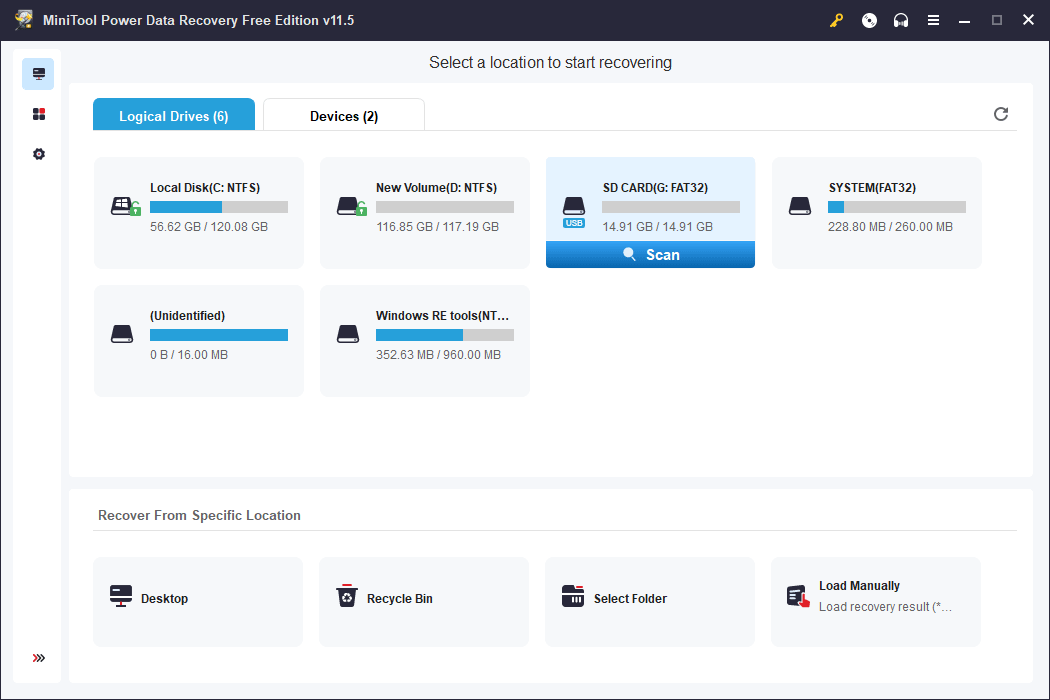 Step 4: When you see the complete scanning results, you can see the found files are listed by path by default. You can open each path to find your needed recordings. You can also switch to the Type tab and find your files by type.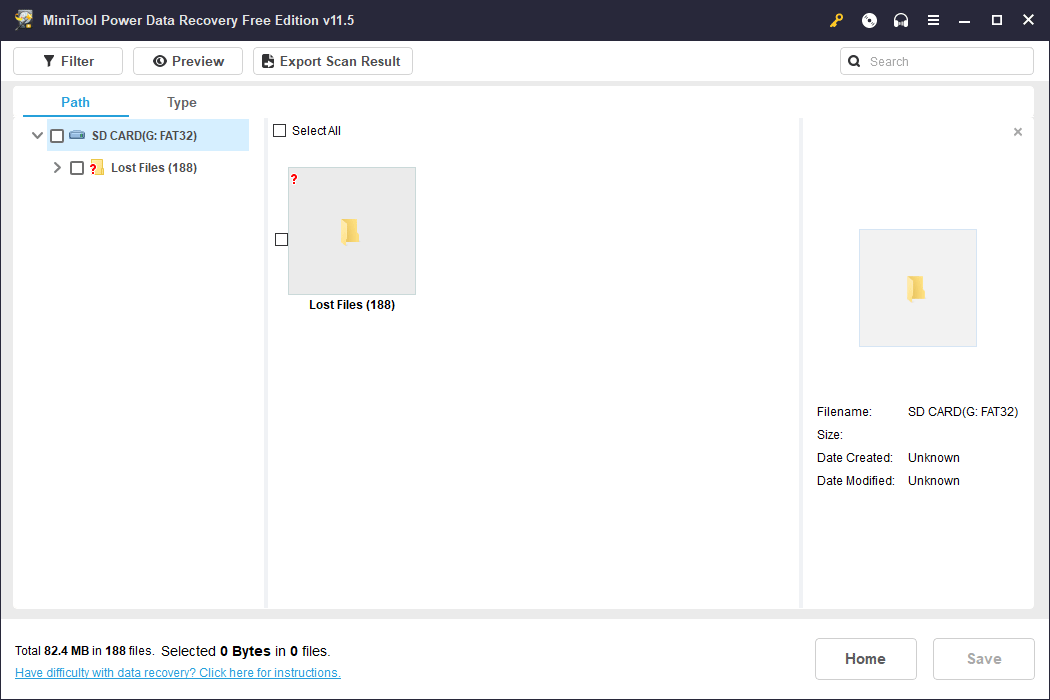 Step 5: Select the files you want to recover, then click the Save button to continue.
Step 6: An interface will pop up to let you select a place to save your selected files. The destination should not be the original SD card because it is damaged. You can choose to save them to an external hard drive or directly on your PC.
If you want to use this software to recover more data or use it as your commonly-used data recovery software, you can upgrade it to a full edition. MiniTool Software offers different editions for both personal and business users.
Move 2: Format your SD card to normal
Formatting your SD card is an optional method to repair the damaged SD card. Likewise, you can use Disk Management or MiniTool Partition Wizard to perform SD card formatting.
However, if formatting the SD card can't solve the problem, there might be some bad sectors on the SD card. Then, you need to take some measures to repair the SD card by blocking the bad sectors.
MiniTool Partition Wizard FreeClick to Download100%Clean & Safe
Fix 4: Remove the Existing Files on the SD Card
Perhaps, your SD card is not a new card. There are some files on the SD card, taking up the full storage. So, the dash cam can't recognize the SD card and read the data on it.
To fix the problem, you can use MiniTool ShadowMaker to transfer data from your SD card to your PC or another storage drive. If these files are useless, you can directly delete them.
MiniTool ShadowMaker TrialClick to Download100%Clean & Safe
Fix 5: Try another SD Card
If your dash cam still can't recognize the SD card after trying the above methods, your SD card should be physically damaged. You need to replace it with another one.
Bottom Line
This article tells you the things you can do if the issue of dash cam not detecting SD card happens. These methods are easy and effective. We hope you can find a suitable method here.
Additionally, if you also need to use professional data recovery services to retrieve your deleted files, you can try MiniTool Power Data Recovery.
Should you have other related issues, you can contact us through [email protected].