When working on the computer, users may receive the Shell Infrastructure Host has stopped working error suddenly. Most of them even don't have a clue of what is Shell Infrastructure Host, let alone the methods to fix it. So in this post, I will introduce it to you and provide responding solutions.
Don't worry that your data will be put at risk since MiniTool Software takes good care of them.
Shell Infrastructure Host Has Stopped Working on Windows 10
While browsing the web, I found a lot of Windows 10 users reported the same problem – Shell Infrastructure Host has stopped working. It's reasonable that they want to find an effective way to settle down the matter when Windows 10 Shell has stopped working. However, many of the users who fall victim to Shell Infrastructure Host error even don't what it exactly is. In view of this, I'll introduce it to you briefly.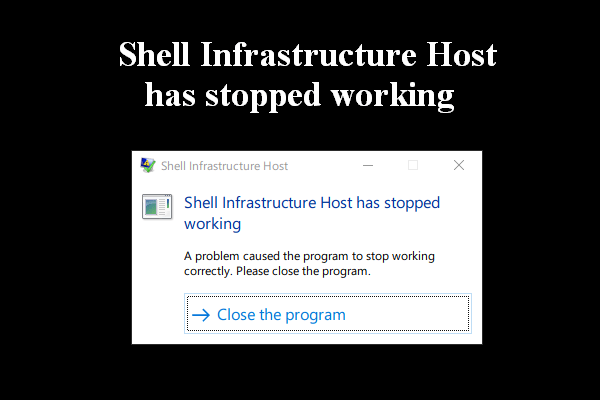 What is Shell Infrastructure Host
Shell Infrastructure Host, also known as SIHost, is actually a core component of a Windows operating system (OS). The Shell Infrastructure Host is necessary for coping with several graphical elements of your OS interface, such as Start menu visuals and taskbar transparency. The Shell Infrastructure Host may stop working sometimes on your PC.
Main functions of Shell Infrastructure Host include:
It shows the applications in the Windows interface for you.
It has control over some functions of the background behavior (such as wallpaper change).
Etc.
There are many people asking - what is sihost.exe. In fact, the name of its executable file is sihost.exe and this is what you can see under the Processes tab of Windows Task Manager. By default, the sihost.exe process will run automatically every time you turn on your PC. The Shell Infrastructure Host is run in the background, so no information will show up to inform you that it is running. If you doubt there is something wrong with the process or you just want to take a look at it, you should open Task Manager manually.

Two Cases of Shell Infrastructure Host Error
I'll introduce 2 cases that indicating the Shell Infrastructure Host crash.
One: Shell Infrastructure Host Has Stopped Working - Windows 10.
Hi guys, any idea how to solve this issue in windows 10? I just tried to open my computer's guest account, then a dialog showed up saying Shell Infrastructure Host has stopped working. A problem caused the program to stop working correctly. Please close the program. And there's an option Close the program but it doesn't do anything, the dialog will just popup again whenever I click it. Please help. Thanks in advance.

- asked Dexter Bengil in Microsoft Community
Two: Shell infrastructure host has stopped working Guest User.
I have tried all the methods suggested but still it does not work. Every time I start up my laptop. The screen is just black for about 15 minutes then the dialogue box will appear and says The shell infrastructure host has stopped working. This happens since I upgrade my windows from 7 to 10. What will I do to make my computer open fast and to get rid of that shell infrastructure host thing?

- said Judie101 in Microsoft Community
There are also users complaining about the Shell Infrastructure Critical Error (also called Windows Critical Error).
How to Fix Shell Infrastructure Host Stopped Working
Shell Infrastructure Host is a vital component of your system, if it is stopped, not responding, not running, or deleted, the overall functionality of your operating system will be affected (causing many issues). So you need to fix it as soon as you discover Shell Infrastructure Host not working or Shell Infrastructure Host using a lot of CPU.
Error Message & Causes
Users tend to come across the error when they are trying to open a guest account on a Windows device.
Shell Infrastructure Host has stopped working.
A problem caused the program to stop working correctly. Please close the program.
-> Close the program.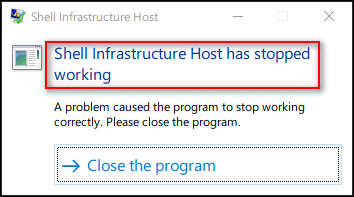 When you actually see this, you should realize that the Shell Infrastructure Host or sihost.exe process (responsible for graphical elements management) is crashed suddenly. You can click the Close the program link to close the dialog box directly. However, no matter how many times you have tried, the error box will continue to pop up (as long as you still logged into the system with the guest account).
What causes the Shell Infrastructure Host stopped working error?
There's not an exact answer to this question, so it's no wonder that Microsoft hasn't come up with an official solution yet. However, a missing or corrupted system file could be the most possible reason that makes Windows 10 users stuck in the guest account. Therefore, the direct fix is to restore the missing files or repair the corrupted files if you can.
6 Practical Workarounds
In fact, the Windows 10 Shell has stopped working is a famous bug. Up to now, there's no official hotfix coming from Microsoft, though there are lots of users complaint about Shell Infrastructure Host CPU issues.
Well, the good news is I'd like to introduce some of the most useful solutions to help users cope with the Shell Infrastructure Host problems (Shell Infrastructure Host not responding or Shell Infrastructure Host high RAM usage). You should read them one by one carefully until you find the fix that can resolve your situation.
#Fix 1: run Deployment Image Servicing and Management (DISM).
DISM is responsible for scanning and fixing Windows corruption errors.
How to run Command Prompt as administrator in Windows 10, Windows 7, or Windows Vista?
Click Start and then choose Cortana (you can also click on the Cortana icon or search box on the taskbar directly).
Type cmd into the textbox and wait for Command Prompt to appear in the search result.
Right click on Command Prompt to choose Run as administrator.
Choose Yes in the User Account Control window to allow the action.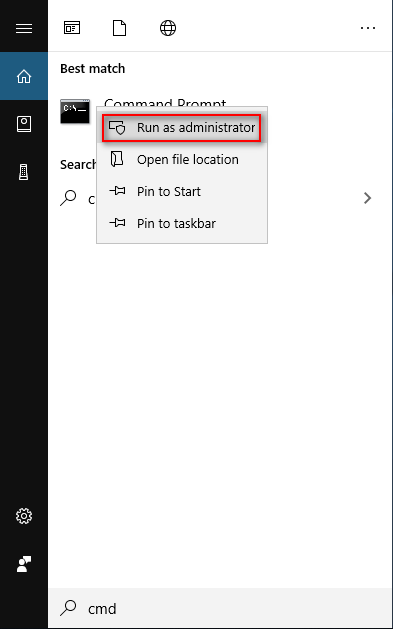 How to run Command Prompt as administrator in Windows 8.1 or Windows 8?
Move your cursor to the lower-right corner of the screen, and then click Search. (You can also swipe in from the right edge and click Search.)
Type Command Prompt into the textbox and right click on it from the search result.
Select Run as administrator.
Type the password if you're asked to provide one. Then, click Allow.
How to run DISM in Administrator: Command Prompt?
Type exe /Online /Cleanup-image /Restorehealth manually (you can also copy the command by pressing Ctrl + C and paste it into Command Prompt by pressing Ctrl + V).
Hit Enter and wait for the command to complete; it may take a while.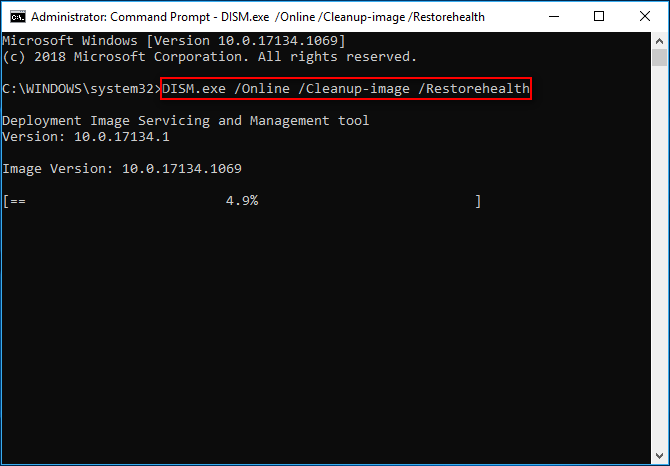 Warning: If the Windows Update client on your computer is broken, the DISM command may fail since it offers files for fixing corruptions by using Windows Update. In this case, you should run Windows installation as the repair source or use a Windows side-by-side folder as the source of needed files. Then, type DISM.exe /Online /Cleanup-Image /RestoreHealth /Source:* /LimitAccess (* is the location of your repair source) into Command Prompt and wait for it to finish.
#Fix 2: run the System File Checker (SFC) tool.
It works well at scanning all protected system files and repairing missing/corrupted data with a cached copy.
Also, you need to run the Command Prompt tool as an administrator.
Type sfc /scannow into the Administrator: Command Prompt window.
Press Enter button on the keyboard.
Wait until the Verification goes to 100% complete.
Kindly remind: you can also use Command Prompt tool for recovering lost files on your device safely.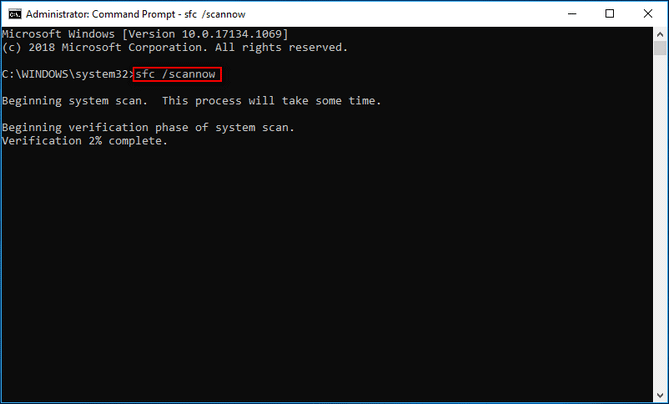 #Fix 3: recover corrupted files with MiniTool Power Data Recovery.
If you can remember the name of the corrupted files, you can let MiniTool Power Data Recovery help you.
Get a license for MiniTool Power Data Recovery and download it properly to the drive that contains no files waiting to be recovered. (The Trial Edition can only help you scan and find files; it can't recover files for you.)
Run the setup program to install the software by following the instructions.
Launch the data recovery software and keep This PC selected in the left sidebar.
Select the drive that contains system files (usually C:) and click on the Scan button.
Wait for the scan to complete (this may take some time, depending on the drive capacity and status). Click on the OK button when the software says it found more than 10 partitions for you.
Click on Find from the menu and type the name of the missing/corrupted file into the textbox. Then, click on the Find button on the right side to locate it.
Check the file you need and click on the Save button.
Choose a storage path for the file and click on the OK button to confirm.
Wait for the recovery to complete. Close the software until you see a pop-up window, informing you that the selected file has been saved to the specified place.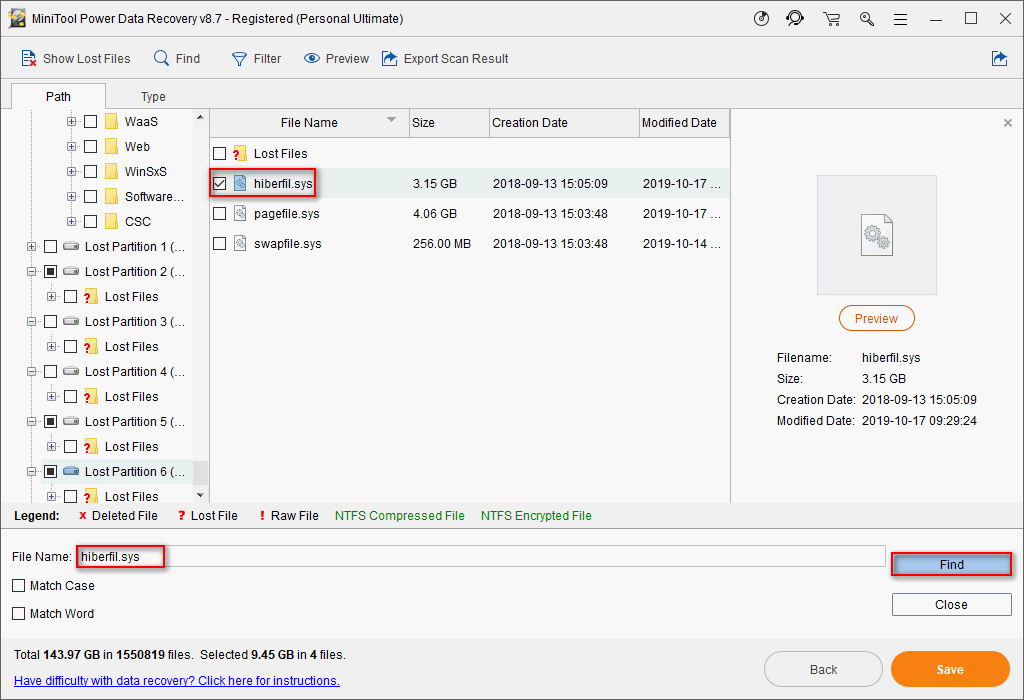 #Fix 4: create a new Guest Account.
A Guest Account is very useful sometimes; for instance, you want to share a Windows device with others but you don't them to enjoy the administrative privileges.
How to create a Guest Account in Windows 10?
Click on the Start button in the lower left corner of the PC screen.
Choose Settings from the left sidebar and select Accounts.
Shift to Family & other people in the left pane.
Look for Other people section in the right pane.
Click Add someone else to this PC under it.
Click I don't have this person's sign-in information link at the bottom.
Now, select Add a user without a Microsoft account.
Set user name and password and follow the instructions.
Click Next to create a new Guest Account.
In addition to creating a new Guest Account, you can also try switching to an Admin Account to fix the Shell Infrastructure Host problem (like Shell Infrastructure Host high memory) temporarily.
How to switch account:
Press Ctrl + Alt + Delete at the same time on your keyboard.
Select Switch user from the pop-up list.
Choose the account provided with admin privileges.
Wait until you logged into the system with that admin account.
Warning: If you switch back to the guest account, the "Shell Infrastructure Host has stopped working" error will still occur.
#Fix 5: reinstall the Redistributable Packages.
Open the Run dialog box by pressing Start + R (you can also right click on Start and choose Run).
Type cpl into the textbox and click on the OK button below.
Scroll down to browse the list in Programs and Features window.
Right click on each Microsoft Redistributable Packages you see (one at a time).
Choose Uninstall from the context menu and wait for a while.
Repeat step 4 and step 5 until all the Visual C++ Redistributable Packages for Visual Studio have been removed.
Restart your computer and visit this page.
Download both the vcredist_x64.exe and vcredist_x86.exe.
Click Next to download both installers and let them re-download the missing Visual C++ redistributable packages for you.
Restart your computer again.
#Fix 6: change startup type.
Also, you need to open the Run dialog box.
Type msconfig and hit Enter.
Make sure the General tab is selected in System Configuration window.
Check Selective startup instead of Normal startup.
Make sure both Load system services and Load startup items are checked.
Click on the Apply button and then reboot your PC.
In addition, you can try to troubleshoot your computer in a Clean Boot State or turn to System Restore to fix Shell Infrastructure Host issues. If all of these methods failed, you have no choice but to perform an in-place upgrade. Please remember to choose to keep personal files and apps; otherwise, the saved files, installed applications, and Windows settings will be lost.
Click to know more about how to fix Shell Infrastructure Host using a lot of memory.
Is Sihost.exe a Virus
As mentioned earlier, the Shell Infrastructure Host is a core Windows component that is run by sihost.exe. In general, the sihost.exe is safe and won't bring any damage to your PC. However, it doesn't mean the sihost.exe is absolutely safe all the time; it could be a Trojan sometimes and harm your device!!!
In fact, other malware can disguise itself by naming as sihost.exe. At this time, you must distinguish whether the sihost.exe on your device is a Trojan or belonging to the system/trusted application.
How to judge?
The most direct and easiest way is to figure out the location of the sihost.exe.
If the sihost.exe is located in the C:\Windows\System32 folder, then it's safe.
If you find the sihost.exe somewhere else (like the subfolder of Program Files), you should remove it immediately.
However, other factors like the dangerous degree and the file size can also be used to decide whether the sihost.exe on your computer is a virus a not.
Read this post to know more about how to discover a dangerous sihost.exe, and then you'll know the answer to the question – can you remove/disable sihost.exe.
Conclusion
The Shell Infrastructure Host is a very important component of a Windows operating system. However, there are many factors that could result in Shell Infrastructure Host not working. At this time, it's urgent to fix the Shell Infrastructure Host has stopped working issue. Please read the 6 fixes mentioned in the above part carefully to be well prepared for Shell Infrastructure Host error. Besides, it shows you how to determine whether the sihost.exe you see on your computer is safe or not; so you can decide whether to remove/disable it or not (removing a normal sihost.exe will cause serious problems).