It's unavoidable to delete a file on Mac, just like on Windows. Actually, there are a lot of ways for you to recover deleted files on Mac easily; MiniTool summarized them for you.
If you have deleted an important Mac file by mistake, please follow the steps mentioned below to get back the file you need.
Part 1 – Recover Deleted Files Mac
Recently, we unintentionally see a large number of people asking questions on the internet, like:
Is it possible to recover deleted files on Mac?
How do I restore Trash on a Mac?
How do I recover deleted files on my Mac?
How do I retrieve photos from Trash on my Mac?
They hope to find a satisfying answer.
It's reasonable you want to recover deleted files after mistaken deletion. But the question is how to recover deleted files on Mac terminal.
We strongly recommend that both experienced users and novices get help from Stellar Data Recovery for Mac – a Mac data recovery tool designed by MiniTool and Stellar. This tool simplifies the recovery process of lost files, dividing it into mainly 3 steps:
Choose the file type you want.
Scan the target drive.
Save files from scan result.
Of course, we offer you a chance to experience the real performance of software before purchasing. You can download this free data recovery software for Mac and install it; then, run the software to start Mac OS X data recovery independently.
Warning:
The free edition of Stellar Data Recovery is able to help you scan all Mac devices for deleted files. It gives support to various file types and
file systems
. Besides, it offers two scan modes and the fabulous file preview function to help you recover data from Mac any time.
We'll take Stellar Data Recovery Premium as an example to show you how to recover deleted files Mac.
Part 2 – How to Restore Files from Mac
For Mac users who don't know what will happen during file loss or the principle of data recovery, they'll regard file loss as a fatal blow. They think it's like the file is gone forever the moment when it gets lost. Yet the reality is there are several ways available to help them recover data on Mac.
How Do I Recover Deleted Files on My Mac for Free
It happens frequently that Mac users delete important files by mistake: they may press the wrong button or regard that file as useless. When they finally find that they've made a huge mistake, they may feel annoyed, hoping that they've never done this before. Lucky for them, we'll introduce 3 ways to help you recover deleted files Mac free.
Read this page to know how to recover lost files from hard disk (both internal and external) on Windows.
Mac recover deleted files via 3 ways:
#1. Make use of Mac Trash.
When you realize you have deleted the files you actually need from a hard disk (or other place) by mistake, you should firstly go to check Trash.
How to recover deleted files Mac without software (but it is only helpful in some cases).
Open the Trash can and find the items you really need.
Select all the items you need and right-click on the highlighted area.
Choose Put Back from the pop-up menu to restore them to the original place (if the original drive no long exists, you'll need to drag them out of the Trash directly).
You can also complete Recycle Bin recovery on Windows.
Note:
If you have deleted files from a flash disk, the files will not be sent to Trash; you can't find them here, so how do you
recover deleted files from a USB flash drive
? Certainly, you should turn to the following 2 ways instead.
#2. Use Stellar Data Recovery.
Sometimes, you have not realized the deletion of important files until you emptied the Trash. There's no chance to get them back via Trash. In this case, we suggest you use Stellar Data Recovery to get files back on Mac after emptying Trash.
How to recover deleted files from emptied Mac Trash bin:
Run the software by double clicking on its icon. (Please connect the external hard disk or USB flash drive to computer if you need to recover data from it.)
Select the file type that you want to recover (lost file recovery mode Mac) from the main window of the software. Click Next to continue.
Select the target hard disk partition/flash drive and click on the Scan button to detect files. You can keep Deep Scan enabled or disabled.
Wait for the scan, and then check the files you need from the scan result.
Click on the Recover button to save deleted files you want to another location on Mac or external disk.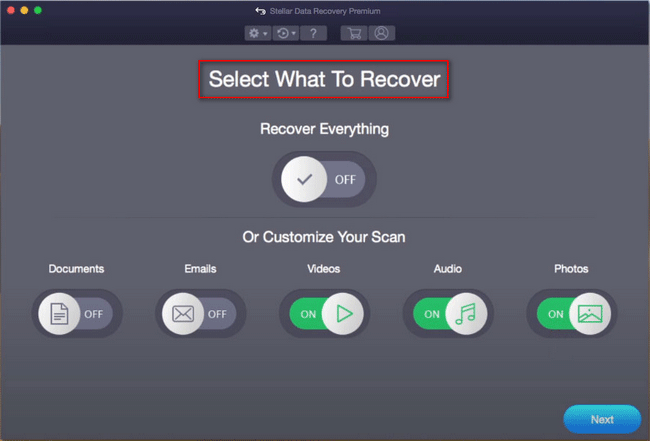 #3. Rely on Time Machine.
If you happen to have created backups of the deleted files by using the Time Machine, you can easily restore the older versions of deleted files on your own.
How to recover deleted files Mac by using Time Machine:
Open the partition or folder in which the deleted files are located originally. (If you have backed up the files to an external or network drive by using Time Machine, you should confirm that the drive is connected now.)
Click the Time Machine menu and choose Enter Time Machine from the drop-down menu.
Make use of the arrows to move back and forth between snapshots or make use of the timeline on the right side to directly jump to the backups you need. (Search bar can also be used to find specific files in snapshots.)
Open a file by double clicking so as to determine whether it is the one you need.
Select all the files you need and then click on Restore to put back them to the original place. (In the case that the files you deleted were originally located in different folders, you should recreate the folders for them in order to recover them all.)
That's all you should know on how to recover deleted files from Mac terminal.
How Do You Recover Files from Mac Partition
In general, when a partition went wrong, we think it's more important to rescue data from it than just fixing the partition. Here, we'll show you how to finish file recovery on Mac in just a few easy steps.
Recover data from corrupted partition on Mac.
If the logical structure of a hard disk partition is damaged, the partition will corrupt. In this case, some files in the corresponding partition may be lost or you may not be able to access the partition. Common reasons that could lead to a corrupted Mac partition are – sudden power outage, bad programming, virus attack, etc.
At this time, we strongly suggest you run Stellar Data Recovery and follow the tips given below to recover Mac data.
Step 1: open the software and toggle the Switch under Recover Everything to ON (if the target partition is located on an external hard drive, please connect it to your Mac first).
Step 2: click Next in the lower right corner and specify the drive that contains lost data. Then, I advise you to enable Deep Scan and click Scan.
Step 3: browse the files and folders found by the software and then make your choice on which to recover. Check the files you need and press the Recover button to choose a storage place for them.
After all files were recovered, you can re-format the corrupted drive to fix errors and then transfer back the recovered data here.
Note: At the end of the scan, Stellar Data Recovery will display the Classic List containing both existing and deleted data by default. You can shift to File List (viewing files by types) or Deleted List (viewing only deleted files).
Top Recommendation:
You may be eager to know how to recover data from a dead Mac when the whole disk is corrupted. Please read [Solved] How to Recover Data from Crashed/Dead MacBook Pro Today to know the exact things you should do.
Recover data from deleted partition on Mac.
A Mac partition can be lost due to lots of reasons: accidental deletion, virus/malware attack, partition table problems, etc.
Please don't ask how to restore deleted partition on Mac after reading the following steps.
Step 1: run the software to select what to recover in the main window: you can enable Recover Everything or specify the certain file types you need one by one. (If the deleted partition is lost from an external hard drive, please connect it to computer before this).
Step 2: click Next to see the drives available; choose the target one and press Scan to start searching for lost files.
Step 3: look through the scan result and select the files you want to recover by adding check marks in front of the certain files/folders.
Step 4: click on the Recover button to choose another drive to store them.
When all those steps are done, you may create one or more new partitions and then transfer recovered data into it or them so as to put an end to Mac partition recovery.
As you can see easily, the external hard drive data recovery on Mac is almost the same with internal hard drive data recovery on Mac. The only difference lies in: you have to connect the external hard drive to Mac computer before recovery.
Part 3 – What Is Mac OS X
OS X is actually the exclusive operating system developed by Apple for Mac series products. It is the pre-installed system, and simplicity is reflected everywhere. As far as we know, OS X is the world's first comprehensive operating system that is based on the FreeBSD and object-oriented.
The "object-oriented operating system" is developed by NeXT founded by Steve Jobs after he was forced to leave Apple in 1985. Later, Apple acquired NeXT, so Steve Jobs served as CEO of Apple again. Hence, the Mac OS system starts to be integrated into OpenStep system, developed by NeXT.
In fact, OS X is completely separated from the previous Macintosh operating system, and its underlying code is completely different from the previous version. OS X includes its own software development program and its major feature is the integrated development environment called Xcode.
History of Mac OS X Versions
Mac OS X 10.0 Cheetah, released on March 24, 2001.
Mac OS X 10.1 Puma, released on September 25, 2001.
Mac OS X 10.2 Jaguar, released on August 24, 2002.
Mac OS X 10.3 Panther, released on October 24, 2002.
Mac OS X 10.4 Tiger, released on April 29, 2005.
Mac OS X 10.5 Leopard, released on August 7, 2006.
Mac OS X 10.6 Snow Leopard, released on June 9, 2008.
Mac OS X 10.7 Lion, released on October 20, 2010.
Mac OS X 10.8 Mountain Lion, released on July 25, 2012.
Mac OS X 10.9 Mavericks, released on June 10, 2013.
Mac OS X 10.10 Yosemite, released on June 3, 2014.
Mac OS X 10.11 El Capitan, released on September 30, 2015.
Mac OS X 10.12 Sierra, released on June 13, 2016.
Main Features of Mac OS X
64-bit technology. It allows for 64-bit and 32-bit switch through a third-party Mode Selector.
Grand Central Dispatch. It helps program compilers use multi-core compilation to enhance software multi-core support.
OpenCL. It is a new technology that helps the image processor achieve ultimate effect to accelerate application performance.
NeXT-type program service. It helps to provide global spelling checker and other powerful tools.
Spotlight. It allows the real-time search of data files, mail messages, photos and other information based on the project features or content.
Automator. It is an application designed to create an automated workflow for different tasks.
Part 4 – Conclusion
All in all, when any important files or partitions (containing useful files) disappear from Mac OS, the first thing to do is always recovering files from Mac. But what makes it difficult is that the vast majority of Mac users are not experienced in Mac OS X data recovery.
We want to be helpful, so in part 2, we offer different solutions for users to recover deleted files on Mac in different data loss situations. We think we have shown the specific steps clear enough to you. You should just follow the instructions to get back lost files quickly. After that, you can choose to rebuild the partition or not.
In part 3, we give a brief introduction to Mac OS X and its versions & main features. Now, this is the end of the article. Should you come across any problems during recovery, please feel free to leave a message.