When running into the annoying data loss cases, you definitely desire a smart tool to help you out. Currently, you can get easy access to lots of data recovery software, which makes it difficult for an inexperienced user to choose the most suitable one. Today, I will introduce an alternative to Ontrack Data Recovery.
Have you ever heard of "Ontrack", "EasyRecovery" or "Kroll Inc."? What's the relationship between them? In fact, Kroll Inc. is a multinational corporation established in 1972 and based in Midtown Manhattan, New York City.
Ontrack is the Technology Services Division of Kroll Inc. and it is engaged in professional data recovery as well as computer forensics (electronic evidence). And EasyRecovery is the famous data recovery software developed and released by Ontrack, so it is also known as Ontrack recovery software.
Is Ontrack Data Recovery Good
Till now, Kroll Inc. has been establishing and developing for over 40 years. This is an important reason why it is so famous. As far as I know, Ontrack data recovery service was very prevalent even before Windows 2000. However, is it still a good choice for recent systems: Windows 8 and Window 10?
As time goes by, the computer technology gets developing rapidly, thus a large number of data recovery tools appeared; some of them even impose great pressure on EasyRecovery. MiniTool Power Data Recovery is an outstanding one.
Ontrack Data Recovery vs. Power Data Recovery
Power Data Recovery
Among so many data recovery software, MiniTool Power Data Recovery becomes a forceful competitor. Developed by MiniTool® Software Ltd. – another renowned company engaged in data recovery and disk management, MiniTool Power Data Recovery enjoys good reputation and popularity.
Till now, it has over 2,000,000 users download from just CNET and most of the users who have used MiniTool Power Data Recovery give us a lot of praises.
Though the rank and overall rating of Power Data Recovery is a little bit behind that of Ontrack data recovery software according to TopTenReviews, it is worth a shot. Please allow us to explain the reasons for you.
MiniTool® Software Ltd. was established in 2006, more than 30 years later than Kroll. And of course, the product MiniTool Power Data Recovery was also released 3 decades after EasyRecovery was issued. Only after 10 years of development, MiniTool company and data recovery software have achieved such great results.
This indicates that both this company and the software have great potential. Besides, they still keep developing, so they'll be even better in the future. And hopefully, MiniTool Power Data Recovery is believed to be the top data recovery software and the first choice of computer users.
Tip:
MiniTool corporation has also released a data recovery tool for Mac users –
MiniTool Mac Data Recovery
, which is also loved by many users.
Advantages of Ontrack Data Recovery & Power Data Recovery
According to the product page of Kroll Ontrack, I know that this data recovery software has 2 most obvious advantages.
a. One is that it could be helpful in most common data loss scenarios.
b. And the other is that it provides an easy recovery process.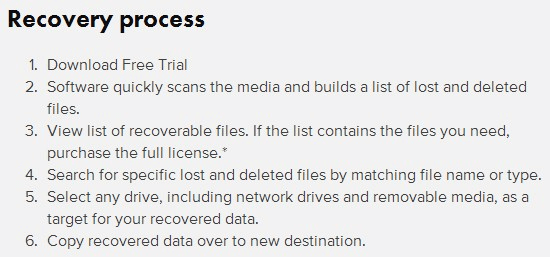 And according to TopTenReviews, it has another most obvious advantage.
c. Offers filtering tools to help users sort data.
Yet, those features are also found in MiniTool Power Data Recovery:
a. It provides powerful modules to help users recover data in all common data loss situations. (Recover different kinds of files from different devices.)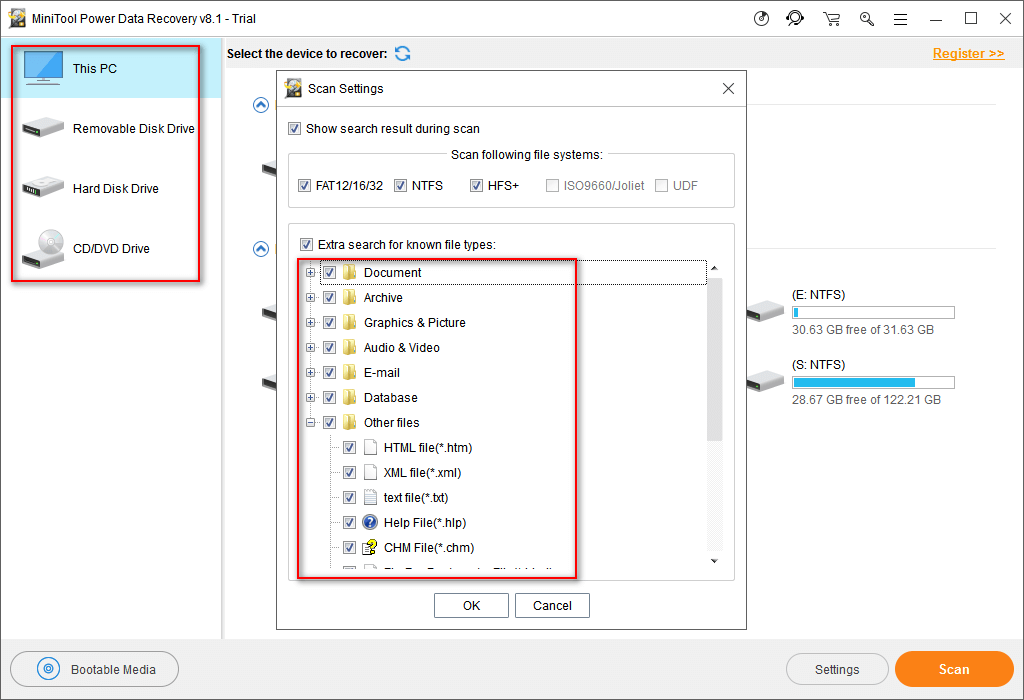 b. It provides a 3-step recovery process with all wizard-style interfaces.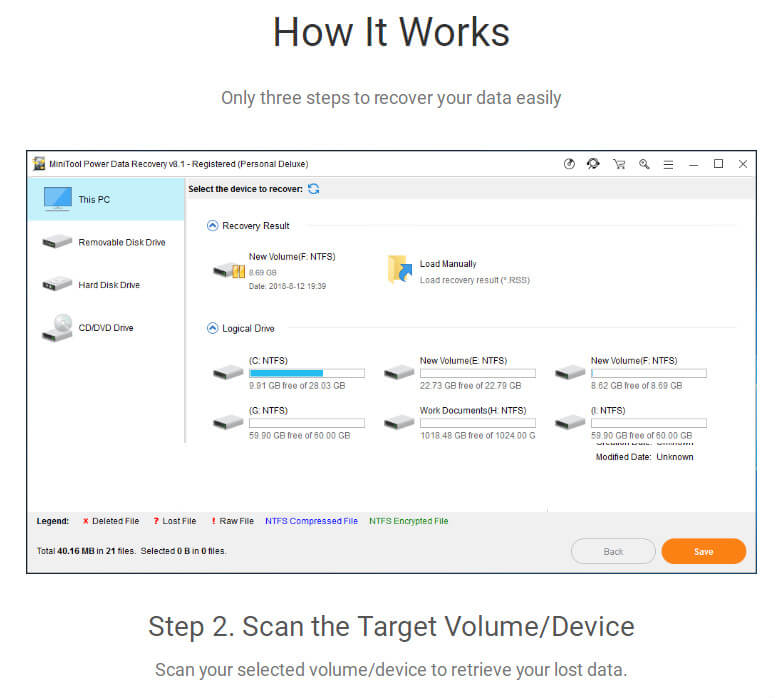 c. It offers a "Find" and "Filter" function to help users discover needed files quickly.
Hence, our next part will focus on comparing EasyRecovery with Power Data Recovery, so you'll be able to choose the most suitable tool for your data recovery cases.
EasyRecovery vs. Power Data Recovery
As the data recovery software loved by many users, Ontrack recovery software – EasyRecovery – and MiniTool recovery software – Power Data Recovery – have a lot in common. For instance:
They both give full support to almost all common Windows operating systems.
They're both capable of recovering permanently deleted files/folders/drives.
They both have functions for damaged partition recovery and lost partition recovery.
All in all, Ontrack data recovery tool and MiniTool data recovery tool are very similar to each other in some aspects since they're of the same type. But, what I want to talk about now is that there're also huge differences between them.
One - Data Recovery Software Editions
After visiting the website of Kroll Ontrack, I found it only provides us 3 different editions of software: Home Edition, Professional Edition and Enterprise Edition; each of them could not be used for data recovery until purchase is finished. Although Ontrack actually offers a trial version for each edition, it can only help users scan for lost files, not really help them recover at all.
In contrast, MiniTool provides 7 different editions for users to choose from: Trial Edition, Free Edition, Personal License, Commercial License, Enterprise License, Technician License and Boot Edition. What's more, the Free Edition can do what other editions do except that it has a 1GB data recovery limitation and it doesn't allow you to load previous recovery result. The free data recovery software full version can be downloaded at any time.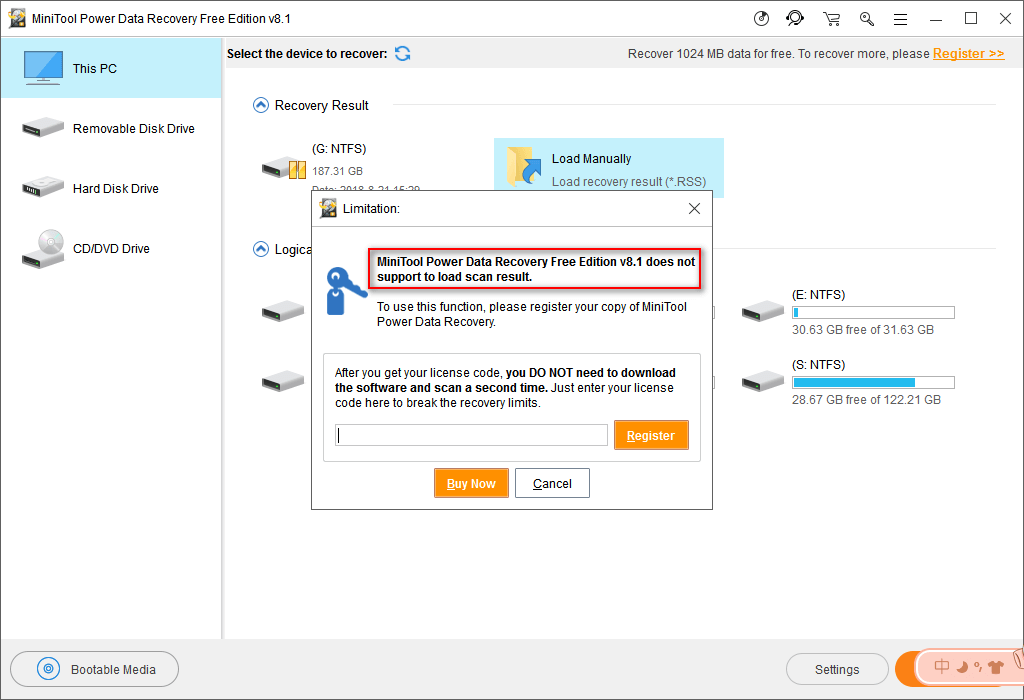 Two - VMDK File Recovery from Local Computer
In general, if you want to do some researches to find out a thing, you're often not willing to do it on your local computer, since it is likely to damage your files stored here or even damage your operating system.
As a result, most people choose to install Virtual Machine (VM: in short, it is an emulation of particular computer systems) to computer so that they can achieve their goals without even worrying about the data security.
Yet, the VMDK file refers to the virtual disk file, which stores the contents of the virtual machine's hard disk drive, according to the support center of VMware. And naturally, when some useful VMDK files get lost, you will do your best to find them back. Click on Computer icon -> go to the location where VMware systems are installed, users will see a lot of VMDK files generated during the use of VMware.
However, from the official website of Ontrack recovery software, I found the Home Edition and Professional Edition doesn't allow users to recover VMDK files stored on local file systems.
Therefore, if you need to finish VMDK file recovery now or you're afraid of losing necessary VMDK files in the future, you should choose MiniTool Power Data Recovery over EasyRecovery.
Just lunch the software and choose the target drive to scan. For example, if you're wondering how to recover deleted VMDK files after careless deletion, you'll need to select "This PC". And then, you should click on the "Scan" button to detect deleted files inside.
Three - Data Recovery from Virtual Machine
As I said just now, virtual machine refers to the computer systems which have complete hardware system functions and run in a completely isolated environment; it is achieved through software simulation.
Virtual systems have exactly the same functions as the real Windows systems. After you stepped into a certain virtual system, all operations you performed will be carried out in it just like in the real computer system. You're allowed to install & run software independently, save data easily and have your own unique desktop. What's more, operations in the virtual system will not have any impact on your real system; on the contrary, you can enjoy the flexibility to switch between real system and virtual system.
In short, you can run multiple virtual systems on the same real computer to achieve your goal without worrying too much about the security of real system. For instance, you can test a problem by creating the same situation in virtual system.
Even if the system is corrupted during testing, you have nothing to worry about; you can remove it directly and create new virtual system easily. If any files are lost (such as the screenshots or your test result) before you have chance to move them to real system, what are you going to do?
Naturally, the answer would be definitely starting data recovery from virtual machine with safe methods, unless the lost files are not important at all. Otherwise, I advise you to use MiniTool Power Data Recovery and choose suitable module according to needs to recover files immediately after you discovered the data loss disaster. All editions of MiniTool data recovery software give full support for virtual machine and file recovery from it.
Why no use EasyRecovery instead? That is because this Ontrack data recovery software doesn't support data recovery from virtual machine if it runs inside the virtual system (unless you choose the Enterprise Edition), as is described on the website.
Four - Recovery of Permanently Deleted Files
In addition, the Home Edition and Professional Edition of EasyRecovery are also not available when you plan to recover permanently deleted files from virtual system. So I still recommend using Power Data Recovery since all editions of it can help you with permanently deleted files recovery.

To recover mistakenly but permanently deleted files from virtual machine, you may as well run the free edition of Power Data Recovery, then, select "This PC"/"Removable Disk Drive" and follow instructions to go on recovery step by step (if you found the size of files needing to be recovered in the last step exceeds 1GB, please buy a license).
Five- Data Recovery from RAID
If you read the comparison of different editions of EasyRecovery software carefully, you'll find there's also an obvious difference between Home Edition & Professional Edition and Enterprise Edition: the former two editions don't allow data recovery on RAID including stipe sets and mirrored drives whereas the latter edition does allow that.

Therefore, I also suggest that users who would like to recover data from RAID choose MiniTool data recovery software over Ontrack data recovery software. With any editions of the former software, you're able to get RAID data recovery done within a few simple steps.
Advantages of Power Data Recovery
Apart from features mentioned in above content, MiniTool Power Data Recovery still have many other advantages. For instance, in order to satisfy different users' needs, the developers added following characteristics to it:
Great compatibility: it is able to support most files systems (FAT, NTFS, HFS, etc.), operating systems (such as Windows XP, Win7 and Win8), storage devices (like removable hard drive, USB flash drive and memory card) and hard drives with assorted interfaces (such as IDE, SATA and SCSI).
Wizard-style interface: all interfaces in the software are provided with instructions, telling users how to do to finish recovery one step after another. This is convenient for experienced users to operate and easy for inexperienced users to handle with.
Powerful recovery ability: it is capable of recovering all kinds of data (document file, archive file, graphics & picture, audio & video, email, database, HTML file, XML file, and so on) from all sorts of data loss accidents (accidental deletion of files, accidental deletion/formatting of partition, unexpected error, sudden power failure, etc.).
All these fantastic advantages and features have brought up such a wonderful data recovery program which has survived from fierce competition. More importantly, they become core competiveness of MiniTool Power Data Recovery, so MiniTool® Software Ltd. can challenge those prestigious data recovery companies such as Ontrack.
How to Perform Hard Disk Recovery
As I said at the beginning of this article, you're only 3 steps away to get back your lost documents and files with the help of MiniTool Power Data Recovery
Step 1: choose the suitable edition of Power Data Recovery (if you're not sure which one to use, please click "Comparison" to know differences between them). Install and run the software to start hard disk recovery by selecting a proper functional module based on how data get lost.
Step 2: select the target drive from the main interface and then click on "Scan" button to start searching for lost files.
Step 3: browse found files and pick out the needed ones to recover by clicking on "Save" button at the lower right corner of software interface.
Conclusion
MiniTool Power Data Recovery assimilates advantages of other similar data recovery software like Ontrack data recovery; besides, it has its unique features and sound data recovery system.
Moreover, though excellent, MiniTool Power Data Recovery is still frequently upgraded so as to keep up with computer & software development and meet users' increasing needs. So, it's worth a try.