A hard drive cannot be used without partitioning and formatting. And, it is also common that you may need to repartition a hard drive. How to recover files that are lost due to hard drive partitioning and repartitioning? MiniTool Software gives the best solution. 
Why You Repartition a Hard Drive
When you get a new hard drive, the first thing you need to do is to create partitions and format them, then you can save data on the partitions.
But why sometimes you need to repartition a hard drive? Usually, hard drive repartition is operated to optimize the partition arrangement. For example, the system partition is running out of space, excessive/insufficient numbers of partitions, longing for duel boot system, or the partition for work files is too large…
In these cases, you can extend partition, shrink partition, create new partitions, merger partitions, etc. for better data management.
Repartition Hard Drive Is Risky – Not 100% Safe
How do you repartition a hard drive? By formatting the drive to recreate partitions OR by resizing the partitions directly? Obviously the latter one that avoid full backup is more reasonable.
But please keep this in mind: repartitioning a hard drive is not always 100% safe and may leads to data loss if you encounter any interruptions or incorrect operations to the hard drive. Errors like "Exception Processing Message", "Not Enough Memory", etc. can make your hard drive inaccessible and even cause your partition missing after repartitioning the hard drive.
This is because some errors caused during repartition may lead to MBR corruption or partition table damage, then the computer refuses to boot or displays error messages saying you are not allowed to access files from partitions. However, the risk remains small.
Then what should you do if bad things really happens? If the lost data are significant and you didn't make any backup, then you will have to find a way out to recover data after repartitioning hard drive. It is recommended to make use of proficient hard drive recovery software. The good news is that, you can use MiniTool Power Data Recovery to do this easily.
Quickly Recover Lost Data after Repartitioning a Hard Drive
The Possibility of Data Recovery After Repartition
When you delete a file, no matter you delete it accidentally or intentionally, the actual data is not destroyed at once. The computer system only marks that data deleted but still keeps it at data segment. As long as the deleted data is not overwritten by new data, it can be found, reconstituted and recovered. Therefore you are expected to recover deleted files after repartitioning as promptly as possible.
About MiniTool Power Data Recovery
MiniTool Power Data Recovery covers entire spectrum of Windows file system such as FAT, FAT32, NTFS and Windows OS like Windows XP/Vista and Windows 7/8/10. In addition, MiniTool Power Data Recovery could recover all mainstream file types, mainly including *.pst, *.xls, *.doc, *.ppt, *.txt, *.mdb, *.dbx, *.db, *.gif, *.jpg, *.psd, *.pdf, *.png, etc. and will support more in the future.
With this Windows data recovery software, you will be able to recover lost/deleted files from HDD/SSD/USB drive/SD cards after virus attack, wrong deletion, formatting, file system corruption, Windows reinstall, and so forth.
How to Do Data Recovery After Repartition
If you are new to Power Data Recovery, you may need the following tutorials to recover deleted files after repartition.
Tip:
You can use MiniTool Power Data Recovery Trial Edition to check whether it can find your lost files. If yes, you can use a
full edition
of this software to recover your data.
MiniTool Power Data Recovery TrialClick to Download100%Clean & Safe
Step 1. Download and install MiniTool Power Data Recovery, then run it to get the main interface.
Step 2. On the left panel, just navigate to Hard Disk Drive. 
Step 3. Scan the hard drive that gets repartitioned to check out whether your files are there by using the Preview feature.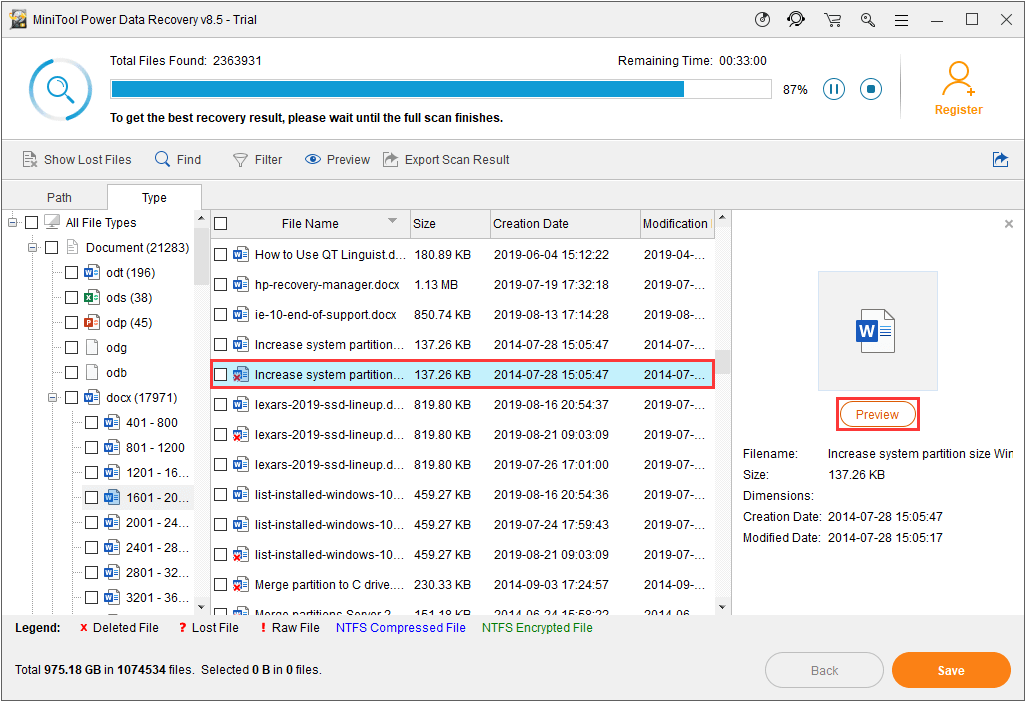 Step 4. Tick files you need and press Save to recover files to another location in case of data overwriting. Please upgrade to an advanced edition to unblock more functions.
See data recovery from partitioned hard disk can be easily solved by MiniTool Power Data Recovery. For more data recovery issues, leave us comments below, we read every thread.