Windows Server data recovery can be very easy if you have got wonderful data recovery software to help. And MiniTool Power Data Recovery is such a professional tool that can quickly recover lost files in Windows Server.
Launched on April 24, 2003, Windows Server operating systems come into people's sight. From Windows Server 2003 to Windows Server 2008, Windows Server 2012, Windows Server 10 and Windows Server 2016, Windows Server is gradually known and loved by people. It is used widely now especially by enterprises and that's why there emerges a series of related problems. After an investigation, we found that Windows Server data loss is one of the mainstream problems.
Problem – Windows Server Files Missing
Hi, I've win 2008 server & using it as a domain. Create a shared folder & every member using it. Suddenly few files were deleted by 1 user before scheduled back up. Is there any way to recover/retrieve those deleted files without harming the server? Thanksakaki on TechSupport Forum
This is a specific case we found on the internet. The user akaki said that he is using Windows Server 2008 and created a shared folder to let every member use it. But disaster happens to him suddenly – he found a few files are deleted before a scheduled backup. Now, he wants to recover lost files in Windows Server.
In this case, the administrator can try to find out who deleted the files by enabling file auditing on the server. But, it will not do any help in finding back the lost files; it's just a waste of time.
Reading here, we are happy to share with you a practical way to recover lost data on Windows Server: using MiniTool Power Data Recovery. This software has been released by MiniTool Software Ltd. after years of efforts and it will never damage the existing data on your computer, so you can try it without worries.
Besides, we'll also mention two other ways to help you with lost files recovery.
Solution – 3 Ways to Recover Lost Files in Windows Server
Check Recycle Bin.
Use MiniTool Power Data Recovery.
Turn to the backup
The following three methods are arranged by recommended level (from high to low). Considering that Windows Server 2012 has a large number of users, we'd like to take it as an example in the following cases.
The First Way: Check Recycle Bin
You may want to recover files deleted from a shared folder (like the above case shows); you may want to recover data from a local drive on Windows Server; either way, we advise you to check the recycle bin at first before doing anything else. After all, you can't rule out the possibility of a file being mistakenly deleted and moved to Recycle Bin.
In case that you may want to figure out the way to set up a shared folder in server 2012, we find this vivid tutorial for you.
Here's how to check Recycle Bin & recover data from it:
Find "Recycle Bin" icon on your desktop.
Double click on it to open or right click on it & choose "Open".
Take a look at the files saved in Recycle Bin and find out whether your need files are included.
If you find desired files here, please select them all; and then right click on the highlighted area to choose "Restore".
If you fail in finding needed files, please refer to the following two methods for Windows Server file recovery.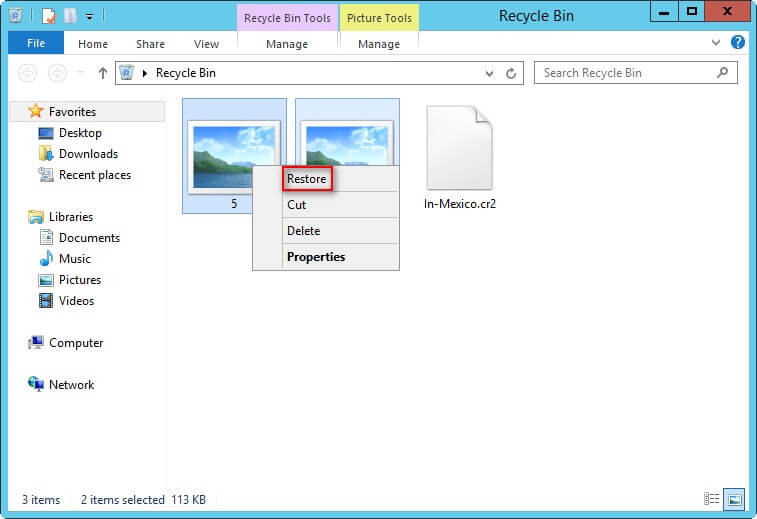 Warning:
To know more about how to recover deleted files from recycle bin on Windows & Mac platform, you should go to
this page
and read the content carefully.
The Second Way: Use File Recovery Software for Windows Server
Things to know before the recovery:
"Test" is a shared folder we have created on Windows Server 2012 and it is saved in local disk F:.
We have deleted some files permanently from the shared folder in advance. Now, we'd like to recover them.
The way to recover data on Windows Server 2008 is exactly the same.
How to recover data from shared folder on Windows Server 2012:
Step 1: get MiniTool Power Data Recovery Free Edition (it is able to scan the lost files in Windows Server but recovery is not allowed) and install it to any local drive except the one that suffers from data loss. Or you can get a full edition directly.
MiniTool Power Data Recovery TrialClick to Download100%Clean & Safe
Step 2: run this file recovery software for Windows Server. Then, select "This PC" and choose the logical drive that needs data recovery and click "Scan".
Tip: If the data loss is caused by partition loss, you can head to "Lost Partition" and "Unallocated Space" to find the location to scan.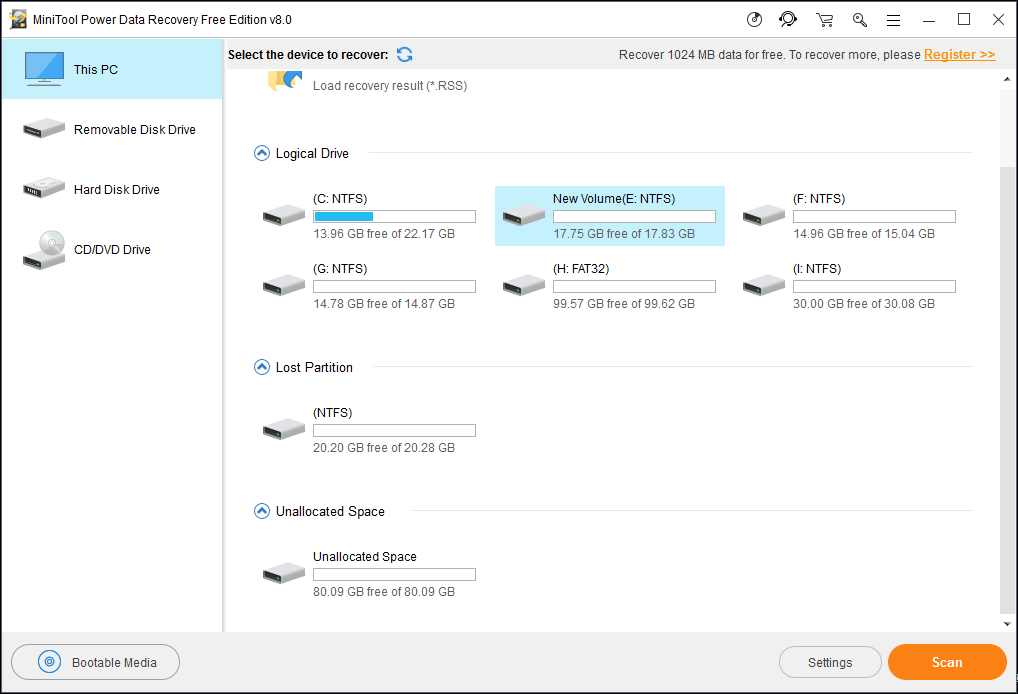 Step 3: wait for a while for the scan to be completed. Then, you'll see the following interface which presents lots of found files.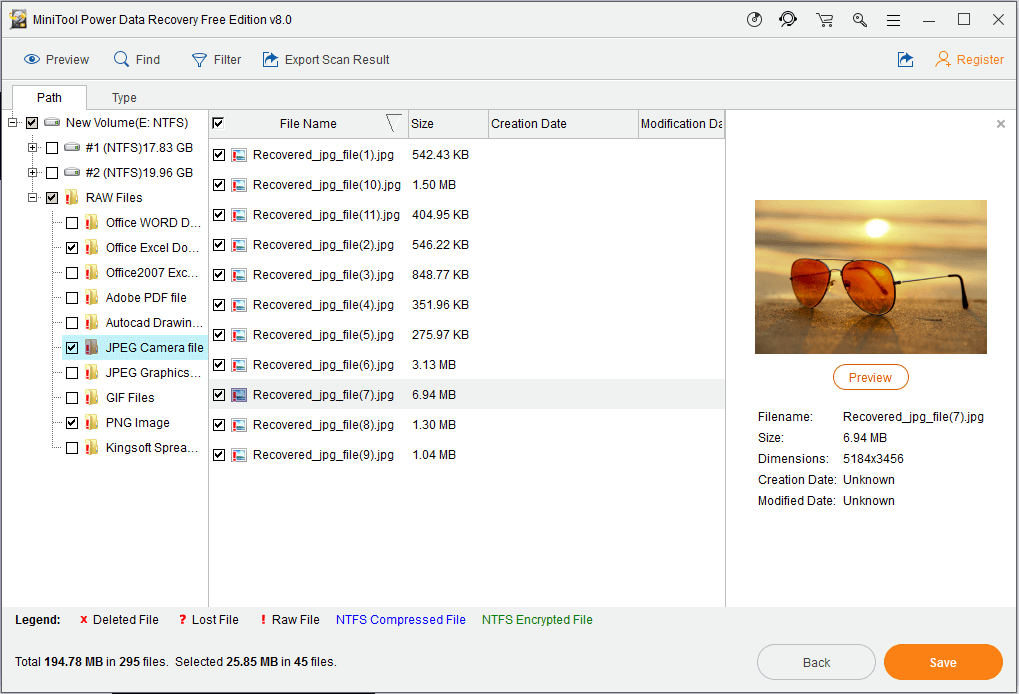 At this time, the first thing you should do is checking the folders and files one by one carefully to figure out which files are needed and which are not. Afterward, please add a checkmark to the square text box in front of the certain files. (For pictures and simple *.txt files, you can make use of the "Preview" function to see its content clearly.)
Step 4: you ought to click on "Save" button to set a storage location for those files. But you'll see the following error window if you're using the free edition. That is because the free edition allows you to scan lost files instead of recovering any of them.
As the message in this error window suggests, you are nor allowed to recover lost files in Windows Server completely with a free edition.
Now, you may as well close the error window and then save the scan result to a local drive in case of any accidents. Please follow this carefully:
a). Click on "Export Scan Result" in the menu bar on the top half of the interface.
b). Choose another drive to save the "*.rss" file in order to avoid disk overwrite. Then, type a file name for it and click on "Save" button.
c). In the pop-up warning window, please click on "Yes" button to confirm.
Then, you can register the commercial edition to continue.
This is how to recover permanently deleted files in Windows Server exactly. And the way to restore deleted folder in Windows Server is the same. Please let us know if you have any doubts about this part.
The Third Way: Recover from Backup
It would be great if you have had a backup of the files that are lost suddenly. You won't need to turn to any recovery software to complete the file recovery process. So congratulations if you have a certain backup. Here, we'd like to show you how to recover files from Windows Server backup (taking Windows Server 2012 as an example).
Firstly, you should double click on the "Computer" icon on your desktop. If you can't find it there, you need to show the icon on the desktop at first.
Secondly, open the drive which contains your lost files and then locate the folder which stores them. (If the lost files are saved in the root directory, you should skip this step)
Thirdly, right click on the folder/drive and choose "Properties" from the context menu.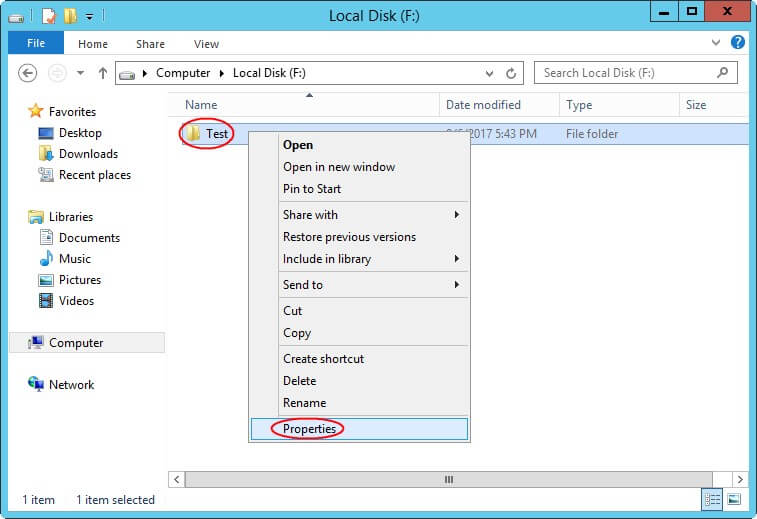 Fourthly: in the pop-up window, please shift to "Previous Versions" from "General" tab. Then, you should choose a previous version and click on "Restore" button to get lost files back.
Yet, if you fail to find any previous versions here, you can't recover files with this method.
If you're interested in knowing more specific information about how to back up and restore server data, please read this page.
Actually, we also find there're many people who are used to using third-party backup software to secure their valuable data and confidential files. In this case, we advise them to adjust the backup interval to a proper value.
As a result, there won't be too many useless backups on one hand; and on the other hand, they can do the lost files recovery in time. As for how to recover from the backups produced by software, we can't give you specific help; you have to resort to the software developers yourself.
Top Recommendation:We find that some files will be lost suddenly after a Windows update. So if you don't have a backup for those files, please read How Can You Recover Lost Files After Windows Update to learn how to deal with such situation. MiniTool software is a good choice if you want to recover files after a server update.
Conclusion – Windows Server Data Recovery Is Not Difficult
For both individuals and enterprises & PC users and Windows Server users, data loss is a rather annoying thing. Losing a very important file could drive us crazy. Though the reasons for causing a file to disappear are very different (such as accidental deletion and virus invasion), the result is the same – the file is lost and people will try their best to accomplish lost files recovery work.
The key is how to recover lost files in Windows Server; this bothers a lot of users. Taking this into account, we have introduced a piece of professional and reliable file recovery software for Windows Server in above content.
By making use of this software, all people including those who have little background knowledge or have no recovery experience can regain the lost files easily. This is because all the software interfaces are provided with operating prompts and you can follow them to finish recovery step by step clearly.
Our advice is: please don't waste any time after you find Windows Server files lost or Windows Server folders disappear. After all, the lost things could be gone forever at any time. That is to say, you should take actions to recover deleted files or lost data on a server at once in order to avoid permanent data loss.
Besides, we have also offered two other ways, provided by Microsoft Windows, to help people recover deleted/lost files/folders on Windows Server computer. You are supposed to pick one that is most suitable for your case to get back the missing data.
We have told you how to recover files step by step in different cases, so please follow the instructions carefully. If you run into any troubles during the recovery process, please feel free to contact us via email or by leaving a message below.
Recover Deleted Files from Server FAQ
Where do deleted files go?
If you deleted a file from your computer running Windows, it will be put to Recycle Bin. If you delete files on Mac, they will be sent to Trash. If you delete files from flash drive or SD card connected to your PC, the will disappear.
Can you recover permanently deleted files from Recycle Bin?
Files will be deleted from Recycle Bin after a period of time; users can clear the Recycle Bin manually. But the good news is you can still recover them after they've been moved out from here. And there are several methods for
Recycle Bin recovery
.
How can I recover permanently deleted files from Recycle Bin without software?
Even if you don't use any data recovery software, you can recover permanently deleted files. Two of the most popular ways are: turning to the backup if you have and using the Restore previous versions function of Windows.
How can I recover permanently deleted files in Windows Server 2008?
You can try the Restore previous versions function first. If it fails, please find a data recovery tool like MiniTool Power Data Recovery that gives support to Windows Server 2008. Install the software properly and run it to scan for deleted files you need.