If you need to update your ASUS BIOS, EZ Update is a good utility. See this post and you can find much information about this app given by MiniTool – what ASUS EZ Update is, ASUS EZ Update download/install, and how to use ASUS EZ Update for BIOS update.
Overview of ASUS EZ Update
A BIOS update enables you to use new hardware or fix stability issues in existing hardware. But it is riskier than a software update since once a BIOS update goes wrong, your motherboard may work incorrectly and the PC fails to start. If you still need to update the BIOS, using a professional tool is necessary since it can simplify the steps.
If you are using an ASUS computer, ASUS EZ Update is a good utility. It allows you to automatically update your motherboard's BIOS, drivers, and software to keep the PC up-to-date. Besides, you can also manually update BIOS with ASUS EZ Update using the BIOS file you have downloaded in advance and choose the boot logo that appears during POST (power-on self-test).
Well then, how to get EZ Update for ASUS BIOS update? Follow the guide below now.
Tips:
If you need to update BIOS without entering the Windows operating system, another tool called ASUS EZ Flash is a good assistant. Just read this related post to know more - How to Update BIOS with ASUS EZ Flash.
ASUS EZ Update Download & Install
Since EZ Update is included in AI Suite 3, make sure your motherboard supports the AI Suite 3 functionality. To download ASUS EZ Update and install it, you should first get AI Suite 3.
Step 1: Visit the official ASUS Download Center website – https://www.asus.com/support/Download-Center/.
Step 2: Type in your motherboard model name to the search box and press Enter.
Step 3: On the new page, click Driver & Tools and choose the Windows operating system you are running like Windows 11 or 10.
Step 4: Scroll down to the Software and Utility section and click Show all. Find ASUS AI Suite 3 and you can see ASUS EZ Update is included. Then, click the DOWNLOAD button to get a .zip folder.
Further Tips:
If there is no EZ Update in the description, it means your motherboard doesn't support this tool.
Besides, if you are using the 600 series motherboards, you may not find ASUS EZ Update on the official website. According to ASUS, only ROG STRIX B660-A GAMNG WIFI D4, ROG STRIX Z690–A GAMING WIFI D4, and ROG STRIX B660-A GAMNG WIFI support EZ Update. The other 600 series motherboards don't support EZ Update.
After getting the ASUS EZ Update download file, unzip this folder with an archiver like WinZip, WinRAR, 7-Zip, etc., and double-click on the AsusSetup.exe file to start the installation of AI Suite 3. When seeing the following figure, make sure EZ Update is selected and then click Install to start the process.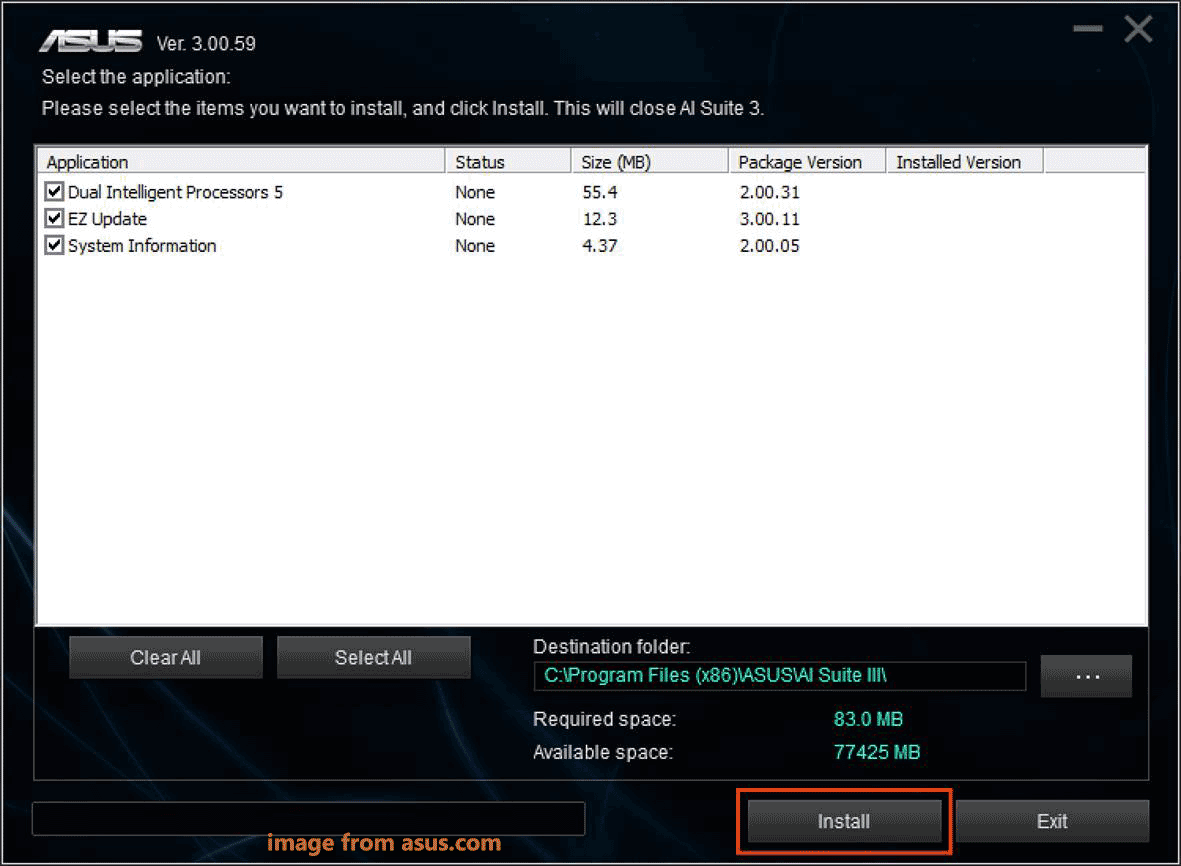 How to Use ASUS EZ Update to Update BIOS
After downloading and installing AI Suite 3, you can use EZ Update for the ASUS BIOS update.
Tips:
Before you update the ASUS motherboard, remember to back up your system and important files since the update is risky and may cause the PC to be unbootable. To do this work, use the professional PC backup software – MiniTool ShadowMaker.
Step 1: Launch AI Suite 3 via the Windows 10 start menu.
Step 2: Click the main menu icon of AI Suite 3 and choose EZ Update.
Step 3: Click Check Now > Connect to automatically check for available updates including drivers, BIOS, and software updates.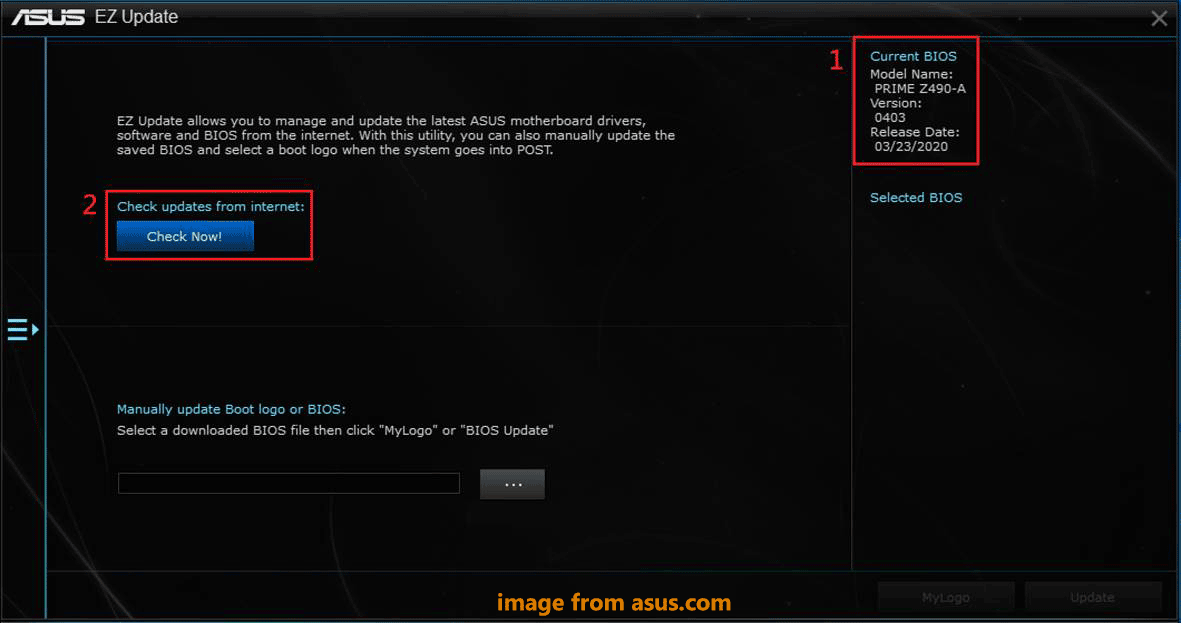 Tips:
If you have downloaded a BIOS file from ASUS official website before, you can click the three dots to find that file and click Update, then finish the update operation by following the on-screen instructions.
Step 4: If there is a BIOS update, click the Update button.
Step 5: Click OK to restart the system to perform the BIOS update process.
Uninstall ASUS EZ Update Windows 10
If you don't want to use ASUS EZ Update, you can choose to uninstall it from your computer. So, how to uninstall ASUS EZ Update?
In Windows 10, go to Settings > Apps > Apps & features, choose AI Suite 3, and click Uninstall. Then, choose the items you want to uninstall like EZ Update, and click Uninstall.