Avast Antivirus White Screen
Avast is one of the most popular antivirus programs that is used by many people to protect PCs from viruses and malware. You may also have installed this antivirus tool to scan for the entire operating system and remove various threats.
But sometimes Avast isn't working correctly and you can encounter some issues like Avast not opening, Avast Bank Mode not working, etc. Today we will introduce another situation to you: Avast opens to blank white screen in Windows 11/10.
When trying to launch this antivirus program, you should see a regular GUI. However, you see a blank white box. The possible reasons behind this issue could be incorrect software installation, corrupted components, corrupted registry files, a conflict with other antivirus software, etc.
In the following part, we list some useful ways to fix Avast blank screen. Let's get started.
How to Fix – Avast Opens to Blank White Screen
When you meet a blank screen, the first thing you can try is to exit Avast antivirus and restart your PC. If this cannot help, try these fixes below now.
Disable Unnecessary Startup Items
Avast antivirus is a lightweight program that won't overload your system. However, if you run it on a PC without enough RAM, the space is not enough to load GUI elements. As a result, an Avast white screen appears when you open it. You should disable some unnecessary startup processes to offer some resources to run the software.
Step 1: In Windows 11/10, press Win + X to open a menu and click Task Manager.
Step 2: Go to the Startup tab, locate the enabled items one by one, and click Disable.
Delete Any Conflicted Antivirus Program
If you use various antivirus programs, they may conflict with each other, blocking one or more from working properly. If Avast opens to blank white screen, you should disable or delete other antivirus tools.
In Windows 11/10, go to disable Windows Defender. Just type Windows Security into the search and press Enter to open this tool.  Click Virus & threat protection > Manage settings and disable Real-time protection.
If you install Avast and another third-party antivirus software, uninstall another one via Control Panel. Then, try to launch Avast to see if it can work properly.
Repair Avast
The Avast itself may go wrong and causes the blank white screen. You can try to repair Avast to address this issue.
Step 1: Go to Control Panel via the Windows search and view its items by Category.
Step 2: Click Uninstall a program under Programs to enter the page of Programs and Features.
Step 3: Find Avast and you can see there is an option called Repair next to Uninstall. If you cannot find the Repair option, click Uninstall and then hit on REPAIR in the pop-up Avast Setup window to start the repairing process.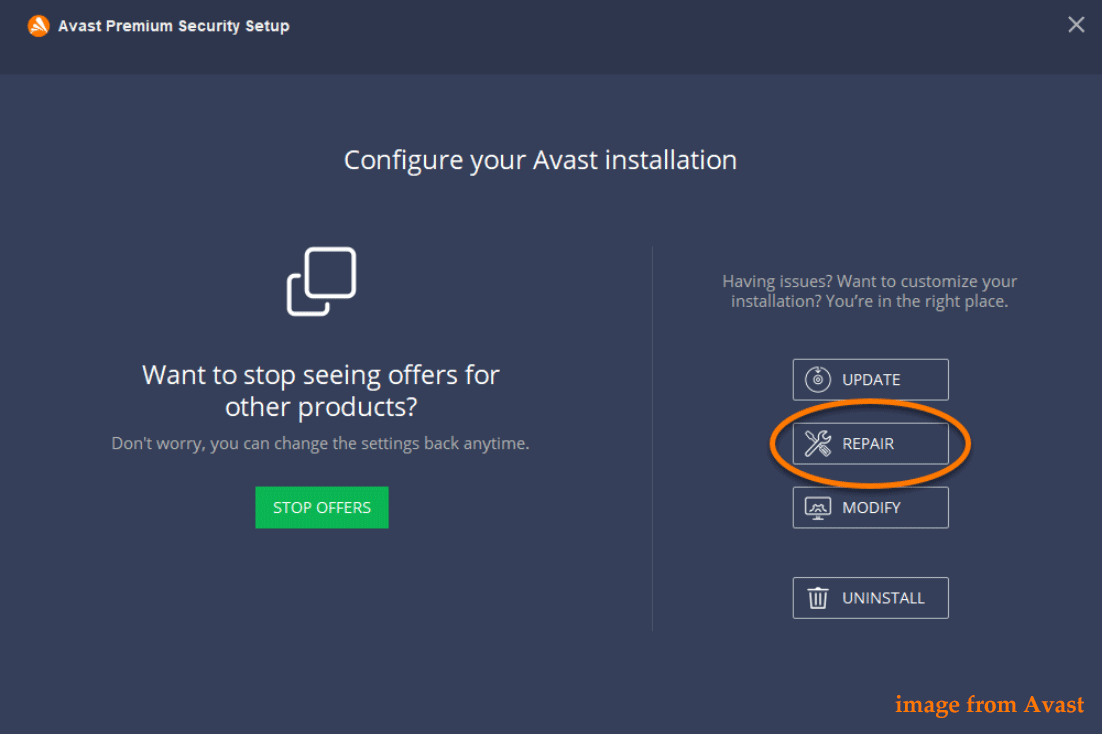 Uninstall and Reinstall Avast
Sometimes some installation files of Avast are corrupted, leading to Avast antivirus white screen. To fix this issue, you can choose to completely uninstall Avast and download the latest version & install it on your PC.
Step 1: Go to Control Panel to uninstall Avast. Then, search for all the Avast folders including Avast registry items, and delete them. You can run a professional tool like IOBit Uninstaller to do this thing.
Step 2: After fully uninstalling Avast, go to its official website to download the latest version.
Step 3: Use the downloaded file and follow the setup steps to reinstall it.
In addition to these ways, make sure you are running the up-to-date Windows operating system. Besides, if these cannot do the trick and Avast opens to blank white screen again, contact support for help.
Back up Your PC
Only running Avast to prevent your computer from viruses and malware is not enough to keep your PC safe. Some threats cannot be detected by antivirus software and your PC may be invaded, which lets data vulnerable. Thus, we strongly advise that you should create a backup for your important files. Besides, viruses can also lead to system crashes, so creating a system image is also recommended.
To back up your PC well, MiniTool ShadowMaker, the professional PC backup software is a good assistant. It enables you to back up files, folders, Windows, disks, and partitions with ease in Windows 11/10/8/7. With it, you can back up files automatically and only back up the changed data. Now, download and install it on your machine for a try.
MiniTool ShadowMaker TrialClick to Download100%Clean & Safe
Step 1: Launch MiniTool ShadowMaker Trial Edition.
Step 2: In Backup, system partitions are selected for a system image. You can go to step 3 to continue. If you need to back up files, go to SOURCE > Folders and Files and choose items, then click OK.
Step 3: Go to DESTINATION to select a path like an external drive.
Step 4: Click Back Up Now at last.
Verdict
What if Avast opens to blank white screen in Windows 11/10? After trying these ways above, you should easily fix it. To keep your PC safe well, remember to create a backup for your PC with MiniTool ShadowMaker.