Why Is My Ping So High on Battlefield 2042?
Ping refers to the quality of your internet connection and it is measured in milliseconds. Ping in games indicates the total time that it takes your gaming device to send data to the game server and receive it back on your device. High ping is very common in games, Battlefield 2042 is also no exception.
When you suffer from high ping in Battlefield 2042, it is most likely because of a bad internet connection, an outdated game patch, running too many background apps, being blocked by the firewall, an outdated device driver and more. According to different conditions, we have sorted out the corresponding solutions for you.
How to Fix Battlefield 2042 High Ping on Windows 10/11?
Fix 1: Disable Background Apps
Check if there are any unnecessary background apps that occupy lots of resources and you had better disable them one by one.
Step 1. Right-click on the taskbar to highlight Task Manager in the drop-down menu.
Step 2. In Processes, check the apps that eat up much memory or network usage and right-click on them one by one to choose End task.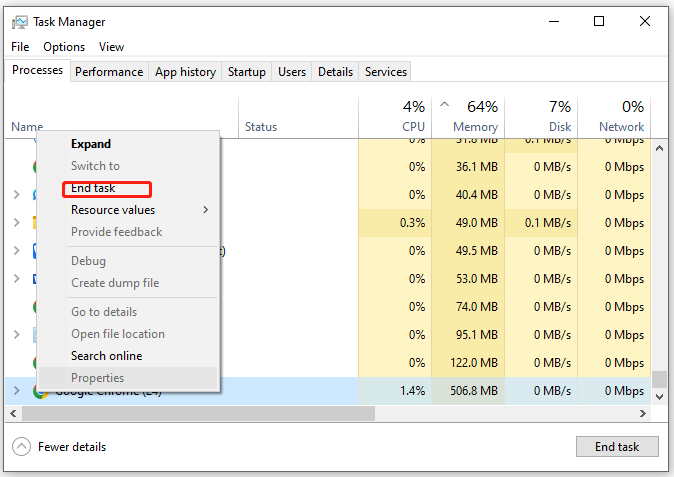 Fix 2: Check the Internet Connection
Since Battlefield 2042 is an online video game, you should make sure that your internet connection is stable. Here are some small tips to improve your internet connection:
Make your router nearer to your gaming device.
Change Wi-Fi connection into an Ethernet connection.
Reboot your computer and router.
Fix 3: Make the Game Through the Firewall
Maybe Windows Defender Firewall blocks your game by mistake, so you receive high ping Battlefield 2042. In this case, you need to make Battlefield 2042 through Windows Firewall. Here are the steps:
Step 1. Open Control Panel and go to System and Security > Windows Defender Firewall > Allow an app or feature through Windows Defender Firewall.
Step 2. Click on Change settings > scroll down to hit Allow another app > press Browse to choose the path of the Battlefield 2042 executable file.
Fix 4: Stop Background Downloads
To avoid Battlefield 2042 beta high ping, it is necessary to make sure that there are no large updates or large files being downloaded in the backend when you are gaming.
Fix 5: Use a VPN
As we all know, VPN enables those who live in an area where the online game server is not located to play games. At the same time, it can also help to fix high ping issues in online games, so you can use a VPN when encountering Battlefield 2042 high ping.
Fix 6: Change DNS Server
You can also consider switching to Google public server to fix latency, lag and high ping issues in games. It is reliable and easy to configure:
Step 1. Go to Control Panel > Network and Internet > View network status and tasks under Network and Sharing Center > Change adapter settings.
Step 2. Right-click on the network connection that you want to change the DNS server and choose Properties.
Step 3. Under the Networking tab, hit Internet Protocol Version 4 (TCP/IPv 4) and then press Properties.
Step 4. Tick Use the following IP address and Use the following DNS server addresses.
Step 5. Enter 8.8.8.8 for Preferred DNS server and 8.8.4.4 for Alternate DNS server.
Step 6. Hit OK to save the changes.
Fix 7: Update Your Game
If your Battlefield 2042 isn't the latest version, no wonder that you will experience high ping and lag issues because your game version doesn't contain the latest patches. Therefore, you must update it in time. Here's how to update it:
Step 1. Launch your Steam and go to Library.
Step 2. In the game library, find Battlefield 2042 and right-click on it.
Step 3. Hit Update if there is an available update.
You may also like to read:
How to Fix Battlefield 2042 Breakthrough Not Working Win 10/11?
Battlefield 2042 Unknown Error 2 2600J on PlayStation/Xbox/PC
How to Fix Battlefield 2042 Lag and Stuttering Issues Windows 10?