Do you play shooting games such as Battlefield 2042? How do you like it? Do you have fun playing it? It is reported that Battlefield 2042 lag and stuttering issue will make you frustrated or angry. Stop being anxious now! Follow the fixes on MiniTool Website and you can enjoy the game again. 
What Is Battlefield 2042 Beta Lag and Stuttering Issue?
Battlefield 2042 is one of the hottest shooting games in 2021 and 2022. However, many of you may complain about its bugs such as not launching, connection error, black screen, low PFS and high CPU usage and so on. So far, we have provided solutions for all the issues mentioned above. Today, we will find solutions for another issue of this game – Battlefield 2042 lag/stuttering.
The lag in Battlefield 2042 refers to the delay between you pressing a button and the appropriate response being displayed on the screen when gaming. This can impact negatively your gaming experience. To fix it, we have figured out 7 workable solutions for you.
How to Fix Battlefield 2042 Stuttering and Lag Issues Windows 10?
Fix 1: Check Server Status
When there are too many players logging into the game at the same time, the EA may become crashed. Sometimes, the game server will also be down for maintenance and you will also experience Battlefield 2042 input lag and Battlefield 2042 mouse lag in this condition. So, you must go to EA Help Center to check if the server is down before tinkering with Battlefield with the solutions below.
Fix 2: Check Internet Connection
A stable internet connection is of vital importance for online games like Battlefield 2042. Rebooting or resetting your router is one of the best ways to troubleshoot the home network. If your network is still slow and unstable after that, please contact your internet service provider.
Fix 3: Make Sure There Is No Background Download
One of the most common reasons for Battlefield 2042 is that there are additional updates or downloads in the background. Please make sure there are no background downloads on your device or on other devices under the same internet.
Fix 4: Enable Game Mode
Game Mode is an inbuilt feature in Windows which enables you to optimize the performance of game by deactivating the background activities. If you have the latest version of Windows, you can enable this feature.
Step 1. Click on the gear icon to open Windows Settings.
Step 2. In the settings menu, hit Gaming.
Step 3. In Game Mode, turn on Game Mode.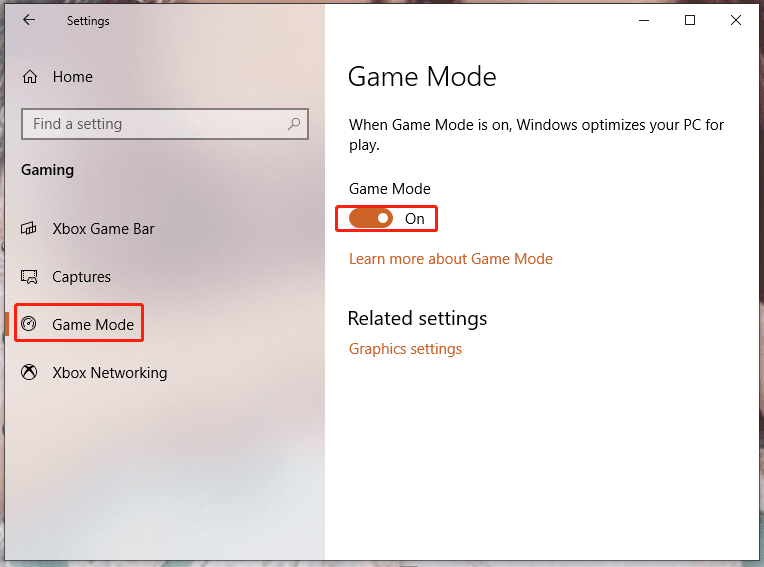 Fix 5: Enable Hardware-Accelerated GPU Scheduling
If you have a Geforce 10 series or later/ Radeon 5600 or 5700 graphics card with the latest GPU driver, you can choose to enable hardware-accelerated GPU scheduling to boost the performance of your computer.
Step 1. Right-click on the empty space of your desktop to choose Display settings.
Step 2. In Display, hit the blue font Graphics settings.
Step 3. Turn on Hardware-accelerated GPU scheduling.
Step 4. Select Desktop app under Choose an app to set performance.
Step 5. Hit Browse to add BF2042.exe to the list.
Step 6. Press Battlefield 2042 > Options > High Performance.
Fix 6: Turn off Vertical Sync
Some default in-game settings may not always boost the gaming performance. You had better turn off these features such as Vertical sync and Future frame rendering. After turning them off, relaunch your game to see if it runs smoothly.
Fix 7: Clear Cache
It is reported that deleting the game cache is also a possible fix to Battlefield 2042 lag. Here's how to do it:
Step 1. Go to C/Users/username/Documents/Battlefield 2042 to locate the game folder,
Step 2. Find the Cache folder and right-click on all its content to choose Delete.