This essay published by MiniTool official website mainly introduces you to a type of Windows tool that can view the dump files of the blue screen of death error details. It is called a blue screen viewer or BSOD viewer.
What Is Blue Screen Viewer?
Blue screen viewer is a kind of program used to check the minidump files that are created when Windows stops and displays a "blue screen of death (BSOD)". Every time when you encounter a BSOD error, it will tell you that "Your PC ran into a problem and needs to restart. We're just collecting some error info, and then we'll restart for you. Xx% complete".
Besides, Windows will also remind you about "for more information about this issue and possible fixes, visit https://www.windows.com/stopcode. If you call a support person, give them this info: stop code: xxx xxx xxx".
Why Need Blue Screen Viewer?
Actually, for the most blue screen of death issues, you can still make use of your computer normally after a restart, and it won't cause you the same error again at least within a certain period time (e.g. several months). I believe that most users choose to skip the problem and continue their work when their machines go back to work again just like me.
Then, is it still necessary to view the dump file after the blue screen error? Yes, of course! On the one hand, the error occurs does due to that there is something wrong with your computer. Though it seems that you can still work with it without any problem, it might cause you trouble sometime in the future. It just seems to be gathering force to crash your system completely when it is powerful enough.
The fact is that some BSOD errors happen repeatedly since the first appearance and without a further fix. If you take it into your mind, you may find that it happens more and more frequently if you just leave it alone. Finally, you will be intolerable about it and start to find solutions. Until then, it may be too late to rescue your computer and you may result to reinstall the system to have a fresh start.
Tip:
To avoid data loss in the above situations, you are recommended to back up crucial data at a set frequency. Thus,
automatic backup software
is necessary. Just download and try for free!
Therefore, it is smart to kill your problems when it is in its infancy. In order to fix the blue screen error with the right solutions, you have to, first of all, know what the problem is by view the dump log file created for the error.
Best Blue Screen Viewer – BlueScreenView
BlueScreenView is the most popular blue screen of death viewer and is developed by NirSoft. It scans all your minidump files and displays the info about all crashes in one table. For each crash, BlueScreenView shows its dump filename, crash time, bug check string, bug check code, and parameter 1 – 4 in the upper pane.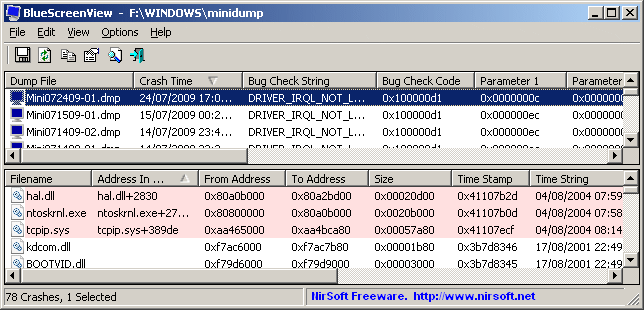 BlueScreenView also displays the details of the driver or module that possibly caused the crash in the lower pane, including filename, address in stack, from address, size, timestamp, time string, product name, file description, file version, company, and full path.
BlueScreenView marks the problem drivers' addresses, so you can locate the suspected drivers that possibly caused the error. It can also output the dump information to a text file, which you can post online to help diagnose the BSOD error.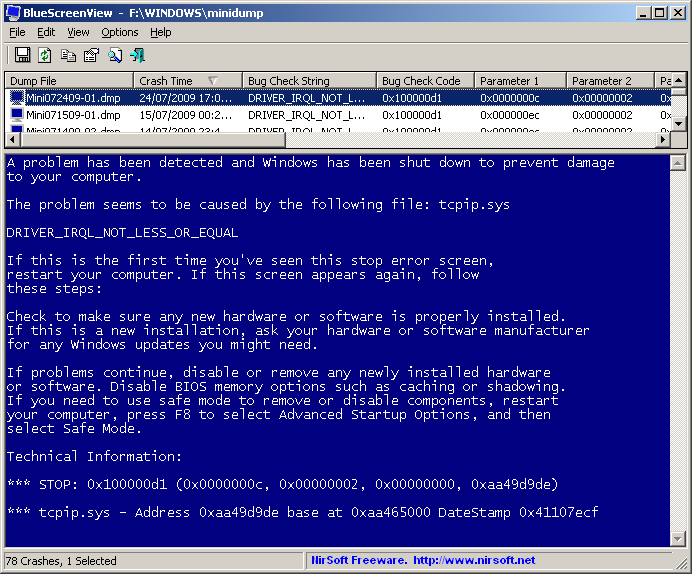 BlueScreenView is a portable program that you can put into a USB flash drive and take it everywhere. You don't have to install it on your system and no keys are added to the registry. To make use of it, just download it, unzip the program files, and run the executable BlueScreenView.exe file.
Blue screen viewer download free>>
BlueScreenView applies to nearly all Windows operating systems (OS) including Windows 10/11, Windows 8, Windows 7, Windows Vista, Windows XP, Windows Server 2008, and Windows Server 2003, both 32 and 64 bit.
Other Blue Screen Viewers
Besides BlueScreenView, there are some other blue screen event viewers.
Debug Diagnostic Tool (free)
Debug Diagnostic Tool is a trouble-shooter by Microsoft that care about computer crashes, blue and black screen of death, slowing down, memory loss, etc. It is equipped with analysis directives dedicated to IIS (Internet Information Service) applications, SharePoint, etc., and generates crash and hang reports.
WinDbg (free)
WinDbg is another Microsoft trouble-shooting program that scans on the dump files using the command line and debugs the OS to prevent it from a blue screen of death error or crashes.
WhoCrashed (free)
WhoCrashed checks for drivers which have been crashing your computer. If you are displayed with a blue or black screen of death, suddenly rebooted or shut down, etc., it might help you find the root cause of the problem and give you a solution.
Also read: