You may run into a series of errors while trying to visit a page using browsers; they'll stop you from seeing what you want. The error 1020 is one of them; it occurs when you are trying to access a Cloudflare protected webpage. The following content offered by MiniTool Solution shows you what causes Cloudflare error 1020 access denied & how to fix.
Error 1020: Access Denied in Chrome
The error 1020 is one of the errors you could receive while visiting a site in your browser (Google Chrome, Mozilla Firefox, etc.). This is what you can see on your screen:
Error 1020
Access denied
What happned?
This website is using a security service to protect itself from online attacks.
Cloudflare Ray ID: * Your IP: * Performance & security by Cloudflare
You may encounter the following errors while browsing the network:
What Causes Error 1020 Access Denied Cloudflare
What happened? As you can see from the error message, the page you're trying to visit is protected by Cloudflare – the security service provider. The 1020 error indicates that you have violated a Firewall rule; that's why your request will be denied by the filter which is based on the Firewall rule of the target website.
When you get this error randomly while browsing on the internet, you should know that the page you're trying to access has adopted a Firewall rule in Cloudflare; it then prevents your IP address from visiting the website.
How to Fix Error 1020
How do I fix access denied?
Step 1: confirm the error is Cloudflare related.
Go to Cloudflare portal -> select the Overview tab -> enable Pause Cloudflare on Site.
Step 2: find out which rule is triggering Cloudflare error 1020.
Sign into the Cloudflare dashboard.
Select the correct Cloudflare account.
Pick out the suitable domain.
Choose Firewall.
Select Overview.
Look for Activity log.
Expand any entry in the list to see more details.

Step 3: edit related firewall rules.
You should make changes to the certain rules found responsible for error 1020: open Cloudflare portal -> select the Firewall Rules tab -> locate certain rule -> click on the wrench icon to edit.
Step4: turn off related firewall rules.
If you can't find the exact rule id in the Firewall activity log, you may disable all the firewall rules by toggling the switch to Off. Then, enable the rules one by one until you find the certain rule causing 1020 (just toggle the switch to On).
If this didn't work or this method is too hard for you, please follow the solutions below.
Solution 1: enable cookies in browser.
Cookies are used by Cloudflare to distinguish between malicious visitors and legitimate users, so you need to make sure it's enabled in your browser.
Solution 2: disable/remove browser extensions.
If you find any browser extensions could block the cookies, you should go to disable or remove them completely.
Solution 3: clear browser cookies.
You should go to clear your browser's cookies; then, set it to cache from "all time" properly.
Solution 4: use another browser or device.
How to Fix Error 1015 & Error 1016
You may also come cross Error 1015 in your browser.
Error 1015
You are being rate limited
What happened?
The owner of this website (*) has banned you temporarily from accessing this website.
Cloudflare Ray ID: * Your IP: * Performance & security by Cloudflare
In fact, the rate limit is only a temporary ban; you can wait for a while (15 minutes or longer) and then try to visit the site again.
What causes 1015 rate limit?
You are refreshing a webpage too frequently.
You have tried to sign in your account too many times in a few minutes.
You have opened too many windows or tabs in your current browser.
Solutions to 1015 you are being rate limited:
Wait for at least 15 minutes and try again.
Close all the opening windows and tabs.
Clear the cache and cookies for "All time".
What about error 1016?
Error 1016
Origin DNS error
What happened?
You've requested a page on a website (*) that is on the Cloudflare network. Cloudflare is currently unable to resolve your requested domain (*).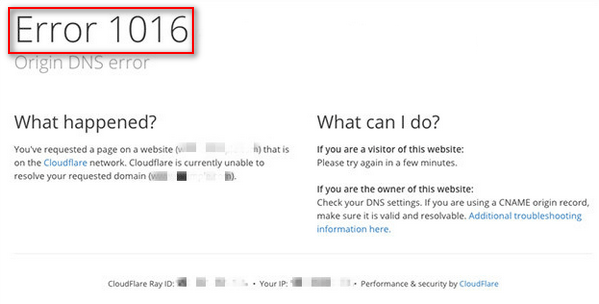 How to fix error 1016 Origin DNS error?
Log in to your Cloudflare account -> fix the Cloudflare DNS records -> add the A Record in your domain's DNS Record -> allow Cloudflare to scan the new DNS records.