The new Dell Inspiron 16 Plus 7610 laptop is very amazing; it introduces some notable hardware and designs for the Dell Inspiron series. You should consider Dell Inspiron 16 Plus if you often use the laptop to watch movies or play games. Don't know much about this new laptop? Please don't worry; there's a simple Dell Inspiron 16 review for you.
Dell's Inspiron family is very famous around the world; it's the biggest and most wide-ranging line of consumer PCs. The Dell Inspiron series provide you with a lot of choices in size: from 13 inches to up to 17 inches. Recently, the new Dell Inspiron 16 Plus was added to the product line to bring many improvements and new hardware to users. For more details about this new Dell Inspiron laptop, please read the following introduction.
Monitor Won't Turn On When You Start Dell/Samsung/HP Computer.
Tip:
Do you want to back up your data on Dell laptop? Have you ever encountered any problems while using your laptop? Do you need a better way to capture/download/edit videos? If yes, please visit the
home page
to choose a proper tool for your situation. The following recovery software is useful for recovering data lost due to different reasons.
MiniTool Power Data Recovery TrialClick to Download100%Clean & Safe
Dell Inspiron 16 Plus 7610 Is Amazing
The size and weight of Dell Inspiron 16 is basically the same as that of the 16-inch MacBook Pro. Since release, the Dell Inspiron 16 7610 becomes a good choice for movie lovers and game players. Why? That is because it's provided with a large display (it's 16 inch while many other laptops are 15.6 inch) and some advanced hardware: the 11th gen Intel Core i7-11800H CPU, GeForce RTX 3050 graphics, a roomier keyboard and touchpad, etc. Besides, you can get more room for work. Before diving into the Dell Inspiron 16 review, we'd like to share the hardware configuration.
Dell Inspiron 16 Plus 7610: Hardware Specs
Display: 16 inch 16:10, 3072 x 1920 pixel 226 PPI
Weight: 2.046 kg, 72.17 oz, or 4.51 pounds
Processor: Intel Core i7-11800H 8 x 2.3 – 4.6 GHz
Graphics: 4GB NVIDIA GeForce RTX 3050
Memory: 16GB, Micron DDR4 3200MHz, PC4-25600, 22-22-22-52, Dual-Channel
Storage: 512GB NVMe PCIe SSD, Kingston OM3PDP353512B
Ports: USB 3.2 Gen 1 Type-A (x2), Thunderbolt 4.0 USB-C, HDMI 2.0, SD card reader, combo audio jack
Battery life (tested): 13 hours 47 minutes
3 Ways To Check The Battery Health Of A Dell Laptop.
Pros & Cons
There are the main advantages & disadvantages of Dell Inspiron 16 Plus.
Main advantages: amazing 3K display, large touchpad, wonderful graphics, compact chassis, good computing performance, and more.
Main disadvantages: no touch-screen option and Blue chassis hue color dull.
Dell Inspiron 16 Plus 7610 Review
We'll introduce the new Dell Inspiron 16 Plus to you in following 3 aspects.
Screen
Even though you don't necessarily need the advanced hardware like Intel Core i7-11800H and NVIDIA GeForce RTX 3050, you must prefer a larger screen when choosing a laptop. The Dell Inspiron 16 7610 could satisfy your needs; it provides a 16-inch & 3K display with a unique resolution of 3,072 by 1,920 pixels. The aspect ratio is an appropriate 16:10, which is comfortable for watching movie, playing games, editing spreadsheet, etc. The screen can display 100% of the sRGB color gamut.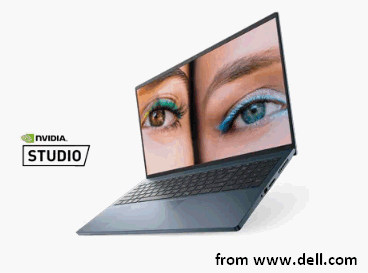 Connectivity
The new Dell Inspiron 16 Plus provides you with many ports & slots: headphone & microphone audio jack, USB 3.2 Gen 1 Type-A ports, SD card reader slot, HDMI 2.0 port, and Thunderbolt™ 4 port.
Though the port options are similar to that of the previous Inspiron 15 7506 laptop, there are mainly two differences:
The location of the ports & slots are a little bit different due to the new ventilation grilles.
The Micro SD reader is upgraded to full size.
Does HDMI Carry Audio? How To Troubleshoot HDMI No Sound?
Performance
The responding speed of Dell Inspiron 16 7610 is very quickly due to the use of the PCIe NVMe SSDs (up to 2TB).
Besides, the shock resistance is improved a lot compared to the conventional hard disk drives. The Thunderbolt™ 4 port is very useful; it can be used to charge laptop, transfer data at a speed of up to 40Gbps, and connect to multiple devices.
In addition, you can turn on, boot up, and log in to Dell Inspiron 16 Plus 7610 at a fast peed. This laptop will get started immediately when you open it thanks to the lid-open sensor. What's more, the fingerprint reader makes it easier and faster to verify identity for login using Windows Hello.
There are more wonderful features and designs waiting for you to find in Dell Inspiron 16 Plus 7610.