This article discoursed on MiniTool official website mainly introduces a kind of Windows 11 driver called DisplayLink. It involves its downloading, new features, supported devices, as well as installation. Read the below content for details!
DisplayLink driver is for DisplayLink USB graphics chipsets incorporated in adapter, monitor, or dock. You are recommended to update your drivers to the latest version to deal with potential working problems, avoid security errors, improve performance, as well as receive new advanced features.
DisplayLink Windows 11 Driver Download
The following lists some URL links from which you can get the DisplayLink driver for Windows 11. Yet, some of the sources are not official or well-known websites, you have to make your own judgment and decide whether to download the DisplayLink driver from them.
Download DisplayLink driver Windows 11 from Synaptics >>
Download DisplayLink USB 3.0 docking station and graphics adapter driver via plugable >>
Release version: 10.2 M1
Release date: March 16, 2022
Supported OSes: Windows 11/10/8.1/8/7
Download generic DisplayLink Driver for USB docks and adapter for Windows 10, 11 (64-bit) on Lenovo>>
Version: 10.1.2875.0
Size: 51.61 MB
Release date: February 15, 2022
DisplayLink Driver Windows 11 Release Notes
Introduction
This is the R10.2 M1 product release, the second release of the 10.2 driver. It has been put through full system tests and is suitable for deployment to end-users.
Software Package: DisplayLink Graphics
Software Package Version: 10.2.6862.0
Software Package Date: 11th March 2022
DisplayLink Ethernet Driver Version: 10.2.6683.0
DisplayLink Audio Driver Version: 10.2.6554.0
 Windows 10 v1607 Build 14393 onwards and Windows 11:
DisplayLink Graphics Driver Version: 10.2.6841.0
DisplayLink Graphics Driver Date: February 28, 2022
Windows 8.1 and Windows 7:
DisplayLink Core Software Version: 10.2.6841.0
DisplayLink Core Software Date: February 28, 2022
What's New in DisplayLink Software 10.2?
Windows 10/11 and DL-6000 series: adding modern standby on Ethernet interface.
DL-41xx: improved firmware flashing time, visible from the following update onwards.
General stability updates and bug fixes.
The DL-3000, DL-4000 (where applicable), and DL-5000 plus the associated software, are tested to meet the following compliances at the time of release.
USB 2.0 protocol
DisplayPort (source 1.2)
DisplayPort ++
HDCP 1.x over DP
HDCP 1.x over HDMI
HDCP 1.x over DVI
HDMI (source 1.4)
The DL-6000 plus the associated software is tested to meet the below compliances at the time of release.
USB 2.0 protocol
USB 3.2 protocol
DisplayPort (source 1.4)
DisplayPort ++
HDCP 1.x over DP
HDCP 1.x over HDMI
HDMI (source 1.4, 2.0)
Devices Supported
DL-6910 / DL-6700 / DL-6950
DL-5500 / DL-5700 / DL-5900 / DL-5910
DL-4100
DL-3100 / DL-3500 / DL-3700 / DL-3900 / DL-3950
DL115 / DL125 / DL165 / DL195
Note: This software release contains an embedded firmware image. DL-3000/DL-4100/DL-5000/DL-6000 devices will be automatically updated with this firmware upon connection.
How to Install DisplayLink Driver on Windows 11?
On the one hand, DisplayLink software can be installed from Windows Update. However, you can manually download and install it with the below guide.
1. Double click on the DisplayLink executable file that should be x.exe. If the UAC (User Account Control) window appears, click Yes to install DisplayLink Core Software.
2. Check system compatibility for DisplayLink driver and click Install.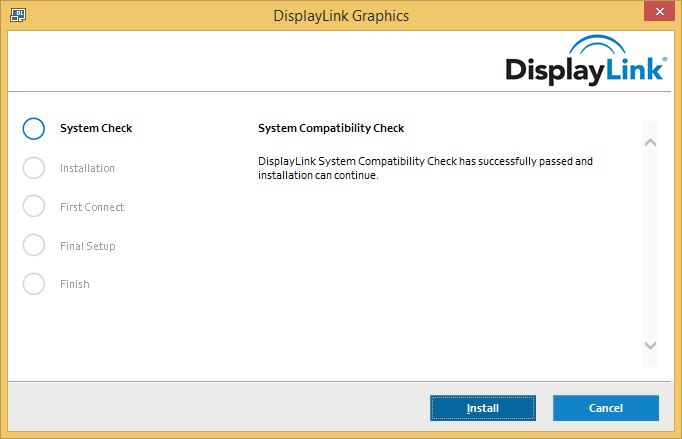 If your device does not pass the compatibility check, please visit this page for solutions.
3. Connect the DisplayLink-enabled device.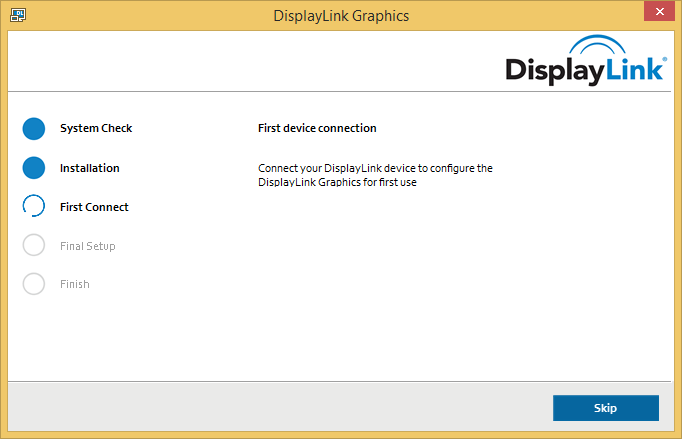 4. Upon detection of a DisplayLink enabled device DisplayLink Graphics installs.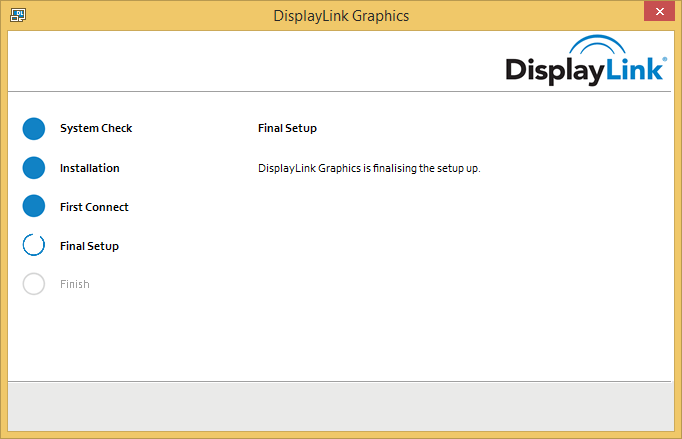 5. DisplayLink driver installation complete and computer reboot required.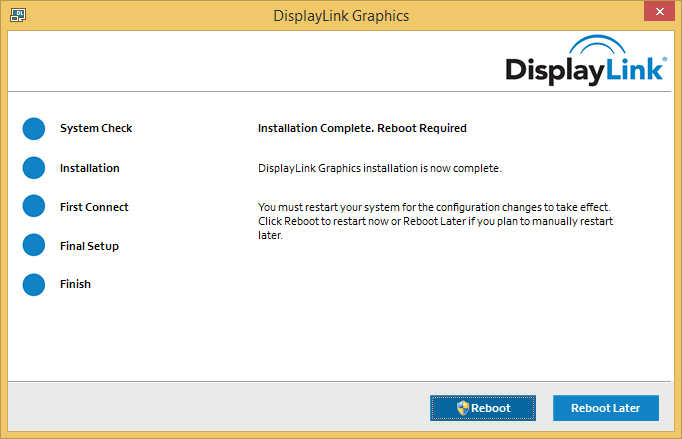 Tip: If installing DisplayLinks Windows 11 driver on an Arm-based SoC platform, you can use the .INF driver or install the driver from Windows Update. It is currently not possible to install using the .EXE or .MSI versions.
Windows 11 Assistant Software Recommended
The new and powerful Windows 11 will bring you many benefits. At the same time, it will also bring you some unexpected damages such as data loss. Thus, it is strongly recommended that you back up your crucial files before or after upgrading to Win11 with a robust and reliable program like MiniTool ShadowMaker, which will assist you to protect your increasing data automatically on schedules!