What is WPS Office? How to download WPS Office for PC, Mac, Android, iOS, or Linux and install this app on your device? The operation is simple and you can follow the guide from MiniTool to easily do this work. Now, let's look through what you should do.
What Is WPS Office?
WPS Office is a feature-rich, lightweight, and comprehensive office suite designed by Zhuhai-based Chinese software developer Kingsoft. It is a good assistant for students, teachers, and business professionals.
WPS Office has high compatibility – it is compatible with Microsoft Office, Adobe PDF, and Google Docs, supports 47 file types like ppt, xls, doc, and other text types, and can be used on multiple platforms including Windows, macOS, Linux, Android, and iOS.
WPS Office can easily improve your work efficiency since it enables you to edit files in Writer, Spreadsheet, Presentation, and PDF. With its popular templates of various types, you can handle challenges easily and stand out in many scenarios.
To sum up, it is worth trying for document editing. Well then, how to free download WPS Office for Windows 10, Mac, Android, iOS, or Linux? See the parts below.
Related article: What Is A WPS File? How to Open It Free?
WPS Office Download
Download WPS Office for PC
To download WPS Office app, follow the guide:
Visit the official page of Free Download WPS Office.
Scroll down to the Free download for PC section and click the Download button from the corresponding system edition.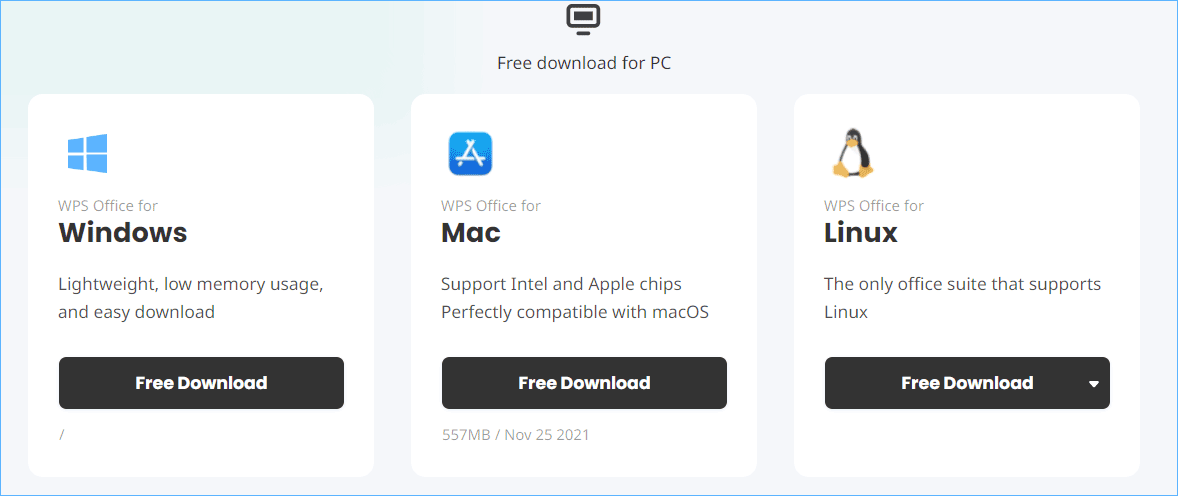 Tip: The download file of WPS Office for Windows is an exe file and the one for Mac is a dmg file. In terms of WPS Office for Linux, Deb package and Rpm package are offered.
WPS Office Free Download for Mobile
To download WPS Office for Android, you need to open Google Play, search for the app and download WPS Office apk, then install it. To download WPS Office for iOS, go to App Store.
WPS Office App install for PC (Windows 10)
How to install the WPS Office app on your Windows 10 PC?
Step 1: Double-click on the exe file you have downloaded.
Step 2: Choose a language, agree to the license agreement and privacy policy and then click Install Now.
Step 3: The installation process will take a few minutes and wait patiently. After completing the installation, click Get started. Then, you enter the following interface. You can free use WPS Office Premium for 7 days. To enjoy the full features, subscribe to it. Of course, you can free use its basic edition all the time.
WPS Office VS Microsoft Office
In the market, WPS Office and Microsoft Office are the most popular and trustworthy office suites. If you don't know which one to use, you can compare them. To know the differences between WPS Office and Microsoft Office, refer to the help document from the WPS website – WPS Office vs. Microsoft Office: Which fits you better.
Final Words
That's the most information about WPS Office download. Just follow the given instructions to easily download WPS Office for PC (Windows 10, macOS, and Linux) and iOS & Android devices. Then, install it on your machine to have a try.