When you sign in to Xfinity Stream or activate the account, you may get Error TVAPP-00100. This is a common problem on the beta Xfinity app. How can you fix the error? In this post from MiniTool, you can find 4 simple and effective solutions.
Xfinity Stream Error TVAPP-00100
On your computer, you can go to the Xfinity Stream portal (www.xfinity.com/stream) to watch Xfinity on-demand content while connected to any Internet connection.
But sometimes you may get Error TVAPP-00100 while you watch something on your browser, sign in to Xfinity Stream, activate the account, etc. You are prompted to clear the browser's cache and refresh this page.
This error is caused by some reasons, for example, common router inconsistency, domain name address inconsistency, corrupted browser cache, and proxy or VPN interference. Fortunately, you can try some solutions to easily get rid of the trouble.
Fixes for Error TVAPP-00100
Restart or Reset Your Router
In most cases, impacted users can refresh the current network connection and clear the TCP/IP data to resolve this issue. Xfinity Error TVAPP-00100 usually happens if you are using lower-level routers with limited bandwidth, especially when more than 5 devices are connected to the same network.
Just disconnect every essential device that is connected to the same network and see if you have removed the issue.
If not, press the power button to cut off power to your router and disconnect the power cable. After 1 minute, restore the power and establish the internet connection. Then, see if the issue is fixed. If not, you need to reset the router. You need to press and hold on the reset button for 10 seconds or more until each front LED flashes at the same time.
Clear the Browser Cache
According to affected users, clearing the browser cache can be helpful to fix Error TVAPP-00100. So, you can also have a try.
Flush your DNS Configuration
As mentioned, (Error TVAPP-00100) may appear because of Domain Name System inconsistency. To fix the error, you can flush your DNS configuration by following these steps.
Step 1: Open Command Prompt with administrative privileges.
Step 2: In the CMD window, type ipconfig /flushdns and press Enter.
Step 3: Type another command - ipconfig /renew and also press Enter.
Then, check if Xfinity Stream Error TVAPP-00100 is fixed. If it still occurs, try another method.
Disable/Uninstall Proxy Server or VPN Client
Perhaps the connection may be rejected since the Comcast server views it as an attempt to circumvent geolocations if you use a VPN network or proxy server. When trying to use the Xfinity app, the proxy server or VPN is enabled.
To fix Error TVAPP-00100, disable one of them by following the guide below:
Disable Proxy Server
Step 1: Open the Run window, type ms-settings:network-proxy, and click OK.
Step 2: In the pop-up window, scroll down to Manual proxy setup and disable the option of Use a proxy server.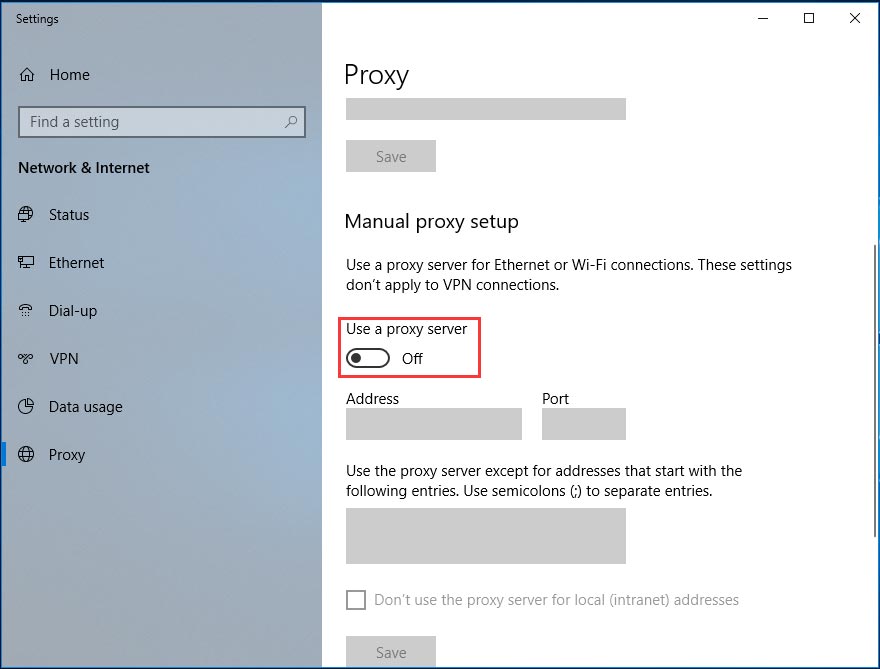 Disable VPN Client
Step 1: Type ms-settings:network-vpn to the Run window and press Enter.
Step 2: In the VPN window, click the VPN network that's currently active and disconnect it.
Bottom Line
Have you received Xfinity Stream Error TVAPP-00100? Don't worry. Now, try these solutions above and you should easily get rid of the error.