The reasons that trigger Windows Error Reporting Event ID 1001 are complicated but you need to check if error 1001 occurred before you can get rid of this error. This article on MiniTool Website will enumerate multiple reasons for Event ID 1001 and give you a guide to fixing it.
How to Check If Error 1001 Occurred on Your PC?
First of all, Windows Error Reporting Event ID 1001 won't directly pop out to tell you why this happens and you need to check if the issue occurs by Event Viewer so that the events log can help users identify and troubleshoot issues.
The records on the Event Viewer can imply system or application crashes, and other physical issues. The specific steps to use Event Viewer are as follows.
Step 1: Click on the Search icon on your menu bar and input event viewer to open it.
Step 2: Double-click on Windows Logs and choose Application.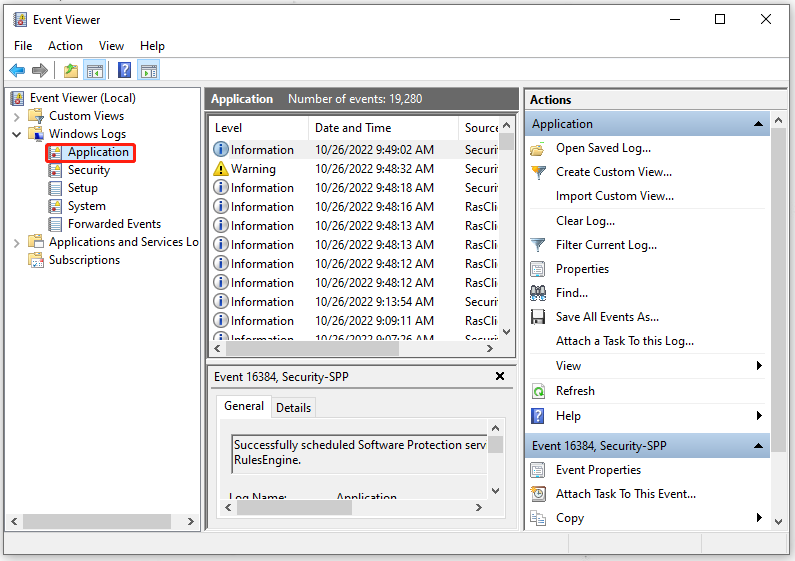 Step 3: Double-click on the error logs and the one with the Event ID 1001 is what you are looking for.
Step 4: Once you find it, look through the contents on the General tab. Look for a faulting application path specified there, which can help you identify the software the issue occurs for.
How to Fix Event ID 1001?
Even though you have not checked the Event ID yet, you can follow the next moves to get rid of it.
Fix 1: Run an SFC Scan
You can scan for corrupted files on your computer with SFC Scan to fix the Event ID 1001 error.
Step 1: Input Command prompt in your search box and run it as an administrator.
Step 2: To scan system files, input sfc /scannow and press Enter.
Then you need to wait for a while, after the whole process finishes, you can restart your PC and check if the Event ID 1001 exists.
Fix 2: Scan for Viruses and Malware
To exclude the factor of virus attacks, you'd better scan for your computer.
Step 1: Click on the Windows icon and choose Settings.
Step 2: Choose Update & Security and then go to Windows Security.
Step 3: Choose Virus & threat protection and in Scan options, choose Full scan and then Scan now.
You need to wait for a while until the process finishes and then you can check if the Event ID issue has been resolved.
Fix 3: Change Virtual Memory or Page File
You can change your virtual memory or page file to fix Event ID 1001.
Step 1: Type Advanced System in the search box and choose View advanced system settings to open System Properties.
Step 2: In the Advanced tab, click on Settings… under Performance.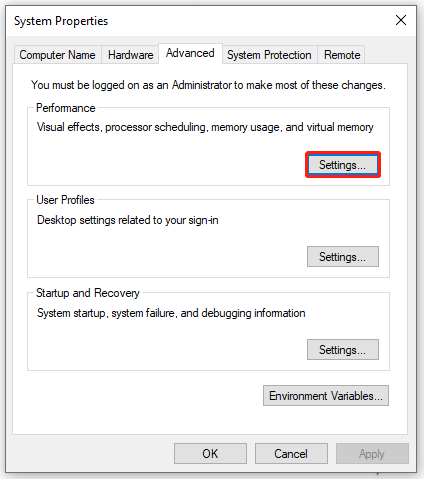 Step 3: Then in Performance options, go to the Advanced tab and choose Change… under Virtual memory.
Step 4: Uncheck the option of Automatically manage paging file size for all drives option and select your Windows system drive.
Step 5: Check the box next to the Custom size option and change the Initial size value and the Maximum size value to a higher value.
Step 6: Then click on Set and then Apply and OK.
Fix 4: Perform System Restore
Some people encounter this error after updating Windows. In this way, you can perform a system restore to recover your system back to its normal state.
But this method is only available for those who have created a system restore point. For details, you can refer to this article: What Is System Restore Point and How to Create It? Look Here.
Step 1: Search for Create a Restore Point and open it.
Step 2: Go to the System Protection tab and choose System Restore….
Then you can follow the on-screen instructions to restore your computer.
Besides, it is recommended to back up your system to an external hard drive in case of any accidents.
Bottom Line:
In most cases, the Event ID 1001 can be resolved by the above methods but all of them are of no use, you'd better contact Microsoft's Windows support service for help. Hope this article can be helpful for you.