Google Chrome won't open in Windows 10, how to fix? If you meet the Chrome not opening error when you double-click the Google Chrome shortcut on desktop, check the 7 possible solutions in this tutorial to fix this problem.
Tip 1. Restart Windows 10 Computer
If Google Chrome does not launch on your Windows 10 computer, you can try a computer restart. Just click Start -> Power -> Restart to reboot your computer. Then check again if Chrome can be opened, if not, try other solutions below.
Tip 2. Check If Chrome Is Already Opened
Press Ctrl + Shift + Esc to open Task Manager.
Find Google Chrome or exe under Processes tab. If you find Google Chrome in Task Manager, then it means Chrome is already running in the background, and this causes Chrome not opening error when you click its shortcut.
You can right-click Google Chrome, and select End task to force quit Chrome application.
Then you can open Chrome again to see if it can open.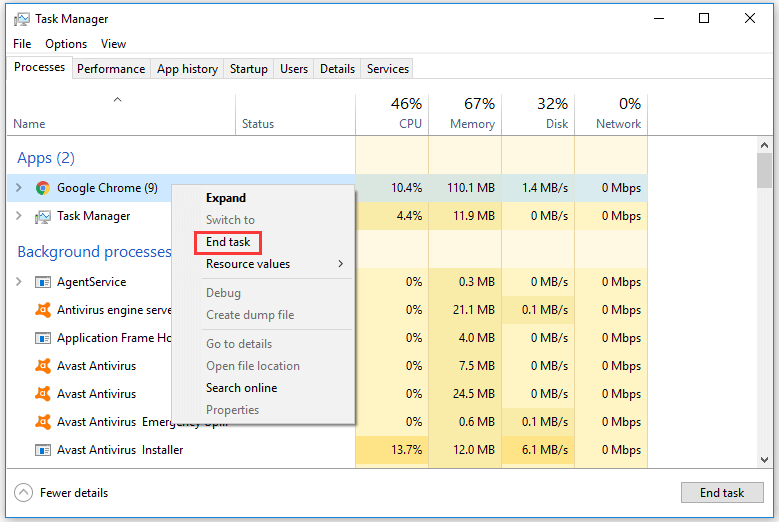 Tip 3. Scan for Malware/Virus Infection
It's advised you run a malware or virus scan with Windows Defender or installed third-party antivirus software in case the Chrome won't open error is caused by malware or virus.
Tip 4. Run SFC Scannow to Fix Google Chrome Not Opening
You can also run Windows built-in system file check tool – SFC Scannow – to scan and fix corrupt or missing system files. If Google Chrome won't open issue is caused by corrupt system files, then this should help fix this error.
Press Windows + R, type cmd, press Ctrl + Shift + Enter to open elevated Command Prompt.
Then type sfc scannow in Command Prompt window, and press Enter to start scanning and repairing corrupt system files.
Tip 5. Delete User Profile in Chrome to Fix Chrome Won't Open
Press Windows + R, type %USERPROFILE%\AppData\Local\Google\Chrome\User Data in Run box, and press Enter to open User Data folder.
Find Default folder in User Data folder, and copy it to another place to have a backup. Then you can delete this folder.
Open Chrome again to see if it can open. If it opens, you can click the three-dot icon in browser, and click Settings -> Advanced -> Reset to reset Chrome.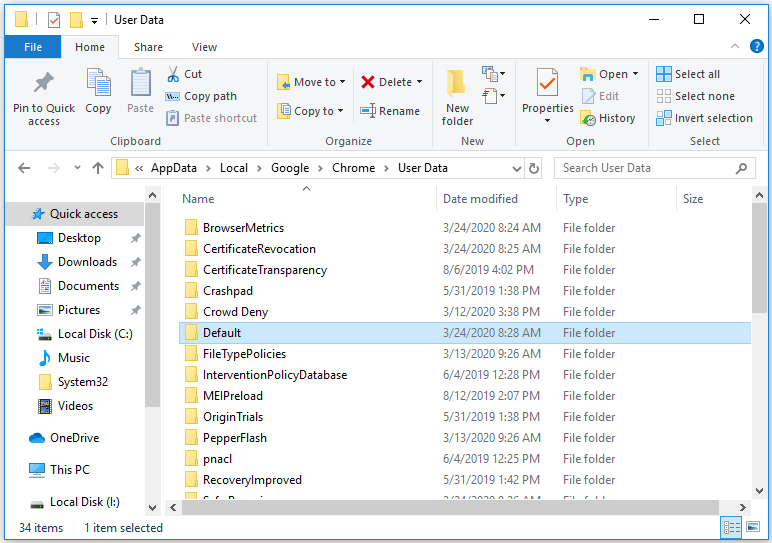 Tip 6. Run Chrome in Safe Mode
If Chrome won't open or launch in normal mode, you can try to start Windows 10 in Safe Mode, and try to open Chrome in Safe Mode to see if you can open it. If Chrome can smoothly start in Safe Mode, then the Chrome not opening problem may be caused by extensions. You can try to disable Chrome extensions one by one to see if the issue can be solved.
Tip 7. Reinstall Chrome
If none of the above tips helps in fixing Chrome won't open error, then you can try to uninstall Chrome and reinstall Chrome again in your Windows 10 computer. If you have better solutions to solve this issue, please do not hesitate to share with use.