A large number of users like to use Google Voice because it helps them keep in touch with friends and colleagues easily. However, some users find their Google Voice not working suddenly; they don't know what happened and how to fix the problem. Therefore, I'm writing this to share the possible reasons and resolutions to Google Voice problems.
Google Voice Not Working Suddenly
Google Voice is a convenient service provided by Google since March 11, 2009. It is used widely by people to make calls or send voice/text messages through a telephone number. But recently, a lot of people say they have problems with their Google Voice.
Users can't sign up or access Google Voice.
Users can't get or make a phone call.
Users can't hear ringing for incoming calls.
And so on.
Many users said they are encountering Google Voice not working issue (or have ever met the problem before).
Fix: Google Docs Unable To Load File!
To protect data on computer or mobile phone from being damaged by the issue, you should turn to suitable MiniTool software.
Example: Why Is My Google Voice Suddenly Not Working
I have had Google Voice for about a month and it was working fine. Just today I tried dialing a number and repeatedly got messages that the number that I was calling was invalid. I tried dialing it again with the area code and got a voice message that the number I was calling was blocked for my plan. I got Google Voice for my convenience. How can I get this thing set up so that I can conveniently make and receive calls with it when I need to?– asked J.A. Fludd in Google Voice Help Community
In fact, there are thousands of Google Voice users bothered by such problems; they are eager to get useful solutions to fix the problem themselves. I'll tell you what you should do exactly after Google Voice stopped working.
But before that, I'd like to introduce the possible reasons for Google Voice not working:
The Google Voice app is out of date.
The internet connection is poor or not set properly.
Cookies and caches occupy too much of the space.
There are several voices stored in the Google Voice application.
There may be virus attack or malware invasion.
Fix Problems with Google Voice Calls
The Google Voice calls failed issues can be divided into mainly 4 types. I'll list them in the following content with the corresponding fixes.
Can't Sign Up Google Voice
Some users are even stuck in the first step of using Google Voice: they fail to sign up.
Your account isn't ready for Google Voice yet is one of the most common error messages you may see during sign-up process. What you should do when seeing it? Please contact your Google Voice administrator immediately!!! You need to get a Voice license from your administrator and set up the account before actually using Google Voice.
Can't Access Google Voice
Many users run into this situation with a G Suite account managed by work or school. If this is the case, please follow the tips below:
Contact the administrator to make sure it has turned on the Google Voice for you.
Make sure you have got a Voice license and set up the account correctly.
Go to check the internet connection; make sure it's working for other Google Workspace services.
Check whether your browser is supported by Voice. Supported browsers include Chrome, Firefox, Edge, and Safari.
How Do You Stop Auto Refresh In Chrome & Other Browsers?
Can't Make a Google Voice Phone Call
What to suspect when you're not allowed to make a call via Google Voice:
The Voice calls you're making are not available in the target country/region.
Lack of Voice license provided by your administrator.
The phone number is not formatted properly: make sure the number is correct and enter the correct country code.
There's not enough calling credit (if you're not using Google Voice for G Suite account).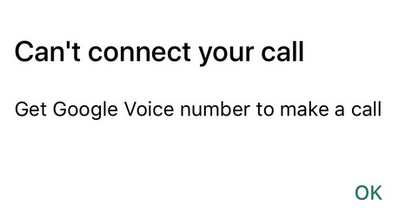 Can't Get a Google Voice Phone Call
Follow this guide if you're using Google Voice on your computer:
Check whether the website voice.google.com is open in your browser.
Try to close the browser and re-open.
Check whether you have set the computer to answer incoming calls.
If you're using Voice on mobile device, please make sure it's set up to answer incoming calls.
Tip: You may not hear ringing for incoming calls if you always put the opening Voice aside.
You can also try the following solutions to fix Google Voice not working:
Go to clear the cookies and caches for all time via settings.
Delete all the voices stored in your application completely. Then, try to enter your voice again.
Update the Google Voice to the latest version.
Run antivirus program to scan and kill viruses.