This post introduces how to delete Gmail account permanently with detailed steps. If you intend to turn to other free email services and want to remove the Gmail account or address, you can easily delete the unused Gmail account. If you don't want to delete your Google account but just delete the Gmail address, this post teaches the way.
Note These Things before You Delete Your Gmail Account
Only deleting your Gmail account will not delete your entire Google Account. You can still access other Google Account services like YouTube, Google Drive, Google Play, Google Docs, etc. If you want to delete both Google account and Gmail account, you can check: how to delete Google account.
The delete process of Gmail account is permanent, after you delete the Gmail, all your Gmail emails, other data and account settings will be removed. You can't use the Gmail address to send or receive emails anymore.
If you don't want to lose the emails and data in your Gmail account, you can download and save your emails before you delete the Gmail account. (Related: How to recover deleted emails)
After you delete your account, Google won't let anyone else to use that account for security aim.
After your Gmail account is deleted, you can also use an alternative email address to log into your Google account.
You can delete your Gmail account on computer or mobile devices, or in browser. Check how to do it below.
How to Delete Gmail Account Permanently – 5 Steps
Step 1. Open Google Account Management Page
Open Google Chrome browser and go to google.com, and log into the Gmail account that you want to delete.
After logging in, you can click your user profile icon at the top-right corner to open account settings menu. Click Manage your Google Account. Alternatively, you can also directly go to myaccount.google.com page in Google browser.
Step 2. Click "Delete a server or your account" option
Next you can click Data & personalization in the left panel.
Scroll down in the right window, and find Delete a service or your account option under Download, delete, or make a plan for your data section.

Step 3. Click "Delete a service"
Click Delete a service under Delete a Google service section.
Next you may be required to sign into account. Enter your password to verify your account.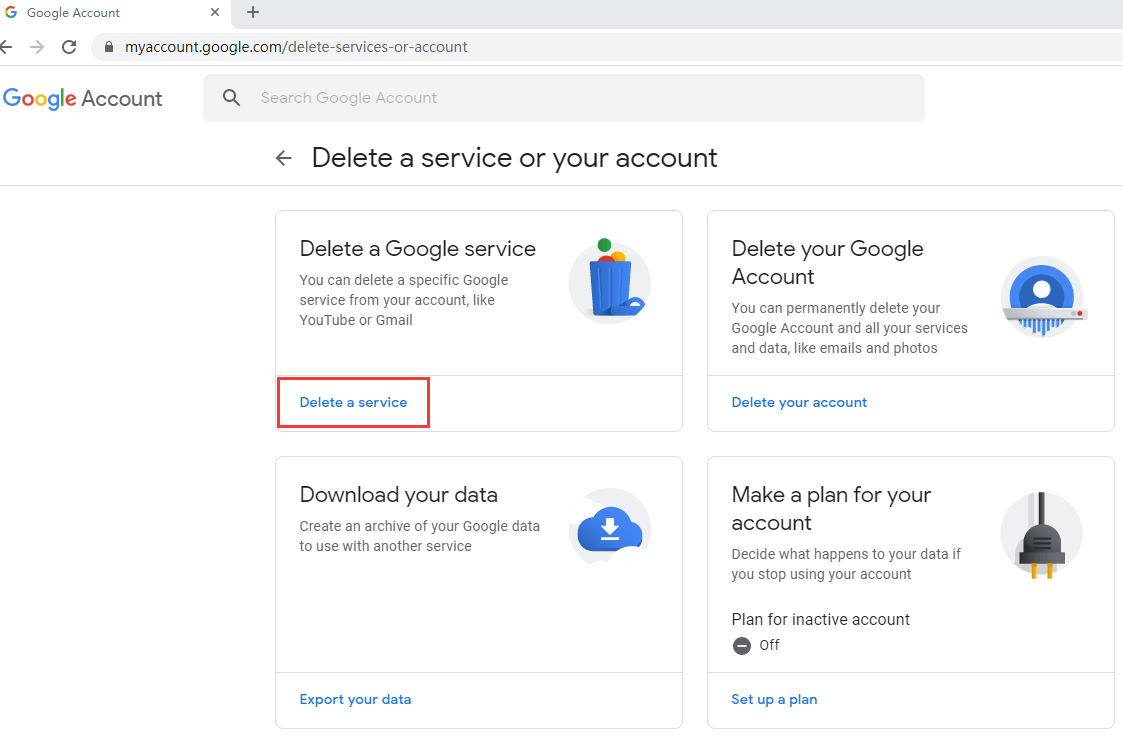 Step 4. Delete Gmail account
Now you are in the Delete a Google Service page. A Google Account offers many services. Some of the services can be deleted from your Google Account individually. In this page, you can also consider if you want to download Google data before you delete a service.
Now you can click Delete icon next to Gmail. Google will require you to input a non-Gmail email address for signing into other Google services. Enter an email address and click Send Verification Email. Click Got It in pop-up window.
Step 5. Confirm Gmail account deletion
At last, you can log in the email account you enter in Step 4. Open the "Gmail Deletion Confirmation" email.
Click the link in the email, and click Delete Gmail button to permanently delete your Gmail account from Google account.
How to Delete Gmail Account on Android
Open Setting app on Android.
In Settings, find Google section.
Tap Google Account in Google settings window.
Tap Data & Personalization tab.
Tap "Delete a service or your account" under "Download, delete, or make a plan for your data" section".
Tap "Delete a Google Service" and enter your account password again.
Click the Trash Can icon next to Gmail for follow the instructions to delete your Gmail address.
How to Remove Gmail Account on iPhone/iPad
Open Gmail app on your iPhone.
Tap Menu -> Settings -> Your account -> Manage your Google Account.
Tap Data & Personalization.
Tap Delete a service or your account -> Delete a service.
Re-enter your password of your account.
Tap Delete next to Gmail and follow the guides to remove Gmail account.
Conclusion
After you permanently deleted/remove/close your Gmail account/address, you can't log into your Google account using that Gmail address anymore. You should use another email address to log in your account. The way introduced in this post lets you delete your Gmail account without deleting your Google account.