Suppose that you have spent several days or even months to finish work files and finally save them in a disk, you must be very worried if you wake up one day and find your disk is in trouble. I know you must feel very terrible by thinking of the fact that you are going to lose those important files and go all over again.
Please don't be freaked out since there are useful ways to help you troubleshoot hard disk and recover missing files. Whenever you find your computer is malfunctioned, you should follow the methods below to troubleshoot hard drive errors yourself.
5 Ways to Troubleshoot Hard Disk
There are a set of troubleshooting steps to guide you to fix common errors found on your hard disk. Here's how do I check if my hard drive is failing (how to recover a failing hard drive on Mac).
Way 1: Restart Your PC
Whether you are experiencing a slow speed or an exact software conflict, you should turn off your computer. Then, wait 30-60 seconds and turn the computer on again to see whether it works.
Actually, the quick shutdown of PC is useful for troubleshooting problems related to memory, software, and miscellaneous issues. By clearing the stored memory, you can solve many PC problems.
Way 2: Check Cable & USB Ports
Sometimes, you connected a hard disk to your computer, but find it doesn't show up. You should change a connection able or change a USB port (or connect it to another computer) to see whether the hard drive can be recognized.
The hard disk would show up after checking the cable and USB port in many cases. Yet, if the hard drive not detected problem still persists, you should read this post which focuses on external hard drive troubleshooting:
Way 3: Check Disk for Errors
Microsoft provides users with a built-in tool to check hard disk for errors. You can run the error checking tool by following 2 methods.
Method one: run in File Explorer.
Open File Explorer and find the disk which has problems.
Right click on the hard disk with errors.
Choose Properties.
Navigate to Tools bar in the Properties window.
Click on the Check button.
Select Scan and repair drive to start detecting & fixing disk errors.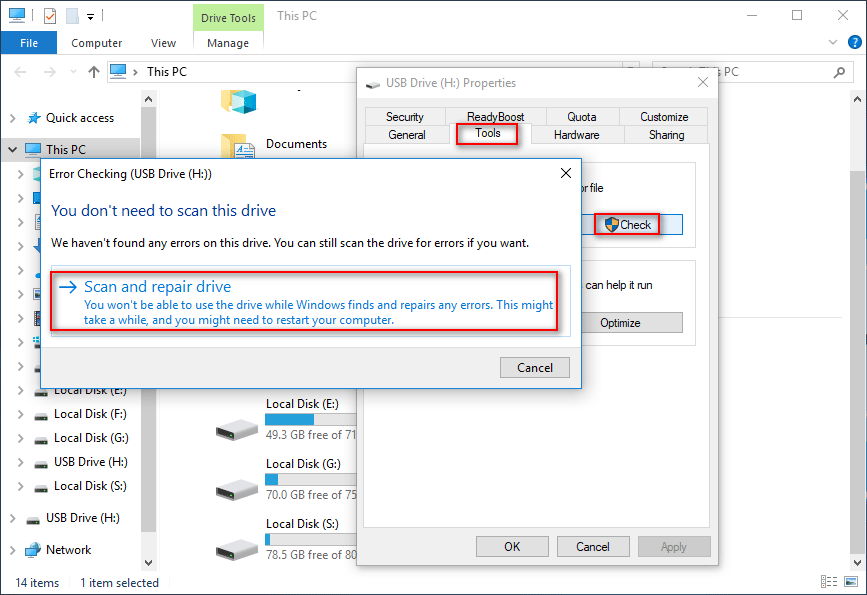 Method two: run CHKDSK in Command Prompt.
Type cmd into the search box on taskbar.
Right click on Command Prompt from the search result.
Select Run as administrator.
Type CHKDSK *: /f and press Enter.
Wait for the completion.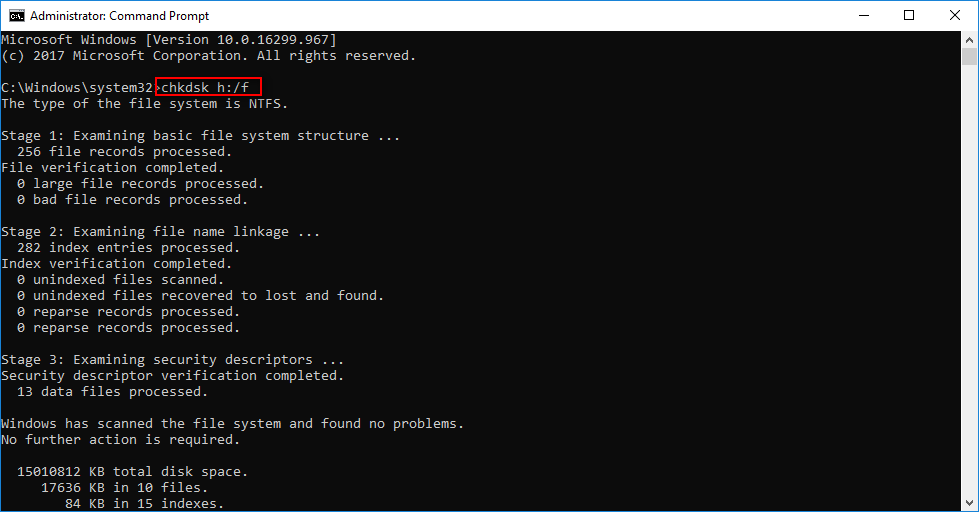 CHKDSK Deletes Your Data? Now Recover Them In Two Ways.
Way 4: Run Antivirus Program
Many users have reported that Windows detected a hard disk problem – virus. When finding that your hard disk may be attacked by virus, you should recover data from it firstly; then, run antivirus program to remove virus and ransomware from your computer.
How to recover data from virus attack:
How do you fix a hard drive that won't boot:
Way 5: Check Network Issues
If wireless and plugged-in network issues occur, your hard drive may be affected. You should re-power on the router, cable or DSL modem to try to troubleshoot the hard disk. Since these components are used frequently, problems tend to appear.
How to fix hard disk error caused by network issues:
Unplug router, cable and DSL modem from your device.
Wait for about 30 to 60 seconds.
Plug them into your device again.
These methods are useful for troubleshooting hard drive problems on your PC.