This article mainly introduces some useful and convenient ways to manage messages in Outlook, which helps to make messy Outlook messages clear.
Since Outlook is one of the most frequently used software in daily office work, most users have thousands of Outlook messages. Therefore, we may need to use some methods mentioned in this article from MiniTool to manage messages in Outlook.
Commonly Used Outlook Messages Management Methods
The methods to manage Outlook messages mentioned below include organizing multiple Outlook messages to make the mailbox tidy, and setting up a single email to make it conform to personal usage habits.
Method 1: Using Folders to Manage Messages in Outlook
Compared with individual emails, folders can better organize and store different types of email messages. Please refer to the steps below to create folders:
Step 1: Right-click any default folder like Inbox in the folder pane and select New folder.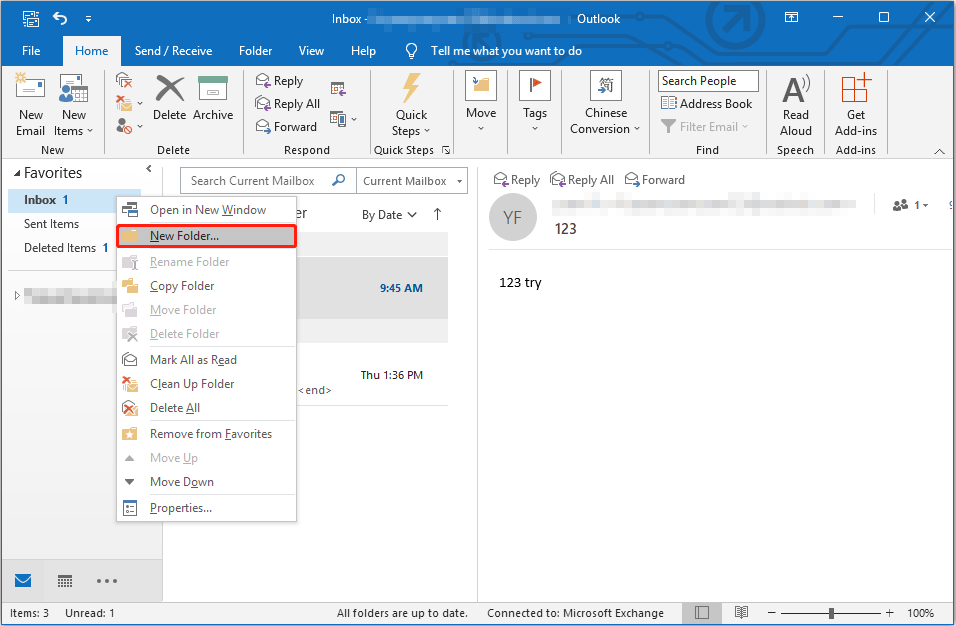 Step 2: Set folder name and location and click OK to confirm.
Step 3: Select any email you want to go into this folder and drag them in with your mouse.
Method 2: Creating Outlook Message Rules
While the first method is indeed a means of managing Outlook messages, when there are too many emails, dragging one by one will take a lot of time, then we can set rules for the messages. The so-called rules are the actions that Outlook automatically performs on the emails that are being received or sent that meet the conditions specified in the rules. How to create message rules? The specific operation steps are as follows:
Step 1: Click the Rules item on the home page, and then select Create rule (or you can directly enter a keyword in the Tell me what you want to do section above to search for a feature).
Step 2: Set rules according to the prompts on the page, and you can also click Advanced Options to set more complex and detailed rules.
Step 3: Click OK to confirm the establishment of the rule and follow the instructions on the page to apply the rule.
In addition, you can directly right-click an email to enter the interface for setting rules.
Method 3: To Recall Outlook Messages
Sometimes we realize that we have missed information or sent it to the wrong person after sending the email. So, how to deal with this situation? We can try the following steps to recall the email.
Tip: The premise of successfully recalling a email is that the recipient has not checked it, otherwise the recall will fail.
Step 1: Find the message you want to recall in the Sent Items folder and double-click to open it.
Step 2: Click the Recall button in the upper left corner (if there is no such button, you can search in Tell me section, or click the small triangle on the right side and select More Commands to display this button).
Step 3: Check the option according to the actual situation and click OK (it is recommended to check Tell me if recall succeeds or fails for each recipient).
Method 4: To Set up Message Preview
Outlook has a message preview function, that is, we can roughly see the content of an email without opening it. We can set the number of preview lines according to our needs. Please follow the steps below:
Step 1: Click Message Preview under the View tab.
Step 2: Choose not to preview or how many lines to preview according to actual needs.
Method 5: To Change Message Font
For short-sighted users or users who prefer larger font size, the default font and font size of Outlook do not meet the needs. We can try to change it according to the following steps:
Step 1: Click View Settings under the View tab.
Step 2: Select Other Settings to open a new window.
Step 3: In the newly appeared window, set the row font, column font and other options according to your preferences and click OK to save.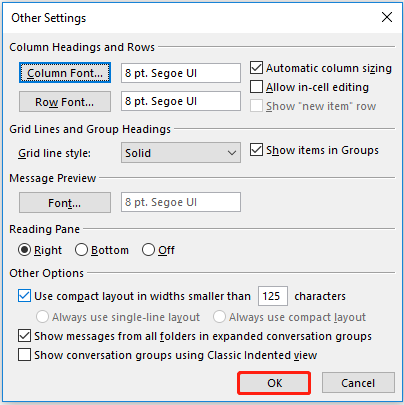 Related articles:
Wrapping Things Up
This article talks about how to manage messages in Outlook, including how to create email rules, recall emails, set email preview and change email fonts. I hope it will be helpful to those who are confused about this. If you have any other questions, please leave a message below to discuss with us.