Available – New Windows Defender Preview for Windows 11/10
In Windows 11 and 10, there is an inbuilt security tool called Windows Defender or Windows Security. It is used to offer real-time protection to prevent viruses and malware attacks. This antivirus software runs fine to keep your PC safe.
But home networks are more and more complicated, diverse, and connected. Some antivirus manufacturers devote themselves to offering a version to let you manage all the devices from a single dashboard. Microsoft is not an exception and it is working on a new security app called Microsoft Defender.
Simply speaking, it is designed to protect Windows 11/10 devices, macOS computers, and phones (Android and iPhone). To be specific, you can use a unified dashboard to manage these devices that are connected with the same Microsoft account. If you don't have a Microsoft account, go to click here to create one.
According to reports, now Microsoft Defender Preview is only available for Windows 11 and 10, as well as Android. In the following part, let's go to see some details about this app.
Features of Microsoft Defender Preview
In the interface of the Microsoft Defender app for Windows 11/10, you can see three panes
Left: It offers a security tip to tell you how to stay safe online.
Right: It shows you a way to add other devices and protect them. To be specific, you can use an email or QR code to invite other family members to install Microsoft Defender on other devices like Android, iPhone, or Mac besides Windows 10/11 via the same Microsoft account. You can view the security information of all the devices.
Center: It shows This device – you can access the detailed security information of your devices, including the last threat scan, the number of scanned files, and threats that are found.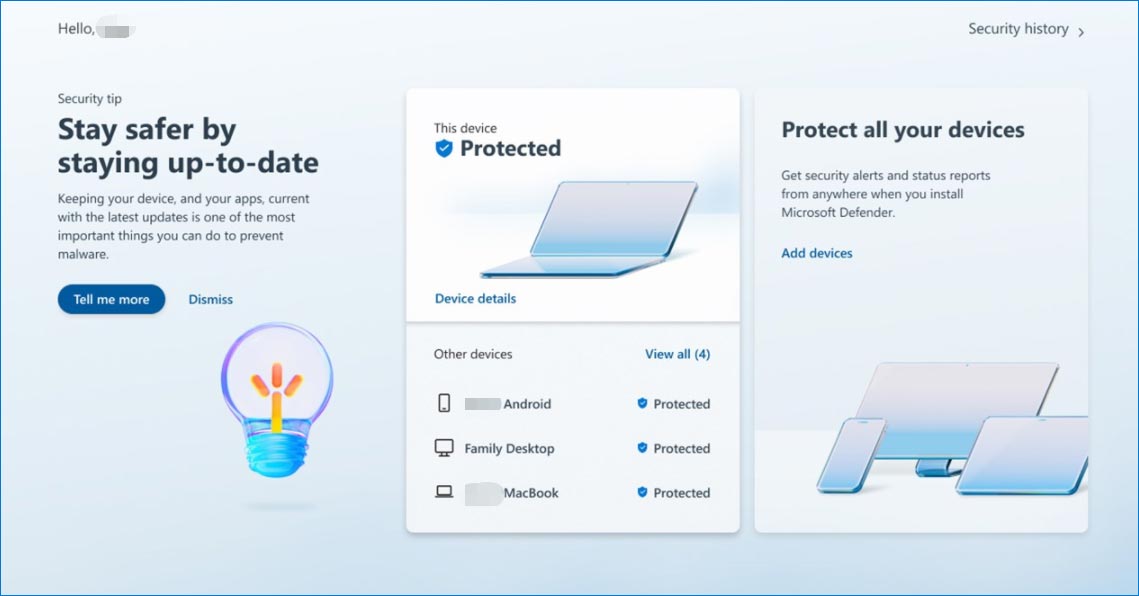 Besides, when you click This device, you can know whether all the security components are working properly, for example, virus & threat protection, update, and ransomware protection. You can also check for the security history.
Microsoft Defender Download Windows 11/10 and Android
In terms of the Microsoft Defender app for Windows 11/10, no subscription is required for the preview version. But in the future, a Microsoft 365 Family or Personal subscription is required.
How to get this new Windows Defender on your PC or Android phone?
Windows Defender Download Windows 11 and 10
Go to download new Windows Defender via Microsoft Store.
Just click this link and click the Get button.
In the popup, click Open Microsoft Store to download it via the app.

To run Microsoft Defender, the PC should run Windows 10 version 19041.0 or higher. Besides, this app supports 32-bit/64-bit systems and the Xbox console.
Windows Defender for Android Download
To use Microsoft Defender Preview on your Android device, you can go to the Google Play store and click Install to get this app.
Currently, Microsoft Defender Preview is only available in the United States. But as it gets more testing, it can be used in other regions.