What should you do if you find Windows 10/11 stops executing and displays the Blue screen of death (BSoD) error code NMI_HARDWARE_FAILURE? Take it easy and you can follow these solutions offered in this post from MiniTool to easily fix the blue screen hardware error.
NMI Hardware Failure Windows 10/11
Blue screen of death (BSoD) errors often happen on your Windows 10/11 computer and today in this post, you will know a BSoD error regarding hardware.
On the computer screen, the error message says "your PC ran into some problem and needs to restart" and includes the stop code NMI_HARDWARE_FAILURE or NMI hardware failure, as shown below. The corresponding error code of this error is 0x00000080.
NMI, short for Non-Maskable Interrupt, is a kind of hardware failure. You may get this stop code when the Windows driver is loaded, while Microsoft software is running, after installing new hardware or through Windows shutdown/startup.
Incorrectly configured, old or damaged device drivers, driver conflict after installing any new hardware, corrupted Windows Registry, memory errors, etc. can be the common reasons behind this BSoD error.
Sometimes, you won't get the blue screen after a simple restart. But if you frequently encounter the issue, try these solutions below now.
NMI Hardware Failure Windows 10/11 Fixes
Run the Blue Screen Troubleshooter
In Windows 10/11, you can run the built-in troubleshooter to fix the NMI error.
Step 1: Open Troubleshooting after going to Settings > Update & Security.
Step 2: Locate Blue Screen and choose Run the troubleshooter.
Step 3: Finish the fix by following the on-screen guide.
Run the SFC Scan
If the troubleshooter isn't working for you, you can perform an SFC scan using System File Checker to detect corrupted files and fix them.
Step 1: Open Command Prompt with administrative rights.
Step 2: Input sfc /scannow and press Enter.
Step 3: This process will take some time, so wait patiently until the operation finishes.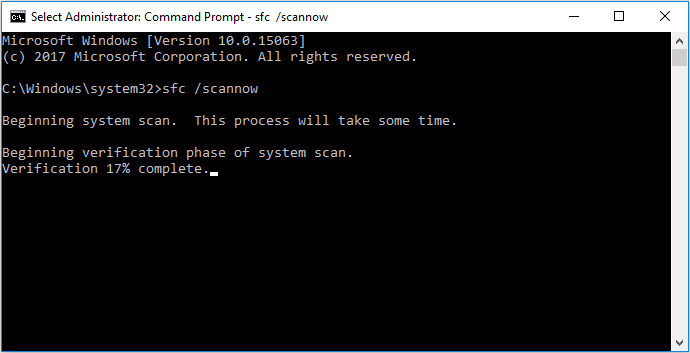 Make Sure Windows and All Drivers Are Up-to-Date
Windows Update
Windows updates often include the latest security patches along with some new features and bug fixes. These bug fixes often fix problems with certain hardware or software. If you are bothered by Windows 11/Windows 10 NMI hardware failure, update Windows.
Just go to Settings > Update & Security and check for updates in the Windows Update interface. Then, Windows will search for available updates and install them.
Driver Update
In addition, you should ensure all of the device drivers are updated to the latest versions since some old or corrupted drivers can lead to the stop code NMI_HARDWARE_FAILURE. To update all the drivers, we recommend using the professional driver update tool like Driver Easy.
Just get this tool from the website, launch it and click Scan to start looking for outdated drivers. Then, click Update to install the latest drier. If you are using the Free edition, repeat this step. If you are running Pro, click Update All.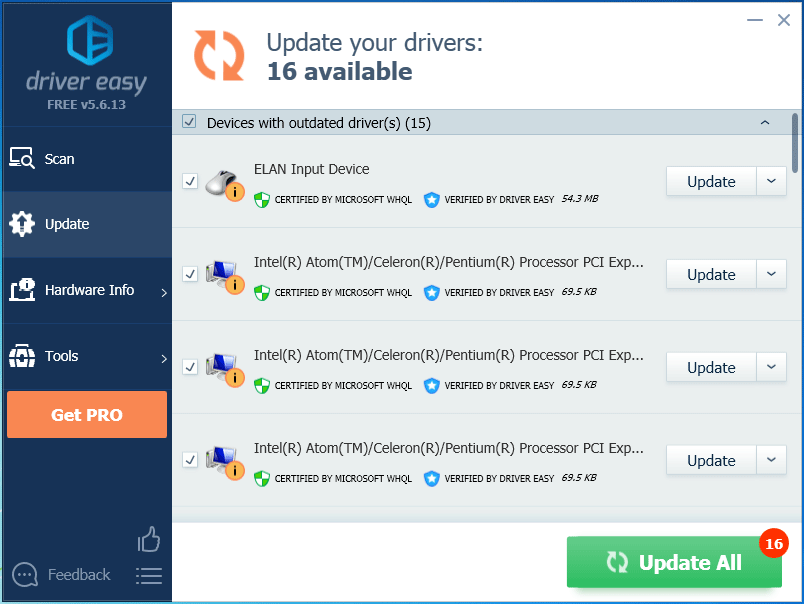 Uninstall Recently Installed Hardware Driver
Recent hardware changes and driver installations may cause the NMI hardware failure blue screen error. If you install new hardware and driver on your computer, they may not be compatible.
Just go to Device Manager to uninstall the driver. Then, go to the official website of the hardware supplier, download and install the right driver to your PC.
Check for Memory Issues
Sometimes the NMI error is related to RAM issues, so you can have a check to see if there are some memory issues. To do this work, you can run Windows Memory Diagnostic Tool to detect the memory and fix them if some errors are found.
Other Solutions
In addition, you can try some other methods to fix Windows 11/Windows 10 NMI_HARDWARE_FAILURE.
Disable third-party software like your antivirus software
Disable newly connected hardware devices including sound card, hard drive, and graphics card
Perform a clean boot
Final Words
If Windows gives you a blue screen with a stop code like NMI hardware failure or 0x00000080, try these solutions mentioned above, and then you should easily and effectively get rid of the blue screen hardware error from your Windows 11/10 PC.