If you are not a Mac user, you may not know much about the .pages file. You would be wondering what it is, and how can you open it on your Windows computer, right? This post will tell you what a .pages file is and how to open it in Windows by using different ways.
MiniTool Solution provides useful tools for both Windows and Mac OS.
What Is A .pages File
Pages is one of the most popular document editing apps used on Apple Mac computers; the Pages is to Mac what Microsoft Word is to Windows. The document saved by Microsoft Word is .doc or .docx file, while the document saved by the Pages app on Mac is .pages file. That is to say, .pages is the extension of Pages documents. By default, the .pages extension is hidden on Mac devices; however, if you saved the files on a removable device and connect it to a Windows PC, the file extension will be added.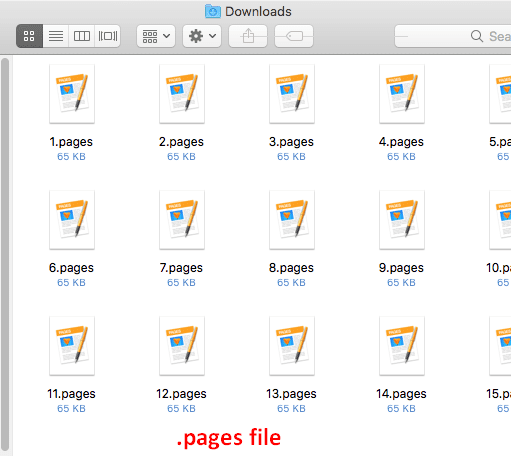 Tips On Recovering Permanently Deleted Files From Windows & Mac!
How to Open Pages File
The question is the .pages file format is not supported by Windows system; it can't be opened directly by double clicking. However, this doesn't mean you can't open .pages file.
In fact, the pages file can be regarded as ZIP file since it includes both the document information and a JPG file (or an optional PDF file) used to preview the content. In sections below, I will walk you through the ways to open a .pages file on a Windows computer.
Solution 1: copy & rename .pages file.
Connect the drive that contains the page file to your computer. Open the drive and copy the .pages file by pressing Ctrl + C (you can also copy the file by right clicking on it and choosing Copy).
Go to another path and press Ctrl + V to paste the files (you can also paste it by right clicking on the blank area and choosing Paste).
Right click on the duplicated file and choose Rename from the context menu.
Give it a name as you like.
Delete the .pages extension and add a .zip or .rar extension to it.
Double click on the file you just named to open it.
Look for the QuickLook folder and open it.
Look for any PDF file and/or JPG images that has the same name with the .zip file you created (sometimes, it may be also named as Preview).
The PDF or JPG file contains the information you need. You can preview it or print it out. (How to recover a PDF file?)
How to fix when extension is not showing in Windows 10?
Open File Explorer (also called Windows Explorer).
Shift to the View menu at the top left.
Find Options and click it.
Choose Change folder and search options.
Shift to the View tab (from General).
Uncheck Hide extension for known file types.
Click on the Apply button and OK button at the bottom.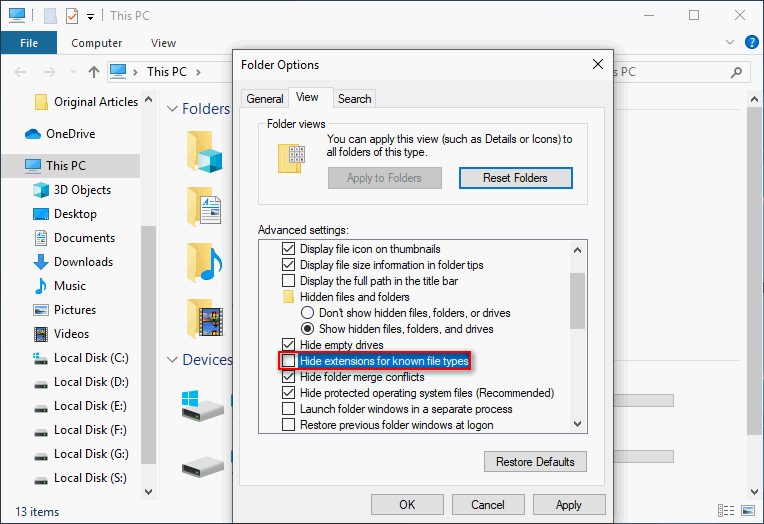 Solution 2: open pages file in Google Docs.
Open Google and sign in with your account.
Click on the Google apps icon (in the upper right corner).
Select Docs from the drop-down list.
Look for the Open file picker icon and click on it.
Shift to the Upload option at the top.
Drag a .pages file here -> drop it or click Select a file from your device -> choose the pages file -> click Open.
Wait until you receive a message saying that There was a problem previewing this document.
Click on the CloudConvert button (just below the error message).
Choose Connect more apps and type CloudConvert to search for it.
Select the file type you want to convert (.pages).
Check the Save file to my Google Drive option.
Click on the Start Conversion button and wait for the process to complete.
Click on the Show File button to preview content of your pages file.
Click here if you'd like to recover deleted history on Google Chrome.
That's all about how to open a .pages file on a Windows computer. I advise you to save the .pages file as a word document when exporting it from Pages on your Mac or iOS system.