UC Browser is a fast browser and it gains much popularity among users. If you are interested in it, you can download UC Browser for PC or Android and install it on your device. Read this post from MiniTool that gives details on UC Browser download & installation. Let's look through it now.
Overview of UC Browser
UC Browser is a web browser that is developed by UCWeb – a mobile internet company and a subsidiary of the Alibaba Group. It is fast, smart, and secure and brings an easy and excellent browsing experience & a smooth experience to you when visiting websites, surfing, watching movies, or downloading files.
UC Browser owns a unique self-developed U4 engine, performing 20% improvement in personal information security, web connection, stability, video watching experience, and more. Besides, this web browser app has some highlighted features including fast browsing, quick access, an ad-blocking system, a dedicated download manager, cloud sync, etc.
It is primarily designed for Android devices but it also offers a Microsoft Windows desktop version that can be used on Windows 10/8/7. Well then, if you are curious about this UC Browser app, how to download and install it for your PC or Android? Find answers from the following parts.
UC Browser Download for PC Windows 7/8/10
UC Browser for PC is a fast and Chromium-based browser and the website of uptodown offers you some download links for the latest version and some old versions. Just go to visit the UC Browser for PC website and then click the corresponding download button to get the download file.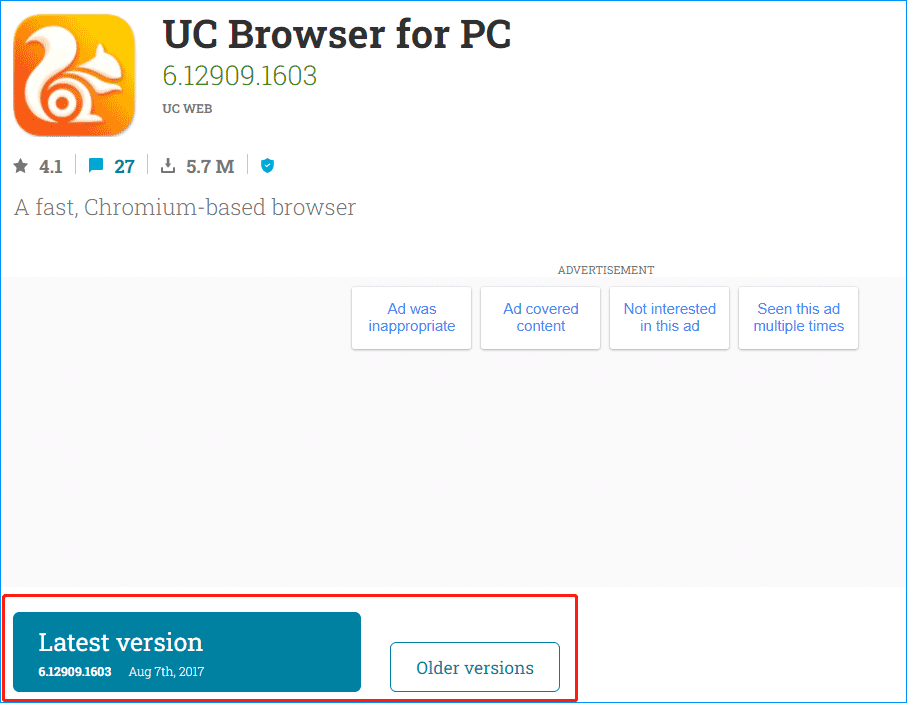 UC Browser Install on Windows 10/8/7
After you download UC Browser for your PC, now you need to install it.
Step 1: Double-click on the UC Browser download file you have got and click Yes in the User Account Control interface.
Step 2: Agree to UC Browser terms of service, specify a storage location and click the Download and Install button to start the installation.
Tip: If you want to visit webpages using UC Browser by default, check the box of Set as default browser, as shown below.
Step 3: The UC Browser app is downloading and installing on your Windows 10/8/7 computer. Then, you can launch it for use.
UC Browser Download for Android
If you want to install this browser on your Android device, you need to download this app from Google Play or other app stores. Just open your application store on your Android phone or tablet, search for UC Browser and click the Install button.
Alternatively, search for "UC Browser apk" with the built-in browser and then download the apk file. Next, install it on your Android device.
UC Browser Mini
The UCWeb company offers a lite version of the popular Android UC browser. This version is easily integrated with smaller smartphones with low processing powers and it is almost the same as the full version browser. If you want to use it on your phone, download and install UC Mini Browser from Google Play.
Final Words
UC Browser is worth recommending and you can follow the above instructions to download and install it on your Windows 10/8/7 PC or Android. Of course, for PCs, there are some other web browsers you can use besides UC Browser, for example, Opera, Edge, Google Chrome, Firefox, and more. This post may be what you want to see – Web Browsers for Windows: A List You May Want to View.